Wow is 2014 really over already? December seemed to fly by! I don't know about you but I'm quite glad the Holiday Season is over though so I can get back to work.
Ready for a closer look at December's blog income and traffic stats?

Blog Income
Income for December
The numbers in brackets are November's numbers for comparison.
Advertising income – $1350.64 ($886.05)
Affiliate income – $666.92 ($209.52)
Brand work – $0 ($135)
Product sales – $104 ($90.70)
Total Income $2121.56 ($1321.27)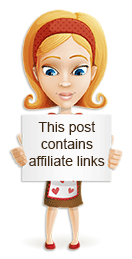 I was riding high on advertising income in December, thanks to a sort of viral post and year end advertising rates. Working with Pad Squad and The Blogger Network has helped my ad revenue so much, and I don't even have to think about ads any more, I can concentrate on writing content instead! If you decide to sign up yourself please tell them Clare Swindlehurst sent you over!
I was quite happy with my affiliate income for December too, though it was related to Black Friday sale and therefore isn't anything continuous. I put a lot of effort into writing gift guides with links to Amazon but ended up earning less than $40 which was really disappointing.
Affiliate marketing is back on my list for 2015 as I need to start diversifying my income. Advertising income is fabulous as it's passive, but you're at the mercy of pageviews and someone else's ad budget. I'm not expecting to see figures like that in January that's for sure.
I have had a few more bloggers invest in my Google Analytics book and have had some really positive feedback which gives me a buzz every time. As most of my visitors stop by to read my food related posts I'm working on some recipe products for this year too.
Expenses for December
Keeping the lights on
Affiliate commissions paid
Miscellaneous
BC Prime – $49
Custom sidebars plugin – $19
Total expenses $213 ($278.02)
After being completely blown away by the 21 Day SEO Challenge last month I decided to go ahead and invest in BC Prime. If you want to really understand SEO and how it can bring great traffic to your site then the SEO Challenge is a must I think. It's a $99 investment and worth every cent. Alternatively you can pay $49 for one month's access to BC Prime and the challenge is included in the price.
Profit this month $1841.56 ($1043.25)
Well I think I ended the year on a high and I am so happy that all the work I put into my blog (getting up at the crack of dawn each day) is finally paying off. Even my husband said that he's happy for me not to go out to work if I'm making this kind of money with my site!
Want to see some traffic stats?
The other thing I like to share with you are some snapshots from my Google Analytics account to show you how my traffic is growing month on month. After all the more traffic we have the more likely we are to make money from our blogs.
Page views for December
September figures are in brackets for comparison.
Total unique visitors – 127,647 (81,406)
Total visitors – 144,765 (90,039)
Total unique pageviews – 205,637 (118,937)
Total pageviews – 1,132,805 (376,680)
When I decided I was going to work seriously on my blog in 2014 I set myself a year end goal of 100,000 pageviews for the month of December. So I was kind of blown away when I went past the one million pageviews mark instead!
I know that I'm on Pad Squad and therefore my pageviews are higher than if I weren't, but I had 205,637 unique pageviews so I still blew my goal out of the water!
RPM for December
Each month I'll include my RPM, which stands for page revenue per thousand impressions. This will show me how effectively I'm monetising my blog. (Note: I am using unique pageviews to generate my RPM because my actual pageviews number fluctuates depending on how long each post is – it's a Pad Squad thing!)
As the months go by the figure should increase, so I'll put last month's RPM in brackets.
RPM for December = $10.32 ($11.11)
You can find out more about what RPM is and how to calculate it by reading this post on RPM here.
Super Mommy Club follower numbers
I also want to use this report to take a snapshot of my follower numbers. I started all of these accounts in January with no followers (except for my personal google plus profile which had about 500) and my goal for each of them was to have 1000 followers by the end of 2014.
Note: the numbers in brackets are the follower numbers for the previous month.
Google+ Personal 1877 (1812)
Twitter 2473 (2296)
Pinterest 2684 (2392)
Instagram 221 (215)
Google+ Page 214 (202)
Newsletter Subscribers 248 (209)
Facebook Likes 2352 (2272)
Talking about 117 (78)
Talking about percentage 5% (3%)
Post reach 59922 (1474)
I met my year end goal of 1000 followers for each of my social media channels.
Well all except for Instagram, but then I wasn't really using it in 2014. That's all changed now though because I'm co-hosting a daily Instagram challenge for 2015. It's called Capturing Life, Laughter and Love and it's not too late for you to sign up and get involved. We're building a great community over on Instagram and if your goal for 2015 is to grow your followers over there this is definitely worth taking part in.
Oh and did you see that crazy post reach for Facebook? I shared a post that my friend Megan wrote and it pretty much blew up my Facebook page! It goes to show that Facebook does show posts to people if there is enough engagement. This year I'd like for the viral post on my page to be one of mine – ha!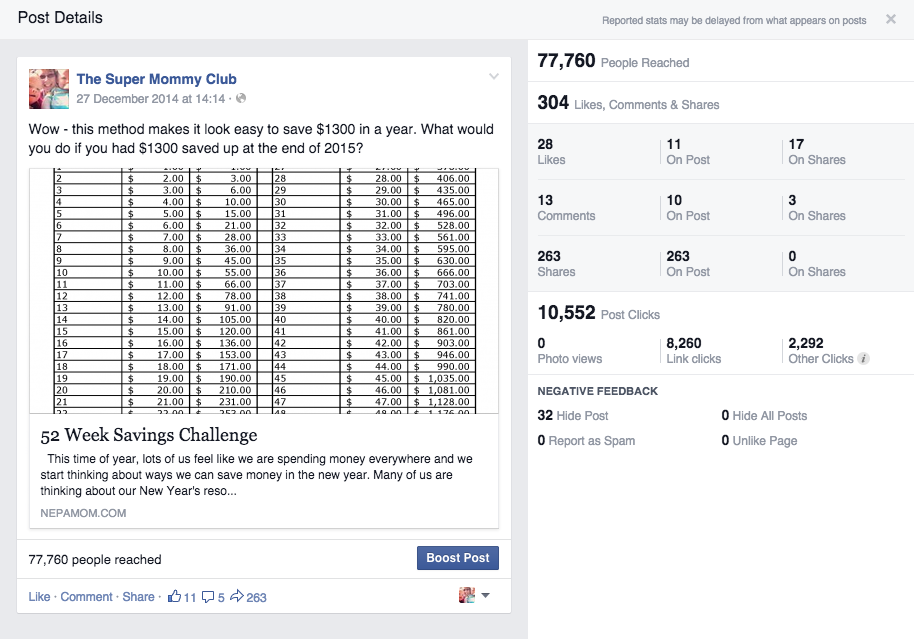 What are your blogging goals for 2015?
I spent some time last month planning out my goals for 2015 and I'm going to share them with you here. I tried to do it as scientifically as I could based on growth I saw in the latter months of 2014, rather than just doing a "I'll increase everything by 10%" type thing. Which works perfectly well of course.
Here's what I came up with:
Pageviews – I want to see an increase of 50,000 pageviews month on month throughout the year. To achieve this I need to write AWESOME content and promote it effectively. I'm going to promote my stuff through Pinterest (because I love it), organic search and via my email newsletter.
Income – I'd love to have my blog pay my half of the household bills by December 2015, which means I need to finish the year with a monthly income of $3,500. To achieve this I need to continue to rock those pageviews so I can maximise ad income and seek out more sponsored post opportunities. I need to spend some time promoting my Google Analytics ebook, and I want to publish at least one Recipe Card collection every month.
Social Media – I'd like to see my follower numbers increase to 5000 for Twitter and Facebook, 7000 for Pinterest and 2500 for Google Plus. I'm setting a much more challenging target for Instagram and would love to have 3000 followers by the year end. To achieve this I need to continue to share AWESOME content across all of my channels.
Newsletter – Building an email list is so important, because social media will come and go but if you have followers on your list you can still drop them a note right there in their inbox. I would love to finish the year with 5,000 subscribers on my list, and to achieve that I need to convert just 2% of my visitors to subscribers. It sounds like such a small number but it is a big challenge!
How was your December? What are your blogging goals for 2015?
If you want me to drop you an email when I publish next month's report, or if when I share any blogging related posts you can add your email address to our mailing list.