Make sure you declutter your kitchen counters before trying to organize them!


I know, I know, decluttering is dull and it's really hard to decide what you need and what you should get rid of.
This post may contain affiliate links, which means I may receive a commission if you click on a link and purchase something. As an Amazon Associate I earn from qualifying purchases.
And what you really want to do is just jump in and start organizing your kitchen counters.
But there is no point spending money trying to containerize something you don't really need out on your countertop in the first place.
Which is why you need to declutter your kitchen counters before you try to organize them!
Step 1. Do you have a Bermuda Triangle on your countertop?
The easiest place to start when decluttering your kitchen countertops is the area that seems to suck in all sorts of random odds and ends (like the Bermuda Triangle).
From opened (and unopened) mail, birthday invites, school lists, rolls of sellotape, spare gift tags…
Yeah I used to have an area like that which took up nearly two feet of precious countertop!
This is your quick win because you could probably find a better way to keep track of this stuff and take back that countertop.
Perhaps you need to create a Mail Center, or a Family Command Center so that these odds and ends get dealt with.
For now just stick it all in a box because it will take some time to sort through and you want to focus on your countertops. We'll come back to that when your counters are done!
Step 2. Find your everyday items that deserve space on your counter
Now take a good look at each of your counters and be honest with yourself.
Do you really use every single item every single day?
And if you do use it daily do you use it more than once?
If you use your slow cooker every other day to make dinner and it's otherwise stored in the cabinet, why is your coffee maker (which is only used at weekends) out on the counter?
If you only use the toaster at breakfast does it really need to be out on the counter all day or is there a cabinet near by you could store it in and still access it easily?
Is there a pile of cookbooks on the counter that could live much more happily somewhere else in the kitchen?
Of course you don't have to keep your counters completely clear. If you make coffee several times a day it makes sense to have the items you need out on the counter (or even create your own coffee station!).
And if you always use salt, pepper and oils when you're cooking then you may wish to keep those out too.
Now you have an idea of what you really need out on the countertop and what you could possibly move elsewhere in the kitchen it's time to get to the fun part and start organizing those kitchen counters!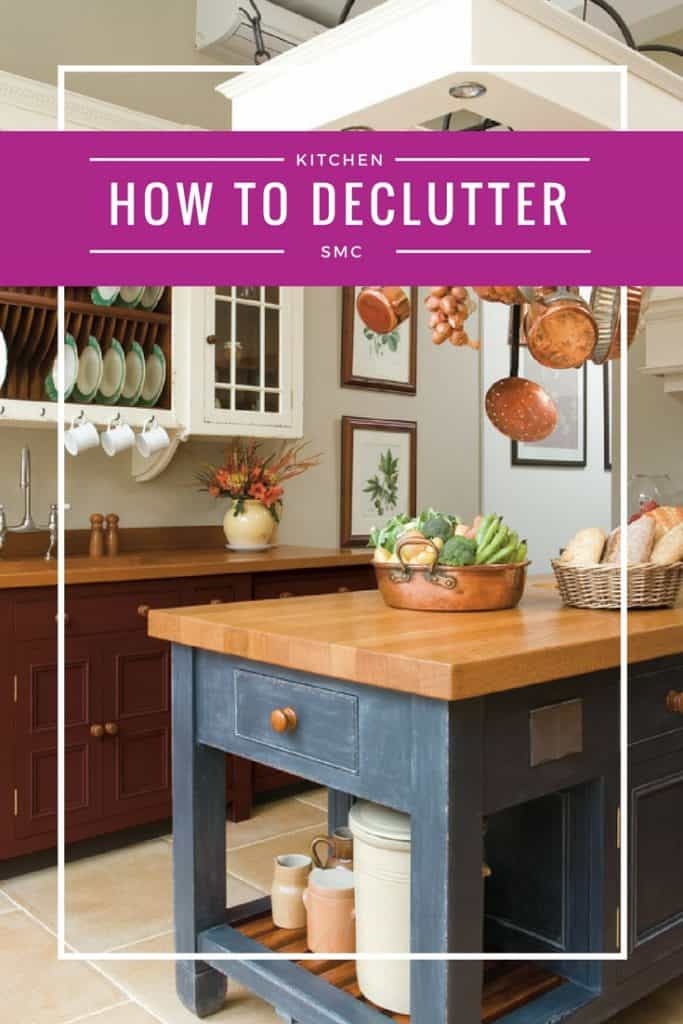 Image Credit: Kitchen Island Hanging Rack by Chalon Handmade | CC BY | Text overlay added