If your family loves Mexican food then this Fajita recipe collection is just what you've been waiting for. 24 fabulous fajitas that are perfect for midweek meals, and many can be cooked in less time than it would take for the delivery boy to arrive with a takeout.
This post may contain affiliate links, which means I may receive a commission if you click on a link and purchase something. As an Etsy and Amazon Associate I earn from qualifying purchases.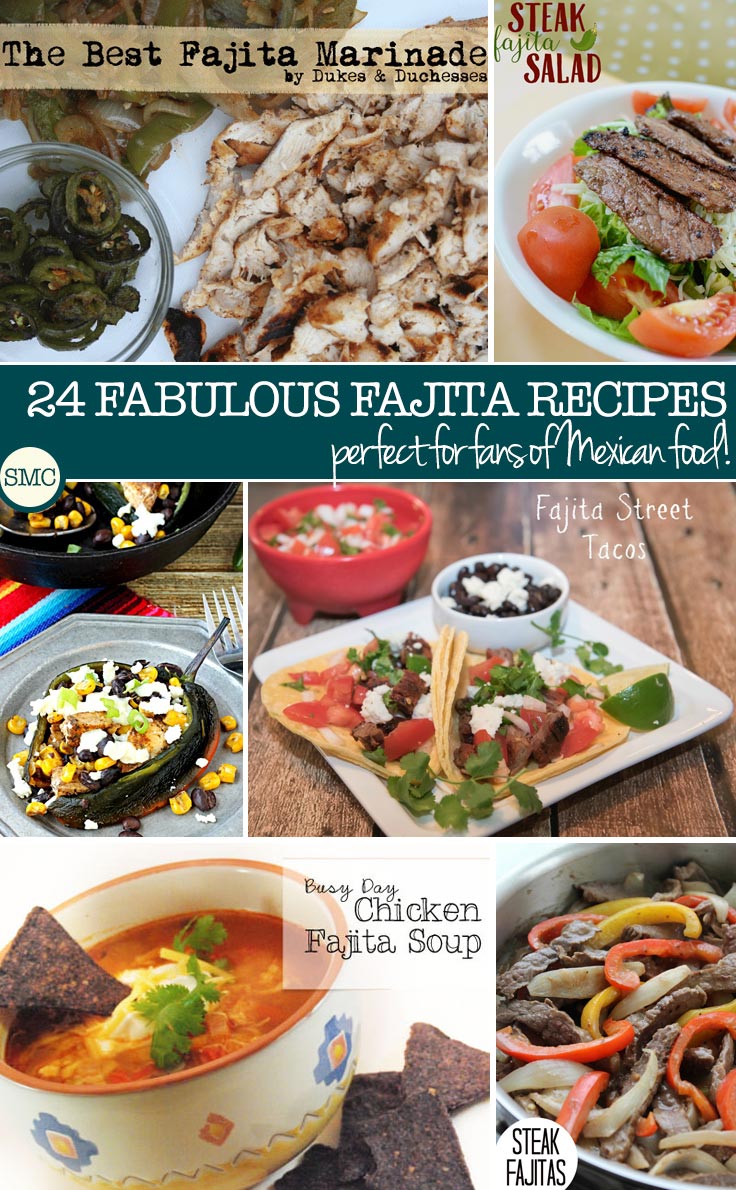 Fabulous Fajita Recipes

"This recipe takes about as much effort to prep as a crock pot meal would but instead of slow cooking all day, you just pop this quick and easy dinner in the oven for about 45 minutes and you are greeted with tender juicy chicken. Perfectly roasted peppers that are tender but with a slight crunch. Oh and the crispy cheese topping. Of course you couldn't forget that!" – The Pinning Mama
"These Oven Baked Chimichurri Chicken Fajitas are bursting with bright fresh flavors thanks to a vibrant green chimichurri sauce. Succulent strips of chicken breast marinate in the sauce before being oven baked and folded in between tortillas with bell pepper, red onions and grape tomatoes. Fajitas have never been easier!" – Melanie Makes
"Creating a Chicken Fajita Cheeseburger has been on my personal kitchen to-do list for over a month now. A ground chicken patty studded with roasted peppers, mushrooms and onions and seasoned with fajita seasoning. And did I mention there's mashed avocado in the burger mixture for extra flavor and moisture?" – Melanie Makes
"The reason I love making baked potatoes for a family meal is that you can stuff them full of meat, veggies, and toppings and get a hearty meal out of just one dish. It makes it simple to prepare and simple to clean up!" – The Pinning Mama
"In this version, pasta salad meets chicken fajitas, without the tortilla wrap. You have the spicy Mexican flavours combined with marinated chicken, tender crisp peppers and tossed in a lime cilantro vinaigrettte. With each delicious mouthful, enjoy the flavour explosion. It tastes even better the next day!" – Simply Stacie
"You might already know that Mexican food is my favorite, so it's no surprise that I like to whip up these fajita bowls whenever I get a chance. They're so easy, and they become a staple when I'm on the Whole 30 diet." – Krystal's Kitsch
"Ready for some Chicken Fajita Quesadillas? This meal took me about 20 minutes to throw together from start to finish… not including the time the chicken spent cooking in the crock pot for about 4 hours on low." – All She Cooks
"We like to celebrate another holiday around here too – Taco Tuesday. Ok, so maybe it's not an actual holiday but we do enjoy eating tacos on Tuesdays – or Wednesdays – or whenever really. Since fajitas and tacos are considered a food group around here, I thought I'd share how we make them. One of the things I love about tacos is that they are so easy to customize to specific tastes. Plus, they are a quick and easy meal!" – My Real Food Family
"Fajita Seasoned Chicken Black Beans and Corn Stuffed Poblano Peppers is a dinner full of flavor, full of nutrients and takes less than 30 minutes to make. It's the perfect meal for weeknight dinners or special-occasion celebrations." – Call Me PmC
"By happy accident, I stumbled on a recipe for Chicken Fajita Soup. The recipe was too time consuming for my immediate need, but I decided to try it anyway–and alter it for what I had on hand. I am so glad I did. This is my new favorite soup, and it is sooo easy and quick." – One Creative Mommy
"To make a steak fajita salad with a kick, you only need a few ingredients for this spicy dish. I love Mexican food in all forms, but steak on a salad is a treat. I usually order steak salads at restaurants, and I had yet to make one at home." – Krystal's Kitsch
"I've mentioned before that we LOVE fajitas, right? Not so long ago, I shared a recipe for Chicken Fajita Filo Bites that were just amazing. So when I was thinking fajitas again recently, I wanted to change it up again and came up with this toothsome idea! This casserole is layered like a lasagna but the pasta is replaced with light, flaky filo dough." – Mama of 3 Munchkins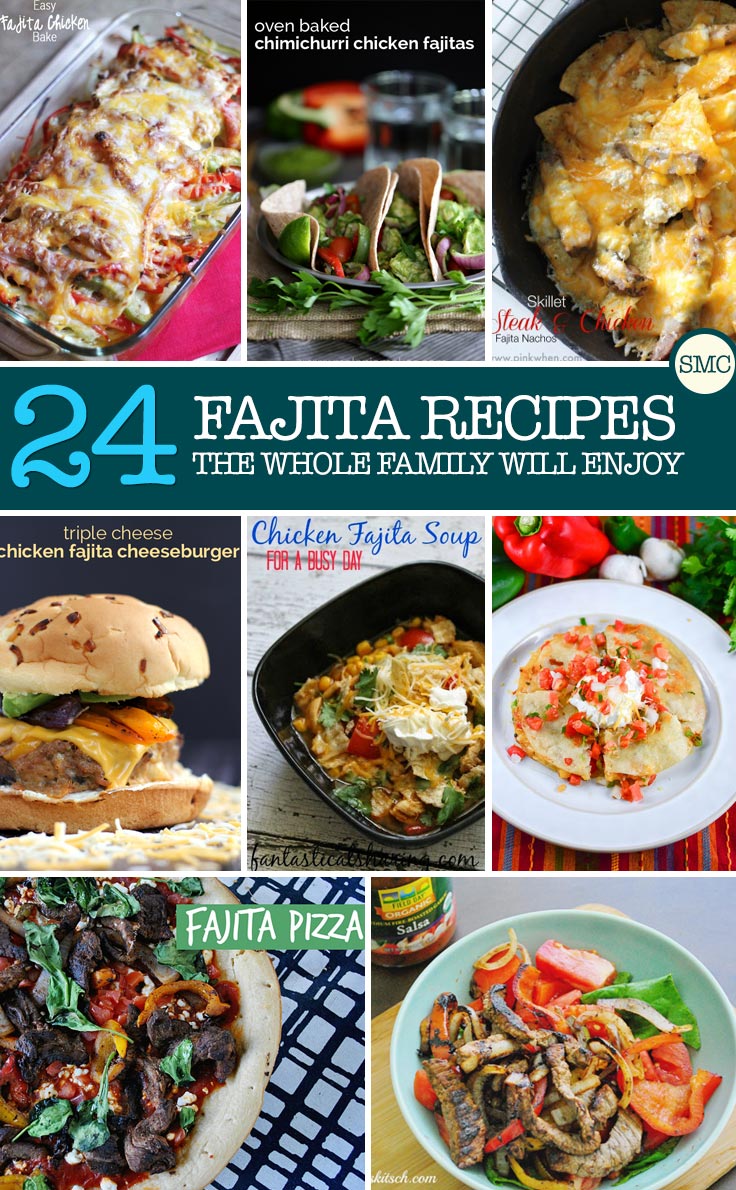 "The recipe was given to me by a dear old friend at least ten years ago and I've never used another one … why mess with a good thing?" – Dukes and Duchesses
"Serve up this yummy sizzling Steak Fajita Recipe loaded with peppers and onions for dinner tonight. The family can loaded them up with their favorite toppings which makes everyone happy." – Cincy Shopper
"There are some days where I just dread dinnertime. You know those days – you are going all day long and the last thing you want to do when you get home is slave over an hour to an hour and a half prepping and cooking dinner. Not to mention dirtying half your kitchen to get to clean up after dinner when you still just want to relax. This is where this soup comes in…" – Fatastical Sharing
"Mexican food is my favorite, but I've never tried a fajita on a pizza crust before. I wanted to create a steak dish that would pair nicely with Cambria's unique wines, so I opted for a Pinot Noir for a pizza night. The fajita idea just came together. Did I mention this was a Thursday? It was quite possibly the most delicious weekday meal I've ever served. And, it was so fast!" – Krystal's Kitsch
"While I can't completely recreate my favorite Freebirds wrap (I think there's a secret ingredient I'm missing), I have come pretty darn close with this recipe. And, the best part? It's a slow-cooker version … no hassle in the kitchen!!" – Following in My Shoes
"Chicken Fajita Quesadillas with Pico De Gallo Salsa are oohey gooey cheesy, spicy, colorful and amazing! They are kind of like a Mexican or Tex-Mex version of a grilled cheese sandwich, except with flour tortillas instead of bread and with spicy pico de gallo and chicken in addition to the cheese." – Flavor Mosaic
"This recipe is a great twist on traditional pizza. I love fajitas so combining it into a pizza is a great twist! My family loves it." – Stockpiling Moms
"Chicken enchiladas are one of my favorite things to eat. I love all of the flavors that come together for a happy dance in your mouth. It's an easy recipe that will make the entire family asking you for more." – Pink When
"I was in the mood for chicken fajitas last week, but we didn't have any tortillas in the house so I had to compromise. Me… being my frugal self decided to create a new recipe. I am calling it Chicken Fajita soup. We loved it!! Since many of you will be trying to save on energy this summer, this is a very easy go to dinner." – Coupon Closet
"Today I am sharing with you a delicious and chunky simple skillet steak and chicken fajita nachos recipe. You are going to LOVE them, and the kids can't get enough of them." – Pink When
"Time for a quick and easy meal on a budget. Since Kroger has a sale and there is a great coupon, the main ingredient is Tyson Grilled & Ready Steak Strips. I made steak fajitas with refried beans. When I see a great deal on Mexican ingredients (torts, beans, etc) I stockpile as we use them weekly." – Cincy Shopper
"These light and tasty appetizers are perfect for any get together and are great served warm or room temperature. They're also a great way to use up left over fajita filling, not that there are ever leftovers on fajita night. This recipe is for a chicken fajita bite but they 'd also be great as steak or a vegetarian version. " – Mama of 3 Munchkins
---
~Clare, currently pinning to Kid Friendly Recipes
Follow our Kid Friendly Recipes board on Pinterest.
---
p.s. If you loved these fabulous Fajita recipes don't miss our other kid friendly recipes including our collection of baked chicken breast recipes or chicken enchilada recipes for more great ways to make healthy meals the whole family will enjoy together.