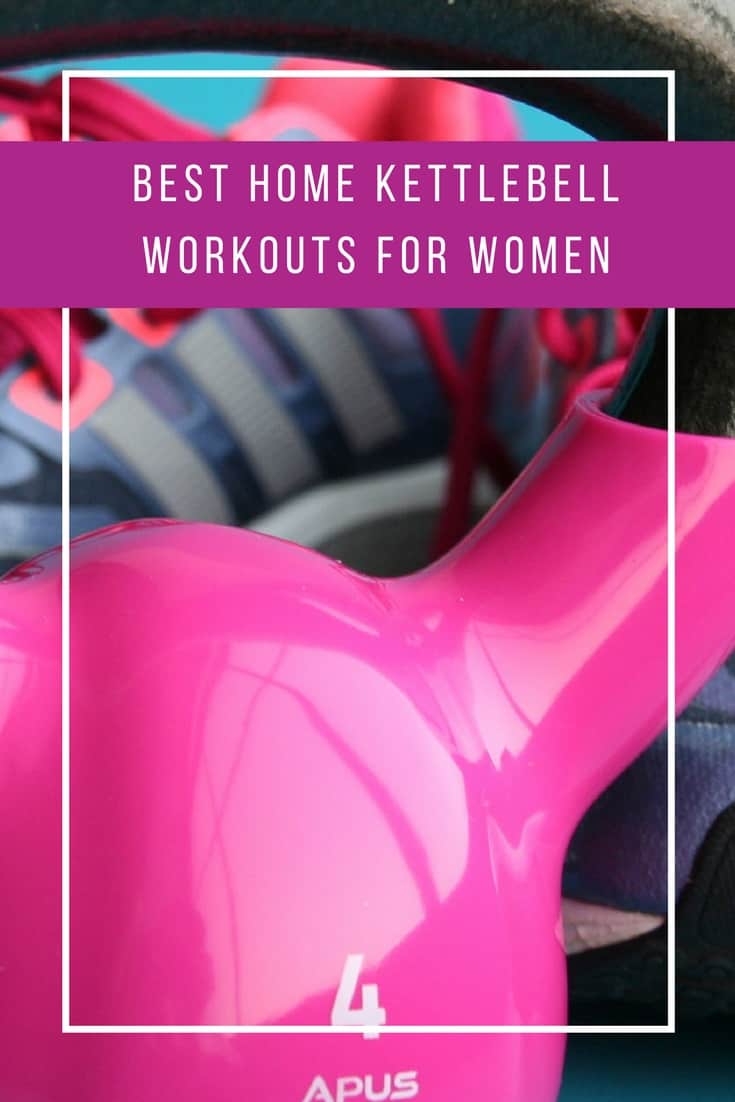 Make sure you save this post for later by hitting the button to save this to Pinterest.
&
This post may contain affiliate links, which means I may receive a commission if you click on a link and purchase something. As an Etsy and Amazon Associate I earn from qualifying purchases.
---
If you want to incorporate some weight training into your at home cardio workouts the kettlebell is the perfect way to do it. You might think that because the bowling ball shaped weight is held in your hands that it's only your arms that will get a workout, but you'd be mistaken because the high intensity workouts can burn calories and workout your whole body.
Which Size Kettlebell Should you Start With?

Who says kettlebells need to be black?CLICK FOR BEST PRICE
One of the best things about kettlebell workouts is that all you need is that one piece of equipment, and a kettlebell is inexpensive to buy and small enough to store away neatly in between exercise sessions.
If you've never done a kettlebell workout before then do not be tempted to jump straight in with a 15lb weight. You need to give yourself the chance to learn the moves so start out with a 5lb bell, then move up to 10lb before you finally introduce the 15lb kettlebell into the workout.
We LOVE this brightly coloured set because it has all three weights in, but you can also select an individual weight just in case you'd rather buy one at a time.
Best Home Kettlebell Workouts for Women
Kettlebell routines combine strength training with cardio fitness. Here's our pick of the best home kettlebell workouts for women to get you started.
Jillian Michaels: Shred-it with Weights
Jillian Michaels: Shred-It With WeightsCLICK FOR BEST PRICE
We LOVE Jillian's 30-day Shred fitness program and this Shred-it with Weights DVD didn't fail to make to impress us.
There are two workouts, each about 30 minutes long, and as always Jillian shows you how to modify the moves so you can do the workouts as a beginner or in "advanced" mode.
This is a 30 day program so stick with it to see the best results, if you follow the routine and eat healthy you could lose up to five pounds a week.
Iron Core Kettlebell
Iron Core KettlebellCLICK FOR BEST PRICE
There are four different workouts in this program.
Volume one teaches you the kettlebell basic moves like the swing, press and Windmill.
Volume two takes things up a notch and shows you how to do the snatch, deck squat and Turkish.
Volume three is a workout called the Iron Core Warrior and is touted as one of the toughest kettlebell routines ever.
Volume four is the Iron Core Boot Camp and if you get this far we'll be seriously impressed because you will sweat it out through four rounds of five different exercises.
Sarah Lurie is a great instructor and will guide you through each of the moves so you know that you're doing them right. Just don't forget to start out with a small kettlebell!
Ultimate Kettlebell Workouts for Beginners
Ultimate Kettlebell Workouts for BeginnersCLICK FOR BEST PRICE
If you are completely unfit and need to start out real slow then this DVD is a great choice for you.
The workout goes at a much more leisurely pace than the other ones and Paul the trainer will take you through the moves so you can be sure you've mastered them.
There are two workouts are, a full body one and then one that focuses on your core, and they are both achievable even for out of shape beginners.
Master the moves, gain some confidence and then move on up to one of the other DVDs when you're ready!
30 Minute Beginner Kettlebell Instructional Workout
If money is tight, or you just want to do some free home kettlebell workouts before you invest in a DVD then check out this YouTube video.
Amy takes you through all the basic moves and breaks them down so you can make sure you have your form right.
One thing we LOVE about this beginner's video is that Amy is actually pregnant in it! We wouldn't recommend you start kettlebell workouts while this heavily pregnant but it does just go to show that if she can do it with a bump you most certainly can do it without one!
10 Minute Kettlebell Workout
And finally if you're thinking you don't have 30 minutes to spare in your day then check out this short 10 minute Kettlebell video instead, which will still give you a total body workout.