How to organize the refrigerator like a pro!


While your kitchen organizing project is in full swing don't forget about your refrigerator!
This post may contain affiliate links, which means I may receive a commission if you click on a link and purchase something. As an Etsy and Amazon Associate I earn from qualifying purchases.
You might not think its too important to think about what food to put where in your refrigerator, but with the door being opened and closed multiple times a day you need to make sure everything stays at the right temperature.
We will of course start this exercise with a declutter and a clean but make sure you read ahead so you know WHERE to put all the food when its time to refill the refrigerator!
[one_half padding="0 10px 0 0″]
[toc]
[/one_half]
[one_half_last padding="0 10px 0 0″]
 Maximise your space using handy containers like these!
[/one_half_last]
Step 1. Declutter: Throw away out of date food and clean the fridge
This declutter task will be the easiest one in your kitchen, because there's no sentiment attached to the items, and you don't have to worry about maybe needing it "one day" or "not getting your monies worth" out of an expensive purchase.
Prepare your workstation, with an empty countertop, some trash bags and food recycling bags (if you use them). Then fill the sink with warm soapy water.
Now empty out every single item from your refrigerator and lay it out on the countertop.
Trash, recycle, or compost anything that is past its sell by date, or doesn't look the right colour anymore!
Group the other items together, like condiments, dairy, meat, vegetables etc to make it easier to put back in.
Now remove the shelves and the drawers and give them a good wash in the sink.
Use a damp cloth to wipe down the inside of the refrigerator too.
Now put the shelves and drawers back in and add your food items.
While you're here give the outside of your fridge a wipe down with a damp cloth, and dry with a microfibre cloth or kitchen paper towel.
Reward yourself for a job well done!
Step 2. Understand which food needs to live where in your fridge
Once your fridge is nice and clean and you've thrown away all the nasty out of date food it's time to put everything back in the right place.
There are two ways to fill a fridge with food:
1. Just put stuff in there wherever there happens to be an empty spot on a shelf or in a drawer.
This spot changes every time you take out a carton of milk or a bottle of sauce and so everyone in your family spends time standing in front of the fridge with the door wide open. Of course it's a waste of time, and energy, and your food will spoil quicker.
2. Group foods together so they're easy to find and make sure nothing gets contaminated or spoiled.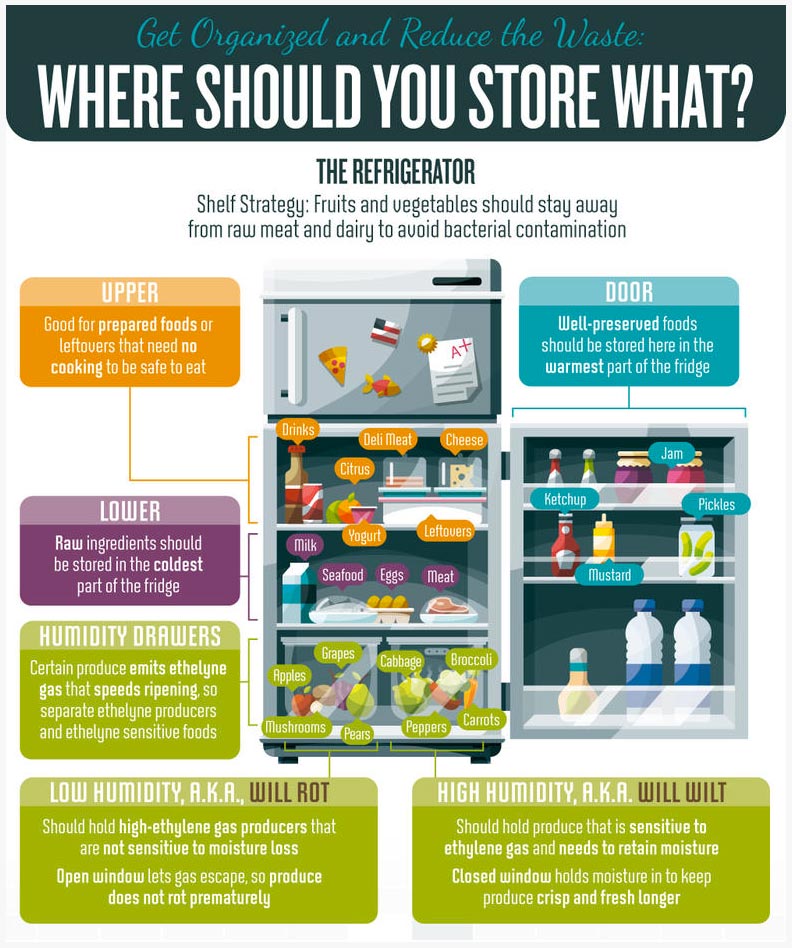 If you ask a professional chef for a tour of his fridge you'll find the prepared foods and leftovers up at the top, and the raw meats right down at the bottom.
This is because the top of your fridge is the warmest part, with the coldest shelves down at the bottom. You also don't want to be storing raw meat above anything else in case the blood drips out and contaminates your other food.
The door to your fridge is the warmest part (unsurprising really since it's opened and closed constantly) so you should use that area for condiments and bottles of water. If your milk cartons reside there (like mine did) you need to move them to your middle shelf.
Your fruits and veggies live in the drawer at the bottom, but pay attention to whether the window is open or closed because different fruits and vegetables need different humidities to stay fresh.
If you're following along you'll note that I said to store raw meats right down at the bottom, but most refrigerators have veggie drawers at the bottom. If you have two drawers and you only need one for your fresh produce then use the other (lower one) for meat. If you need to use both drawers for produce then you can use a plastic storage container to put your meat in to contain any drips.
Which leads us nicely onto looking at storage solutions and containers to make the most of the space in your fridge and make sure you can find what you want quickly and easily.
Step 3: Refrigerator storage solutions to make life easier
Now you know which shelf your food is supposed to live on you can think about storage solutions and containers to keep everything neat and tidy.
Line your shelves and drawers to make them easier to clean
Since you just spent all that time washing out your fridge you want to keep it nice and clean. Your an line your shelves and drawers with a wipeable liner to make the job easier.
Cut to fit your shelves
Cute pattern and lots of colours to choose from
Extend the life of your veggies by lining your crisper drawers
Use clear stackable storage bins to make the most of space
Use clear stackable storage bins to make the most of space
This top rated starter kit includes an egg container (with a lid so you can stack things on top), a can dispenser, a narrow storage box which is perfect for condiments or apple sauce packets, and a wide storage box which you could use to keep your yogurts neat and tidy, or even fruit and veggies.
They have built in handles so that they are easy to carry back and forth from the refrigerator.
Here's a tip, rather than storing the same items in each of your storage containers think about which items you use together.
I confess that most days for lunch I make grilled ham and cheese sandwiches, so one of my containers holds all the ingredients I need. Deli meat, cheese, condiments. I can just open the fridge, take out the box, make my sandwich and put the box back. Quick and easy!
Use a large container on the top shelf to store your leftovers so they don't go missing in the back of the fridge!
You can also make an Eat Me First box to save on food waste. When you have items in your fridge that are nearing their sell by date pop them all together in a container and label it EAT ME FIRST!
Pick and mix clear storage solutions
If you'd rather pick and mix different sizes of plastic containers (instead of having a starter kit) then check out the selection here.
You can choose small, medium and large containers or a combo pack which has two large and four small bins in it. Because they are different sizes and dimensions you can mix and match to your heart's content to really maximise the space in your fridge
You can also buy packs of each bin, but check the prices if you want multiple items because when I looked a two pack of small bins was more than twice the price of two single small bins!
These clever boxes stack to make use of the dead air space
Stack boxes to make use of dead air space
If you have some "short" items on a shelf that leave a lot of dead air space above them some stackable containers like this will let you make use of that space.
They come in two different sizes, the smaller set is perfect for yogurts and snacks, while the larger set is just right for tortillas, deli meats and cheese (use it to make your sandwich station!).
One thing to bear in mind is that you have to lift the top container off to access the stuff in the bottom one, there isn't a door or opening.
Use individual crispers to keep fruit and vegetables fresh for longer
Use individual crispers to keep fruit and veggies fresher for longer
If like me you find yourself throwing away fruit or vegetables because they've gone soft or spoiled before you get a chance to eat them take a look at these clever containers!
There's a little tray at the bottom that lets the moisture drip away from the produce, and then a clever vent in the lid to allow the air to flow, so it all lasts longer (strawberries last up to 80% longer according to Rubbermaid).
This set has a large container which is perfect for lettuce heads or a large bag of spinach, and a small container which will fit about a pint of blueberries.
Just take your fruit and veggies out of the store bought containers, put them in the box and pop them in the fridge. They can stack in your crisper drawers or put them on neatly on a shelf.
Stop fruit rolling around and bruising with a fruit chute
Stop fruit rolling around and bruising
My son is very particular about his apples and won't eat them if they're slightly bruised, which is tricky to avoid when you put a bag full of apples in the fridge.
That is until I discovered this clever little organizer that is perfect for storing oranges and apples.
They sit nicely inside without bumping about, and when you take a fruit from the front the others roll down into place!
There's even a junior version for lemons and limes!
Use chalkboard labels so everyone knows what's in the containers!
Use chalkboard labels so everyone knows what's in the boxes
For the ultimate in refrigerator organization pick up a set of chalkboard labels so you can let the rest of your family know what's in each of your neat and tidy containers.
You know, so they don't have to rummage and undo all your hard work!
&
---
And there you have it. How to organize the refrigerator in three easy steps!

Via Self Storage Finders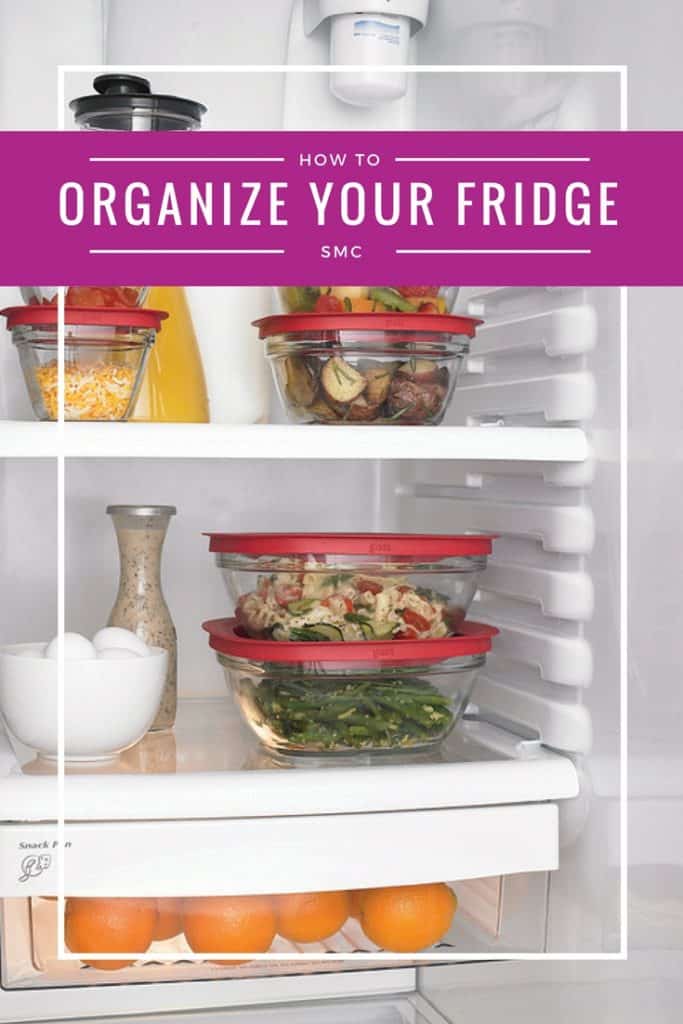 Image Credit: Glass food storage containers - Fridge by Rubbermaid Products | CC BY 2.0 | Text overlay added