Last week I shared with you a collection of adult coloring pages, and they went down a storm! So today I've pulled together some Free Coloring Pages for Kids to Color so you can all spend some quality time coloring together!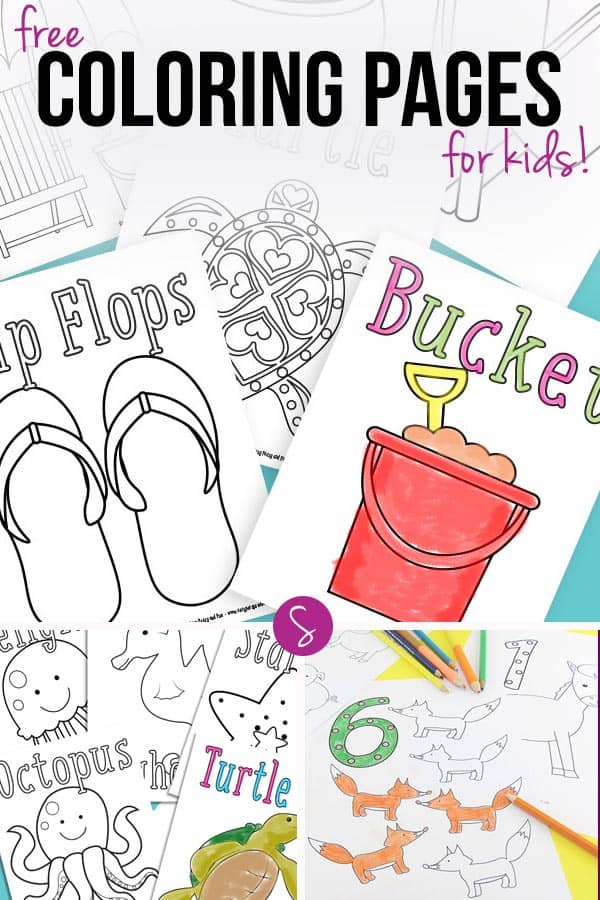 Kid's Coloring Supplies
Crayola 30 Count Twistable Colored Pencils
Crayola 24 Ct Twistables Fun Effect Crayons
Crayola 16ct Multi-Colored Glitter Crayons
36 Piece Coloring Pencil Set – Soft Smooth Lead
&
Free Coloring Pages for Kids to Color

"We found more than 175 free printable Superhero coloring pages and superhero fans are going to love the selection." – Brain Power Boy
"LEGO Coloring Pages – Yay! We found more than 180 free printable LEGO coloring pages and LEGO fans are going to love the selection." – Brain Power Boy
"After you print and color the ocean scene, cut out the fish in the sidebar and glue them to wooden craft sticks. I also glued the main sea floor scene to cardboard to create an impromptu theater backdrop. New Kid had a grand time making up all sorts of stories with his new fishy friends."- What Do We Do All Day
"Let's count! If you have kids at home that are ready to start learning their numbers these free printable animal number coloring pages will be perfect for them. Naturally these are fun for kids who already know their numbers too! "- Easy Peasy and Fun
" In this fun coloring pack your child or students will be transported into the rainforest to interact with various aspects of the rainforest through the combination of art skills and memory fun. "- Enchanted Homeschooling Mom
"Your kids are going to have a lot of fun with this printable pack as there are 9 pages just waiting to be colored (as creatively as possible)! These will be perfect to keep the kids busy during rainy days, on trips or at the restaurant!"- Easy Peasy and Fun
"What you are going to find in these printables in 13 pages for coloring and tracing shapes. The shapes are circle, square, rectangle, oval, diamond, triangle, star, heart, crescent, hexagon, parallelogram, and octagon."- 3 Dinosaurs
"These printable coloring pages aren't just coloring pages for the sake of coloring. They also work on letter recognition for both upper and lowercase letters."- This Reading Mama
"What's your kids favorite sea animal? Shark? Whale? Octopus? I'm sure they'll spot a favorite or two in this ocean and sea animals coloring pages printable pack!"- Easy Peasy and Fun
"Coloring pages. I know. I know. Busy work, right? I used to think so until I started using them during our read aloud time to keep the little ones quiet so the big ones could hear. Seriously. My kids are LOUD. My house is LOUD. I am blessed that all my kids like to color. So, break out the coloring pages and usually all is calm (for at least 2 minutes anyway)."- This Reading Mama
"First, we printed the fairy wings and body. Then I just put them in front of Elena, together with the coloring pens and I stepped out of the scene. I wanted to give her the freedom to do what she want, and I would only help if she'd want me to."- Creatiful Kids
"We might not be cooling off with ice cream today, but we are enjoying some fun summer coloring pages with a cute ice cream theme! Without the sugar and gooey mess, these free printable pages are sure to entertain and get those little minds going for awhile!"- Kid's Activities Blog
"You can also cut these ducks out of felt to use on a felt or flannel board, or cut out two of each duck and let your child sew them together – either with stuffing in the middle, or random stitching the way we did these flowers and trees. "- Mama Smiles
"If you're looking for some fun activity sheets and coloring pages to print out, here ya go! Just click the link on each image to save and print!"- Crazy Adventures in Parenting
"Like many of Melanie's monthly coloring pages, this one can be turned into a craft. Cut out the trucks, turn them into play figures by gluing onto cardboard or onto a craft stick. How fun it would be to read the book and then create a play scene based on it."- What Do We Do All Day
"I created this giant set of coloring pages so that my Three, a notorious "I'm bored!" traveler, will have something to do on our upcoming 16-hour road trip."- The Measured Mom
"As well as enjoying the game, your child can enjoy colouring in scenes from Little Galaxy in these space colouring pages." – In the Playroom- In the Playroom
"Have a child home sick who is bored? These are the perfect color pages to help them pass the time!"- Crystal and Comp
"If your little one loves airplanes he or she will love to color these babies!"- Itsy Bitsy Fun
"Which little princess, or prince, would love to colour this in, and perhaps even add their own prince or princess to the mix too?"- Kiddy Charts
"This train coloring page is perfect for the child who thinks that no party is complete without a train. The latest coloring sheet in our monthly coloring page series from children's book illustrator, Melanie Hope Greenberg, doubles as a fun party favor or activity. Stick one in a goodie bag, or leave them out for kids who want something quiet to do."- What Do We Do All Day
"As my twin preschoolers used their water paints to colour their towns, my eyes observed their fine motor skills, and my ears appreciated the peace and quiet of the moment. It was wonderful."- Lessons Learnt Journal
"For my daughter and I, coloring is a calming activity to spend quality time together, but there are more ways to have fun with coloring books than just coloring."- Kid's Activities Blog
"Here's the ENORMOUS list of all the fun BIG HERO 6 Coloring Sheets, Activity Pages, and Printables!"- Crazy Adventures in Parenting
"These two emotions coloring pages are a good tool to help kids talk about their feelings. Or, even if your kids don't like to spend hours discussing their emotional state (mine are pretty tight-lipped), they can at least get their brains thinking about it silently."- What Do We Do All Day
"Here's the ENORMOUS list of all the fun and beautiful Cinderella Coloring Sheets, Activity Pages, and Printables for your prince or princess!"- Crazy Adventures in Parenting
"Don't miss this free healthy eating chart for children titled "I Tried Something New." I also included a few coloring sheets to help illustrate the fact that nutritious foods can be fun!"- Happiness is Homemade
"Whether you're planning a Frozen-themed party or your kids are just HUGE fans of this movie, these Frozen printable activities and colouring sheets are awesome!"- Mom Endeavors
"Butterflies are always fun to draw and colour. You can be creative with colours and patterns, and there is a little learning involved as you focus on symmetry."- In the Playroom
"This very simple colouring page airplane scavenger hunt is super simple, but paired with some colours, will hopefully keep little travellers happily engaged and in their seats."- Mama Papa Bubba
Kid's Coloring Books Make Great Gift Ideas
Life Under The Sea: Ocean Kids Coloring Book
My First Big Book of Coloring
72-pack of Kid's Coloring Books
Dinosaurs (Dover Coloring Books)
&
---
~Clare, currently pinning to Free Coloring Pages
Follow our Coloring Pages – Inspiration board on Pinterest.