The Best Slide Out Kitchen Cabinet Organizers

I don't know about you but I think base cabinet units are an absolute pain in the butt. Every time I need to get the pots and pans for dinner or the cereal for breakfast I end up doing so much bending and stooping digging around in the backs of the cabinet for things that my back starts to ache.
This post may contain affiliate links, which means I may receive a commission if you click on a link and purchase something. As an Etsy and Amazon Associate I earn from qualifying purchases.
It's so annoying that I've been daydreaming about ripping the kitchen out and replacing my cabinets with pan drawers. But of course a new kitchen isn't in our budget right now so I needed to find a cheaper solution. And the answer to all our "we hate base cabinet" problems is pull out kitchen cabinet organizers!
[one_half padding="0 10px 0 0″]
[toc]
[/one_half]
[one_half_last padding="0 10px 0 0″]
Store your appliances in the cabinet and get your countertop back!
[/one_half_last]
Seriously these slide out organizers are GENIUS! You no longer have to hunt around in the back of the cabinet, because you just slide the organizer out and you can see every inch of what was in your cabinet, right there in front of you.
And they're actually so much better than plain old pan drawers because they come in all different shapes and sizes so you can choose the right pull out (shelf, basket, drawer) to suit what you keep in that cabinet.
You can even use them for storing appliances like bread makers and food processors. Just think of all the countertop space you can save by putting those away somewhere that's still accessible!
And if your other half is a skeptical (it's cheaper than refitting your kitchen but you'll still have to buy the slide outs) tell them that you will actually be saving money in the long run because you'll stop losing half your groceries at the back of the cabinet where they hide away until they're seriously out of date!
As you might expect there are plenty of options to choose from when it comes to deciding which kitchen cabinet pull out organizer is right for you. But don't worry, I've already done all of the hard work trawling through product options and reviews to pick out the best slide outs for our kitchens.
Easy Access to Your Pans and Lids
This Rev-A-Shelf Cookware Organizer is a much better way of storing (and accessing) your pans than stacking them on a shelf!
I store all of my pans in the cabinet under my stovetop so they're right there when I need them.
Except they are stacked up one on top of the other so if I need a large pan I have to lift out the whole stack and pull the one I want from the bottom.
Very frustrating and such a waste of time and effort.
Life is so much EASIER with one of these cookware organizers from Rev-a-Shelf!
It's made from chrome, and everything you need to install it is in the box, including the mounting hardware.
The bottom shelf is for storing your pans; on their sides so that you can just pick out the one that you want to cook with. Oh and the dividers on the shelf are adjustable so you can make the gaps wider or narrower depending on your pan collection.
The top shelf keeps your pan lids in order.
There are two widths available, one is suitable for a 12 inch cabinet and one for a 21 inch cabinet.
The organizer is mounted to the "floor" of the cabinet so it's ok if your cabinet is wider than 21 inches, you just end up with some bonus vertical space next to your pans, which could be a useful space for baking trays.
You do have to remove the existing cabinet shelves in order to fit one of these slide outs because they take up the whole cabinet space.
One thing to take note of before you order is that the largest pan size that will fit in this organizer is 12 inches because otherwise it bumps into the lid shelf.
A New Home for Your Toaster
Free up precious countertop space with a pull out wire basket
If you have a small kitchen and limited countertop space you might be pulling your hair out trying to make enough room for your dinner preparation.
One simple fix is to use one of these pull-out wire baskets to store an appliance or two in a cabinet instead, freeing up valuable countertop space.
If you only use your toaster at breakfast you can store it away in one of these slide out wire baskets. It sounds like a pain to keep getting it out every morning and putting it away but really it's not. The basket slides out so its easily accessible, it takes seconds, and the extra countertop space is so worth the 5 seconds it takes!
You could put your standmixer in one, and depending on the width of your cabinet you'll probably be able to keep all the accessories right alongside it.
They're also perfect for storing cereal (either in the box or decanted into a container), and you can still keep a shelf at the top of the cabinet so you don't lose any "air" space.
I did see some cheaper slide out baskets when I was researching but I ended up selecting this one as the best because it's such good quality. The runners and the wire basket is really sturdy so it's going to last for years and years. Cheaper models started to bend and warp over time so it's a false economy.
Also this basket pulls all the way out so it's really easy to get to things at the back of the basket (there's no point installing pull out organizers if you still have to stick your head in the cabinet right?)
One thing I did discover is that the "quality" of the instructions varies across the Rev-a-Shelf range. The directions for installing this particular basket were quite confusing and not as clear as the ones for the two tier shelf. Ironically if you have installed a two tier shelf already and you apply the same principle to installing this it's so much easier!
I managed to find a YouTube video that would be helpful to watch before you jump in with the screwdriver.
How to Store Your KitchenAid Stand Mixer in a Cabinet
This mixer lift lets you store your KitchenAid in your base cabinet and then it lifts the stand mixer out when you need it!
My stand mixer is cheap and cheerful so it's not particularly heavy and works well being stored in the pull out basket I just mentioned. But if you're lucky enough to have a KitchenAid you might find it's a bit too heavy to keep lifting up and down to a low basket.
That's where this mixer lift is a better option, because you sit your precious mixer on a shelf which sits alongside your counter, and when you've finished baking it lowers down into the cabinet!
What a brilliant way to save on precious countertop space and not worry about hurting your back lifting and lowering your KitchenAid!
This is meant to be installed in a full height base cabinet in order for the shelf to lift out to countertop level. Some people have installed it in a cabinet with a drawer in, and apparently this is a really good idea if you're not very tall because it puts your stand mixer at a better height for you to use (lower than the actual countertop).
You will need a cabinet with a minimum opening of nine inches to install it, and you do need to provide your own shelf, which means you can match it to your kitchen or your countertop.
The instructions are really clear and easy to follow but you do need to be really precise with your measurements so if you or your partner aren't really into DIY it would be best to get a professional in to fit it for you.
Turn Your Narrow Base Cabinet into a Drawer with Shelves
Finally you can put those narrow cabinets to good use with this pull out organizer

We have a narrow (12 inch wide) cabinet in our kitchen and it's been standing empty as I couldn't work out what I could even store in there.
Then I found this pull out base cabinet organizer which essential turns that narrow cabinet into a pull out set of shelves. It's great for canned goods, snacks and even flour and baking supplies.
I love the fact that the existing door attaches to the organizer so you don't have to open the door and then pull the shelves out, you just pull the door and it slides out neatly. It's the perfect way to use up all the space in the cabinet without losing things way in the back.
The shelves are adjustable so you can move them up and down until you find the best fit for your cabinet contents. You can even take some of the shelves out if you need to put taller items in.
You will need a full height cabinet to make this work.
If you have a matching narrow wall cabinet you can buy a similar pull out system to put in there too.
Easy Access to All Your Canned Goods Thanks to Pull Out Baskets
This clever sliding basket means you'll never have to eat out of date canned soup!

Hands up if you have ever found a can of soup that's 5 years past it's sell by date hidden at the back of a kitchen cabinet… or is that just me??
The problem with cans is that they are so easy to stack that you end up only using the ones at the front of the shelf because it's too much effort to get to the ones at the back.
And that's where this clever pull out basket comes to the rescue. You can fit 12 cans in it, and it pulls out from the cabinet so you can see all 12 at once! No more out of date soup, and you'll be saving money at the grocery store because it's easier to keep track of what you actually have.
I looked at a few sliding baskets and this one came out on top. The downside is they're actually designed for attaching to the wire shelving you have in your pantry. So if you want to do that all the fixings are included. If you want to use these in your cabinets then you need to just do a little "hack". Drill some holes into the shelf, and then use some metal flat screws and a bolt to attach the runners. Works a treat!
Cutting Boards and Bakeware Should Stand Up
No more rummaging through bakeware mountains trying to find the tray you want!
My pet hate in the kitchen is cutting boards and baking tins. They're flat so it seems the most sensible way to store them is to just lie them down and stack them up. But then of course you have to keep moving them about to get to the item you want which is invariably at the bottom of the pile.
It would be so much easier to stand them up, except they're so thin they just fall over.
I did manage to solve the issue with my cutting boards by standing them all up on the side of my counter and then wedging a knife block against them to act as a "bookend". Works perfectly, except I've now lost three inches of valuable countertop space and I'd much prefer them to be out of the way.
That's why I was so happy when I found this pullout kitchen cabinet rack. It has built in dividers to keep everything upright and pulls out of the cabinet so I don't have to keep bending down and twisting to get them out of the cabinet.
You'll need a cabinet with an opening that's at least 11 inches wide to fit it. And the organizer itself measures 10 inches wide by 21 inches deep and 9.6 inches high.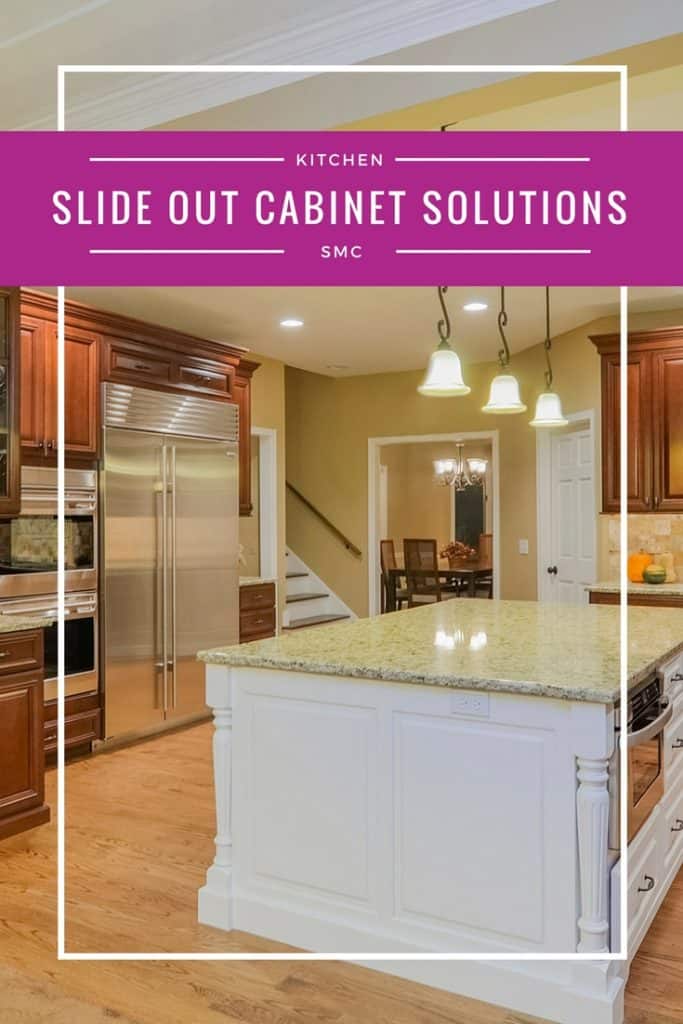 Image Credit: Kitchen Design by Bryan Sebring | CC BY | Text overlay added