Are you heading off on vacation with your family soon? I love family vacations. Spending precious time together as a family, making new memories and having lots of fun and giggles. But sometimes the thought of spending time away from home with two toddlers fills me with dread!
It's not just me right? There is just so much to think about. How do we keep them fed, watered and entertained on the journey? What will the sleeping arrangements be when we get there? Will they have a mega meltdown that causes everyone to give us those disapproving "you're obviously a failed parent" stares?
If those questions often run through your head too then keep reading because I've pulled together these tips for travelling with toddlers (wow alliteration frenzy!), and I'm sharing them here to make life a little easier for both of us.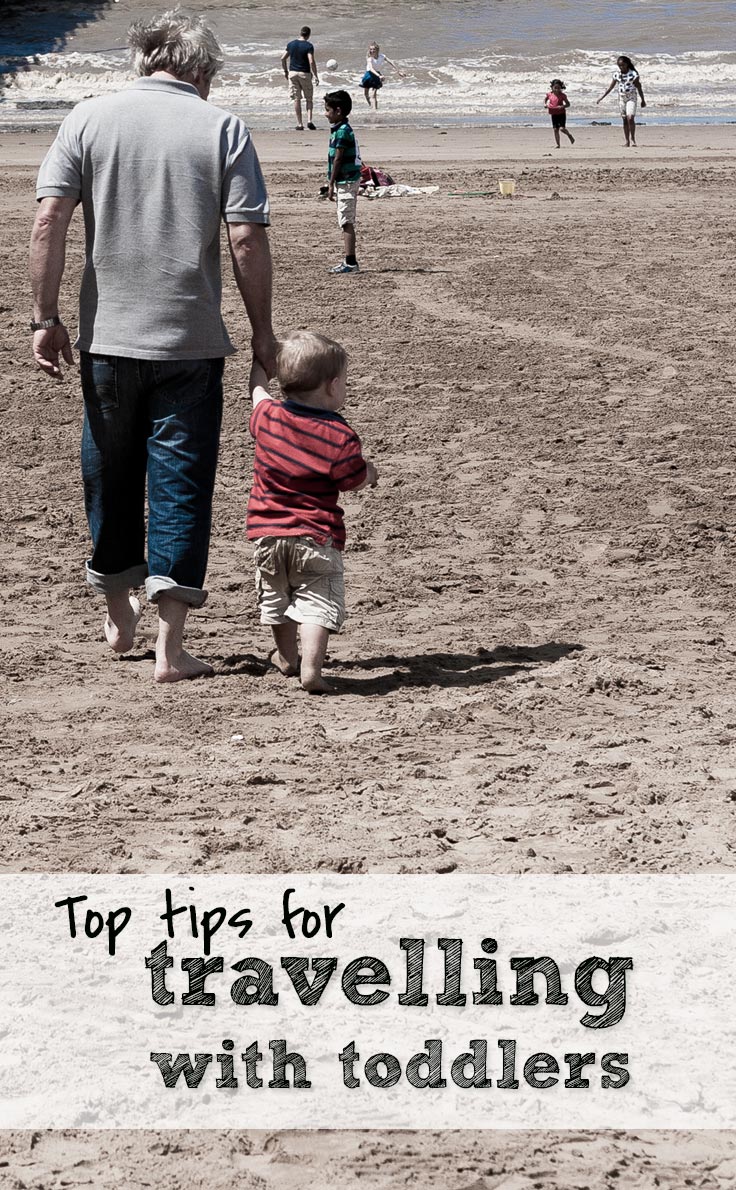 1. Pack only the essentials
It doesn't matter whether you are travelling by car or plane, you need to try and pack as little as possible.
Too much luggage and toddler paraphernalia in a car and not only do you use more gas but it can cause safety issues.
Too much luggage when you're flying and you just don't have enough hands free to keep your toddler safe.
That's why you need to think about what you really need when you arrive at your destination.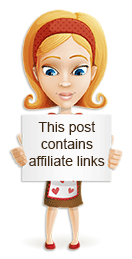 Do you need to take diapers or can you buy them when you get there? We usually pack enough in our case to get us through the first 24 hours, then we head to a store and stock up.
How many clothes do you really need for your toddler (and for you for that matter)? Are there washing facilities? Throw some travel wash in your case and you'll be able to wash your tot's clothes in the sink.
A great way to keep your toddler's clothes organised is to make them up into outfits and then pop each set into a ziplock bag. Plan their clothes like this and you can see at a glance how many days they have outfits for, and they're easy to pack too. We're going on an 11 day vacation and I plan to have 3-4 days' worth of outfits for each tot, and I'll do laundry every couple of days.
2. Think about the sleeping arrangements
If you're staying an a hotel or a private rental property then most of them have a Pack and Play for little ones to sleep in. This is probably still suitable for younger tots, but you might find it's just too small for an older toddler. You don't want to arrive after spending hours travelling with a tired out toddler and no where for them to sleep!
First up let's talk Pack and Play.
If your child is small enough to sleep in one then great, but what happens if you have two children who need Pack and Plays?
The hotel or management company will often offer you an additional one, but it usually comes at a price. We were in this predicament last year and it worked out cheaper for me to buy a second hand Pack and Play on eBay and take it with us on the flight (as a piece of checked luggage), and then leave it behind in the private rental.
Now onto toddler travel beds.
If your little one has outgrown a Pack and Play then you should think about a toddler travel bed instead. This Readybed is brilliant because it folds up into a small bag, and you just need to inflate it when you arrive.
It's probably a good idea to have your toddler sleep in it a couple of times before your trip so that they get used to it. An alien bed in an alien hotel is never a good combination for a good night's sleep – and we both agree on how much we want a good night's sleep right?
3. Essentials for travel day
If you're flying to your vacation destination then you'll obviously be thinking about carry on luggage. But I think it's also essential if you're taking a road trip too.
If there's one thing you can always rely on about toddlers it's that they get themselves dirty. Whether they're car sick, have a diaper blow out, or just manage to drop some sticky snack down their clothes, you'll want to have spare clothes to hand so you don't have to go emptying all your neatly packed bags to try and find something for them to wear!
Here's what I'm planning on carrying for the kiddos on travel day:
A change of clothes
Enough diapers for the journey
Baby wipes for cleaning bottoms and sticky messes
Muslin cloths, because I never go anywhere without them!
Water bottle
Healthy snacks
Pacifiers (if they're still using them then)
Books and toys, which I'll tell you about in a minute
If you're travelling by plane you might want to treat your toddler to a Trunki ride on suitcase. These little cases are cute but practical. You can fill it with the essentials your little one will need for the flight and then your little one can either pull it along, or they can hop onboard and you can pull them along! I'm saving up to buy two of these for our trip, and I'm going to get the tote bags too to help keep the inside organised during our flight.
For road trips check out this back seat organiser which has plenty or room for a change of clothes, snacks, drinks and all the toys they could possibly need to keep them entertained on the journey.
I'm thinking about buying one of these organiser thingamajigs just for our daily out and abouts in the car. We have so many toys and books strewn across the footwells and the kids can't actually reach anything they want to play with because they're in car seats.
One more thing about travelling by car, please make sure that you (or your hubby) have done all of the checks to make sure your car is fit for the journey. From a safety perspective this is so important, but also I'd hate for you to breakdown in some strange place.
My friend Jennifer has shared her road trip checklist so you don't even need to think about what you need to do, just follow her steps.
4. A travelling companion
Your toddler probably has a routine at home so they know what's going to happen during the day. Taking them away on vacation is a big change and can be quite upsetting for them.
I'm already starting to think about how I can make Miss E feel happier because she gets so easily upset even if we just take her to someone else's house for the day.
My kiddos don't really have a favourite stuffed toy, certainly not something they carry around all the time. I was thinking about encouraging that but then I remembered what happened when my friend's son lost his favourite toy, and the poor thing was so devastated he didn't sleep properly for a week.
Then the other day I was contacted by a lovely lady called Noa who is one half of the dynamic mom duo who have invented a wearable plush toy. Toogiez are these super cute little characters that have velcro on the backs of their heads, and they come with a matching Tshirt with a velcro shape on the front. You see where I'm going with this? The plush sticks to the shirt!
It's quite inspired really, and terribly cute.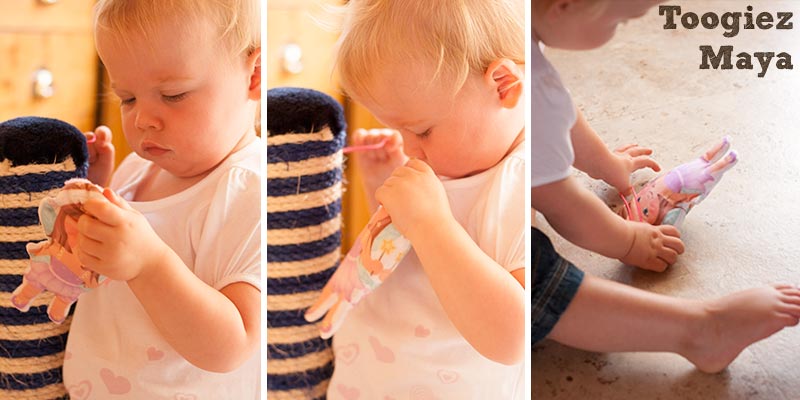 Noa was kind enough to send a parcel to the kiddos, which they were so excited to unwrap! Miss E received a beautiful tooth fairy doll called Maya, and a matching shirt with pink hearts. And Master J is the proud owner of an adorable and very brave firefighter by the name of Rio who attaches to a shirt with blue stars.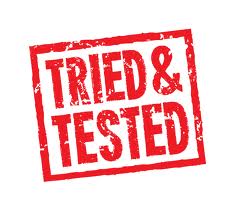 They both gave their new friends a hug and then spent some time practising unsticking and sticking them to their shirts!
I think these wearable plushes are a fabulous idea, the kids get to take their little friends wherever they go and because they're stuck to their shirts there's less chance of them getting left behind anywhere.
Here's the link you need to find out more about Toogiez and see which character you think your toddler would like the most.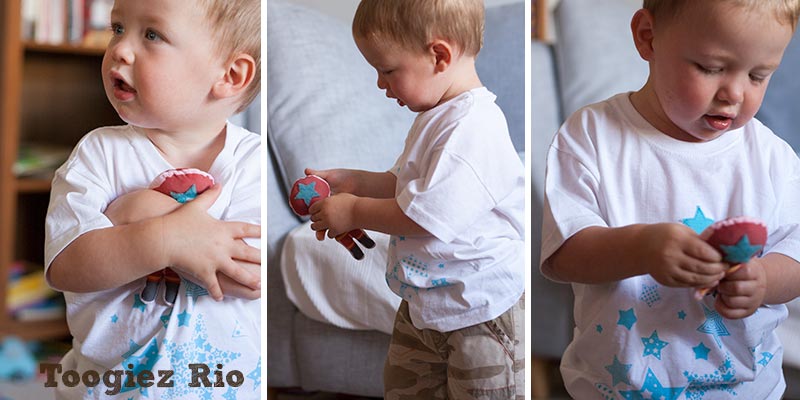 5. Keeping your toddler entertained while travelling
If you're travelling by plane or car for anything longer than an hour you're going to need to prepare for your toddler to get bored. Here's what I'm planning to pack in those Trunkis to keep them entertained during the journey:
Duplo or Mega Bloks bricks
Now the kids have their Toogy friends I'm trying to come up with some ideas for a busy book that they can stick their friends into. More on that when my creative brain finally kicks in!
I found a great tip online somewhere (which I wish I could give credit for so if it was you let me know!) about wrapping up the different toys and activities in gift wrap, and then presenting a new one at intervals during the journey. I love this idea and will definitely be doing that one.
Enjoy your vacation!
I hope you found these tips useful and that they will help you and your family have a wonderful vacation. If you have a favourite tip for travelling with toddlers that I've not thought of please leave me a message in the comments below.
I'd recommend you check out this post on keeping your kids safe in the sun next, but before you do that I'd really appreciate it if you'd just hit one of those little buttons just there and share this with your friends, because you want their vacations to be a little less stressful too right?