With the ponies about to hit the big screen these My Little Pony Halloween costumes for kids are going to be the thing to wear for trick or treating this year!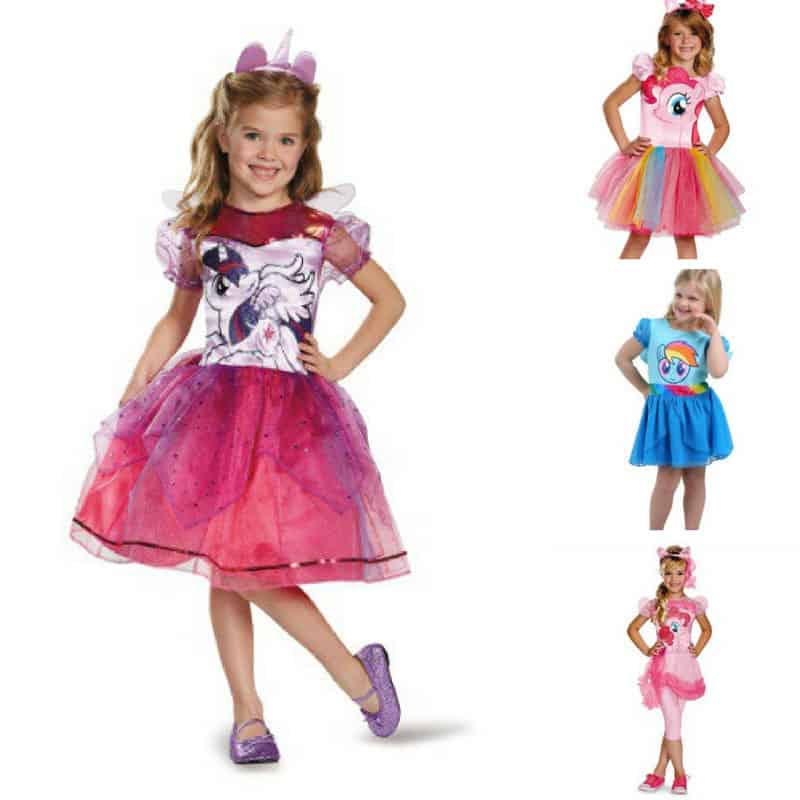 My Little Pony Halloween Costumes for Kids
My daughter is CRAZY for My Little Pony at the moment and if yours is too then you might want to check out this selection of My Little Pony Halloween costumes for kids together. You know just to make sure you pick out the right pony when you choose her costume! I can never quite sort my Rainbow Dash from my Twilight Sparkle!
Pinkie Pie Costumes
Pinkie Pie is the party loving pony and she's a fun and sweet character. Her costume features a pink tunic top. Some of these tops will have an image of Pinkie Pie across the front of it.
You'll find a lot of attention to detail with her costume – such as the puffy sleeves. Many of them even feature the delightful pony tail that can be removed from the costume. The bottoms of most of these costumes are leggings but if your little girl prefers you can pick out one of the Pinkie Pie costumes that have a gorgeous tutu style skirt instead.
To round out the outfit, some of these costumes come with the pony headband so that your daughter can also have ears like Pinkie Pie.
Pinkie Pie Tulle Costume DressBuy Now Pinkie Pie Deluxe CostumeBuy Now Pinkie Pie Tutu Prestige CostumeBuy Now My Little Pony Pinkie Pie CostumeBuy Now Kid's Pinkie Pie CostumeBuy Now Pinkie Pie WigBuy Now
Twilight Sparkle Halloween Costume
Next on the list of much loved Pony characters is Twilight Sparkle. Any little girl would love to dress like this magical Pony.
What you'll find with most of the costumes created after this Pony is like the name says – the outfits will sparkle. Some of them are designed so that when the child moves, the clothes appear to sparkle.
Some costumes will have more accessories than others, such as including the wings and detachable tail along with the headband to give your child ears like the beloved Pony.
But even if you don't find one that gives you these extras, you can still get them as a separate purchase.
You can also purchase an Equestria Girl's Twilight Sparkle outfit if your daughter prefers that style.
Twilight Sparkle Tulle Costume DressBuy Now Girl's Twilight Sparkle Deluxe CostumeBuy Now Twilight Sparkle WingsBuy Now Twilight Sparkle WigBuy Now
Twilight Sparkle Movie Classic Costume
Twilight Sparkle Equestria Deluxe Costume
Twilight Sparkle Slippers
My Little Pony Little Girls' Twilight Sparkle Hoodie
Twilight Sparkle Equestria Leg Covers
My Little Pony Twilight Sparkle Tail
Rainbow Dash Halloween Costumes
And we can't forget about Rainbow Dash! As with the other My Little Pony costumes the styles and options are very similar, and accessories or sweatshirts are also available.
My Little Pony Tulle Costume DressBuy Now Rainbow Dash Tutu Prestige CostumeBuy Now Rainbow Dash Deluxe CostumeBuy Now Rainbow Dash HoodieBuy Now
My Little Pony costumes for Women
If you want to have a matching outfit there are My Little Pony costumes for women too. The outfits have a bit of a disco vibe to them with wigs, and leg warmers. Rainbow Dash's costume of course comes with wings too!
Rainbow Dash Pony Adult Women's CostumeBuy Now Pinkie Pie Pony Adult Womens CostumeBuy Now Twilight Sparkle Pony Adult Womens CostumeBuy Now
Related Posts:

Pin these ideas!
Hit the button to save these ideas for later.
Don't forget to
follow us on Pinterest
for more great stuff!
&
---