DISCLOSURE: Some of the links below are affiliate links. This means that, at zero cost to you, I will earn an affiliate commission if you click through the link and finalize a purchase. All opinions are my own, and I only recommend products that will add value for my readers.
Whether you're a journaling beginner or stuck in a rut we've got nine interesting things you can write about in your daily journal that you might not have thought about before.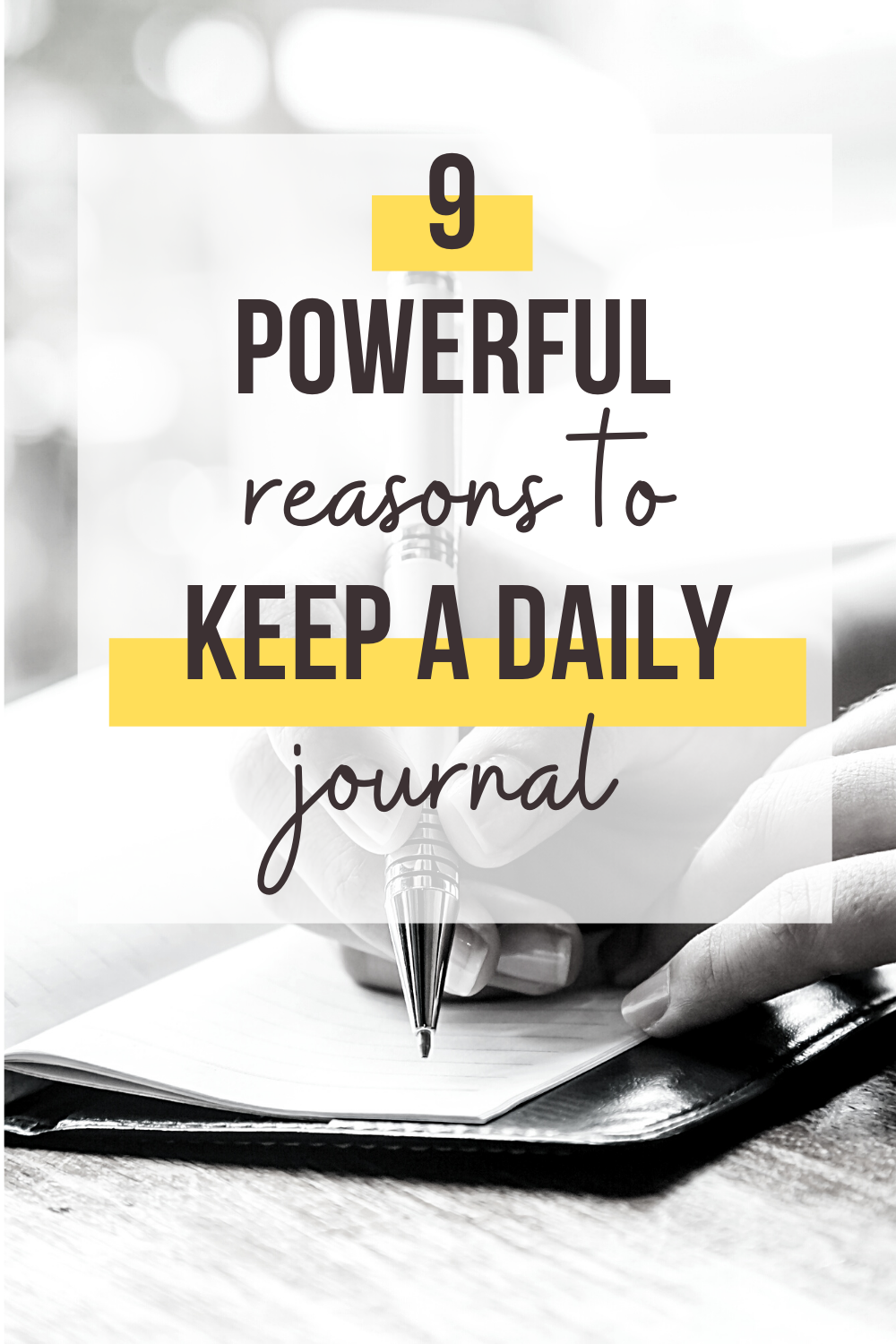 Daily Journal Writing Prompts
Taking time out of your day each day to journal has so many benefits including:
• Positive self-awareness in relation to your feelings about the day
• Better awareness of your motivations
• A way to process emotions and events
Journaling daily is a kind of therapy which costs nothing except 10-15 minutes of your time.
Today we're looking at some different ways you can use your daily journal, including some journaling prompts.
So whether you're new to journaling or you've been journaling for a while and are looking for ways to mix things up a bit you should definitely grab your journal and give some (or all) of these a try!
Write about today for your future self
How would you feel if you discovered a book that contained all your favorite memories of the past?
Not just a log of the events, but the details you'd long forgotten?
Likely you'd be intrigued, and even delighted by what you'd found.
By using your daily journal as a way to record the events of the day you become a time traveler, connecting your future self with the past.
In short, writing today is an act your future self will thank you for!
Stuck? If you feel like your day is too routine, write about whatever event of the day left the strongest impression on you instead.
What conversation today has stuck with you? Who were you talking with at the time?
Consider yourself a historian
Have you ever considered the words in your journal might someday be regarded as important?
The details of history have always been found in the ephemera, the letters, journals, and other scraps of writing left by ordinary people just like yourself.
It's through these kinds of writings we know how soldiers felt at Valley Forge, how it felt to live through the Great Fire of London or what life was really like during the Regency period.
Now imagine your daily journal was a record found hundreds of years from now.
What would it say about living in the 21st century?
What within those pages will speak to the ages?
What happened in the world today that stands out in your mind? What are your feelings about that event?
Gain a better understanding
Are you 'woke'?
Awareness is a hot topic today.
Woke is about being aware, about knowing what's going on, and how the pieces fit together.
If you wake, you're considered savvy and informed.
But how woke are you in your day to day life?
How much do you see the world around you?
How much do you even understand yourself?
The significant benefit of journaling is that it allows you to put all these thoughts together.
By writing about your day in your journal you start to see the connections.
You finally get what your friends were saying, or you begin to glimpse the bigger picture about what's going in their lives, and yours.
Who is one of the most important people in your life? What kind of impact have they had on your life? Start with "I am more ____ because of ____"
Get some perspective
Are you feeling stressed out and overwhelmed by life?
Daily journaling might be the solution you sorely need.
By writing about your day, you're able to step back and gain a better perspective of what's going on.
Here's how it can help:
• Start by writing about the event itself. What happened? Write down as much detail as possible.
• Next, write down your thoughts or beliefs you associate with that particular event. What were your thoughts at the time?
• Last, ask yourself what happened because of those thoughts. How did those thoughts impact your actions?
A little perspective goes a long way in helping to unravel what's going on, and find the solutions to the problems.
Maybe there's an action you need to take, or perhaps you need to address your emotional response.
Whatever the case, writing will get you there.
Write a letter to your younger self. What would you tell them that you realize now but didn't at the time? How do you think it would have changed things if you'd known then what you do now?
Have an attitude of gratitude
Are you having a grumpy sort of day?
When things feel like they're going wrong, it's time to put the focus on what's right.
Using your daily journal makes this very simple.
You can start by making a list of things you're grateful for.
You can do this exercise at the start of the day for a fresh pick-me-up guaranteed to put you in a positive mood as you go out the door.
Or if you'd rather, write your list at the end of the day allowing you to go to bed with an untroubled mind.
Are you having trouble finding things to be grateful for?
Keep it simple.
Maybe you are grateful for your first cup of coffee.
Or for the feel of the warm sun against your skin.
Or the smell of the rain.
Write whatever comes to mind when you think of moments during the day that made you smile and let the feelings flow from there.
Think of a happy moment during the day and write about it. Don't forget to express gratitude for whomever or whatever inspired this happiness.
Set your eyes on the prize
Whatever you are trying to accomplish the single most important thing you can do is to make a clear goal.
It's really hard to accomplish anything without a clear goal and an understanding of how you are going to get there.
How does daily journaling help?
By writing out your goals, you help to make them clear in your mind.
By writing about them often, you keep your energy up in regards to your goal.
You remind yourself why it's essential, and what still needs to be done to get there.
How do you do this?
Start by writing out your goals for the week at the beginning of the week so you have a clear roadmap for the time ahead.
Then throughout the week, journal your progress.
At the end of the week write about how far you moved towards your goal.
How do you feel about where you are?
What still needs to happen, or even change to move forward?
What have you always dreamed of doing? List three big-picture goals. Why did you choose them? How would your life change if you accomplished them?
Get stuff out of your head
Do you often struggle to sleep because you have so many thoughts going through your head?
Between ideas, goals, task lists, and conversations that took place during the day which you can't seem to stop replaying over and over in your mind, it's no wonder you can't sleep.
If this happens to you, journaling might be the solution you're looking for.
By writing down those thoughts, you give them somewhere else to go.
Paper captures them, and often organizes them.
You're able to see to the heart of the situation and gain the clarity you sorely need.
Doing this before bedtime is particularly helpful as you'll find yourself feeling much more at peace
Write about an idea you've had rattling around in your head in as much detail as you can. What makes this idea exciting to you?
Break the routine
Have you ever heard the phrase "You can't see the forest for the trees"?
Journaling sometimes has a rather unexpected outcome of allowing you to see the bigger picture.
When we are focused on our lives right now, at this moment, we don't always see the patterns or trends emerging in our lives.
Journaling about your day will quite often reveal some rather startling truths.
Pay attention to your previous entries, as you write about today.
If you are experiencing a sense of déjà vu, ask yourself why.
It might be you wrote about this before.
If so, go back and check.
You might be surprised at what you find.
If you could go back and relive a moment of your life, what would it be? Why?
Question everything
Sometimes when you are journaling, a question might pop into your head that's related in some way to what you're writing about.
What do you do with it?
Write it down of course.
By making it a point to write down questions, you engage in creative thinking, especially if the questions themselves motivate the search for answers.
Questions also become jumping off points to use for future journaling prompts.
Are they about many topics, or do they focus on one area?
It might be they're pointing you toward a new project or learning opportunity.
Got questions? Start a list made up of nothing but questions. Write down every single question you can think of, then mark one of them to research for a future journaling endeavor.