This post may contain affiliate links, which means I may receive a commission if you click on a link and purchase something. As an Etsy and Amazon Associate I earn commissions from qualifying purchases.
If you're feeling overwhelmed by too much clutter today is as good a day as any to take some simple steps to embracing a minimalist lifestyle Your mind and your pocket book will thank you for it!
Living a Minimalist Lifestyle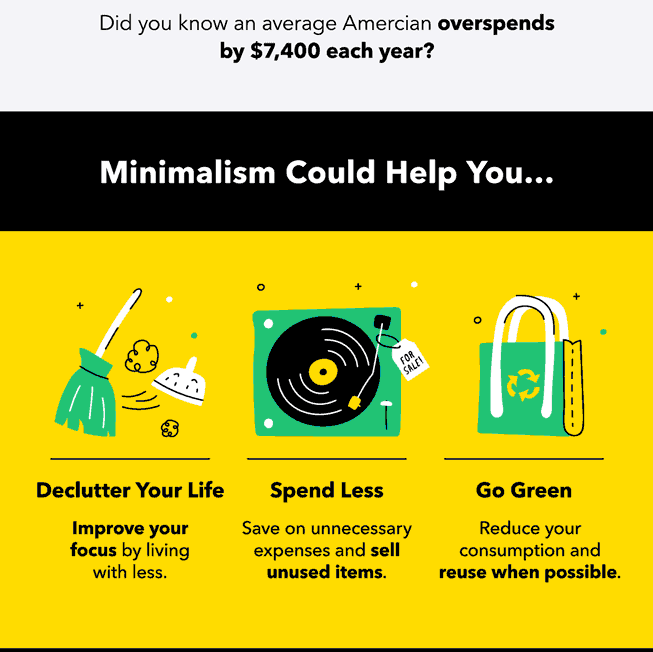 We've been spending an awful lot of time at home this year and one thing I've noticed is that we really don't need so much "stuff" in our lives.
I know we usually save the fresh starts for the Spring but there's really no better time than right now to make a few changes to our lifestyles and embrace a little bit of minimalism. Or a lot. If you're ready to go all in!
If you're more of a toe tippper when it comes to change you'll want to ease your way into it and start making some new habits.
Instead of feeling overwhelmed by the idea of purging unnecessary items, break it up into small tasks.
A good place to start is by paring down your physical belongings, which can have a powerful positive effect on your life. Ultimately, it can help you feel more free and empowered in your life.
Take a look at your clothing, gadgets, books, and other miscellaneous things that you have gathered over time. What do you really need to keep? What can you donate, give away or recycle?
Think about purchases too. When we buy more "stuff" without being mindful about why we end up with things we don't really want or need. And as well as hurting our mental clarity it puts a dent in our budget too.
Remember, your attempt at minimalism doesn't have to be perfect. But every small step adds up. And eventually, your wallet, home, relationships, and overall wellbeing will enjoy the perks of minimalist practices.
Want some more ideas of how you can embrace minimalism in your life?
Check out these top 10 tips for living your best minimalist lifestyle that were put together by the folks over at Mint.