Summer BBQ season is approaching and your guests will go crazy for any one of these delicious root beer float desserts. From poke cakes to cookies there's something for everyone!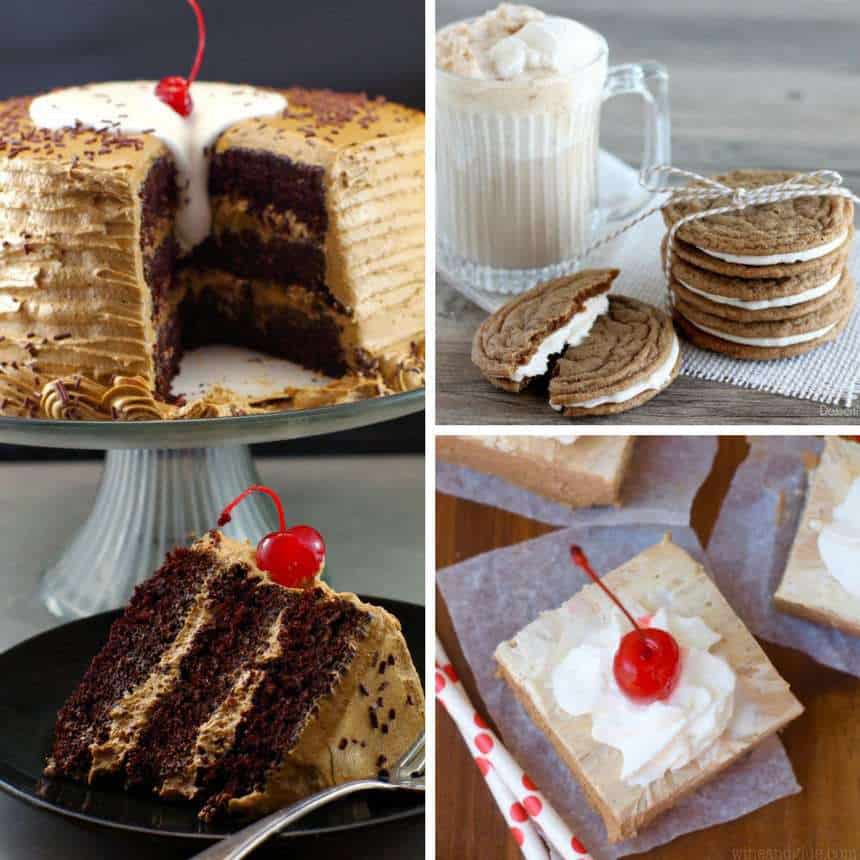 Root Beer Float Desserts

If you think Root Beer Floats when you think summer you're going to love today's collection because I've got 10 different Root Beer Float Desserts for you to try!
So whether you're planning a BBQ or you need a pot luck dessert there's something here for everyone.
As always the food bloggers I'm featuring in today's collection are super talented so click through to see the recipes and then take a look at what other goodies they've been cooking up recently!
Root Beer Float Cake – The ultimate Happy Birthday Cake Recipe
If you are searching for the ultimate birthday cake for the root beer fan in your life it really doesn't get any better than this amazing float cake! Not only is it made with root beer extract but it's painted in root beer syrup for a deliciously moist cake. It will take you a couple of hours to make but the end result is totally worth it!
Root Beer Float Cupcakes
If you'd rather experience your root beer in cupcake form take a look at these delicious root beer float cupcakes, where even the frosting is flavoured with root beer!
Root Beer Float Cookies
I have a confession to make… I have never baked a sandwich cookie! But I think this recipe has just convinced me to give them a go! Oh and if you're looking for a hostess gift with a difference this summer I think a pile of these cookies all tied up with string is just the thing!
Root Beer Float Cake with Cream Cheese Frosting
Sandy had friends over for a 4th of July party that was root beer themed so she whipped up this root beer float cake with cream cheese frosting. It's super easy to make (and I love that you only have to use one bowl) just perfect for summer barbecues and pot lucks!
No Bake Root Beer Float Cheesecake Bars
If you need a last minute summer dessert recipe these no bake root beer float cheesecake bars are just what you're looking for! They're super simple to throw together and taste absolutely yummy!
Root Beer Float Cake
The great thing about root beer float cakes is that there's more than one way to make them… this particular recipe is a vanilla and chocolate marbled cake and tastes just like a dessert you'd find on the Red Robin menu!
Root Beer Flat Pie
When I think root beer I think Fifties and when I think Fifties I think pie… so it's only right to include a root beer pie in this collection don't you think? This is one of those handy recipes you can make at the last minute (because it comes together super quick) or make ahead (because it stores well in the freezer)!
Root Beer Sugar Cookie Bars
I'm terrible at making cookies, they're always not-quite-done or over-done and I can never get the consistency right. But cookie bars? Oh yes I can handle making those! These particular cookie bars are chewy, soft and delicious and of course flavoured with root beer extract!
Root Beer Meringue Cookies
Oh my. These root beer meringue cookies look all kinds of amazing! Just what you need for your summer BBQ dessert. This is not your last-minute kinda cookie because they have to rest in the oven for 4-8 hours, but as long as you are willing to wait that long to eat them they are totally worth it!
Deep Fried Root Beer Floats
If you are on a diet, or trying to embrace a healthy eating lifestyle do not click through to this recipe, heck don't even look at that picture, because I don't want to be help responsible for leading you astray! If however you embrace Fry-Days in your family then click through right now because in Elizabeth's words these deep fried root beer floats are "lets-deep-fry-every-day-because-this-is-freaking-awesome" good!