This post may contain affiliate links, which means I may receive a commission if you click on a link and purchase something. As an Etsy and Amazon Associate I earn commissions from qualifying purchases.
Today we're sharing a fabulous collection of easy back to school apple treats for kids to make for their teachers as edible gifts, or for you to make for your kids to celebrate the first day back in the classroom!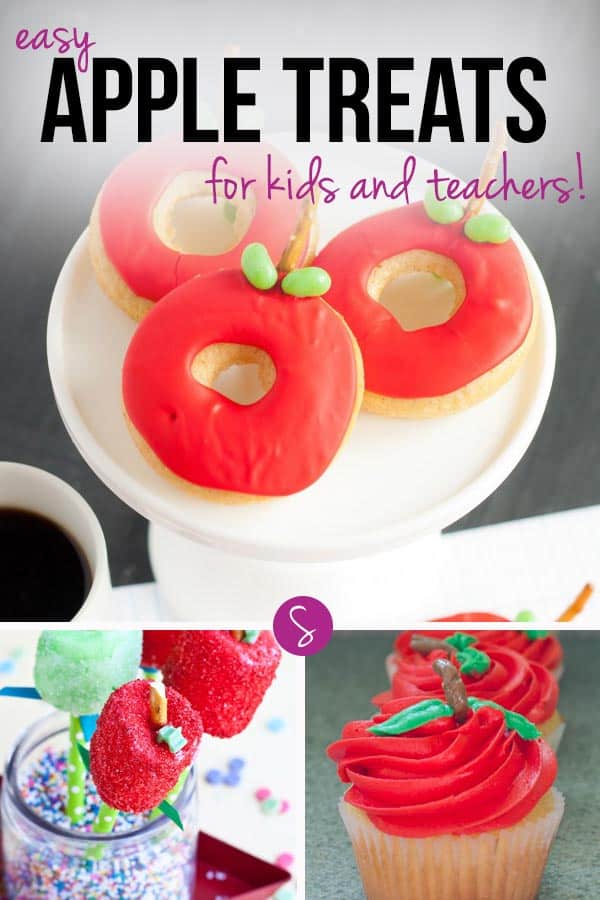 Easy Back to School Apple Treats for Kids and Teachers!

"Planning a back to school party? You won't want to forget incorporating these adorable apple cake pops. They're gorgeous, right?" – Spaceships and Laserbeams
"We're counting down to back to school! Why not get the kids in the Fall/Autumn mindset with these fun back to school red apple Rice Krispie treats. And don't forget about teacher! These would be an awesome addition to a teacher appreciation gift." – The Jenny Evolution
"My mom was trying to find a simple gift she could give to the teachers she works with and asked me to help. She first suggested I make these super cute apple cupcakes from the new cupcake book she gave me for Easter, but I convinced her these would be a much better idea (ie, less time consuming!)" – Giggles Galore
"We made these EASY apple marshmallow pops together, while I talked to him about school and how much FUN we have learning there." – Cake Whiz
"Can you believe we are already talking back to school?! Beyond supplies and everything else that comes with starting school again, getting teachers a little treat to begin the school year is a great idea! Why not make them something? Any teacher would love these adorable cupcakes made to look like an apple! Make a tray of them and put in the Teacher's Lunchroom or Main Office. They're so easy to make and will be a huge hit! My kids would agree that a few set aside to enjoy after school on the first day is a good idea too!" – Frugal Coupon Living
"My kiddos are heading back to school next week, so I have been busy in the kitchen preparing all kinds of treats. I've always wondered how teachers keep their cool after being cooped up with a room full of stinky wiggly kids each day, so to help ease them back into their academic routine, I am sending them sugar. Lots of it!" – Sweet Sugar Belle
"These are really easy and took me all of 20 minutes to make some up. All you need are a few simple ingredients." – The Idea Room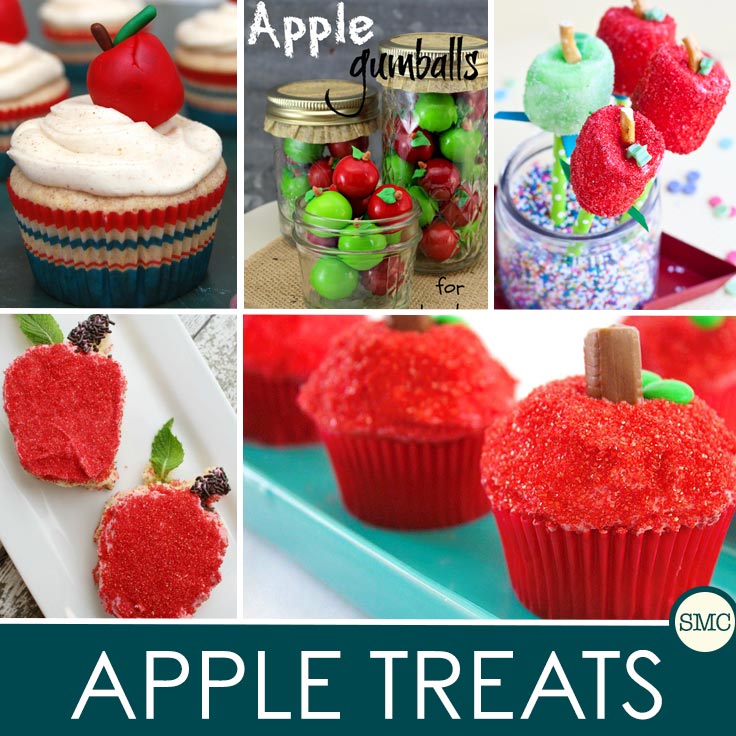 "Today I'm going to show you how to make a little apple to top your cupcakes. One package of red will make roughly eight apples, but you could always make them smaller than I did here and stretch your dough further. The first thing you want to do is break the dough ball from the package into quarters. Then start kneading it. It will feel super tough for like 30 seconds and then all the sudden feel like play dough." – Wine and Glue
"So, I had every intention to share a delicious doughnut (or "donut" – how do you spell that word anyhow!?) recipe here on the blog and then decorate it like an apple so that it could be the perfect first day of school treat for your kids and their teacher. Well, I opened my pantry to get out all the ingredients and I had a rush of laziness once I spotted the Trader Joes baking mix that I hadn't tried out. Whew, was I glad! That mix is the most delicious tasting cupcake / baking mix I've ever bought (and I really don't buy box mixes except the organic / good ones!) So, I guess my donut is actually a faux-nut, since its technically a cupcake shaped like a donut. Even better!" – Anders Ruff
"Hi friends! Today I'm sharing an adorable and easy Back To School Idea that you can also use for Teacher Appreciation Gifts. I love putting a cute treat inside of my kiddos lunch bag the first day of school and these "apple" Oreos are super easy to make and very tasty! Let's take a closer look!" – The 36th Avenue
"Can you believe back to school season is almost here? For some, school is already in session! We're still getting ready and have a lot left on the BTS to-do list, including a ton of shopping. But even with all of the back to school madness, I couldn't resist sneaking in a sweet treat to get my daughter ready for the new school year. Just check out these ADORABLE apple-themed cupcakes!" – Mommy Musings
"Giving an apple to your teacher is a time-honored back to school tradition. This year, I decided that sending three dimensional Sugar Cookie Apples would make a much more unique gift!" – Living Locurto
"Ever since I saw 3-D cookies from SweetSugarBelle I have had 3-D cookies on my list of things to try. Teacher Appreciation became the perfect opportunity for me to give it a try. The apple is widely used to represent teachers because of the symbolization of growth. I knew I wanted make an apple tree but I didn't want it to be just any old apple tree. I wanted it 3-D. What can I say? I love to give myself headaches sometimes. I will also be sharing other designs I made. This is going to be a lengthy post so let's get started." – Simply Sweet by Honey Bee
"I've worked up a cute FREEBIE BACK TO SCHOOL printables set and a tutorial for some chocolate covered Oreo Apple Pops that I hope the teachers out there will love. The printables include a monogrammed note card set for teachers, teacher gift tags and lots more so be sure to grab your get and be ready for all those teacher gifts we like to give throughout the year." – Amanda Parker and Family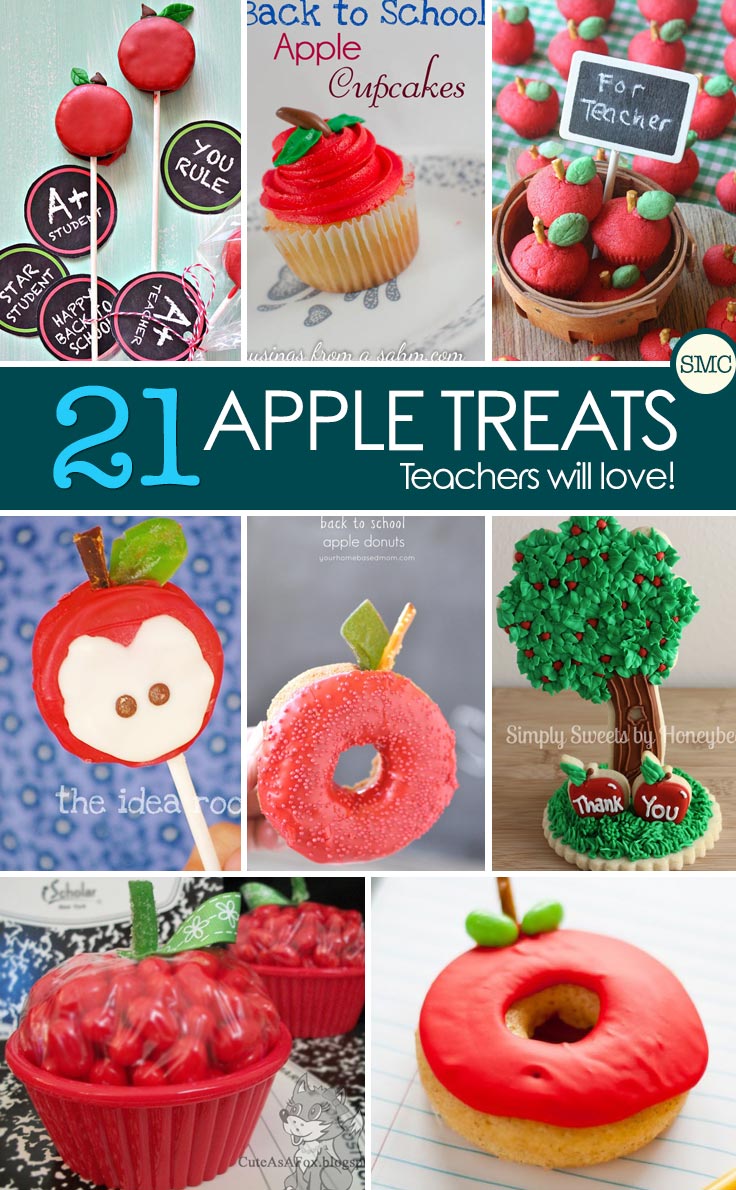 "The inspiration for this project came from OohlalaCandy.com, they make cute candy cupcakes, including an Apple for back to school. I saw it, loved it, and knew I could make it!" – Cute as a Fox
"I'm just going to have to keep celebrating the first day of school with my neighbor kids by hosting a back to school breakfast each year. Donuts are always a big hit at a first day of school breakfast." – Your Home Based Mom
"So for those of us that were procrastinating or waiting for the right moment… I think these cute little chocolate covered pretzels will be gladly welcomed by both students or teacher. Heck my kids have been eyeing these since the moment they got up waiting for the moment mommy says they may have a bite. Who knew and pretzel deisguised as an apple would be such a hit?! I have to say these could be one of my favorite pretzels I've made…and I've made my fair share." – Make Bake Celebrate
"Little C and I made these after school one day to share with her school class, they were a hit! She did a great job!" – Gourmet Mom on the Go
"My college roommate taught first grade for a few years after we graduated. About a year and a half in, I remember her telling me to never give a teacher any mugs, Christmas ornaments, etc. with an apple on it– unless it was the teacher's first year. (Because it's apparently all anyone ever gives them.) Well, I wonder if cookies shaped like apples count, because that's what I plan to give my kids' teachers this year." – Beki Cooks Cakes Blog
"Fall is definitely here. The leaves are changing, it's getting chilly, and suddenly I'm craving the warm, cozy scent of cinnamon as well as pumpkin baked goods. I say it's the perfect time to bake some Cinnamon "Apple" Macarons." – Diamonds for Dessert
"This week, I wanted to make a special treat for the kids. But, like many of you, I didn't have time to do super fancy, yet still wanted something fun. So I thought of this simple Back to School Cupcakes idea." – Musings of a SAHM
---
~Clare, currently pinning to Delicious Desserts
Follow our Delicious Desserts board on Pinterest.