Stuck for easy school lunch ideas for kids? Well how would you like a whole month's worth of options that even your picky eater will love? Because that's exactly what we've got for you today!
This post may contain affiliate links, which means I may receive a commission if you click on a link and purchase something. As an Etsy and Zazzle Affiliate I earn commissions from qualifying purchases.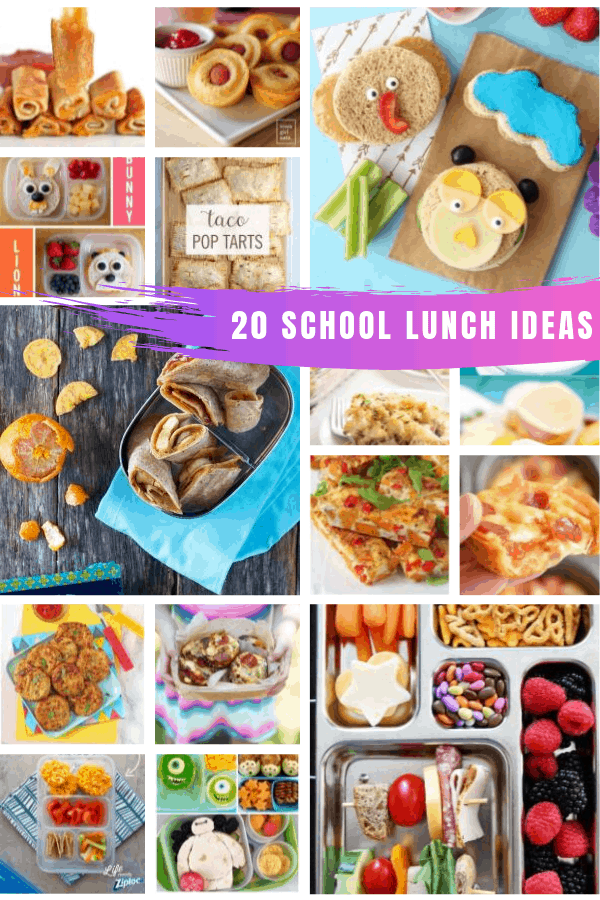 Does the thought of preparing school lunches for your kids fill you with dread? Don't worry because we have rounded up an awesome collection of ideas for you, in fact we have one whole month's worth of easy school lunch ideas for kids, that even your picky eater will love… with no repeats!
So you no longer have to worry about running out of time every morning and sending the kiddos off with a dull cheese sandwich and grapes combo, and they won't have a chance to get so bored of their lunch that they trade it in with a friend for a much less healthy option.
The Secret to a Healthy Lunch is to Be Prepared
The key to variety when it comes to school lunches is to be prepared and have a plan. This list of lunch ideas will be your plan, so you know exactly what your kids are going to eat each day, and therefore you can make sure you pick the right ingredients up as part of your grocery shop.
It also helps to have an awesome lunch box, like this one which has three sections for keeping the lunch items separate.
Some silicone ice pop containers, like these so you can send the kids off with frozen smoothies which will melt just in time for lunch.
And a no leak water bottle, like this one, so your kids get their daily dose of H20.
 FreezFrozen smoothies are a healthy treat and act like ice packs!
 These Bento style lunch boxes keep everything separated!
Make sure you child stays hydrated with this no-spill water bottle
Oh and if you're not including anything frozen in the lunchbox you'll want an icepack, so don't miss this genius post on how to make your own icepack! It's so much cheaper than a shop bought one so it doesn't matter if they lose it, and much lighter to carry too.
Easy School Lunch Ideas for Kids
The Star of the Lunch Box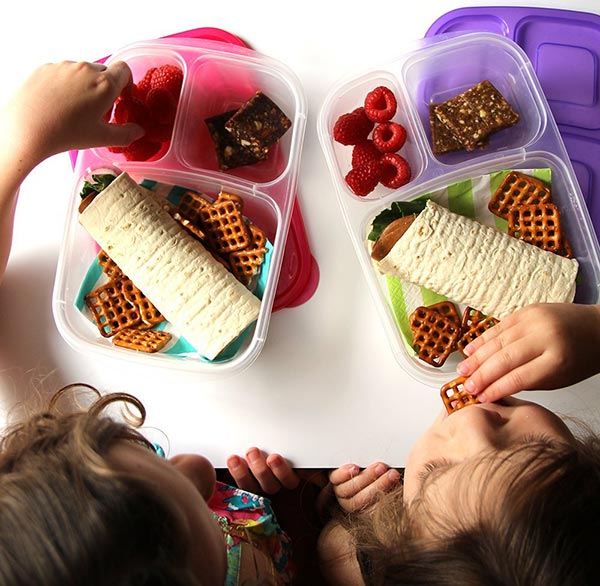 First up we have 20 different easy lunch ideas for kids, all of these recipes are kid-approved and easy to prepare because we know you're short on time.
1. Lunch Box Rice Salad Pots Recipe
Lunch box foods need to be quick and easy to prepare and it doesn't get easier than these brightly coloured rice salad pots. They store well in the fridge for 2-3 days so you can meal prep ahead of time. (via
Eats Amazing
)
2. Spinach and Cheese Lunchbox Muffins
These savoury muffins make a nice change from sandwiches and they're packed full of veggies so they'll keep your kids going all through the afternoon. (via
My Fussy Eater
)
3. Baked Ravioli Recip
These baked raviolis are totally delicious (and actually taste better than the fried version you can eat at a certain restaurant!). They're perfect for school lunch boxes because they're supposed to be eaten at room temperature. Make sure you include a pot of marinara sauce to dip them in! (via
Laura Fuentes
)
4. Gluten Free PB&J Tortilla Pinwheels
Grain free doesn't have to mean sandwich free and these GF PB&J tortilla pinwheels will fast become a lunch box favourite! (via
Paleo Crumbs
)
5. Back to School Animal Sandwiches
If your little one is nervous about starting school you'll give them something to smile about when they find these adorable animal sandwiches in their lunch box! (via
Glitter and Bubbles
)
6. Tofu Red Chard Scramble Sandwich
If you have been trying (and failing) to get your kids to try new veggies then this tofu red chard scramble sandwich is a great lunch box option. The red chard is completely camouflaged so they'll never know it's there! (via
Kiipfit
)
7. Homemade Lunchables with Ham
An easy way to make school lunches more exciting is to pack different foods that your kids can put together to make their own sandwiches. (via
The Cookie Writer
)
8. Grilled Cheese Roll Ups
Grilled cheese fans will love finding these rollups in their lunch box, especially if you add in some marinara sauce to dip them in! (via
The Baker Mama
)
9. Mini Corn Dog Muffins
These sweet and crispy cornbread bites taste exactly like State Fair corn dogs in a teeny tiny perfect for a lunch box size! (via
Iowa Girl Eats
)
10. Deep Dish Mini Pizzas
If your picky eater struggles to eat lunch at school it's time to try these deep dish mini pizzas. These child sized pizzas will go down a storm especially if you let them help you to make them! (via
One Little Project
)
11. Bento Box Lunch Ideas
Bento box lunches are all the rage right now and thanks to these clever ideas your little one will love seeing what animal is going to appear in their lunch box next! (via
Marvelous Mommy
)
12. Taco Pop Tarts
These savoury beef pop tarts are a great sandwich alternative and they're easier to make than you might think! They're also freezable so you can bake a big batch and meal prep your lunches ahead of time. (via
Babble
)
13. Mini Crustless Quiches Lunch Box Recipe
These quiches are really quick and easy to make and you can use frozen veggies. They last well in the fridge for a few days so they're great for meal prep school lunches! (via
Taming Twins
)
14. Sweet Potato Frittata Slices
Sweet potatoes are packed full of goodness, especially protein so they'll give your kids the energy they need to get through the afternoon. Try adding some of these yummy sweet potato frittata slices to their lunch box! (via
My Fussy Eater
)
15. Thai Noodle Salad
This Thai Noodle Salad is perfect for lunch boxes when the kids are bored of sandwiches. It's brightly coloured and you can make all kinds of substitutions to make it a real family favourite. (via
Dinner Then Dessert
)
16. Sandwich on a Stick
We don't know what it is about food on sticks but kids just go crazy for them! Try these different sandwich on a stick combos to keep lunch interesting! (via
Two Peas and Their Pod
)
17. Cauliflower Cheese Nuggets
These veggie nuggets are packed full of nutritious cauliflower and great for dipping! (via
My Fussy Eater
)
18. Mac 'n Cheese Bites
These mac 'n cheese bites are easy to make and easy to eat! (via
Ziploc
)
19. Disney Bento Lunch Ideas
If your child needs some encouragement to eat their lunch at school make them a bento box based on their favourite Disney movie. Here's 15 ideas to inspire you! (via
Mom Endeavors
)
20. Pizza Waffles
Oh my goodness. Did you ever think to combine pizza with waffles? Put these in your kid's lunch box and you'll win the mom of the year award! Of course you might have to make a large batch because their friends will be begging to try them too! (via
Spend with Pennies
)
Yummy Sides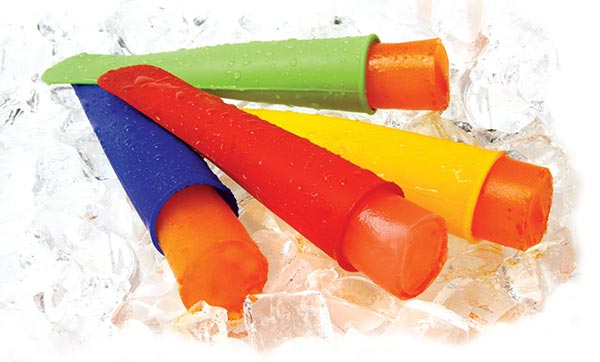 Next up we have some ideas for healthy sides to compliment the star of the show:
Trail mix
Clementine wedges
Apple chips
Banana slices
Cherries
Blueberries
Strawberries
Mixed salad (Leftover from last night's dinner perhaps?)
Applesauce
Cheese cubes
Cheerios
Tasty Snacks and Desserts
And finally why not include a small treat to round off their school lunch with a bang!
1. Homemade Goldfish Crackers
Goldfish crackers are a school lunch box staple and they taste so much better when they're homemade! (via
Tikkido
)
2. Strawberry Oat Bars
These oat bars are full of sweet tasting strawberries and are perfect school lunch box snack. (via
My Fussy Eater
)
3. Carrot Oat Energy Bites
Energy bites are a great snack to add to a lunch box and these are not only packed with oats but carrots too! (via
My Kids Lick the Bowl
)
4. Superfood Chocolate Bark
Add a small piece of chocolate bark to their lunchbox as a treat. This one is great because it's packed full of superfoods, you just need to choose suitable nuts and seeds depending on the age of your child. (via
Domestic Gothess
)
5. Unicorn Popcorn
This unicorn popcorn is super simple to make but if your child is unicorn crazy it'll be the most amazing thing in their lunch box! (via
Life Love Liz
)
Delicious School Snacks Delivered To Your Mailbox Every Week
You can save even more time in the kitchen by ordering your snacks in instead of making them from scratch.
Each graze box is made up of perfectly portioned snacks based on your kid's tastes and dietary requirements.
There are more than 100 snacks to choose from so they'll never get bored, and might even be encouraged to try something new!
You can have your snacks delivered once or twice a week, and the box is small enough to fit in your mailbox.
And the best part is that if sign up via this link right here your first box is completely free!
---
There you have it, 20 main lunch items, some healthy sides and a handful of treat ideas. You're all set for a whole month of school lunch ideas for kids!
And don't forget you don't actually have to physically send your child off to school to put these lunch ideas to good use. Even homeschooled kids need a little variety in their lunch life right?