It's time to start planning (and practising) those back to school nails! So today we have a ton of ideas to inspire teachers and students alike!
This post may contain affiliate links, which means I may receive a commission if you click on a link and purchase something. As an Etsy and Amazon Associate I earn commissions from qualifying purchases.
Back to School Nail Ideas
It's almost time for classes to start again which means it's time for some cute back to school nail ideas!
Your students won't be able to hold back their smiles when they see their teacher's nails all painted and ready for lessons to begin!
There are some neat ideas here for teens too. Just remember to check your school policy on nail art… we don't want anyone getting a detention do we!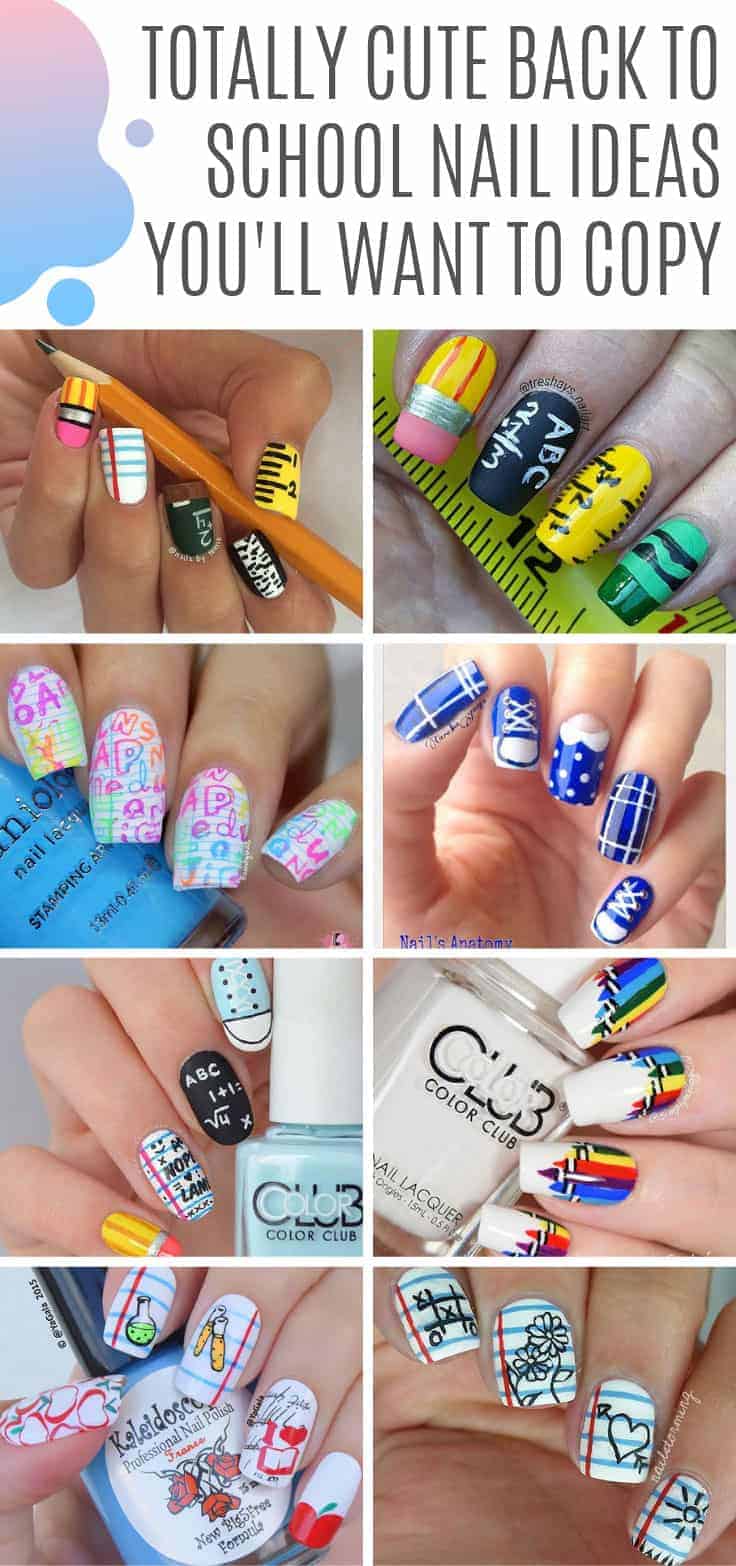 https://www.instagram.com/p/5-ExrRqPPr/
https://www.instagram.com/p/6SYKZCrnHq/
https://www.instagram.com/p/6dGl8SkWNQ/
https://www.instagram.com/p/6dtooTvPjO/
https://www.instagram.com/p/6h2VxovPgI/
https://www.instagram.com/p/7A4L2pssXw/
https://www.instagram.com/p/7B25HChcMf/
https://www.instagram.com/p/7DFis8q1-f/
https://www.instagram.com/p/7IIyhltLIh/
https://www.instagram.com/p/7JW2LROj9B/
https://www.instagram.com/p/7PzkJgNhzr/
https://www.instagram.com/p/7bJSTjH1xF/
https://www.instagram.com/p/83RAkLjYsp/
https://www.instagram.com/p/B0JLidXpvC6/
https://www.instagram.com/p/BCigESZL3c9/
https://www.instagram.com/p/BHHL8HeD_bq/
https://www.instagram.com/p/BIxLIy7gVqM/
https://www.instagram.com/p/BJSmmANA9vZ/
https://www.instagram.com/p/BJWZf8LBPg3/
https://www.instagram.com/p/BJXZqzqg3hA/
https://www.instagram.com/p/BJXk3VZDjU3/
https://www.instagram.com/p/BJZqS9HBh4e/
https://www.instagram.com/p/BmhhwpAhJkA/
https://www.instagram.com/p/Bt019eUgHJj/
https://www.instagram.com/p/Bt_z1aqAPP1/
https://www.instagram.com/p/Btn2NV3AOxc/
https://www.instagram.com/p/Btowej3A4Sb/
https://www.instagram.com/p/BtrOQw7AozD/
https://www.instagram.com/p/Btru3yMg9RH/
https://www.instagram.com/p/BtsZ6BhgzIC/
https://www.instagram.com/p/BuEYAdzgmcj/
https://www.instagram.com/p/BuMTEqpAWYx/
https://www.instagram.com/p/BubdvvYAPbG/
https://www.instagram.com/p/Bun3BZuFLp_/
https://www.instagram.com/p/BvOD_PLgzDd/
https://www.instagram.com/p/BvSdFYUHINB/
https://www.instagram.com/p/ByLDNFLA6E8/
https://www.instagram.com/p/Byc6n0CAepy/
https://www.instagram.com/p/BzImZNBg7bk/
https://www.instagram.com/p/BzgMcMmga_E/
https://www.instagram.com/p/sNvrO7sg9Q/
https://www.instagram.com/p/sRmWP3QtUy/
https://www.instagram.com/p/s_tubAmUDh/