This post may contain affiliate links, which means I may receive a commission if you click on a link and purchase something. As an Etsy and Amazon Associate I earn commissions from qualifying purchases.
I can't believe that my children will be turning 4 later this week, the time is just flying by! We are a family of book lovers and I'm a firm believer that every child should get a new book on their birthday (and as a stocking stuffer for Christmas too!) But what book to buy as a birthday gift for an all important 4th birthday? You know I love to research so I've spent hours trawling through book lists and reviews to whittle down a Best Books for Four Year Olds collection that I am sharing with you so you don't have to spend those hours too!
Books for four year olds need to do so many things: help them understand new feelings, emotions and experiences. Help them learn more about the world around them. And perhaps even to help them learn to read.
The books in this list all play a part in achieving those goals.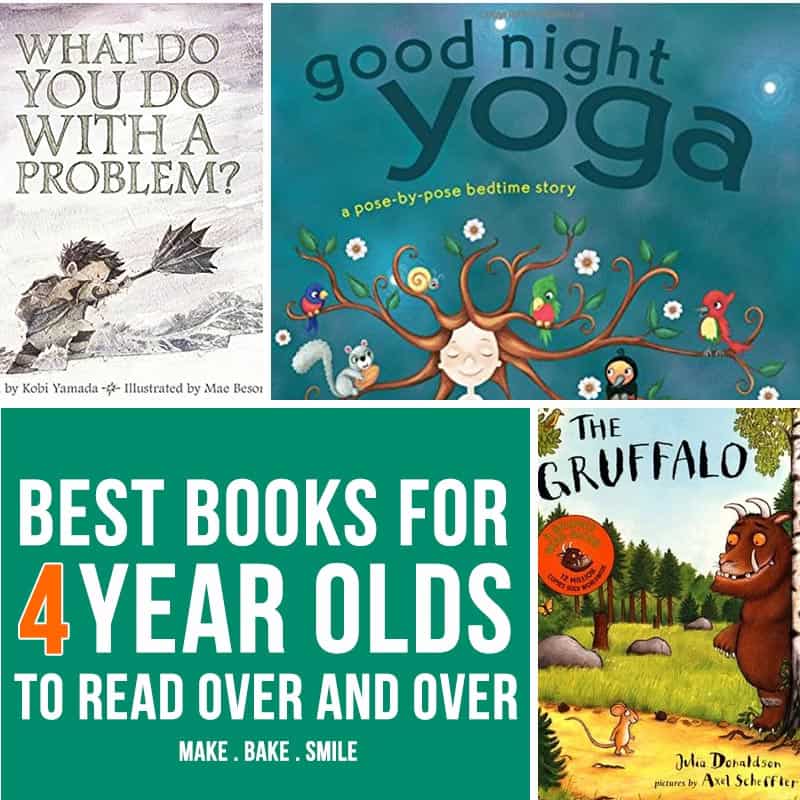 Best Books for Four Year Olds

Take Heart, My Child: A Mother's Dream: This book is filled with GORGEOUS illustrations and is really a poem that expresses the love that a mother has for her child. You and your four year old will enjoy this book so much you'll soon be buying more copies as gifts for friends and family!
Giraffes Can't Dance: Such a FABULOUS story to share with your little one because we all need to learn that we can do the things that we dream of, as long as we find "our" music. This story is also a great way to help your child understand that everyone is different and that is a good thing.
Polar Express: If your child is just starting to really embrace the MAGIC of Christmas you absolutely need a copy of the Polar Express on your bookshelf! 
Dear Zoo: This is such a simple book but it introduces your four year old to humour, is perfect for little ones just starting to read on their own, and is also a great choice for those who struggle with their speech.
There's No Place Like Space: All About Our Solar System (Cat in the Hat's Learning Library): Four is the perfect age to start learning about the Solar System, and learning about the planets doesn't get more fun than with the Cat in the Hat!
National Geographic Kids First Big Book of Space: This series from National Geographic is the perfect way to explore new ideas without the fiction. They are written in a really engaging way to grab your child's attention and its a book they will want to read over and over again.
National Geographic Little Kids First Big Book of Dinosaurs: I'm a big believer in following interests – so if your four year old is a big dinosaur fan get this National Geo book instead!
Goodnight Moon: This is a classic and many moms today receive a copy as a baby shower gift, if you don't already have one in your collection now is a good time to add it. As well as being a very calming book to read at bedtime it is written in a way that encourages your child to learn to read.
Oh, The Places You'll Go! You might want to skip buying this as a birthday gift for your four year old and save it instead for their preschool graduation!
The Day the Crayons Came Home: This FABULOUSLY illustrated book will allow your child to explore feelings of disliking their name, wanting to run away from home, or just feeling forgotten.
May I Please Have a Cookie? If your four year old sometimes forgets their please and thankyous this is the perfect book for them! It's also a great book for those who are keen to learn to read.
First Little Readers Parent Pack: Guided Reading Level A: There are 25 books in this set and they are pitched at just the right level for 4 year old children who are beginning to read themselves. 
What Do You Do With a Problem? If your 4 year old likes to keep their problems to themselves and gets frustrated or anxious this book will help you open up the discussion about what they could do instead. 
Finding Winnie: The True Story of the World's Most Famous Bear: If your four year old loves Winnie the Pooh stories they will LOVE this book which tells the story of Winnie's journey before she was discovered by Christopher Robin.
I Dissent: Ruth Bader Ginsburg Makes Her Mark: This one may be a little controversial but I am including it here because I think four years old is a good age to start learning that it is important to stand up for what you believe in.
Good Night Yoga: A Pose-by-Pose Bedtime Story: If your four year old has trouble winding down at bedtime treat them to a copy of this book where a bedtime story meets calming yoga poses.
Time to Be a Hero (PJ Masks): For the four year old who says they don't like books and would rather watch television try a story featuring their favourite animated characters!
Tickle Monster Laughter Kit: We LOVE Tickle Time in our family and this book is so much fun and completely ADORABLE thanks to the Monster Hands that are made for TICKLING!
Boogie Monster Dance Kit: Shh this box contains a pair of MAGIC leggings, and when your child puts them on they just have to get down and BOOGIE! Such a wonderful gift for spending time together making memories!
Wherever You Are: My Love Will Find You: Being four can be a very scary time with so much to learn and experience in the world. This book will help them understand that wherever they go and whatever they do your love will go with them.
The Gruffalo: We LOVE Julia Donaldson and the Gruffalo is a book that EVERY 4 year old should have on their bookshelf! It's a story about a brave little mouse that will capture your hearts, and the wonderful rhythm will encourage your child to read.
The Jolly Postman: This is a a childhood favourite of mine and one I will be gifting to my four year olds. The Jolly Postman delivers letters to much-loved fairy tale and nursery rhyme characters and every other page is actually an envelope with a letter tucked inside!
&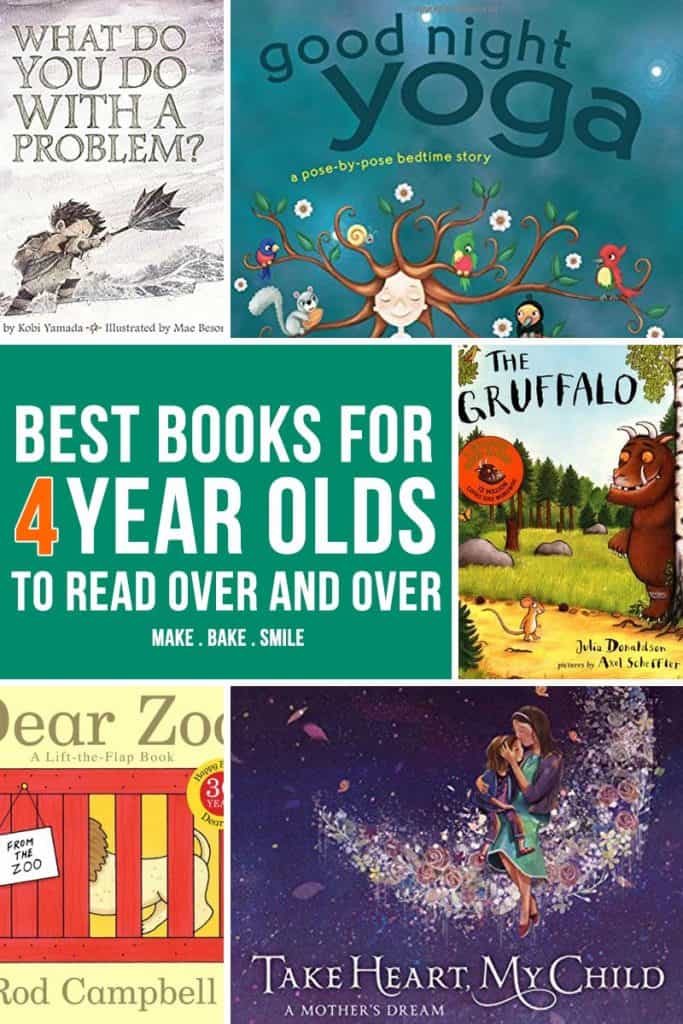 [text-blocks id="end-post-list-kids"]