This post may contain affiliate links, which means I may receive a commission if you click on a link and purchase something. As an Etsy and Zazzle Affiliate I earn commissions from qualifying purchases.
We've rounded up the best Christmas Rice Krispie Treats Recipes in fun festive shapes! They're perfect for Holiday treats and edible gifts for neighbors
The Cutest Christmas Rice Krispie Treats You'll Ever See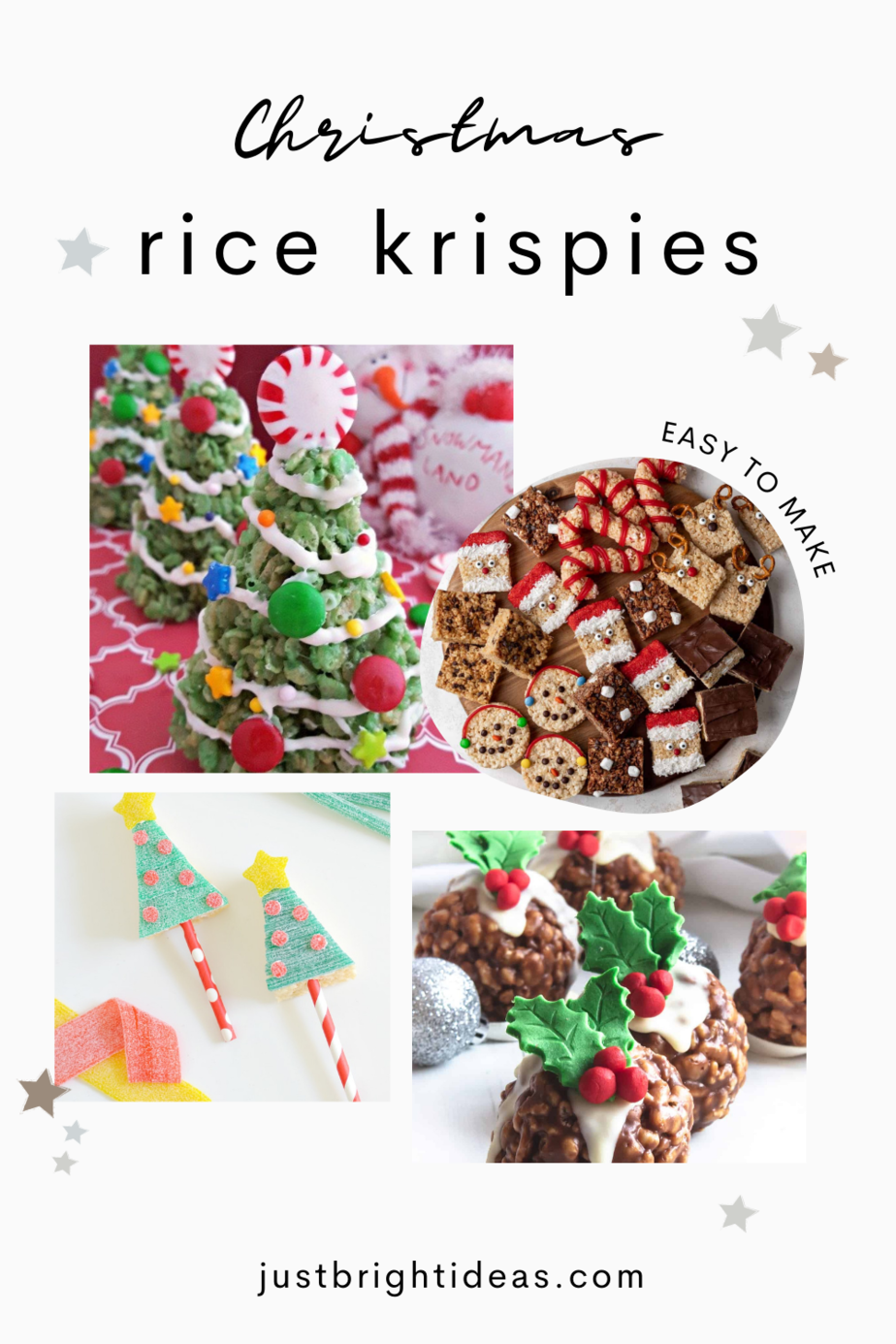 If you're looking for easy treats to make this Holiday season you really can't go wrong with these Rice Krispie treats for Christmas.
They are super easy to make which makes them the perfect recipe for a fun baking session with the kids.
They don't take a lot of time to prep and they are loved by kids and grownups alike, so they're the perfect last-minute treat for that Christmas potluck party you forgot you promised to bring a dessert to!
That's why today we're bringing you a collection of the best Christmas Rice Krispie treats recipes we could find on the interweb.
So grab a cup of hot cocoa and have a browse through. You'll find lots of festive shapes so stock up on the Rice Krispies as the kids will want to make more than one batch!
Santa Hats Rice Krispies Treats for Christmas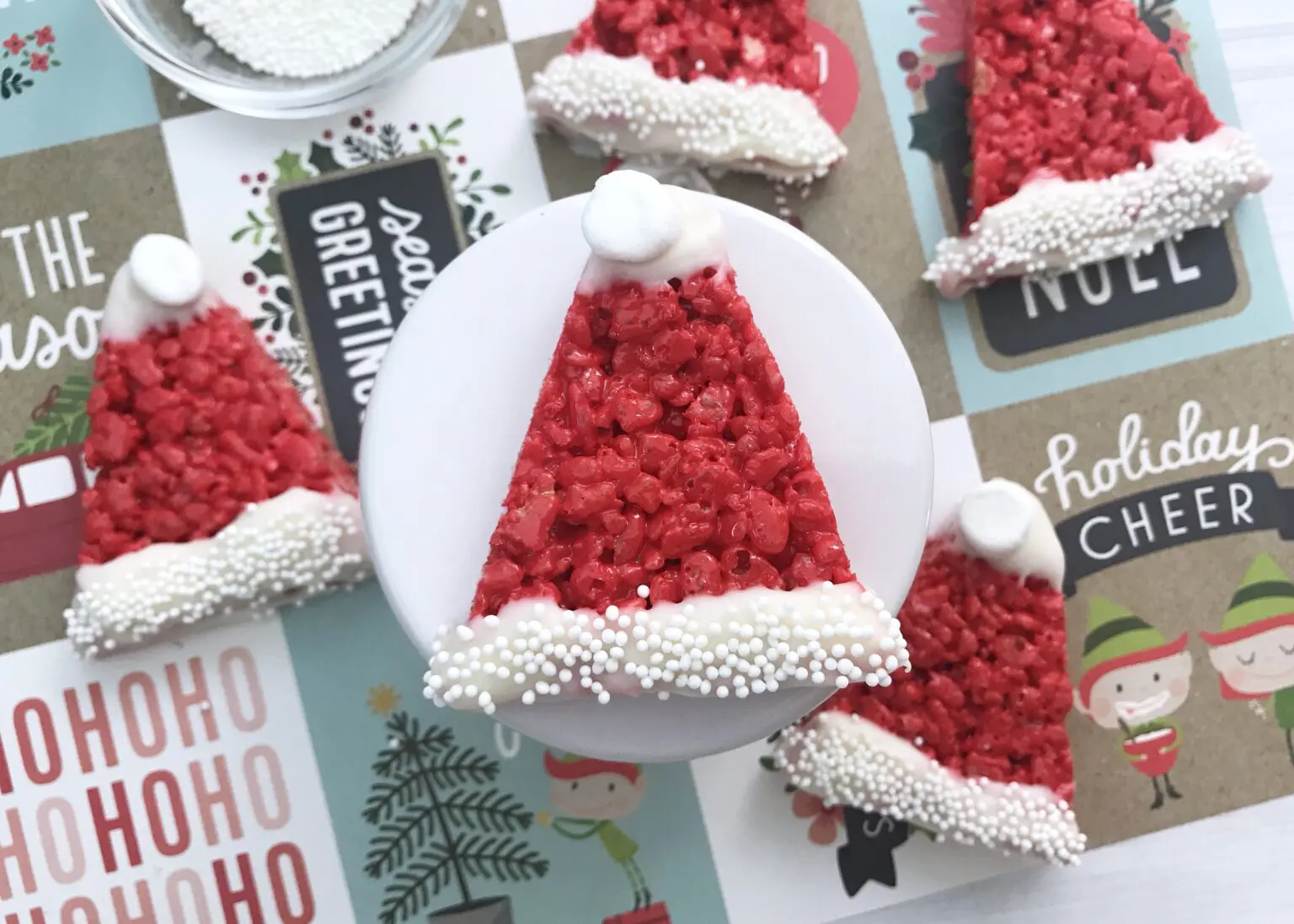 Found at: Sparkles to Sprinkles
How fun are these Santa Hat-shaped Rice Krispie treats? You can even add a little bit of peppermint flavor for a festive taste!
Christmas Tree Rice Krispie Treats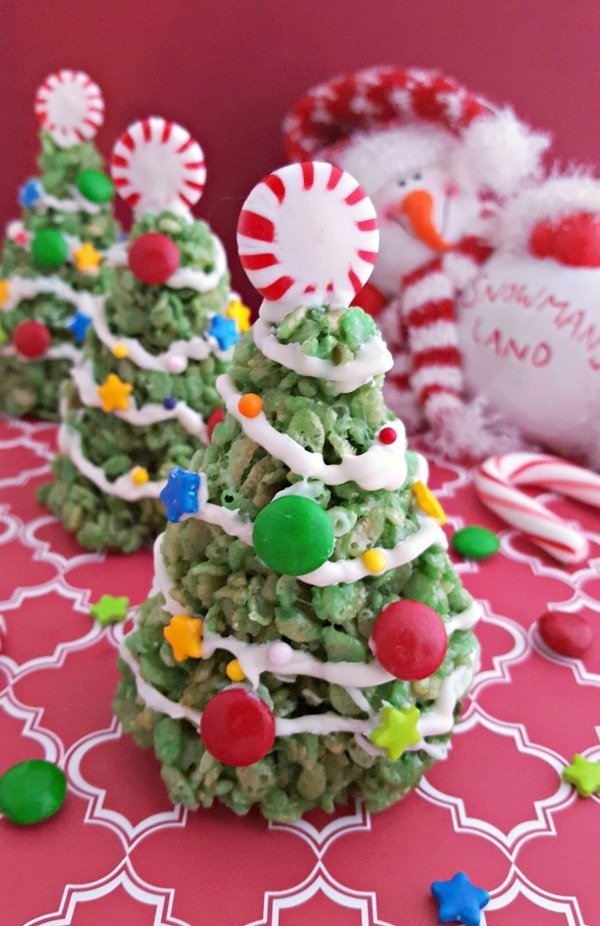 Found at: When is Dinner
If you've been wondering how do you make a Christmas tree treat you need to check out this recipe! These Christmas Tree Rice Krispie treats are super fun, so make sure you stock up on the green food coloring!
Christmas Minnie Mouse Rice Krispie Treats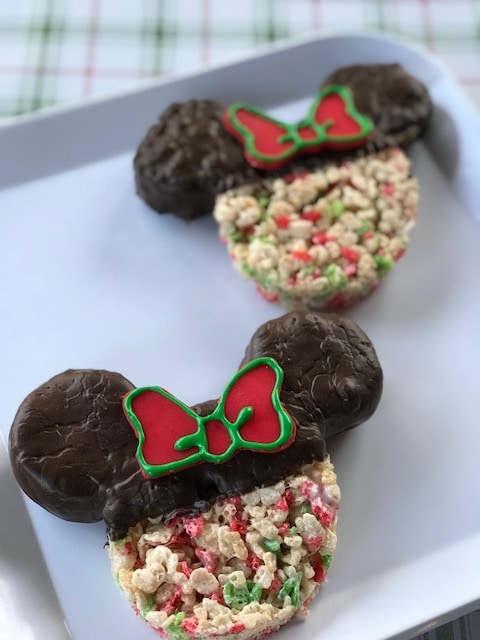 Found at: The Savvy Mama Lifestyle
You know how much we love Disney treats around here so when I saw these Minnie Mouse shaped Rice Krispie treats I knew they had to make the collection!
Rice Krispy Treat Ornaments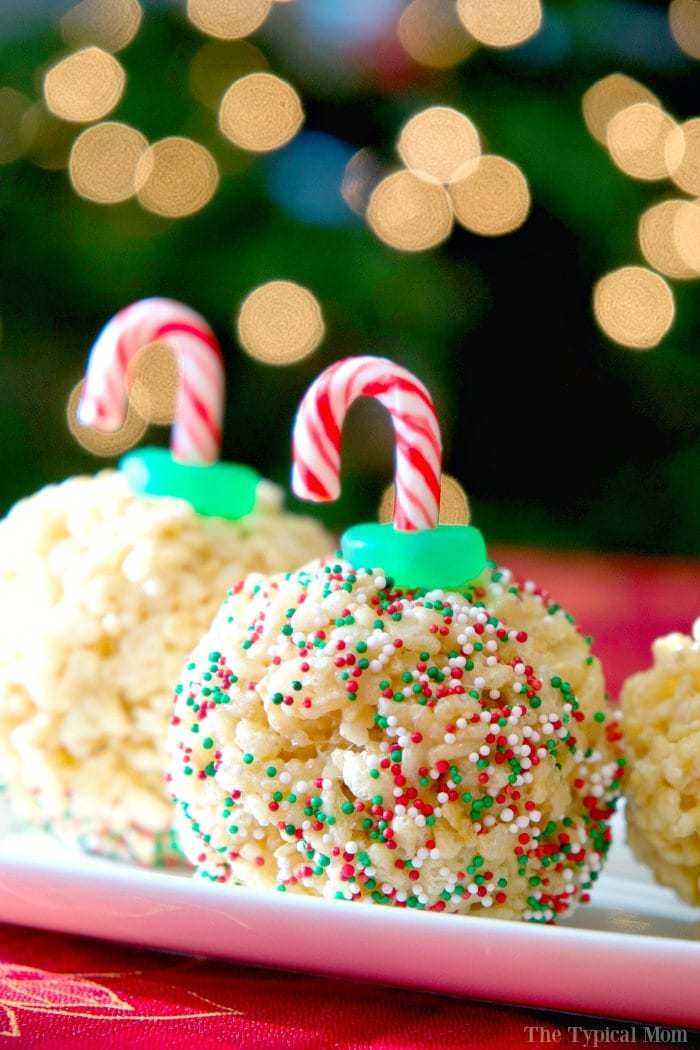 Found at: The Typical Mom
For something more traditionally festive how about these cute ornaments with candy canes for hangers? Be sure to cover them in Christmas sprinkles to add some festive colors!
Christmas Tree Rice Krispie Treats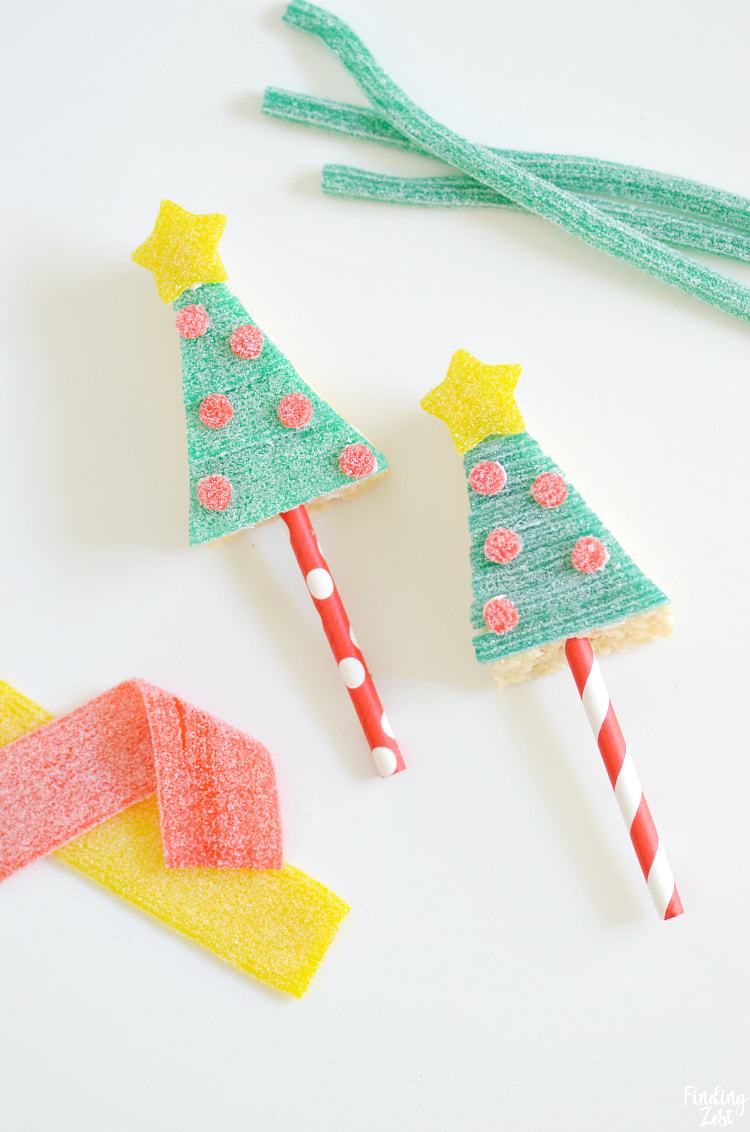 Found at: Finding Zest
Oohh if your kids love sour candy they will have a blast making these Christmas Tree shaped rice krispie treats complete with Sour Power!
Ugly Christmas Sweater Rice Krispie Treats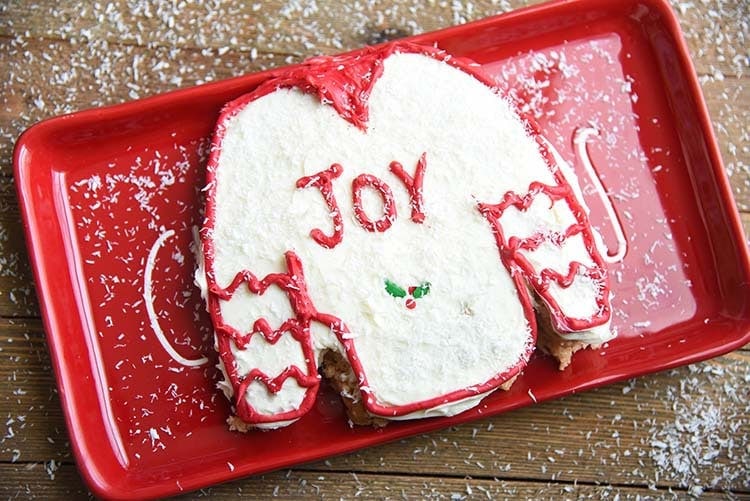 Found at: Courtney's Sweets
If you need a festive dessert to take to your Ugly Sweater party this year look no further than these fantastic ugly Christmas sweater rice krispie treats!
Rudolph Rice Krispie Treats for Christmas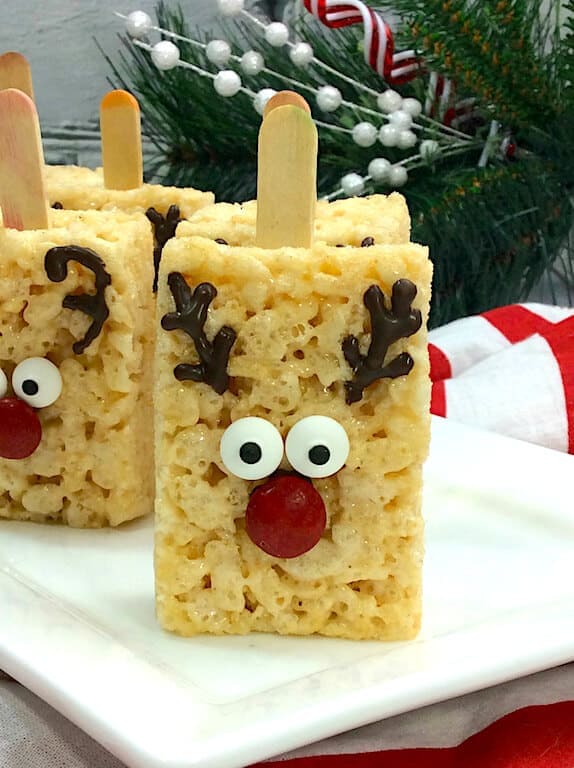 Found at: Well if She Can do It
You can't have Christmas without a Rudolph treat and these reindeer Rice Krispie treats fit the bill perfectly!
No Bake Snowman Rice Krispie Treats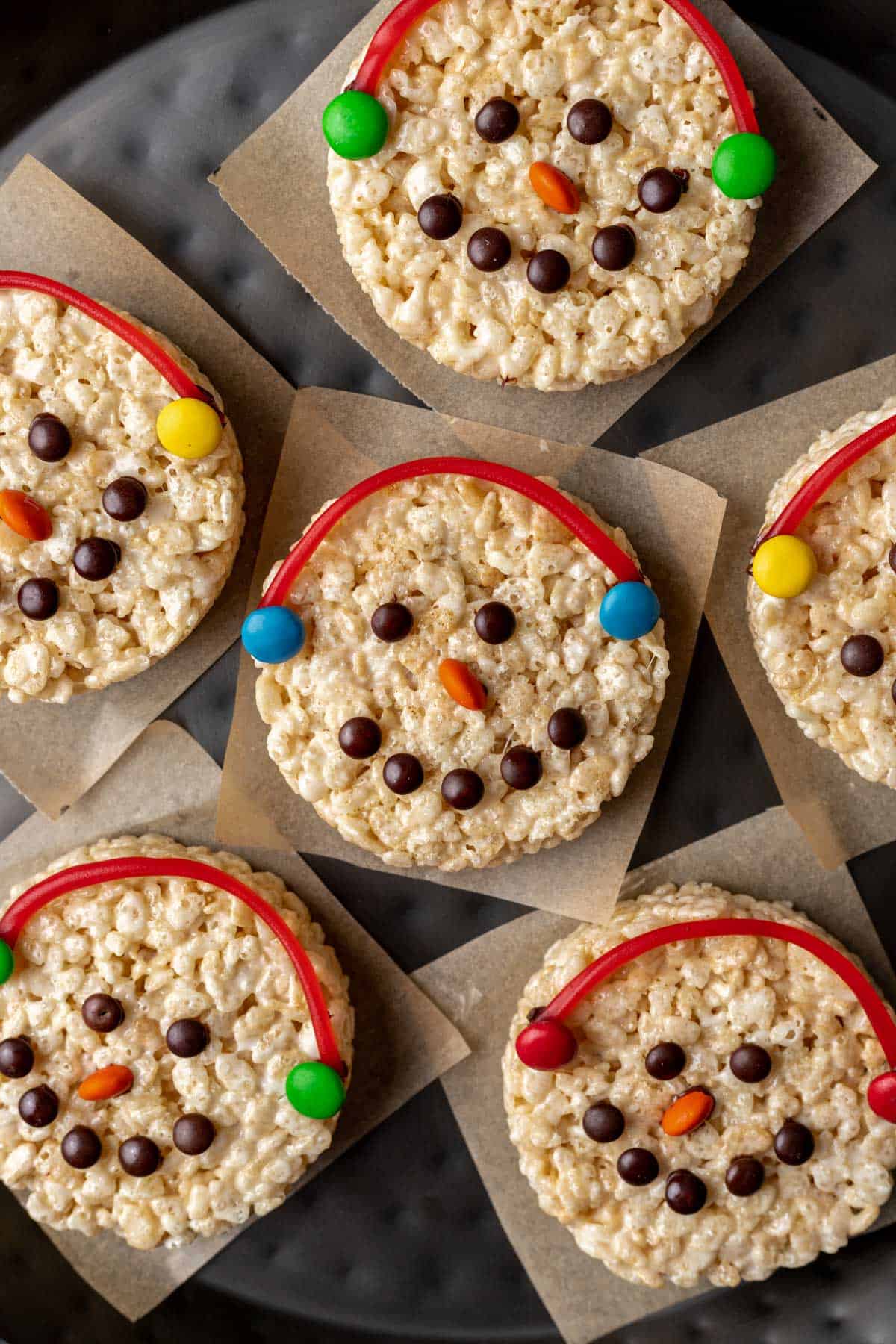 Found at: Your Home Made Healthy
You'll need some candies to decorate these snowman rice krispie treats, I love the addition of those ear warmers, or are they headphones?
Gingerbread Rice Krispie Treats Recipe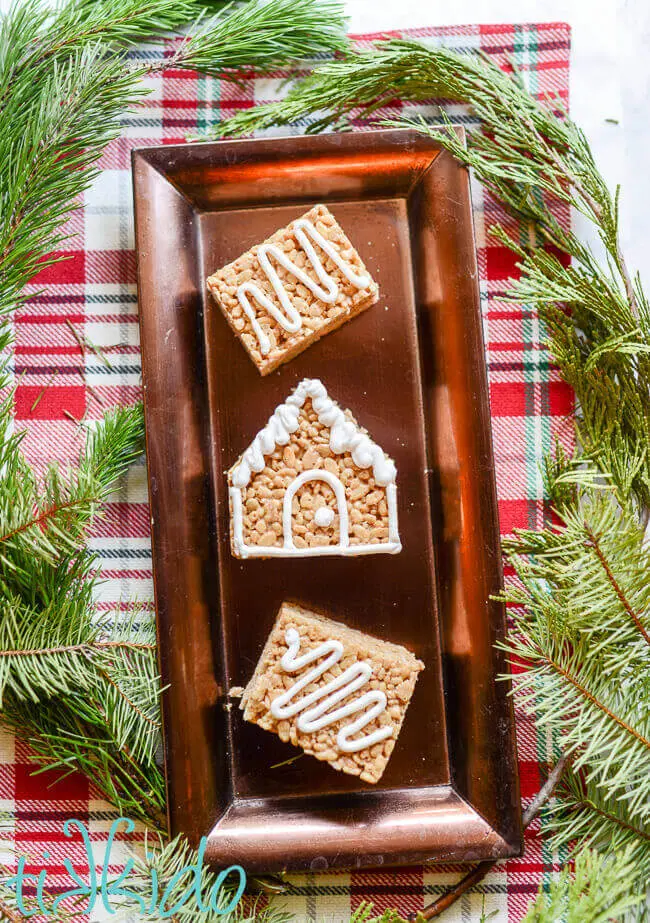 Found at: Tikkido
Not only do these Rice Krispie treats look like little gingerbread houses, but they also taste of gingerbread too!
Rice Krispie Christmas Puddings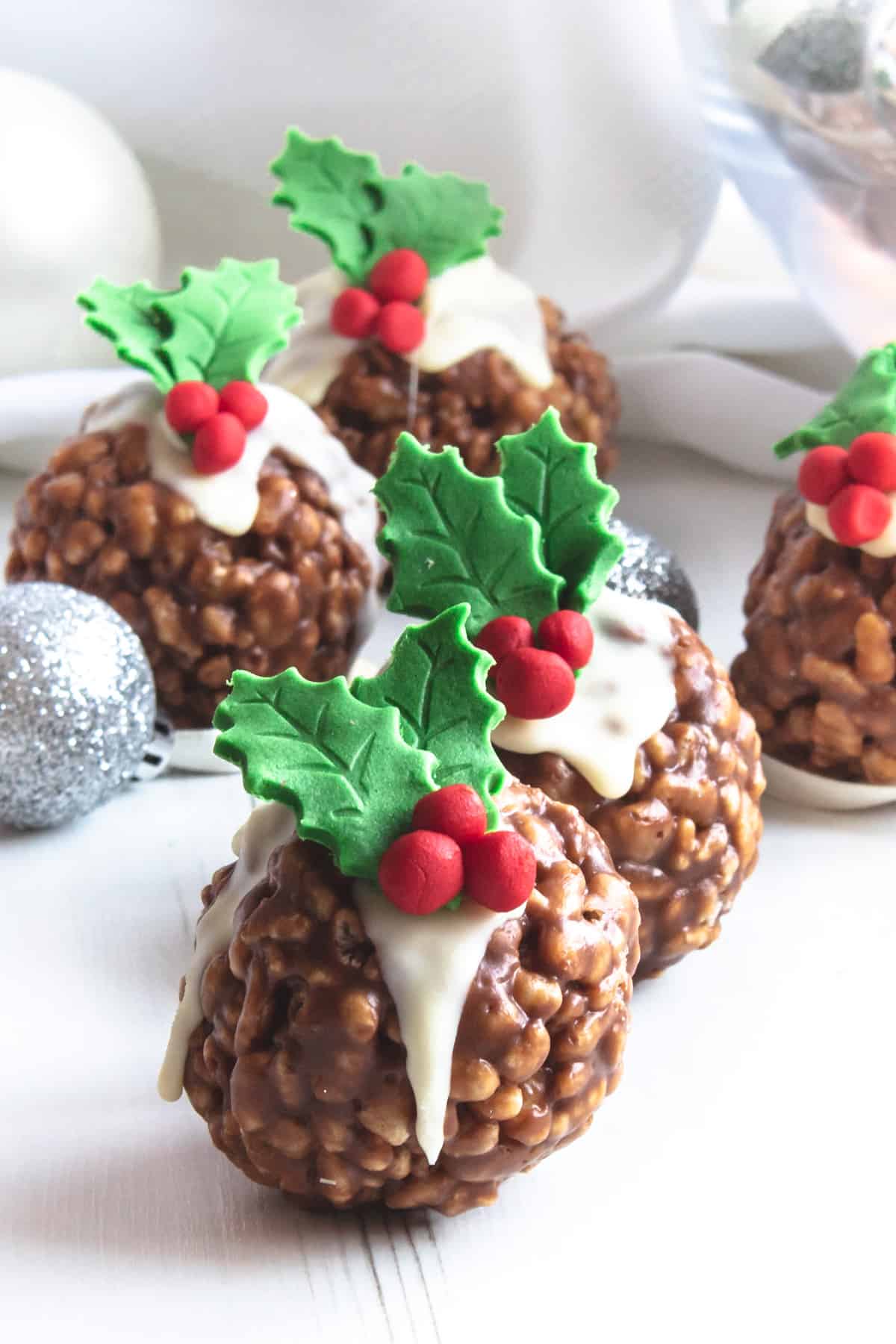 Found at: Crumbs and Corkscrews
Oh my, would you just look at those Christmas puddings… all chocolatey and gooey and they look like something you'd pick up at a fancy bakery too!
Santa's Stuck In The Chimney Rice Krispie Bars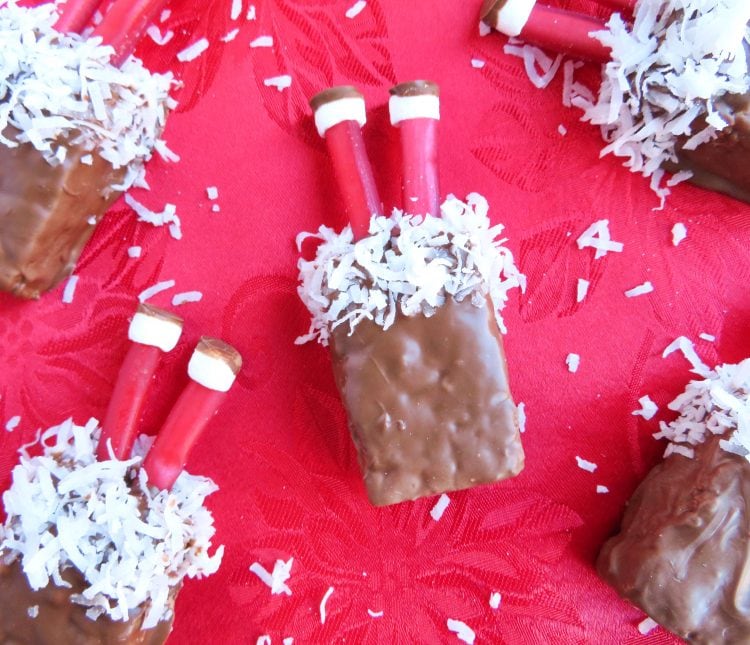 Found at: Oh My Creative
Ha! Aren't these just downright fun to look at! Poor Santa's got stuck in the chimney and his little legs are sticking out!
Epic Holiday Rice Krispie Treats Dessert Board
Found at: Your Home Made Healthy
Remember when I said you'd want to make more than one batch of these Christmas Rice Krispie Treats? Well, this is what it could look like laid out on the dessert table for your Holiday party. A smorgasbord of Rice Krispie Treats for Christmas just waiting to be devoured!