This post may contain affiliate links, which means I may receive a commission if you click on a link and purchase something. As an Etsy and Zazzle Affiliate I earn commissions from qualifying purchases.
From birthdays to baby showers, housewarming to get well soon, and even PTA fundraisers these DIY gift baskets are total show stoppers!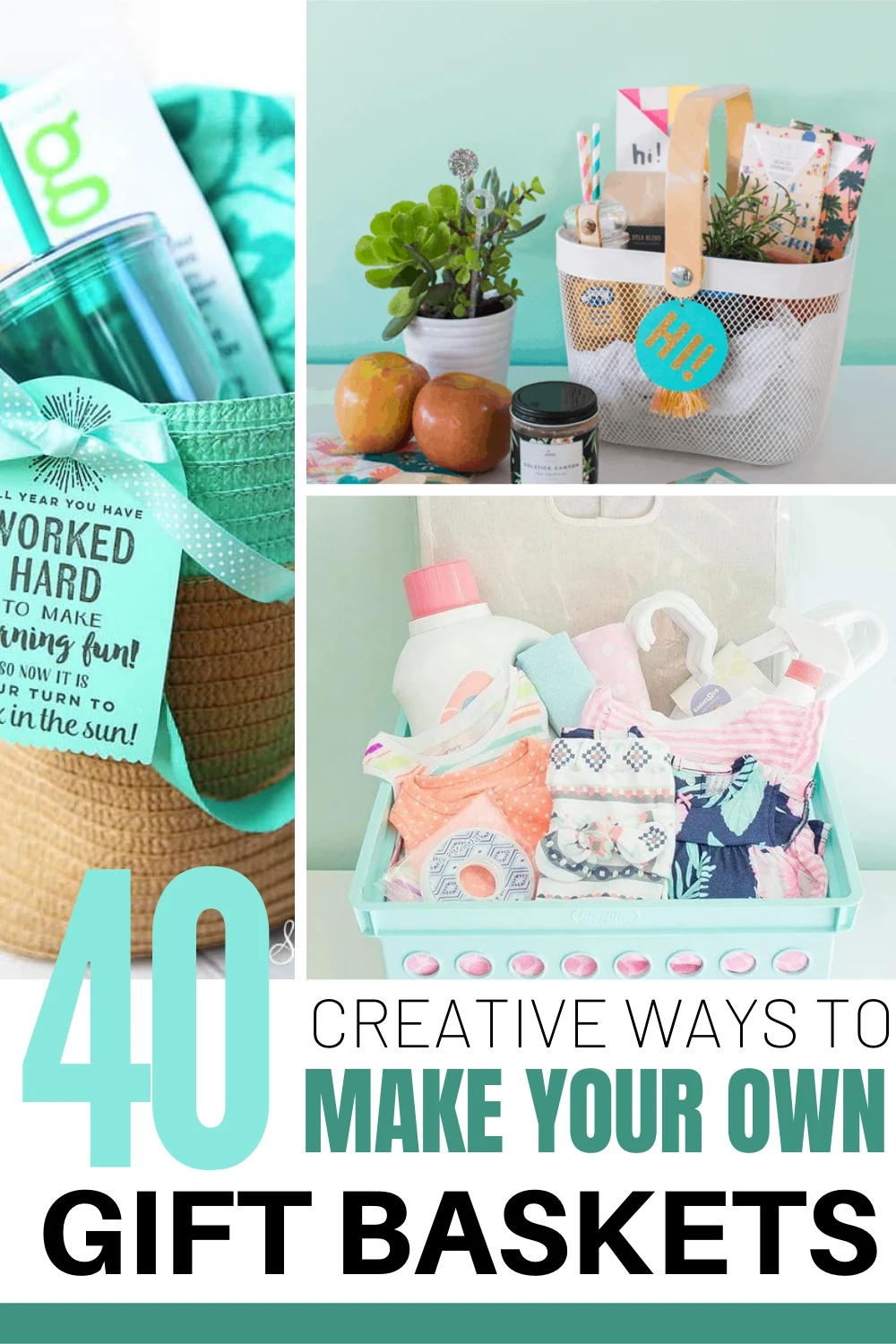 How to Make DIY Gift Baskets for Any Occasion
If you want to put together a truly unique gift for a friend or family member you can't go wrong with a DIY gift basket.
It's the best way to put together some thoughtful and unique items to show them how much you care.
And gift baskets can be used for any and all occasions too, from birthdays and Christmas to Baby Showers and housewarmings, and of course Mother's and Father's Day and as get well soon care packages.
Oh and don't forget welcoming a new neighbor!
These DIY ideas could also be used to put together the most amazing items for your PTA or other charity fundraisers.
Before we get onto the amazing inspiration here are some helpful tips and hacks to help you make the most fabulous homemade gift baskets!
What can I use instead of a basket for a gift basket?
The important thing to think about before you start collecting up the items is that you don't actually need a basket to make a gift basket.
Oh no, you can be a lot more creative than that because we'll show you how you can make a hamper without a basket!
The ideas I've collected up for you today will help you stretch your imagination so that your gift selection can be contained in a tackle box, a bucket, a mixing bowl, a pair of slippers and even a slow cooker!
How do you make a professional looking gift basket?
When you're putting your "basket" together you'll want to play around with the order of the contents so that the finished gift looks really stylish.
What do you put in the bottom of a gift basket?
You'll want something to put at the bottom of the gift basket to help things stand up, and raise up the items so they're not rattling around in the bottom.
You can use:
filler paper like this,
tissue paper,
shredded cellophane,
straw
or shredded paper, just run some coloured paper or torn out magazine pages through your shredder!
Check out this quick video to see how to make your own gift baskets that look really professional!
How do you make a Dollar Tree basket?
You don't have to spend a lot of money to make a really cute gift basket to give to a friend or loved one. In fact, you can put together some pretty fabulous Dollar Tree gift baskets which are totally inexpensive.
Watch the quick video below to see how to put together a gift basket for less than $20.
If you want to make a gift basket for a raffle or an auction you can't go wrong with Dollar Tree ideas so here's some more for you!
What should a gift basket contain?
When it comes to deciding what your gift basket should contain think about who you are making it for and then let your imagination run wild!
We've compiled a huge list of DIY gift basket ideas for all occasions to set those creative juices flowing…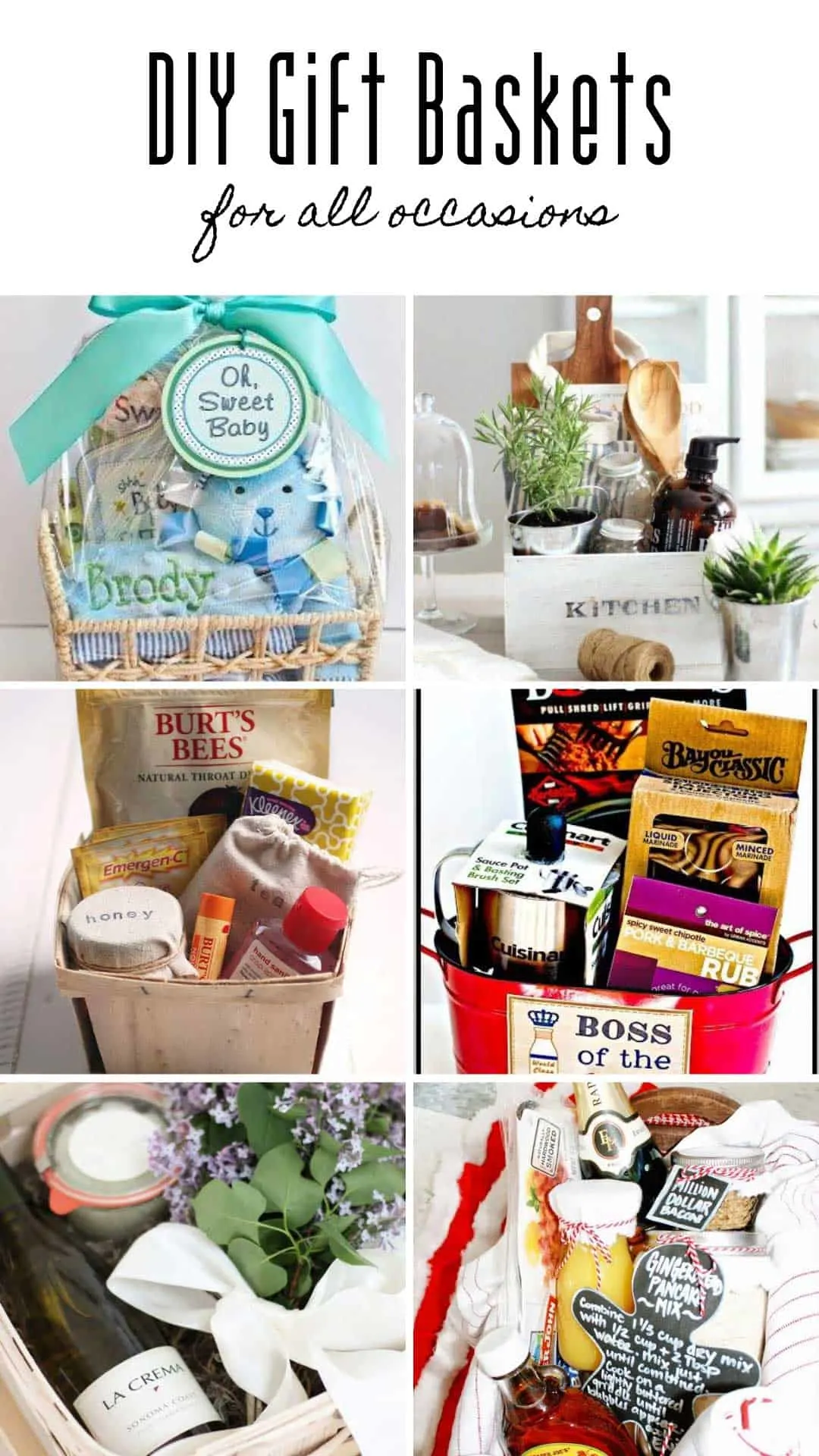 Now onto the ideas!
What to add to a gift basket – a list of ideas
If you're looking for a list of things to put in a gift basket we've got you covered.
We have searched high and low to find DIY gift basket ideas for all occasions to give you an idea of the best things to add to a gift basket as well as ideas for how to style them.