DISCLOSURE: Some of the links below are affiliate links. This means that, at zero cost to you, I will earn an affiliate commission if you click through the link and finalize a purchase. All opinions are my own, and I only recommend products that will add value for my readers.
Inside: Searching for exciting raffle basket ideas? Check out our winning ideas for your fundraising event!
Are you searching for creative and exciting ways to amp up your fundraising efforts? Look no further! We've compiled a list of 27 jaw-dropping raffle basket ideas that are sure to wow your supporters and bring in those donations.
These raffle basket ideas will engage your audience and help you achieve your fundraising goals for your charity event, school fundraiser, or community gathering.
Whether you're selling raffle tickets or looking for an exciting gift basket idea to include in a silent auction or even a Chinese auction, you will find something here that will boost your fundraising efforts.
So, let's dive in and discover the perfect raffle basket ideas to elevate your fundraising game to new heights!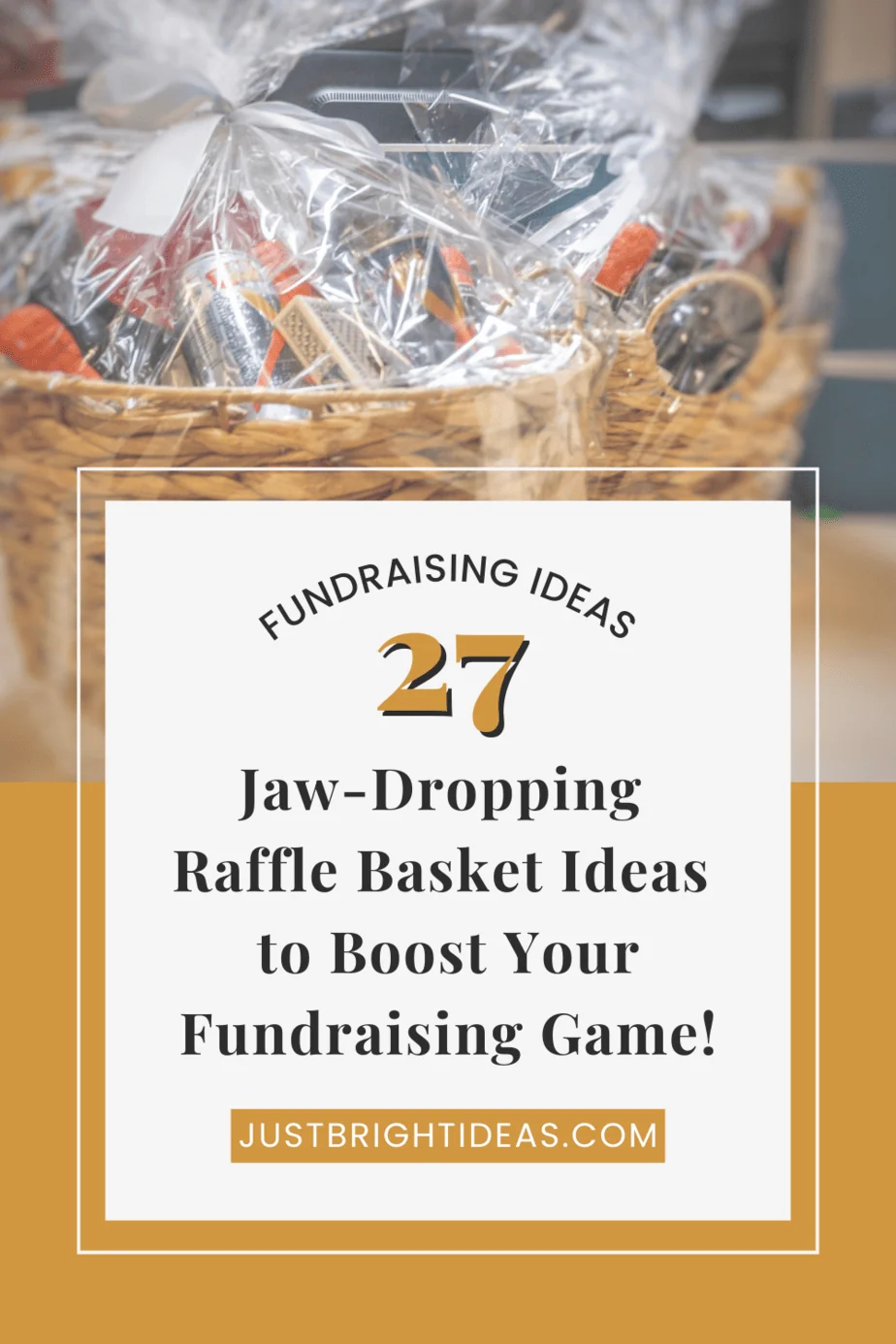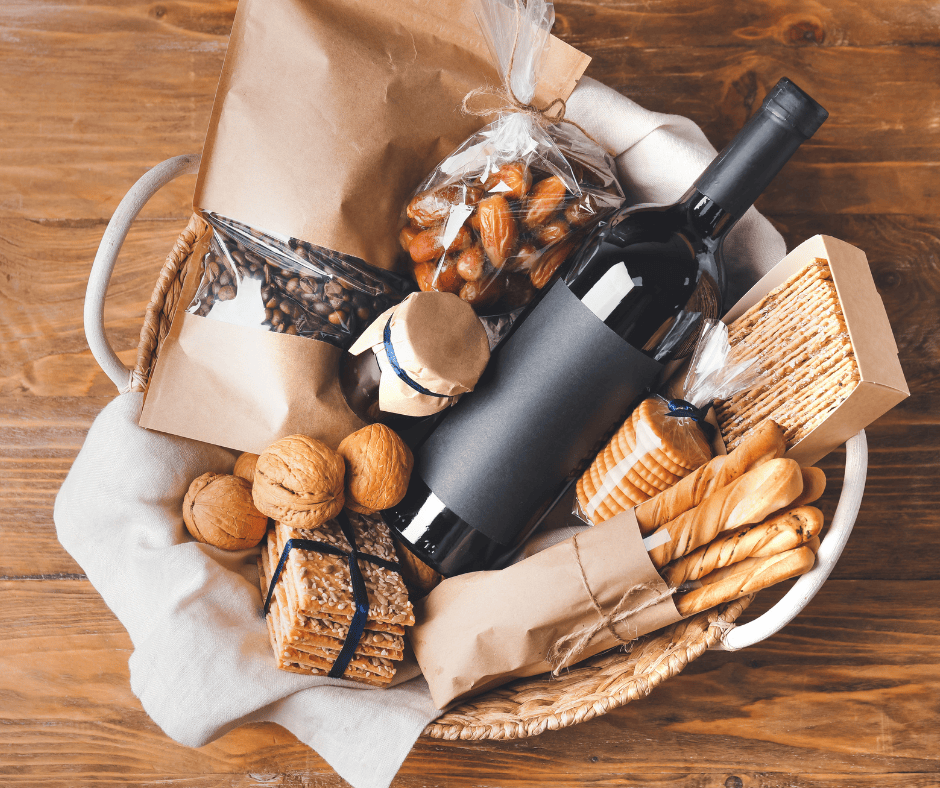 Popular Raffle Basket Ideas
Here are some of the most popular raffle basket ideas you can use for your fundraiser.
Movie Night Basket
Why it's a good choice: Perfect for a cozy night in, this basket provides all the essentials for a memorable movie night.
Include the following items for a raffle basket movie lovers will want to bid on:
Popcorn
Assorted candy
Movie tickets
Cozy blankets
Collection of classic DVDs or a streaming service gift card
Craft Liquor Basket
Why it's a good choice: Ideal for those who appreciate the finer spirits, this basket offers a sophisticated selection for a night of craft cocktails.
Here are some items you can include in a craft liquor raffle basket:
Variety of craft spirits
Cocktail recipes
High-quality glassware
Artisanal snacks
Spa Day Basket
Why it's a good choice: Give the gift of relaxation with a spa day basket, complete with pampering essentials for an indulgent self-care experience.
Here's some inspiration for items you can include in a spa day basket:
Luxury bath salts
Scented candles
Fluffy towels
Face masks
Gift certificates for a local spa or beauty store
Family Game Night Basket
Why it's a good choice: Perfect for fostering family bonding, this basket provides everything needed for a fun and entertaining game night.
Putting together a family game night raffle basket can be a lot of fun, here's the sorts of things you can include:
Board games
Puzzles
Snacks
Gift card to a local pizza place
Gourmet Food Basket
Why it's a good choice: A culinary delight, this basket is filled with gourmet treats and a bottle of fine wine for a sophisticated dining experience.
When putting together a gourmet food basket think about including:
Gourmet cheeses
Crackers
Chocolates
Nuts
Bottle of wine
Unique Raffle Basket Ideas
If you're searching for unique raffle basket ideas we've got some ideas to inspire you!
Fitness Enthusiast Basket
Why it's a good choice: Catering to health and wellness, this basket includes essentials for a fitness journey.
Ask your local gym to donate some guest passes and then add some other fitness related items like:
Fitness tracker
Protein bars
Water bottle
Guest passes for the gym
Coffee Lover's Basket
Why it's a good choice: This basket boasts all things coffee-related for the caffeine connoisseur, ensuring a delightful brew every morning.
Ask your local coffee shop to donate a gift card and then add some other coffee related items like:
Specialty coffee beans
Stylish coffee mug
Grinder
Gift card to a local coffee shop
Bookworm Basket:
Why it's a good choice: Ideal for the avid reader, this basket offers a cozy reading experience with best-selling books and literary essentials.
You'll need to procure a gift card from your local bookstore for this basket, and then fill it up with other items such as:
Best-selling books
Cozy blanket
Reading light
Gift card to a bookstore
Baking Extravaganza Basket:
Why it's a good choice: Perfect for aspiring bakers, this basket contains all the ingredients and tools needed for a delicious baking adventure.
This is a fun basket to put together, think about including:
Baking ingredients
Mixing bowls
Spatulas
Selection of popular baking recipes or cookbooks
Pet Lover's Basket
Why it's a good choice: Tailored for furry friends, this basket includes treats, toys, and grooming supplies for a pampered pet.
Call up your local pet store, or dog groomers and ask them to donate a gift card, then add:
Pet treats
Toys
Grooming supplies
Gift card to a pet store or for pet services
Best Raffle Basket Ideas
Some of the best raffle basket ideas are ones that encourage people to buy more than one ticket because they really want to win that basket!
Outdoor Adventure Basket
Why it's a good choice: For the nature enthusiast, this basket equips recipients for outdoor exploration with essential gear and goodies.
Get in touch with your local outdoor supplies store and ask them to donate a gift card, then while you're there pick up some other items to add to the basket like:
Hiking gear
Reusable water bottle
Trail mix
Gift card for outdoor equipment
Home Chef Basket
Why it's a good choice: Perfect for the culinary maestro, this basket includes high-quality utensils, gourmet ingredients, and a cooking class voucher.
This is a great idea for a raffle basket if you have a restaurant in town that offers cooking classes. Ask them to donate a gift voucher and then add other items to the basket like:
High-quality kitchen utensils
Gourmet ingredients
Cooking class voucher
Relaxation Basket
Why it's a good choice: A haven of tranquility, this basket provides all the ingredients for a peaceful retreat, from scented candles to massage oils.
Contact your local spa and ask them to donate a gift card, and then add other pampering items to the basket like:
Bubble Bath
Bath bombs
Scented candles
Massage oil set
Spa gift card
Tech Gadgets Basket
Why it's a good choice: Ideal for the tech-savvy individual, this basket is a treasure trove of the latest gadgets and accessories.
This isn't a cheap gift basket to put together but you can raffle it for a higher price. The best way to fill up a tech gadget basket is to contact multiple businesses and ask them to donate the various items. You could ask for:
Portable speakers
Smart gadgets
Headphones
Gift card to an electronics store
Art and Craft Basket
Why it's a good choice: Tailored for the creative soul, this basket provides a plethora of art supplies for endless artistic expression.
There are so many ways to fill and art and craft basket, head to the local supply store and look for:
Art supplies
Sketchbooks
Paints
Gift card to an art supply store
Wine Enthusiast Basket
Why it's a good choice: Perfect for adult-oriented events, this wine basket provides a sophisticated experience for the wine enthusiast.
A wine-themed basket is sure to be a hit at school fundraisers, offering a touch of elegance and a delightful experience for the lucky winner. Here are some wine raffle basket ideas:
Assorted bottles of red and white wine
Wine glasses or stemless wine glasses
Corkscrew and wine stoppers
Gourmet cheese and crackers
Wine aerator or pourer
Date Night Basket
Why it's a good choice: Perfect for couples, this basket sets the stage for a romantic and memorable date night experience.
Call your local movie theatre and a restaurant and ask them to donate gift vouchers to include in your date night basket:
Movie or theater tickets
Gift voucher to a local restaurant
Gourmet chocolates or truffles
A bottle of wine or sparkling cider
Cheap Raffle Basket Ideas for Fundraising on a Budget
These inexpensive raffle basket ideas prove that thoughtful and enjoyable gifts can be created without a hefty price tag, making them perfect for fundraisers or community events on a budget.
Cozy Night In Basket:
Why it's a good choice: Perfect for a budget-friendly yet delightful evening, this basket offers all the essentials for a cozy night in.
Fill your raffle basket with inexpensive items like:
Microwave popcorn
Store-bought candy
Tea or hot chocolate packets
Small, soft blanket or throw
DIY Spa at Home Basket
Why it's a good choice: Provide a pampering experience without breaking the bank with this DIY spa basket filled with affordable self-care essentials.
Head to the store and pick out inexpensive beauty products like:
Budget-friendly bath salts
Scented candles
Face masks
Hand lotion
Game Night on a Budget Basket:
Why it's a good choice: Foster family fun without spending a fortune by creating a game night basket with affordable and entertaining options.
Here are some low cost items you could include:
Deck of cards
Classic board game (purchased at a discount)
Homemade snacks
Small puzzle
Dollar Store Gourmet Basket
Why it's a good choice: Craft a gourmet experience on a budget with carefully selected items from the dollar store that still deliver a touch of sophistication.
Here are some ideas for items to include in your basket:
Assorted crackers and cheese
Boxed chocolates
Sparkling cider or inexpensive wine
Nuts or dried fruit
Budget Fitness Boost Basket
Why it's a good choice: Support a healthy lifestyle without overspending by creating a budget fitness basket with essential items for an at-home workout.
Look for inexpensive items such as:
Resistance bands
Water bottle
Workout DVD or online workout subscription
Healthy snacks
Raffle Basket Ideas for School Fundraisers
These school-themed raffle baskets cater to educational and recreational interests, making them ideal for fundraising events within the school community.
Back-to-School Supplies Basket
Why it's a good choice: Help students start the school year prepared with this basket filled with essential school supplies.
Fill the basket with school supplies like:
Notebooks
Pencils, pens, and markers
Backpack
Lunchbox
STEM (Science, Technology, Engineering, and Math) Exploration Basket
Why it's a good choice: Encourage curiosity and learning with a basket that explores the realms of science, technology, engineering, and math.
Here are some ideas of items to put into the raffle basket:
Educational science kits
Puzzle games
Math workbooks
STEM-related books
Art Extravaganza Basket
Why it's a good choice: Nourish creativity with an art-themed basket, providing students with tools and inspiration for artistic expression.
Fill your art extravaganza basket with items from the local art store like:
Sketchbooks
Watercolor or acrylic paints
Brushes and drawing materials
Art class voucher
Reading Adventure Basket
Why it's a good choice: Foster a love for reading by creating a basket that celebrates literature and encourages students to embark on exciting literary journeys.
Here are some ideas for your book themed raffle basket:
Assorted books for various age groups
Reading lamps
Bookstore gift card
Cozy reading nook items
Outdoor Play and Sports Basket
Why it's a good choice: Promote physical activity and teamwork with a basket filled with outdoor play and sports equipment.
Contact your local stadium or arena and ask if they will donate tickets to an event, and then add some sports equipment like:
Soccer ball or basketball
Jump ropes
Frisbees
Sports event tickets or equipment vouchers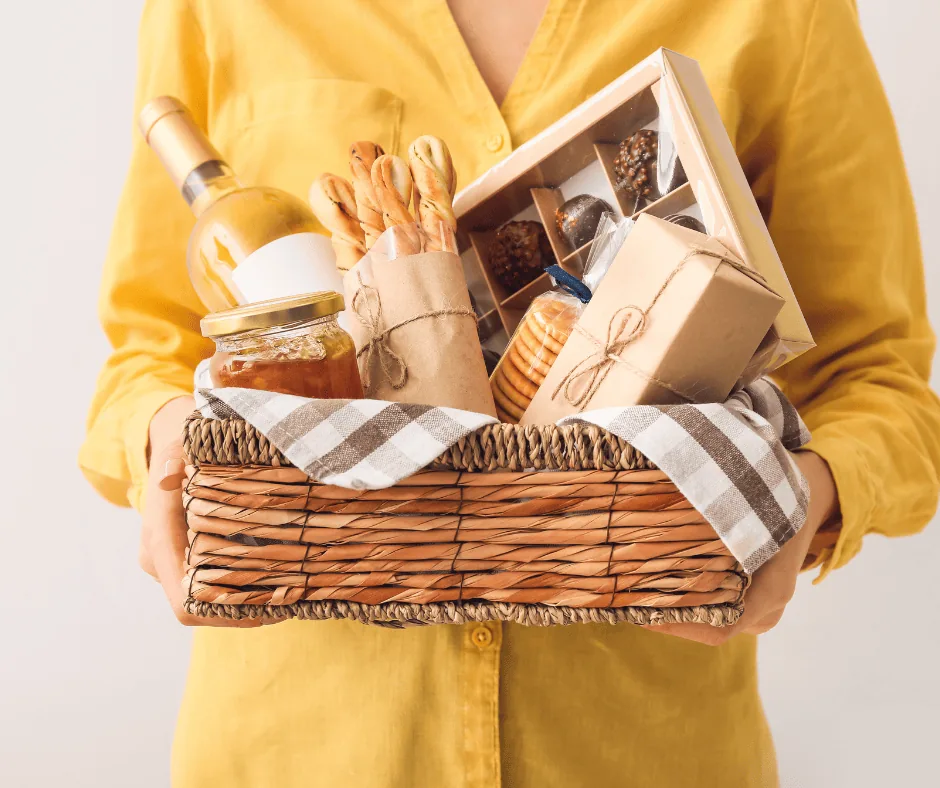 How Do You Make a Cool Gift Basket
Once you have all of your items ready, it's time to turn them into a really cool gift basket. To find out how to do that check out our DIY Gift Baskets post which has lots of pictures to inspire you!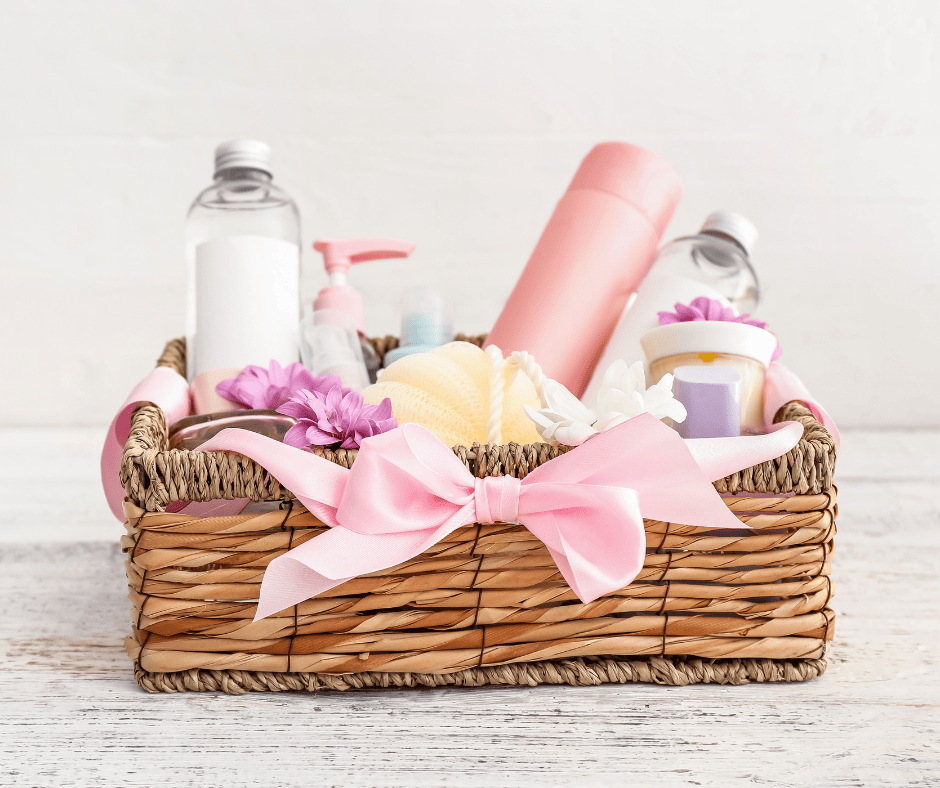 Six Benefits of Raffle Baskets
Raffle baskets aren't your average fundraising sidekick – they're the unsung heroes quietly revolutionizing events. From community gatherings to school activities, these versatile packages go beyond being attractive prizes. Here's a look at why raffle baskets bring a little extra magic to the table for both organizers and participants.
1. A Basket for Every Taste
Imagine a fundraising world where everyone finds something they love – that's the beauty of raffle baskets. Whether you're into movie nights, fitness adventures, or gourmet delights, these versatile prizes cater to diverse interests. It's like a community buffet, ensuring everyone gets a plateful of joy and engagement.
2. Energizing the Crowd
There's something special about the buzz of excitement around raffle baskets. The chance to win a carefully curated basket creates a lively atmosphere, drawing in more people to events and boosting the overall energy. It's not just about winning; it's about sharing in the thrill and fostering a sense of community.
3. Budget-Friendly Brilliance
Here's the insider secret – raffle baskets are the financial wizards of fundraising. By sourcing items wisely – local contributions, donations, and bulk discounts – organizers can craft appealing baskets without breaking the bank. It's a smart and effective way to maximize funds for the cause at hand.
4. Customized Charms
Raffle baskets are like the chameleons of fundraising, adapting to fit any theme or event. From spa retreats to outdoor adventures, the customizable nature of these prizes allows organizers to infuse a personal touch. It's the subtle art of tailoring each basket to create a memorable and unique experience for participants.
5. Strengthening Community Bonds
It's not just about prizes; raffle baskets create a platform for community collaboration. Local businesses contribute, building connections between organizers and the community. This synergy not only benefits the fundraising cause but also fosters a sense of unity and support.
6. Jackpot Fundraising
The real allure lies in the jackpot excitement of winning a well-curated basket. Attendees don't just buy tickets; they invest in the anticipation of a fantastic prize. This heightened interest translates into increased funds raised, turning raffle baskets into a valuable tool for achieving financial goals.
In essence, raffle baskets are more than just prizes – they're a thoughtful blend of engagement, financial savvy, and community spirit. By leveraging their diverse appeal and creative potential, organizers can elevate events, leaving a lasting impact on both participants and the causes they support.
How to Rock Your Raffle Ticket Sales for a Fundraiser
So, you've got this fantastic cause, you've created some amazing raffle gift baskets and now you're ready to dive into selling those raffle tickets. Let's make it fun, engaging, and super successful! Here's your go-to guide on how to sell raffle tickets and bring in those funds.
Tell Your Story
Before you start selling, make sure everyone knows why you're doing this. Share the story behind your cause. Whether helping the local community, funding a school project, or spreading love, people want to know why it matters.
Go Digital, Be Everywhere
Get with the times! Use social media, emails, and online platforms to reach a wider audience. It's like selling tickets while in your PJs – easy and effective.
Party Time – Host Events
Plan some fun events to boost your ticket sales. Whether it's a charity walk, a community fair, or just a neighborhood BBQ, events create the perfect vibe for selling tickets.
Recruit Your Squad
Rally up some volunteers who are as pumped about your cause as you are. These fundraising sidekicks will help spread the word and passionately sell those tickets. And don't forget your donors too; if local businesses provide gift vouchers or products to include in baskets, ask them if they can sell tickets to their customers too.
Cheers to Gratitude
Show some love to your ticket buyers. Give them shoutouts on social media, mention them in event programs, or just send a heartfelt thank-you note. Gratitude goes a long way in building a strong community.
So, there you have it – your ultimate guide to creating amazing raffle baskets and selling raffle tickets like a pro. Make your fundraiser about reaching goals and having a blast while doing it! You got this! 🌟