On a chilly evening there's nothing like a cozy throw to keep us warm – so check out these easy homemade blanket ideas to snuggle up in!
This post may contain affiliate links, which means I may receive a commission if you click on a link and purchase something. As an Etsy and Zazzle Affiliate I earn commissions from qualifying purchases.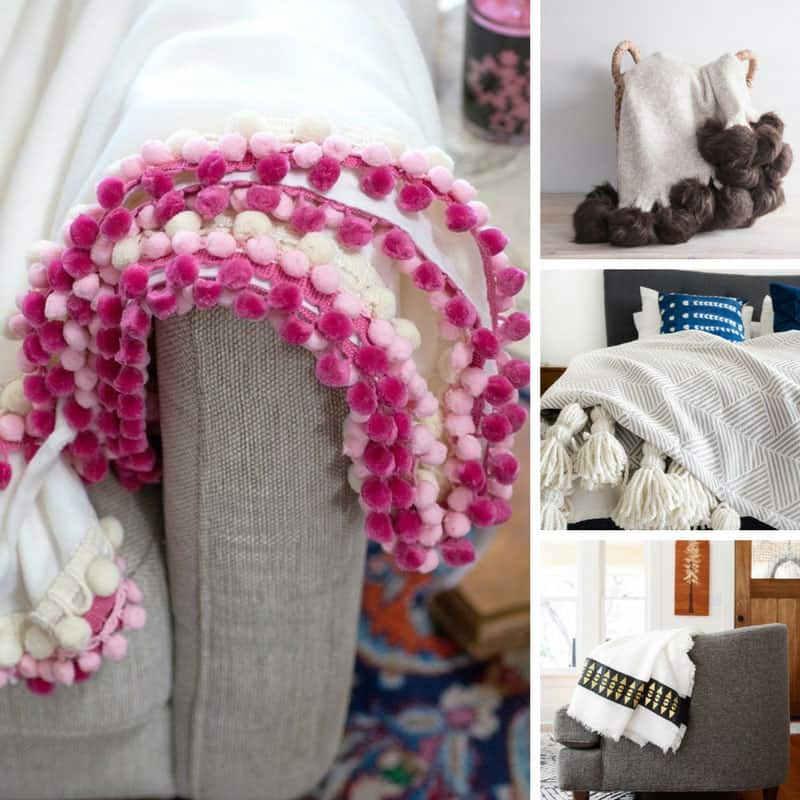 Easy Homemade Blanket Ideas

The night's are drawing in so it's time to cozy up our homes with blankets and throws, but if yours are looking old and tired you're going to love these easy homemade blanket ideas I found, because it's much cheaper to make your own than buy one from the store!
I found everything from luxe fur pom pom trimmed throws and giant tassel trim blankets to no-sew flannel blankets and even a throw made from thrifted sweaters!
As always be sure to scroll all the way to the end so you don't miss any of the great ideas. And don't forget to pin your favourites as you go!
Related Posts:
Luxe Fur Pom Throw

Oh my goodness how snuggly does this throw look? This is the perfect project if you already have a fringed throw that you want to bring a little more fabulous too! (via Earnest Home Co)
DIY This Ridiculously Adorable Pom-Pom Throw Blanket

This adorable pom-pom throw uses pre-made pom-pom trim and it's no sew because you'll be using glue to attach the trim. It looks amazingly snuggly and will cost you less than 20 bucks to make! (via PopSugar)
DIY Giant Tassel Throw Blanket

If you prefer tassels over pom poms then this is the DIY project for you! Just pick out a cozy blanket and then follow the tutorial to see how to make the huge tassels! (via Bre Purposed)
DIY No Sew Blanket – Video

This no sew blanket is so easy to make it's a fun project you can do with your kids! (via YouTube)
Diamond Stitch Crochet Blanket

Oh my goodness this rainbow blanket is GORGEOUS and a great choice for you if you love to crochet. (via Happy in Red)
Tassel Throw Blanket DIY

Here's another tassel blanket throw, but this one is made from scratch so to speak. You'll need a baby soft yarn for your tassels and then a beautifully soft plush fabric for the throw itself for the ultimate in snuggleness! (via Tid Bits Cami)
DIY Cozy Chevron Minky Throw

For a cozy throw without the tassels check out this tutorial, I love this bright chevron pattern! (via Living Well Spending Less)
No-Sew Color Block Summer Throw Blanket

Throws aren't just for the cold winter months, it's still nice to snuggle up in the summer, or just add a splash of colour to your sofa. If you like no-sew projects you need to check this one out! (via Makely)
Love Note Throw

What an original idea for a Valentine's Day gift! And this throw is an IKEA hack – bringing a plain blanket to life with some fabric paint! (via Maison De Pax)
Pom Pom Throw Tutorial

Let's get back to pom poms again! I LOVE the colour combo on this throw and those pom poms are so fluffy! Use lightweight fabrics for a summer throw and something more snuggly for a winter version! (via Lolly Jane)
Throw Blanket with a Geometric Patterned Edge

If you're always looking for Cricut projects then this is the throw for you. Do your thing to bring a plain old throw to life! (via Oleander and Palm )
A Linen Throw for the Warmer Months

Here's another option for the summer months, a beautifully simple linen throw that looks fabulous on your bed or your sofa. (via Nourish and Nestle)
Patchwork Sweater Throw

Oh my goodness how bright and funky is this throw! And it's made from old sweaters so it's lovely and snuggly. Quick I'll race you to Goodwill! (via Alisa Burke)
Quick and Easy Flannel Blanket

Nothing says Fall and cosy as much as a plaid flannel blanket and this project literally takes five minutes if you know your way around a sewing machine! (via Happy at Home)
Easy Flannel Fringe Blanket

If you love plaid flannel but don't like sewing try this no sew version with a fringe instead! (via Girl. Inspired.)
Make Your Own Tassel Throw

More tassels! I wanted to share this one with you so you can see how cute a blanket can look with different colour tassels on it! (via SCJ Green Choices)
How to make a DIY Pom Pom Throw Blanket for Cheap

Here's another IKEA hack! Look how amazing a plain GURLI throw looks with some cute pom poms hand stitched around the edge! (via Decorating Tips & DIY)
DIY Embellished Throw

Oh my goodness! This embellished throw is so unique. It's going to take a little bit of time to put together but your visitors will be asking you where you got it from, and then asking you to make them one! (via Nesting Place)
Faux Fur Blanket

If you prefer plain and simple, but still snuggly check out this faux fur blanket! (via Sewbon)
Patchwork No Sew Fleece Blanket Tutorial

Here's another no-sew fleece option in a totally adorable patchwork style! (via Powerful Mothering)
No Sew Plaid Flannel Blanket

Got guests coming and trying to make the guest bedroom look inviting? Grab some flannel and in just 10 minutes you can make a cozy throw like this one! (via Finding Home Farms)
How To Make A Recycled Sweater Blanket With Hexagons

Ooh here's another recycled sweater blanket but this one looks totally different to that last one. I LOVE the hexagons and that denim trim! (via Pillar Box Blue)
Linen and Flannel Ruffle Throw Blanket Tutorial

This blanket is perfect for the Winter Spring transition and has a really cute ruffle around the edge. (via Farmhouse on Boone)
Arm Knit Blanket with Chunky Yarn

Ooh I have been meaning to try arm knitting and this blanket might just be the perfect project. It looks totally cozy! (via Place of My Taste)
Easy and Beautiful DIY Fleece Blankets

If you love to pile up your throws this is the project for you because there are three ways to edge your fleece blankets so they look totally cute together! (via It's Always Autumn)
Ikea Hack : Pom Pom Blanket

Here's another IKEA hack, this time adding some pom pom cuteness to the Eivor throw! (via Hometalk)
How to Make an Easy Throw Blanket

If you find yourself standing in the fabric store unable to choose just one pattern this is the project for you because this throw is double sided! (via Making Lemonade)
Winter Scarf Throw

Well we've had blankets made from old sweaters, and now here is one made from thrifted scarves! (via Hometalk)
How To Stencil A Blanket Using the Herringbone Stitch Pattern

This throw looks super stylish, and expensive, so no one will guess it's a DIY stencil job! (via Hometalk)
How to Make a Cozy, No Sew Throw Blanket

Let's finish up with this fabulous no sew blanket, because I love the colours and the fact that it's supersized for ultimate coziness on a chilly evening! (via Mason de Pax)
Related Posts:

Pin these ideas!
Hit the button to save these ideas for later.
Don't forget to
follow us on Pinterest
for more great stuff!
&
---