Nothing beats these slow cooker beef recipes to warm you up on a chilly evening. Comfort food at its best!
This post may contain affiliate links, which means I may receive a commission if you click on a link and purchase something. As an Etsy and Zazzle Affiliate I earn commissions from qualifying purchases.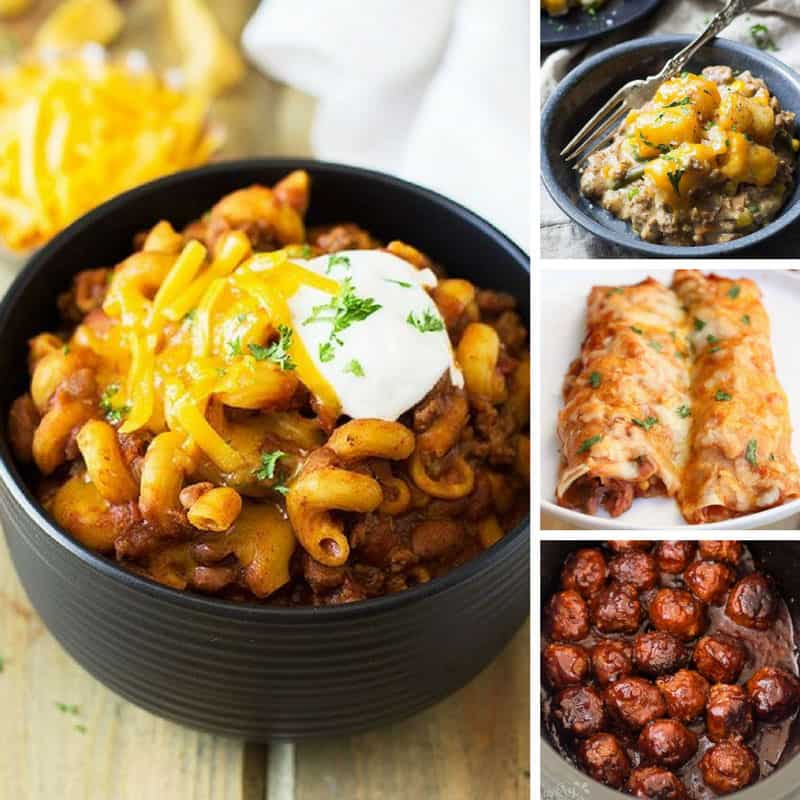 Slow Cooker Beef Recipes

As the nights start to draw in and the weather is turning colder I thought it was a good time to search out some slow cooker beef recipes for you to add to your meal plan. Because the only thing better than comfort food is comfort food cooked by your Crock Pot!
I found everything from a healthy Hamburger Helper recipe and a hamburger soup to meatballs covered in sticky BBQ sauce!
As always be sure to scroll all the way to the end so you don't miss any of the great ideas. And don't forget to pin your favourites as you go!
Related Posts:
Healthier Slow Cooker Hamburger Helper

If Hamburger Helper is one of your go-to ingredients in the kitchen you should definitely try this homemade (and healthier) version that is made entirely in your slow cooker! (via The Recipe Rebel)
Slow Cooker Shredded Beef Enchiladas

This homemade enchilada sauce is so easy to make in your slow cooker, and so yummy that you'll never buy canned sauce again! (via My Recipe Magic)
Slow Cooker Ground Beef and Cheese Pasta

Oh my how comforting does this look? It's the perfect recipe for a chilly evening, and the best bit is that the pasta cooks in the slow cooker too! (via Gimme Delicious)
&
&
Slow Cooker Hamburger Soup

This recipe is perfect for those days when you have veggies in your fridge that need eating up because you can adapt this recipe to suit what you have available. (via Sugar n' Spice Gals)
Crock Pot Taco Casserole

Now you can put your Crock Pot to work on Taco Tuesday too! Just throw the ingredients into your slow cooker in the morning and then it'll be ready and waiting for you at dinner time! (via Tamilee Tips)
Slow Cooker Baked Ziti

I love this baked ziti recipe because it's not actually baked (it's made in the slow cooker which is to much easier) and it doesn't use ziti noodles so you're free to use whatever shape pasta your family loves without feeling guilty! (via The Recipe Rebel)
&
&
Crock Pot Tater Tot Sloppy Joes Casserole

If your kids love Tater Tots this is going to become a new family favourite hamburger casserole, and you won't mind making it regularly because it's super easy and super tasty! (via Tammilee Tips)
Slow Cooker Honey Buffalo Meatballs

Oh my goodness how amazing do those meatballs look! They are tender and juicy and the sauce has a sweet heat that makes it perfect for Fall meal plans. Eat them for dinner or a game day appetizer, just make sure you make enough for everyone to have seconds! (via Carlsbad Cravings)
Slow Cooker Mozzarella-Stuffed Meatballs

Here's another meat ball recipe you can make in your trusty slow cooker, only these are stuffed with oozing mozzarella cheese! Yum! (via The Seasoned Mom)
&
&
Cowboy Supper

If you're looking for a gluten free recipe you can make in your slow cooker you can't go wrong with this Cowboy Supper! (via Mandy's Recipe Box)
Slow Cooker Chili Mac

If your kids love Mac n Cheese and you want them to try something new serve up a bowl of this yummy chili mac topped with shredded cheese. (via Countryside Cravings)
Want more? We have loads more ideas that you are going to love in our
==>
quick and easy chilis
collection!
Sticky BBQ Slow Cooker Meatballs

Oh my. Here's another meatballs option only this time they're smothered in a sticky BBQ sauce! (via Savory Nothings)
Crock Pot Bacon Cheeseburger Tater Tot Casserole

Yes I know we already had a Tater Tot casserole option today, but this one has bacon in it… and I can never say no to a recipe with a bacon twist! (via Julie's Eats & Treats)
Slow Cooker Mexican Shredded Beef

Shredded beef gives you so many dinner options, from tacos and burritos to casseroles and more, so it's always worth knowing how to prepare it in your Crock Pot! (via Fox and Briar)
Slow Cooker Texas BBQ Beef Sandwiches

Sandwiches are a great option for busy weeknight meals and these Texas BBQ beef sandwiches are totally yummy! (via Plain Chicken)
Slow Cooker Creamy Beef Stroganoff

Here's a classic recipe with a slow cooker twist, which means you'll be willing to make it more often right? (via Le Creme de la Crumb)
Related Posts:

Pin these ideas!
Hit the button to save these ideas for later.
Don't forget to
follow us on Pinterest
for more great stuff!
&
---