These gorgeous handmade felt toys patterns are just what you need to make thoughtful gifts for everybody on your list this Christmas. They're perfect for baby showers too!
This post may contain affiliate links, which means I may receive a commission if you click on a link and purchase something. As an Etsy and Zazzle Affiliate I earn commissions from qualifying purchases.
If you are looking for handmade felt toys patterns you are going to LOVE today's collection because I'm sharing some of the most fabulous softies that you can make for friends and family!
I was browsing on Etsy to get a head start on the Christmas shopping when I came across the little dear store which is owned by the super talented Aimee Ray.
She dreams up the most wonderful felt animal patterns and then shares easy to follow instructions so you can make them at home.
If you love to use a Cricut or Silhouette for your crafting you'll be happy to hear that the SVG files are included too!
Why do felt animals make great gifts?
Felt animal softies are the perfect gift for anyone on your list because they're so versatile. Here's just a few things you can do with a tiny felt animal friend:
Make a set of them and turn them into a crib mobile for a baby shower gift
Use one as a gift tag
Add a safety pin to the back so you can wear one as a button
Add a ribbon to the top and turn them into Christmas ornaments
Skip the stuffing step and make a set of finger puppets a toddler will adore
Add a ring so you can use one as a keychain or bag accessory
Add a magnet to the back and stick them to your fridge
Pop them on a bookshelf
Hand them out as party favors
Finger Sloth Felt Toy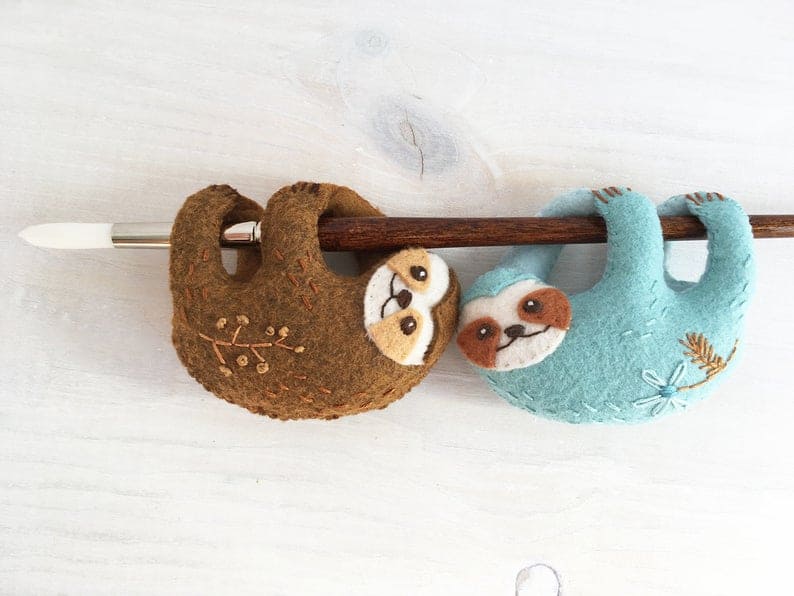 How adorable are these sloths? I love the little floral stitches on their sides! These finger sloths will be happy hanging off a finger, a pencil or even a paintbrush. So they would make a wonderful handmade gift for a child or a grownup who loves all thing sloth!
Finger Sloth Felt Toy by littledear
Safari Felt Animals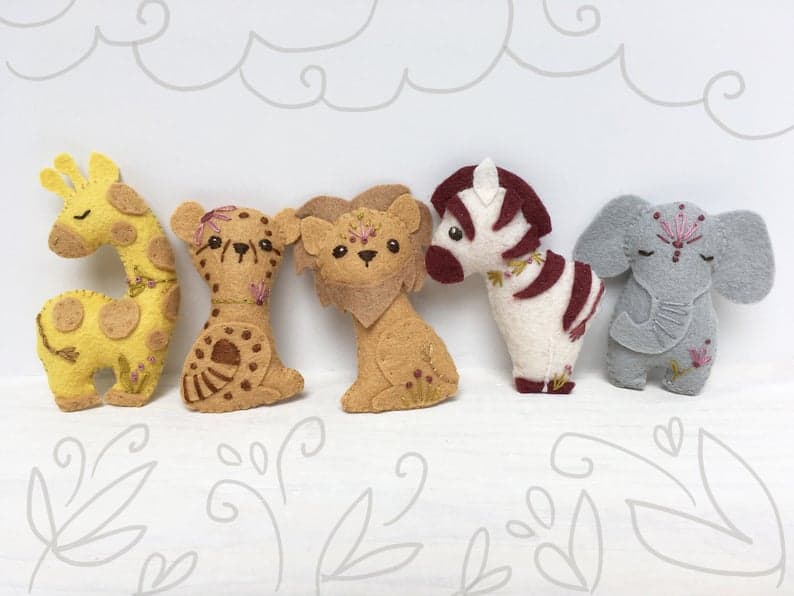 Or how about this set of safari animals? The pattern will show you how to make a giraffe, cheetah, lion, zebra and an elephant. These would look lovely hanging from a mobile in a child's nursery. Or you could make them as baby shower faovors. This pattern set includes SVG files if you like to craft using a Cricut or Silhouette machine.
Safari Felt Animals by littledear
Sea Creature Felt Animals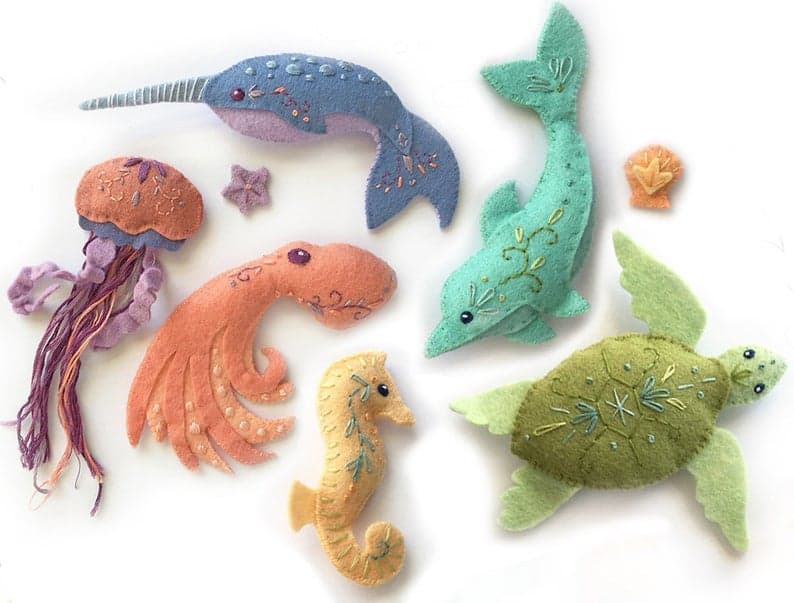 I had to share this set of sea creatures with you because it includes a narwhal! I have a thing about that mystical creature, he's like a unicorn but better! The other creatures in this set are an Octopus, Jellyfish, Dolphin, Sea Horse, Sea Turtle plus a tiny starfish and seashell.
Sea Creature Felt Animals by litteldear
Customizable Pets Felt Animals Plush Sewing Patterns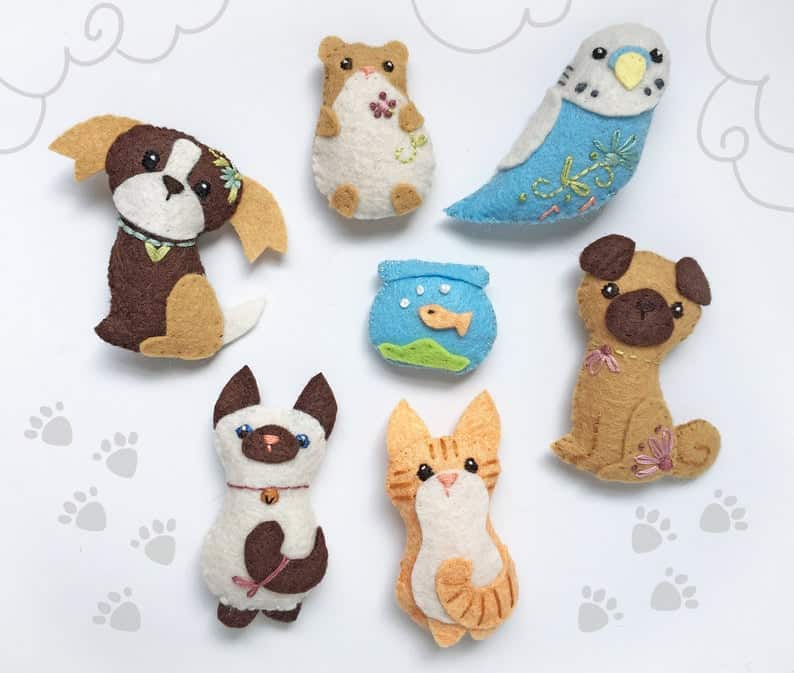 If you're a pet lover you can use this pattern set to make a mini portrait of your own cat or dog (or parakeet, hamster or fish!) Again the instructions will show you how to add sweet embroidered accents to your finished felt pets.
Customizable Pets Felt Animals Plush Sewing Patterns by littledear
Dinosaur Felt Animals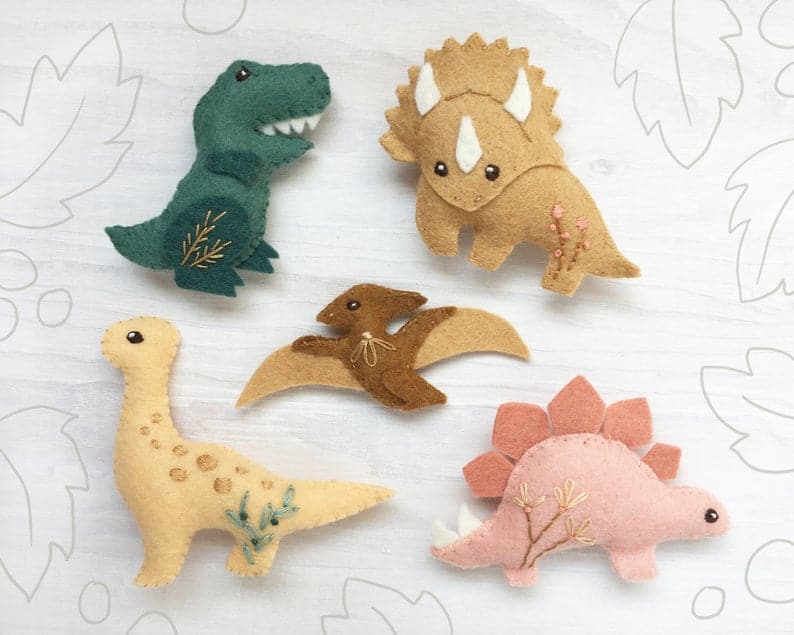 I think everyone has a dinosaur fan in their family, my son and daughter would both love a set of these little dinos! The detailed instructions will show you how to make a Triceratops, Tyrannosaurus Rex, Pteranodon, Stegosaurus and Brachiosaurus.
Dinosaur Felt Animals by littledear
Felt Cactus Friends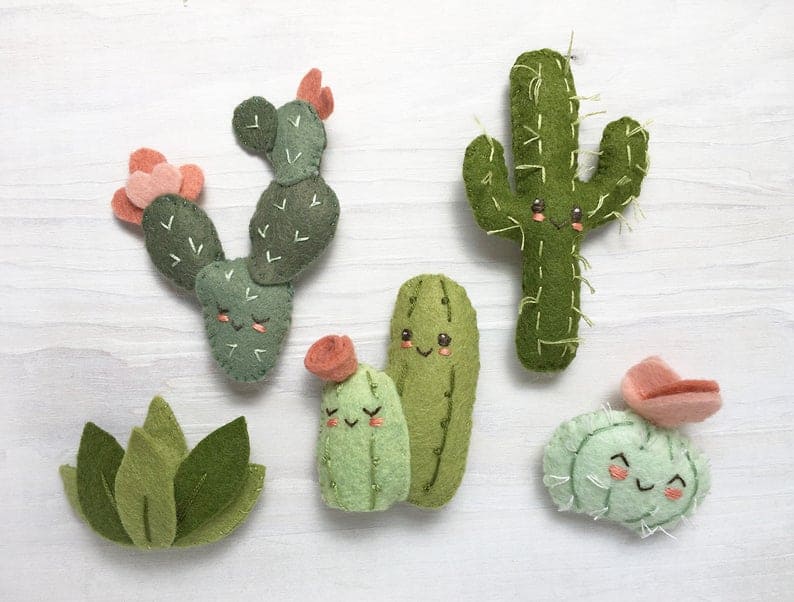 Felt toys aren't just for kids you know, I'm sure you have a grown up on your list who is a big succulent fan, and these little cacti would look great on their desk or bookshelf.
Felt Cactus Friends by littledear
Felt Farm Animals Pattern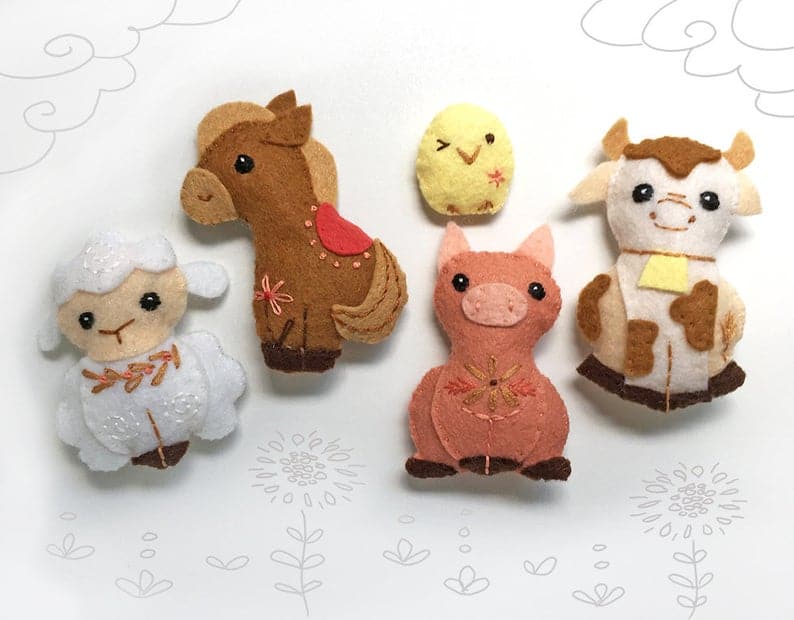 Here's another set that would look adorable made up as a nursery mobile, or as a set of finger puppets for acting out Old MacDonald had a Farm! The set includes a Cow, Horse, Pig, Sheep and Chick.
Felt Farm Animals Pattern by litteldear
Mythical Creature Felt Dolls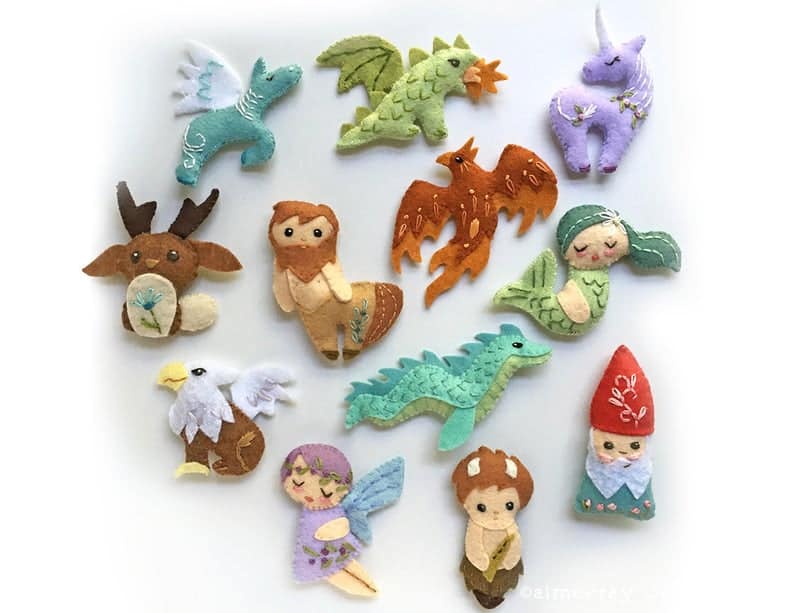 For something a little more mythical you can't go wrong with this set of 12 different creatures! The instructions will show you how to make a Unicorn, Gryphon, Mermaid, Gnome, Pegasus, Fairy, Jackalope, Dragon, Phoenix, Centaur, Faun and Sea Serpent. These would make a wonderful handmade Christmas gift for a child who loves to make up their own magical stories.
Mythical Creature Felt Dolls by littledear
Felt Spirit Animals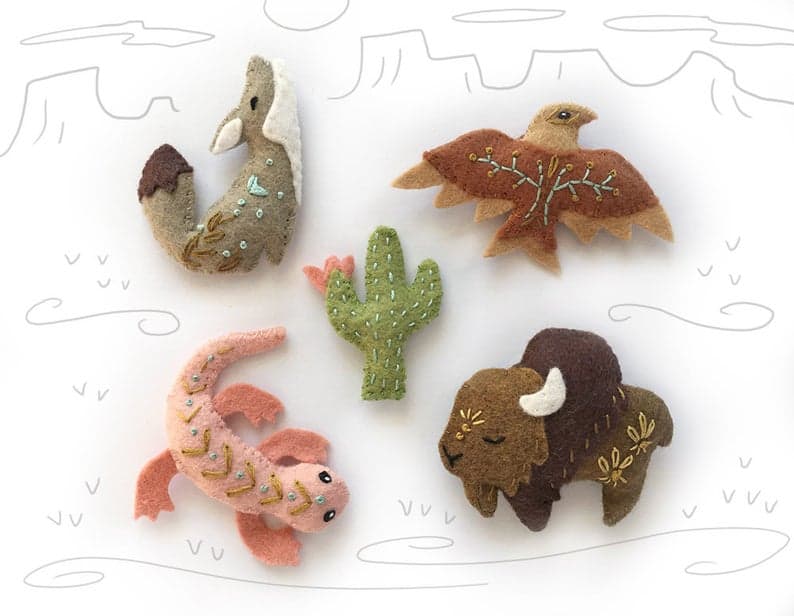 These miniature plush spirit animals have been inspired by Native American myths. The patterns included in this set are for a Buffalo, Coyote, Eagle, Gecko and cactus plant.
Felt Spirit Animals by littledear
Llama Felt Plush Toys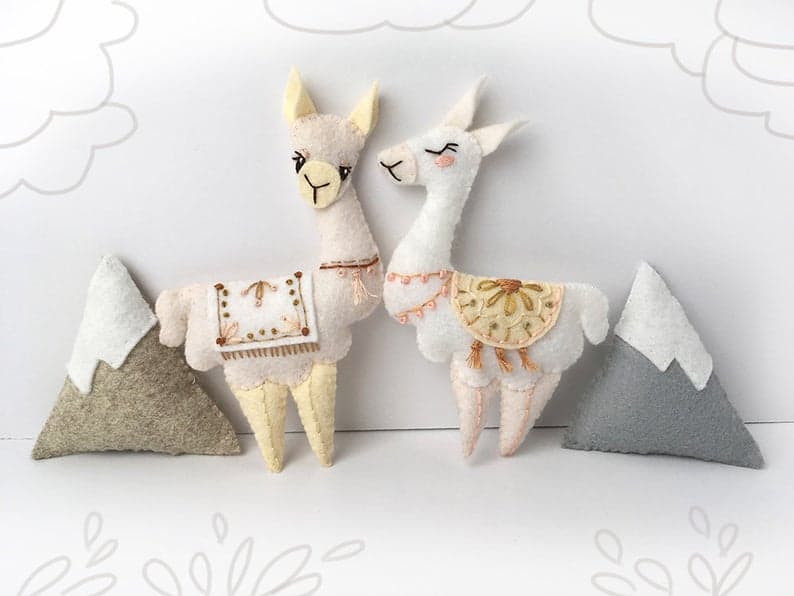 It seems you can't go through a day without seeing something llama related these days, and I bet you have a llama (or alpaca) fan on your list. So how about making a pair of these fabulous felt plushies? I just love the personalities that shine through and that they're both so different!
Llama Felt Plush Toys by littledear
Tropical Felt Animals Pattern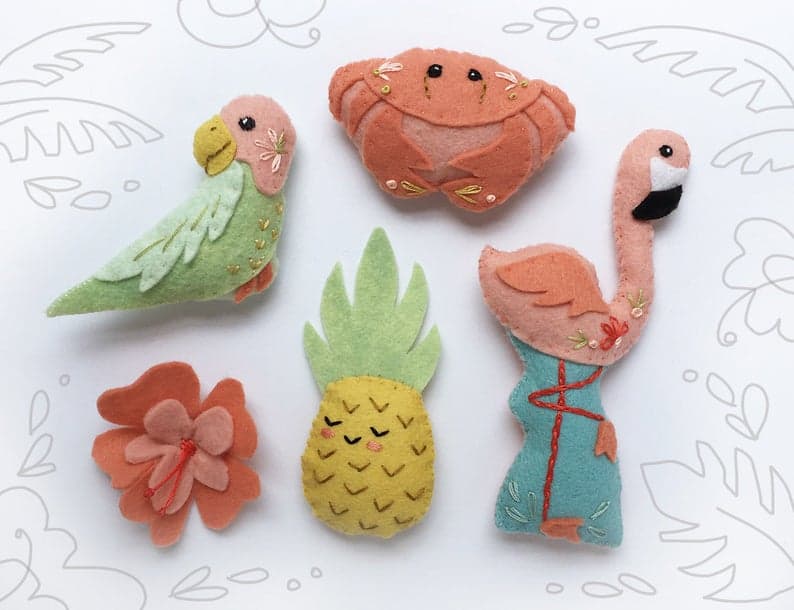 Or how about something a little more tropical? These would make wonderful favors for a destination wedding! You will see how to make a Flamingo, Crab, Parrot, Pineapple and flower.
Tropical Felt Animals Pattern by littledear
Don't miss our popular felt toy patterns collection for more felt toys of all shapes and sizes.