There are so many ways you can set up a coffee bar at home, you can use your kitchen counter, a cabinet or a rolling cart! Time to be inspired!
This post may contain affiliate links, which means I may receive a commission if you click on a link and purchase something. As an Amazon Associate I earn from qualifying purchases.
How to set up your own home coffee station
If you are a coffee lover then one of the best things you can do when organizing your kitchen is set up a home coffee station.
By having everything you need to prepare your coffee all in one place you'll save yourself time in the morning.
And you'll probably save money too since you'll be less likely to pick up take out coffee on the way to work if you're running late!
There are so many ways you can set up a coffee bar at home, you can use your kitchen counter, a cabinet, a rolling cart or even have a coffee bar custom built!
How to put together a coffee bar on the counter
You probably have all your coffee making equipment and accessories on the counter and in a cabinet already.
The key to creating a coffee station in your kitchen is to group all the items together.
So you might have your coffee machine out on the counter, and then in the cabinet above you can keep all your mugs, cups, spoons and of course coffee beans, grinds and other vital ingredients.
How to set up a coffee bar on a rolling cart
If you have friends over for coffee regularly you might want to put all your coffee making necessities on a rolling cart instead of in a cabinet.
Whether you wheel it over to your island or out into the living area you'll have everything you need in easy reach.
Your friends will be impressed too!
A cart is also a good idea if you don't have any spare countertop space in your kitchen. A trolley can stand against a blank wall to make use of the small space.
Home Coffee Bar Accessories
When you're putting together your coffee bar don't forget about the accessories.
Think about glass jars for storing coffee beans and sugar, a serving tray if you're not having a trolley, ad of course some nice cups and some pretty napkins.
You might also want to add a milk frother, and a bean grinder.
Coffee Wall Art
Add a finishing touch to your kitchen coffee bar by adding some fabulous wall art.
Whether you want to set up your home coffee bar on the countertop in your kitchen or on a cart or dresser here are some fabulous ideas to inspire you.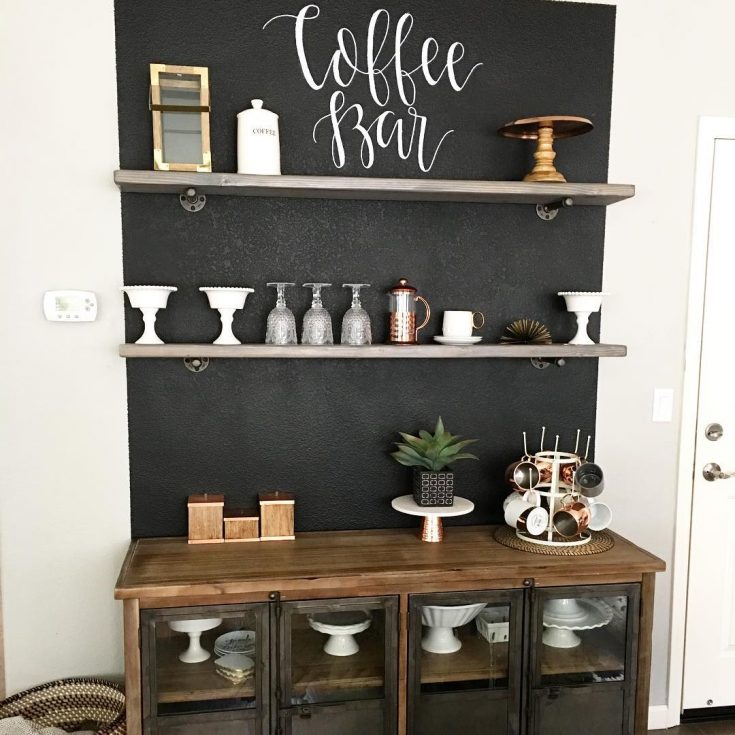 Add a chalkboard wall to your coffee bar
Photo Credit: ashly_fritch
Make a statement by using chalkboard paint on the wall behind your coffee bar. You can use it for writing up your favorite coffee recipes.
Continue Reading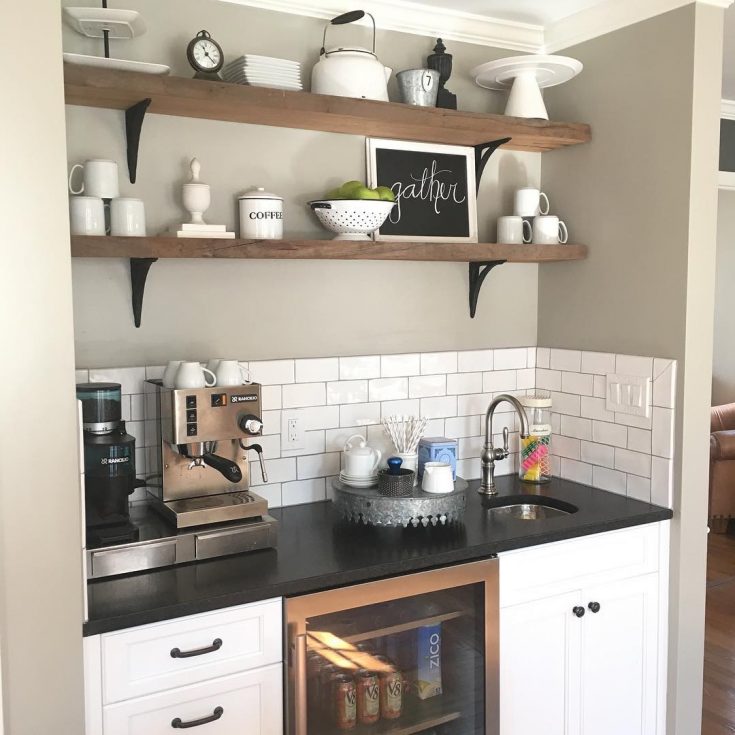 Add a sink and a fridge if you have room
Photo Credit: la_cozy_casita
For the ultimate home coffee station include a sink and wet bar as well as an under counter sink.
Continue Reading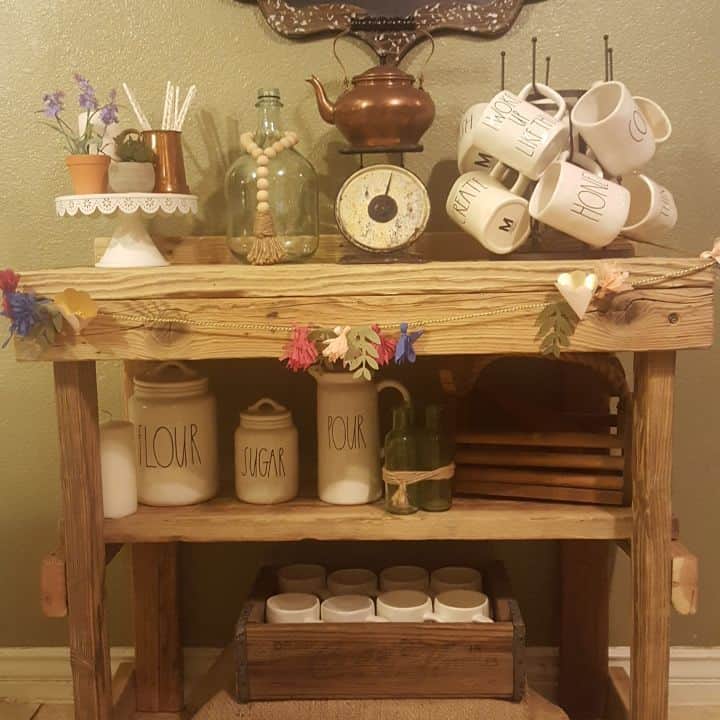 A wooden cart is a great place to set up your coffee bar
Photo Credit: thentherewasmimi
If you don't have any spare countertop in your kitchen don't worry. A wooden cart like this one is the perfect place to set our your coffee bar. It has a very rustic farmhouse feel to it.
Continue Reading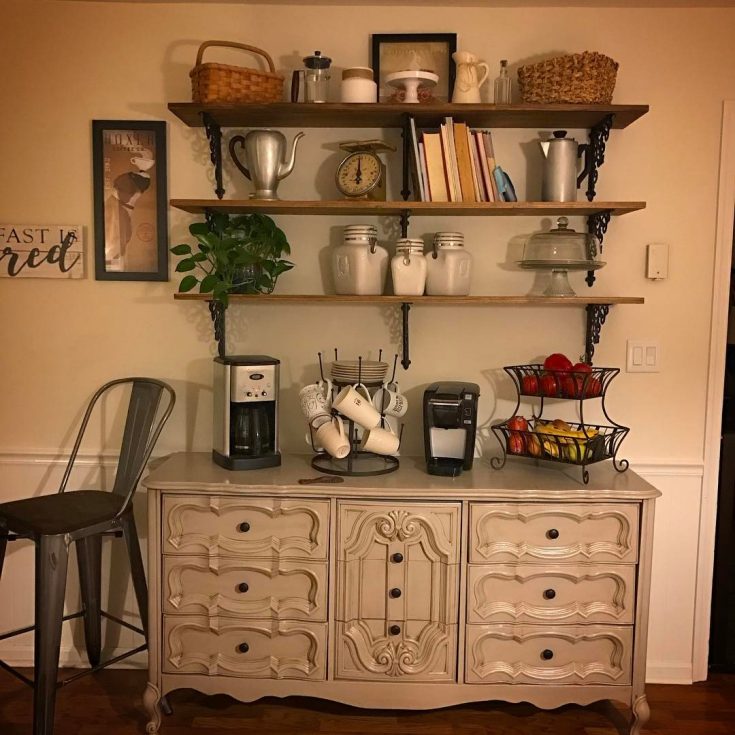 Repurpose an old dresser into a coffee station
Photo Credit: valiwlkr
Another option is to repurpose an old dresser and turn it into a coffee station. Add shelves to the wall above for extra storage.
Continue Reading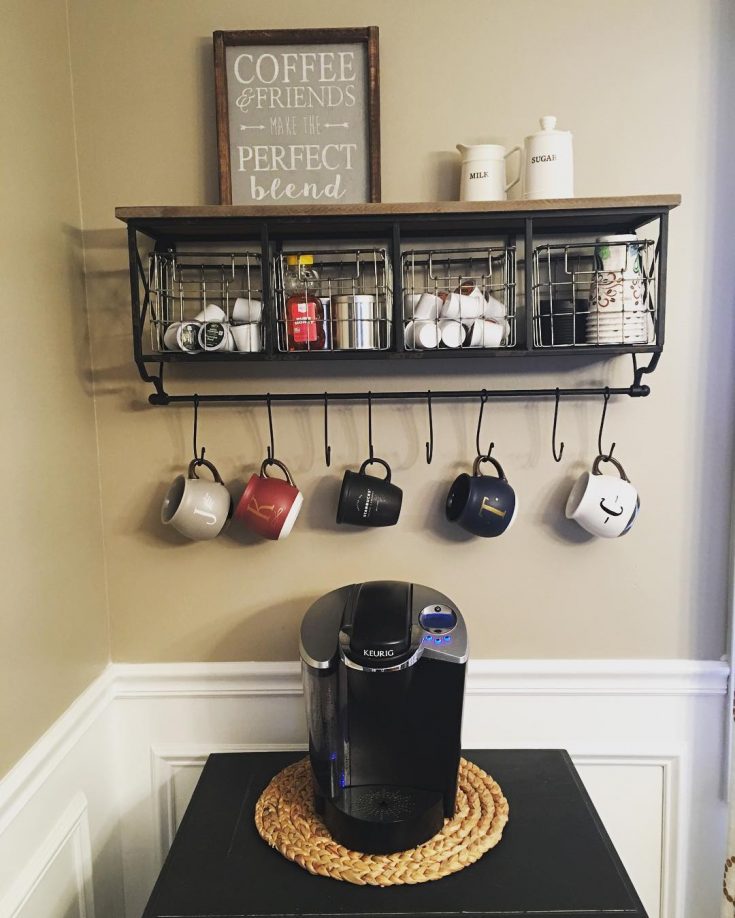 Wire baskets are perfect for storing coffee pods
Photo Credit: ktflenner22
You'll need somewhere to store all of your different coffee pod flavors. Wire baskets like these are perfect because you can see what's inside them.
Continue Reading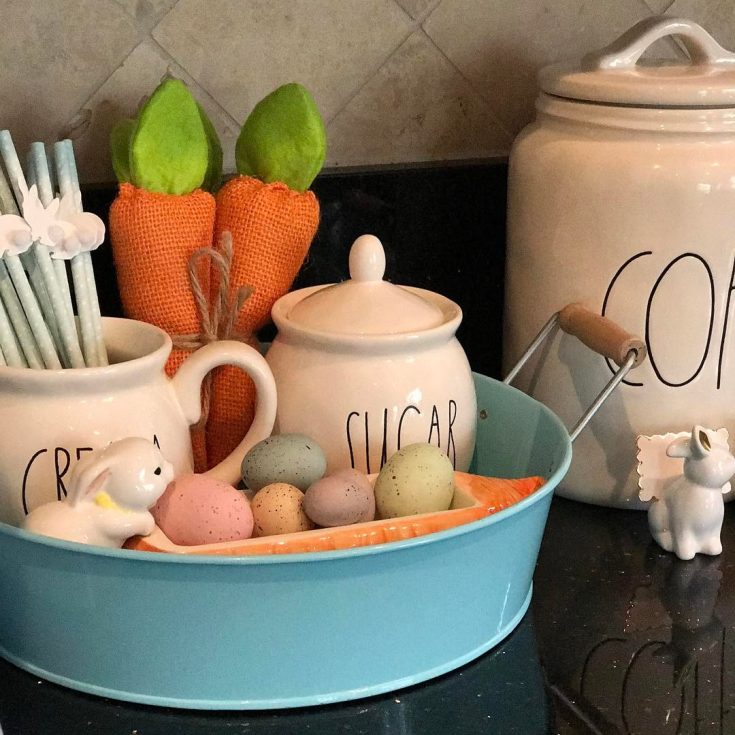 Decorate your coffee bar for the Holidays
Photo Credit: lovelyy_chris
If you like to decorate your home for the different Holidays don't forget about your coffee bar decor! Here's a simple Easter idea with some carrots and eggs and a little bunny crock.
Continue Reading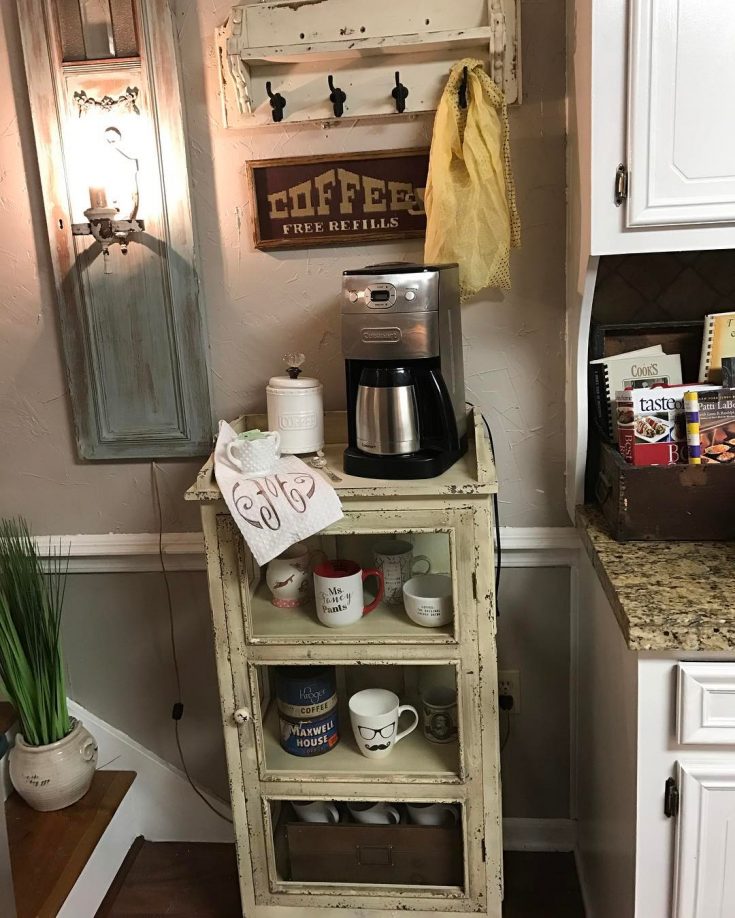 A mini station is perfect for non-coffee drinkers
Photo Credit: mcgarrhlife
What do you do if you don't actually like coffee but you have friends that do? Set up a mini station like this one of course!
Continue Reading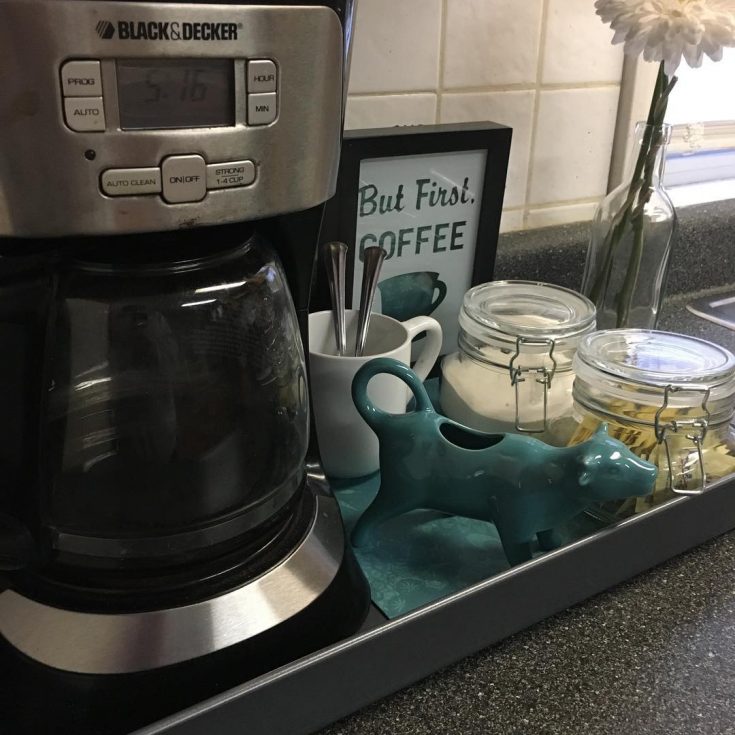 Small kitchen coffee tray
Photo Credit: swifttlres14methoffamee
Small coffee stations are possible too if you just don't have any free space in your kitchen. You'll need to pare right down to the bare necessities but then you can use a simple tray.
Continue Reading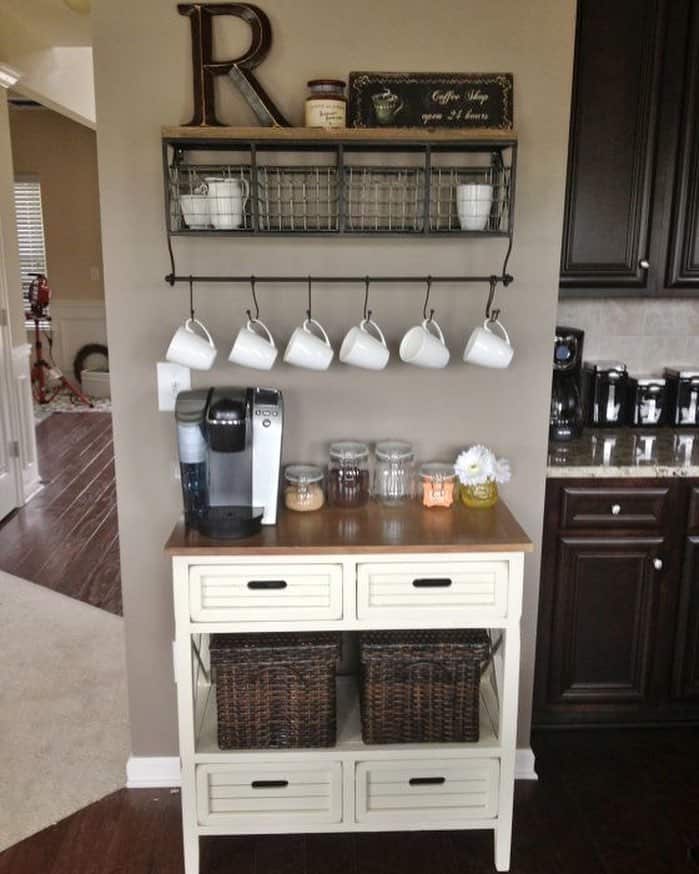 Make use of an unused wall in your kitchen
Photo Credit: robynglee
This are was pretty much wasted space until it was transformed into a small tea and coffee station.
Continue Reading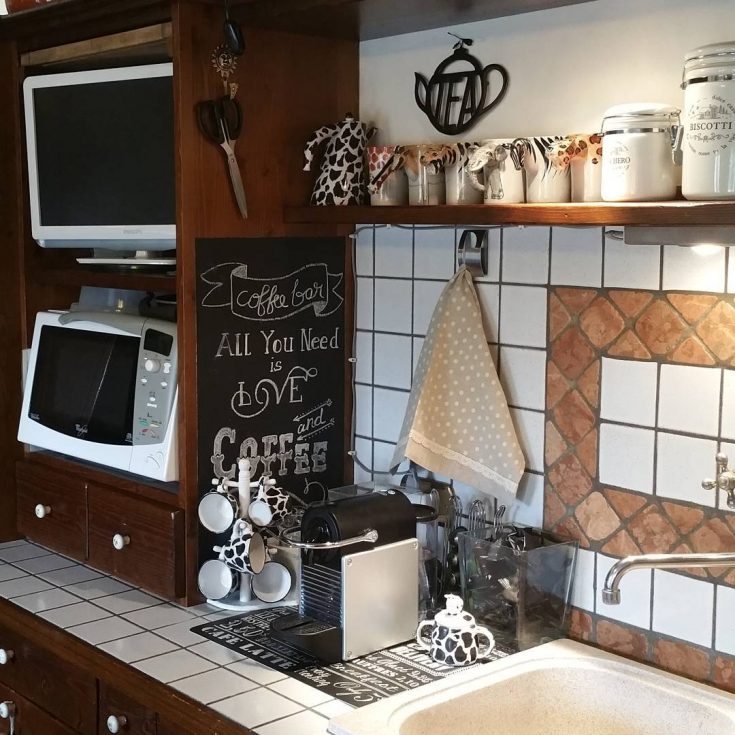 Use the empty space by your sink
Photo Credit: teajurin
How's this for a really small coffee bar? See you can make it happen even in the tiniest kitchen. Set your coffee maker next to the sink, add your little chalkboard on the side of the cabinet and then hang a shelf above to keep your cups and canisters.
Continue Reading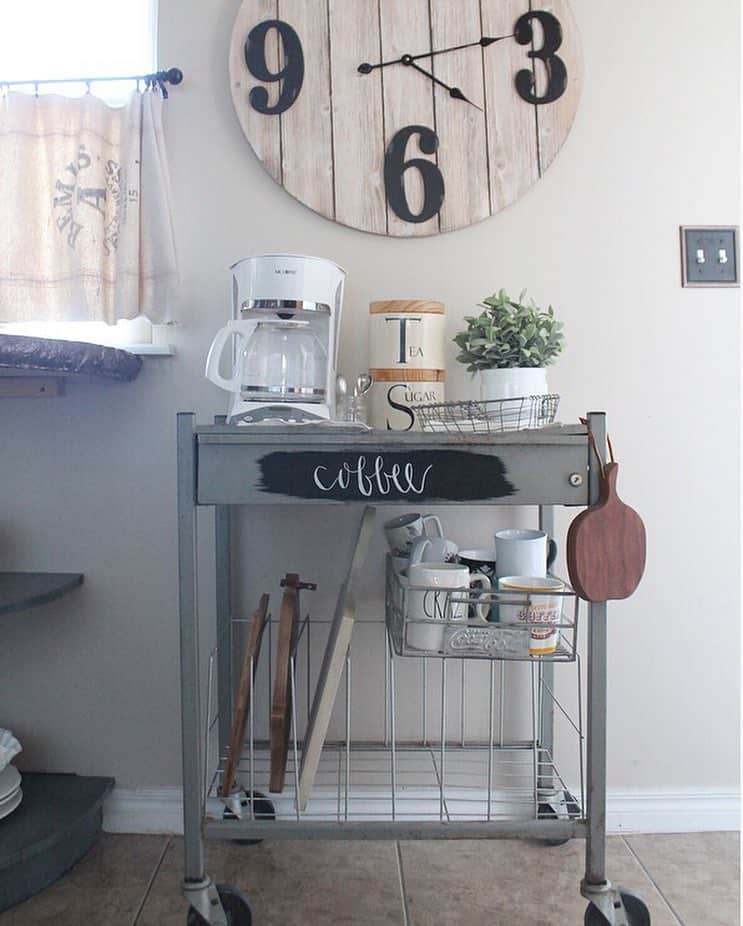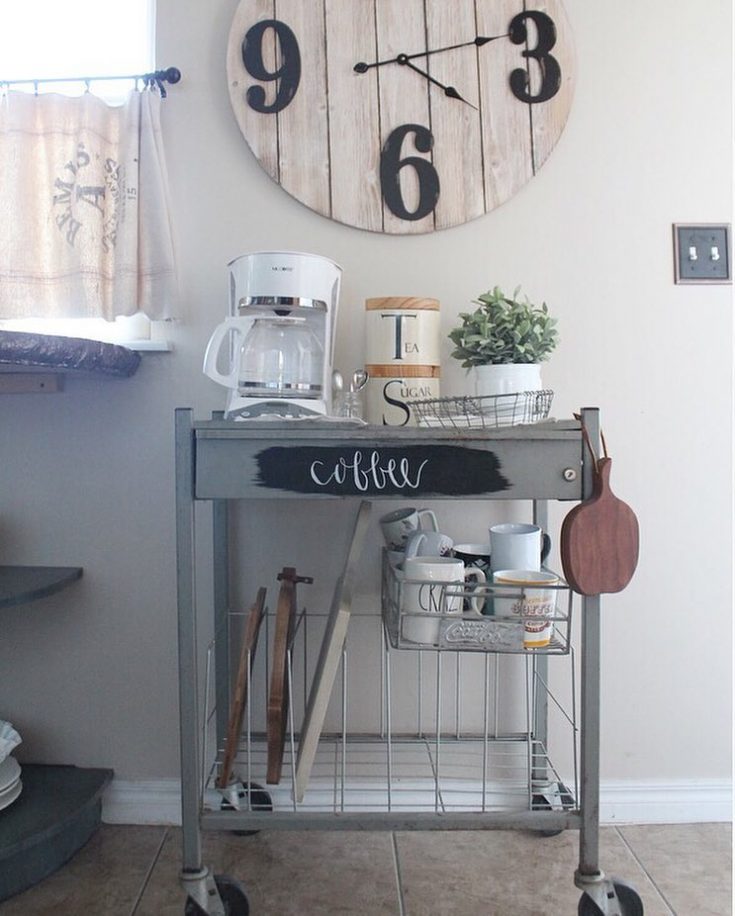 Upcycle an old metal cart into a rolling coffee station
Photo Credit: redbrickonthelake
If you love to serve your coffee to friends somewhere other than the kitchen make yourself a portable coffee station! This fabulous farmhouse style bar was made by repurposing an old metal cart. Keep your eyes peeled at your local flea market, garage sale or even on craigslist for something similar.
Continue Reading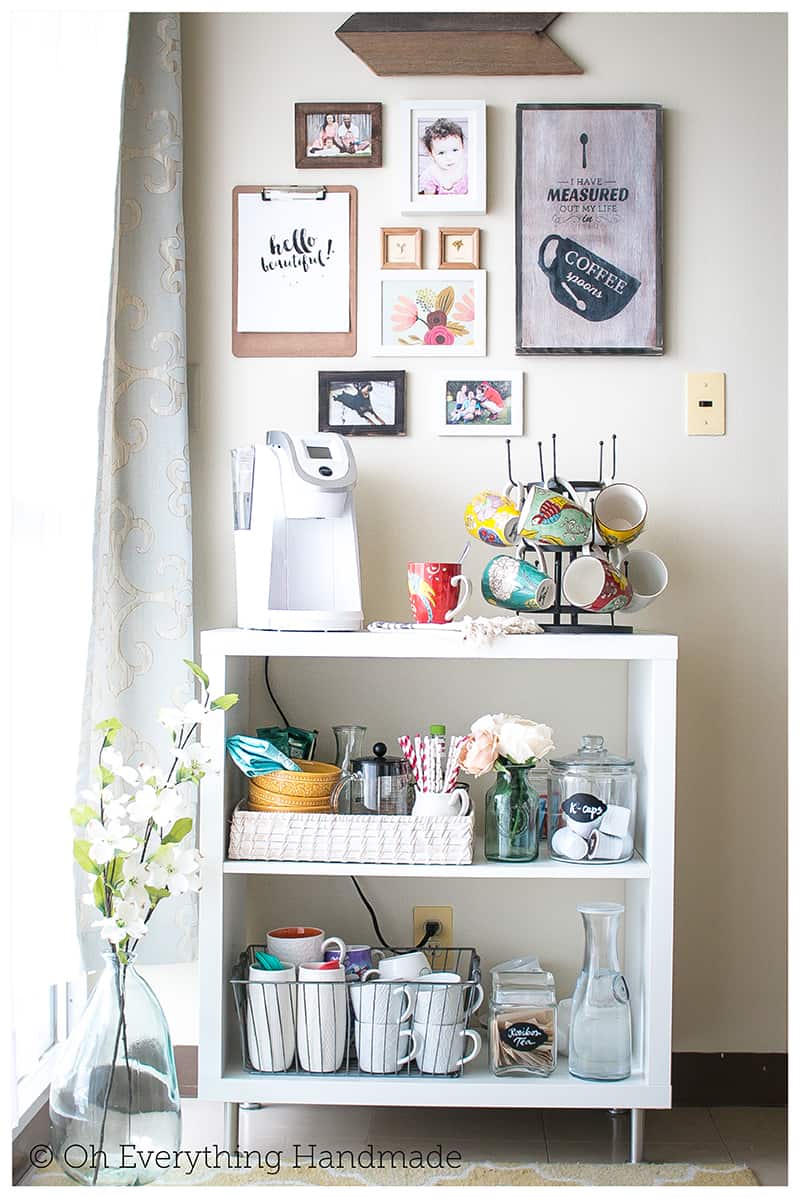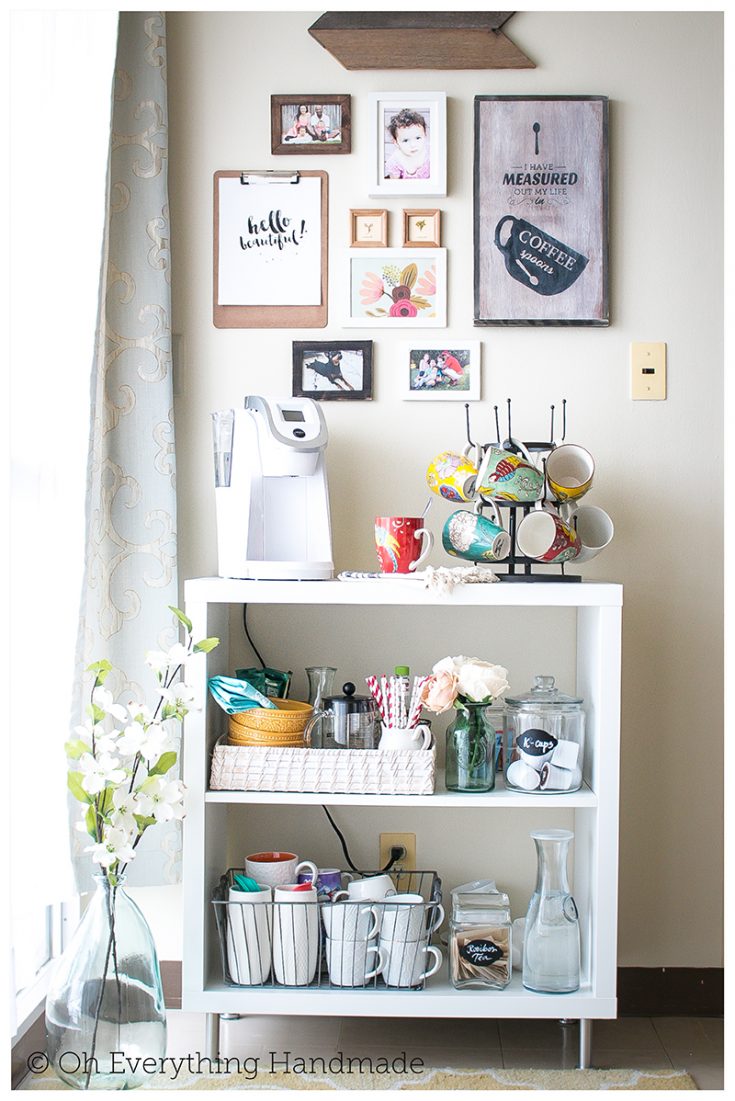 Convert a bookcase into a simple modern bar
Photo Credit: oheverythinghandmade.com
If you're looking for an IKEA coffee station hack take a look at this fabulous way to makeover a KALLAX storage unit and turn it into a modern looking coffee bar.
Continue Reading