If your front closet is cluttered and disorganized it's time to give it some TLC and turn it into a coat closet your guests will be jealous of!
This post may contain affiliate links, which means I may receive a commission if you click on a link and purchase something. As an Etsy and Amazon Associate I earn commissions from qualifying purchases.
How to Organize Your Coat Closet
We're back for another project in our challenge to organize your home room by room, and today you're going to tackle your front closet.
Be honest now, can you open the door without a pile of "Stuff" flooding out?
Don't forget that this isn't a storage unit. Your guests will use this closet so it needs to look presentable.
Oh and if you're thinking that you don't have guests over because you're too embarrassed by the state of your house remember that when this challenge is over you'll be so proud you'll be sending out invitations. So make sure that closet will impress your guests!
Step One
Take a deep breath, and then take everything out of the closet. Yup. Everything.
The coats, the hangers, the random boxes of stuff that you hid in there way back when.
Everything.
Now sweep or vacuum the floor and wipe down any shelves or poles.
Step Two
Sorry but no. Step two is not to stuff it all back in there!
Step two is to sort through everything that you pulled out.
Yep it's time to channel your inner Marie Kondo!
Grab four containers and label them (either literally or in your head) Toss, Donate, Store, Put Away.
Be brutal as you sort.
Do you need it?
Does it still fit?
Should it actually live somewhere else in your house?
Drop each item into its relevant container as you sort.
When you've finished sorting deal with the containers.
Throw out the trash.
Put the donate box in the trunk of your car to take to Goodwill next time you're running errands.
And take a look through the store and put away boxes, because now it's time to think about storage solutions.
Your "store" items are probably out of season accessories like hats, scarves and gloves.
If you have room in your closet it makes sense to store them here, perhaps in a pretty fabric box or basket up on a shelf.
If it's a small closet and you only have space for in-season gear label a container and store them away in the garage or the attic.
You might want to leave a note somewhere in the closet to remind yourself where you put them!
Make a note to pick up some nice wooden hangers next time you're at the store. Or do what I do and order them from Amazon (gotta love Prime delivery right!)
It might feel like a splurge but your coats will last longer if they've been hung up properly.
Make sure you have extras for guests to use.
You can either line your shoes up neatly, or head over to Amazon to have a look for a shoe storage unit that will fit in your closet.
After your cleaning and purging your closet is going to look a million bucks for sure!
Coat Closet Hacks
You know how much I love looking for inspiration to share with you, so here's some coat closet hacks to inspire you!
1 | Hang your purses on the inside of the door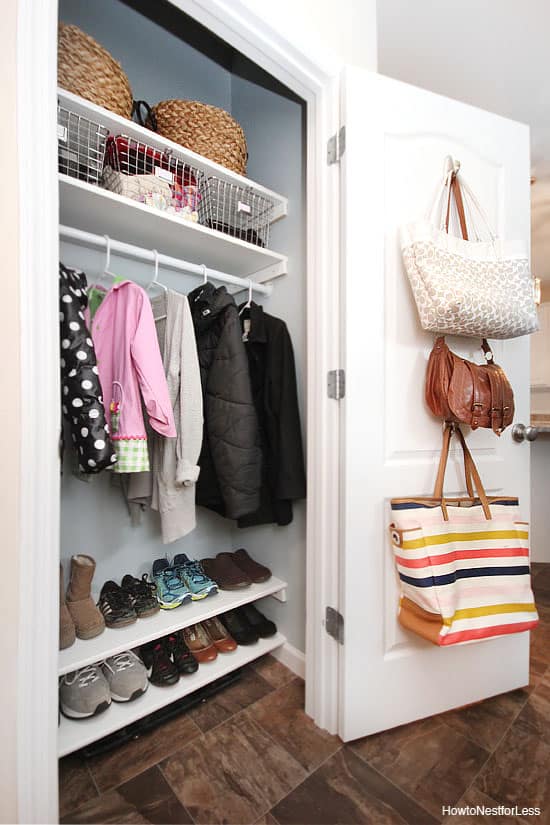 Here's a clever hack to make use of the wasted space on the inside of your closet door to hang your bags and purses.
Hang your purses on the inside of the door by How to Nest for Less
2 | Turn your closet into a mini mudroom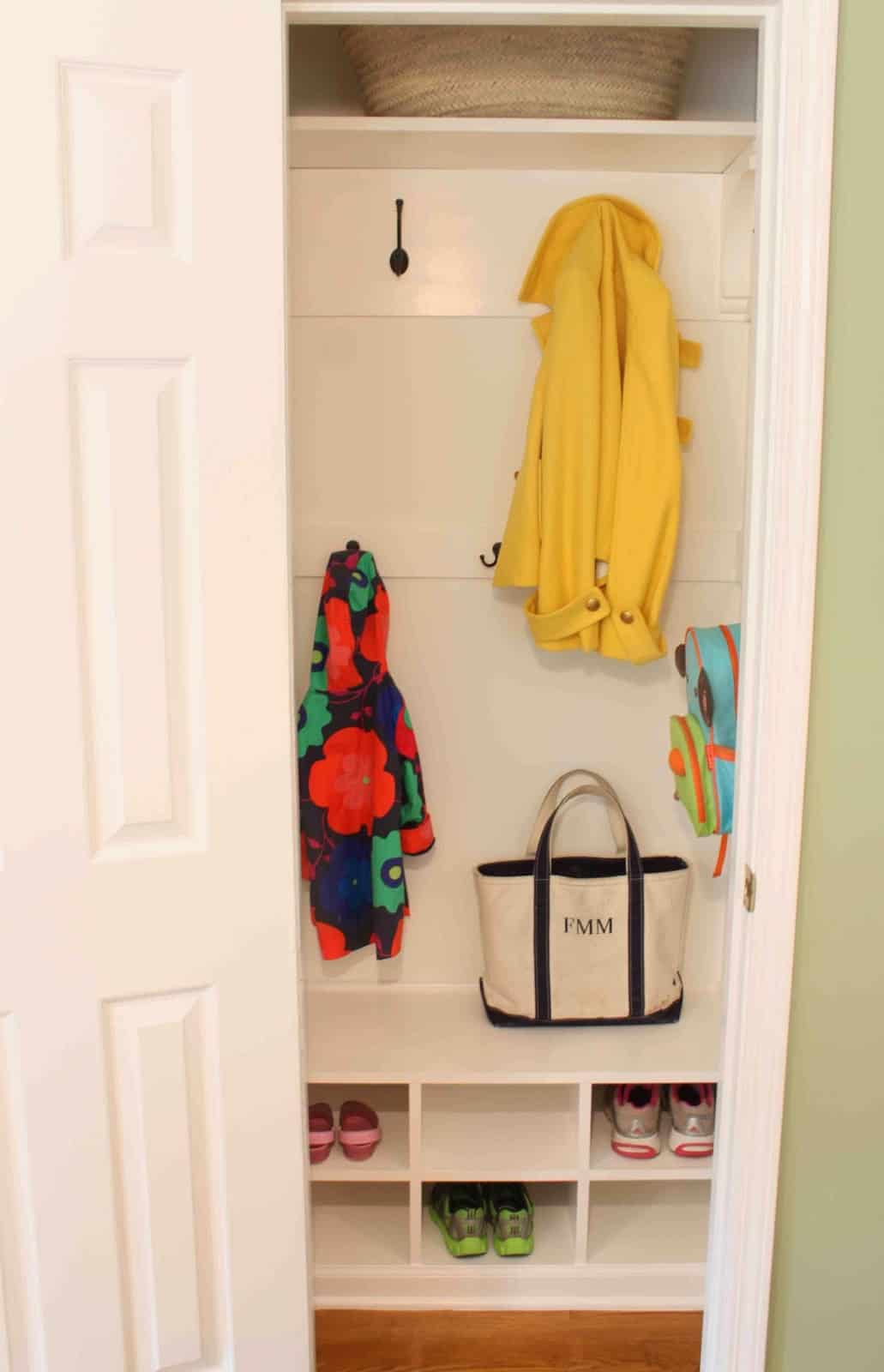 Ooh see those little cubbies in the bottom of this closet?
They're the perfect place for storing shoes and Fran has the details you need to make built in storage in your closet too!
Turn your closet into a mini mudroom by Green Street
3 | Create a drop zone in your front closet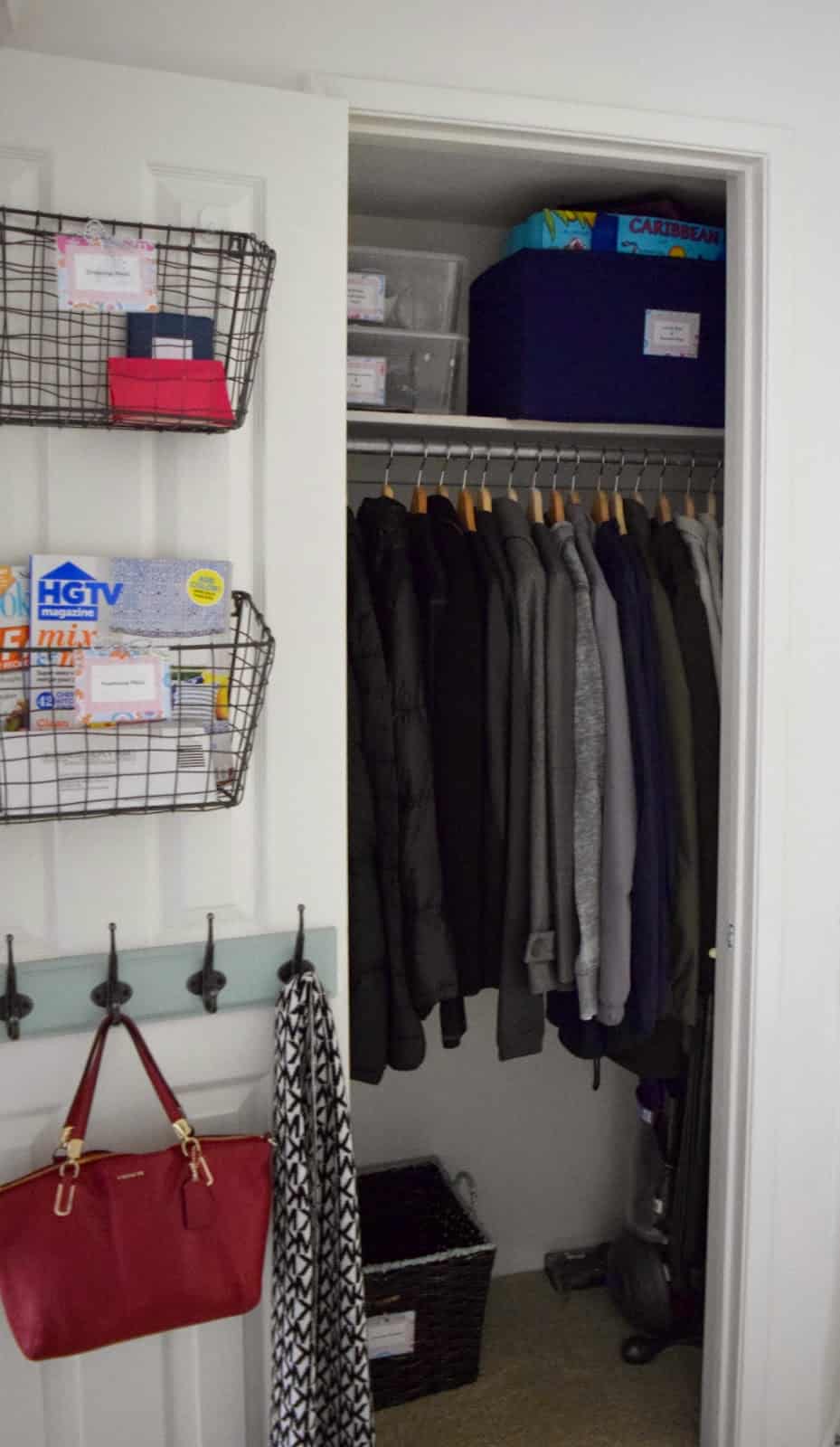 The other day we were talking about creating a
drop zone
in your home and Danae has done an excellent job of turning her coat closet into one.
Just look at the hooks for bags and the wire baskets for organizing incoming and outgoing mail!
Create a drop zone in your front closet by Made 2 Make
4 | Use the door to store your winter woolies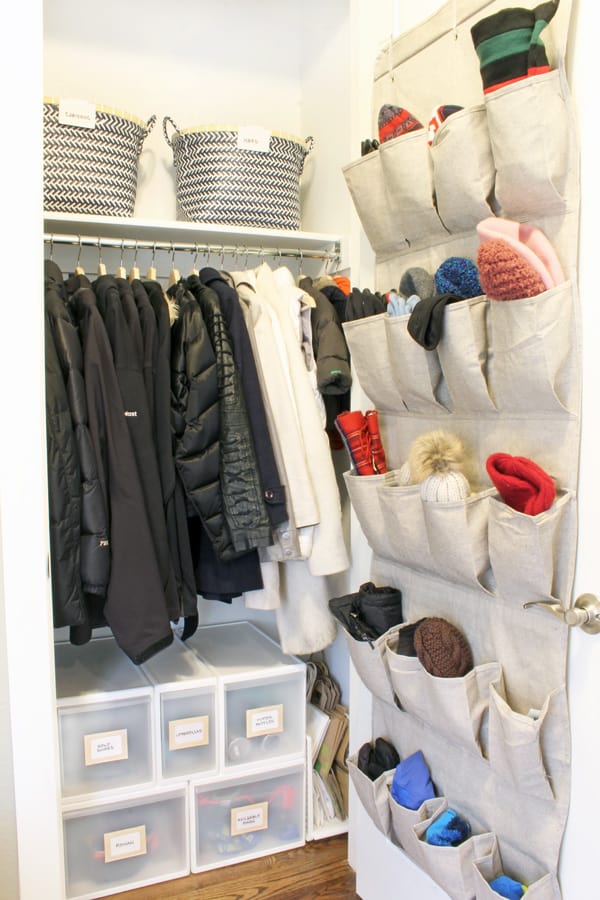 Here's another cool hack that uses the inside of the door space.
This is the perfect solution if you live somewhere that has really cold winters.
You can use an over door pocket storage system to keep all your scarves and hats and mittens organized!
Use the door to store your winter woolies by Blue i Style
5 | More winter storage hacks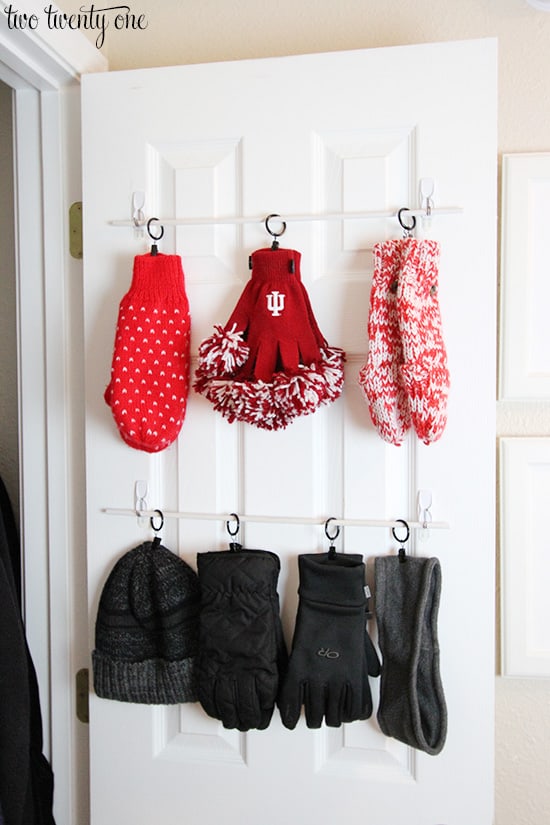 If your winters are a little milder try Chelsea's trick instead.
In the summer those little hooks will be perfect for storing sun hats and sunglasses in these little hanging pouches.
Winter storage closet hacks by Two Twentyone
6 | Hang hooks on more than one wall
Here's a clever way to maximise the space in a small coat closet, by using coat hooks and hanging them "around corners".
Adding a shelf over the hooks is a good way to use that empty space.
You can use some cute baskets to store winter hats, scarves and gloves or summer essentials like sun hats, glasses and sunscreen.
Hang hooks on more than one wall by Holly B Baking
More Home Organizing Ideas Here