DISCLOSURE: Some of the links below are affiliate links. This means that, at zero cost to you, I will earn an affiliate commission if you click through the link and finalize a purchase. All opinions are my own, and I only recommend products that will add value for my readers.
Making books with kids is a wonderful way to develop a love for books and reading. We have some wonderful ideas to inspire you.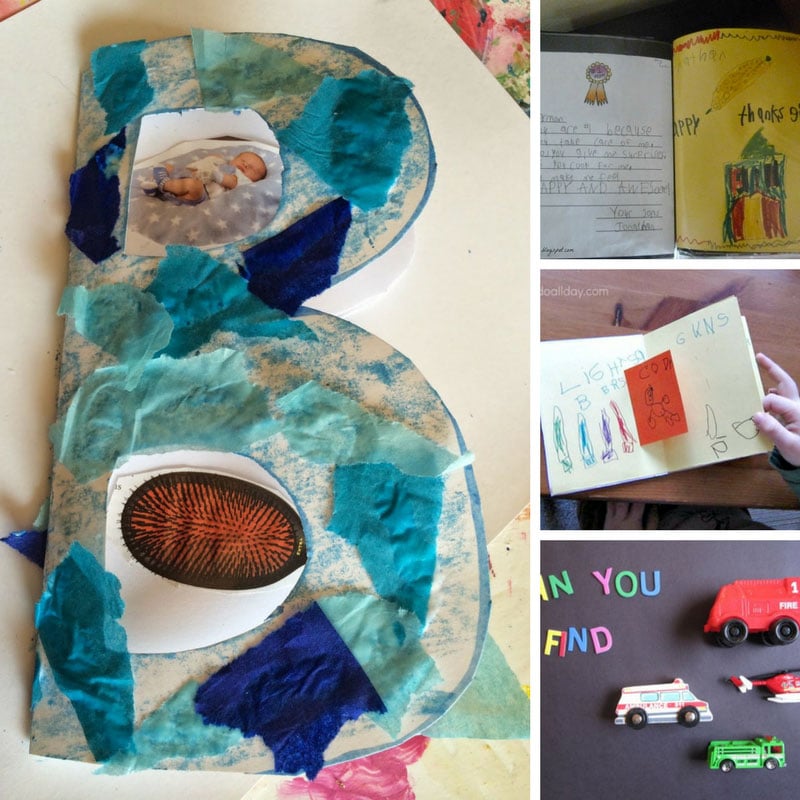 Making books with kids
1. Over at Growing Book by Book Jodie has shared a number of different ideas for making books with kids inspired by Aliki's How a Book is Made.
2. At Mini Monets and Mommies Erica is celebrating Back to School season with a little tutorial on how to make a Letter B, Back to School Book. I love how she actually made that book into a letter B!
3. Our Blogger of the Week Susen, from Dabbling Momma, shared a number of ways for storing and displaying your child's artwork, and as you might of guessed one of the suggestions was to turn them into a book!
4. Finally Janine from Encourage Play has been trying to put a Pinterest project into real life by helping her children make a travel journal. I love how they used a map of Toronto as their book cover and marked on where they stayed.
5. Do your kids like 3D movies? Well here's a wonderful tutorial for making a 3D book with Sharpie markers!
6. Over at What Do We Do All Day? Erica has shared a really simple way to make pop up books.
7. Allison from No Time for Flashcards made a DIY Eye-Spy Book which I am so in love with I'm going to make one for my kiddos.
8. Krissy from B-Inspired Mama made a brilliant emotions book and gameby taking photos of her children making lots of different emotion faces.
9. I love this experience book from fellow twin mum Stephanie over at Twodaloo. She took photos of her kids enjoying the farm and then turned them into a book to help their language development.
10. Let's finish up with this handmade accordion book from Jean over at The Artful Parent. I love how she used one of her daughter's paintings to make the book and then they wrote a story on the pages.