If you need extra storage in your home you need to check out these pegboard ideas, because seriously you can organise anything with them!
This post may contain affiliate links, which means I may receive a commission if you click on a link and purchase something. As an Etsy and Amazon Associate I earn commissions from qualifying purchases.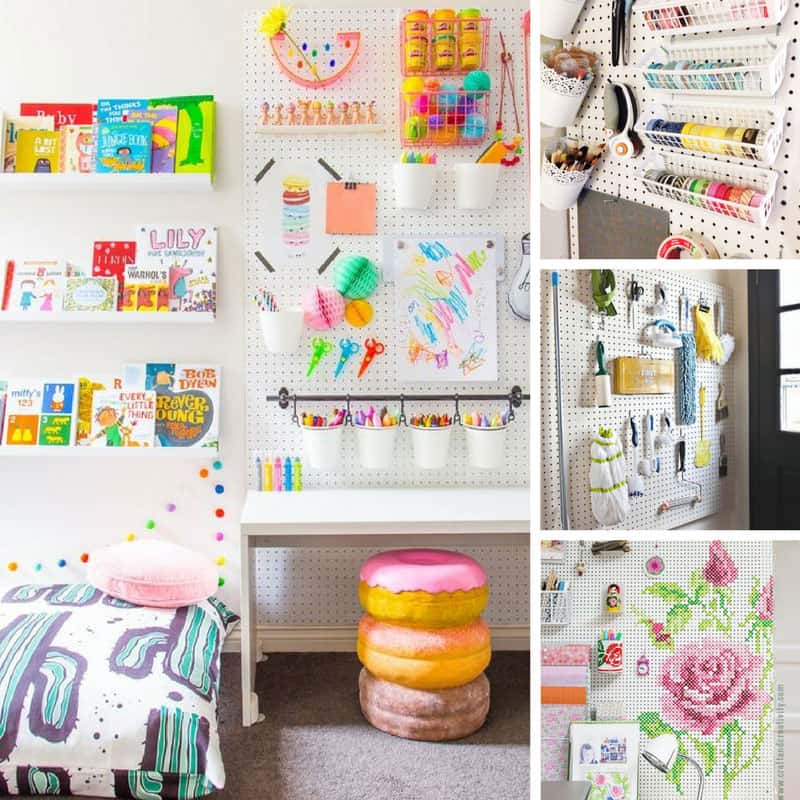 Pegboard Ideas
When you're in an organizing mode I bet the first thing you think of is storage boxes right? Well that's my go to purchase anyway so maybe it is just me! But then I discovered pegboard and oh my goodness a whole new world opened up, because it means you can use blank walls, and even doors, to add storage space to your home!
You can use metal hooks and pegs to hang things directly onto the board, or to hang storage baskets and buckets, or even small shelves.
I found ideas to use pegboards in the utility room, the kitchen, the craft room and the kid's playroom so be sure to scroll all the way to the end so you don't miss any of the great ideas. And don't forget to pin your favourites as you go!

If you don't have enough cabinet space to store your cleaning supplies (or you keep forgetting what you have stashed away in a cupboard) add a peg board to a blank wall in your kitchen or utility and hang everything up! (via A Beautiful Mess)

Love this idea for displaying art work (yours, something you've purchased or even the kids' creations) up on a pegboard! (via Laura Trevey)

If you love to cross stitch you could grab some thread and your favourite pattern and pretty up your pegboard! (via Craft & Creativity)

Here's another example of the cross stitch decoration, I love how this one covers the whole board. (via The Pretty Life Girls)

Oh now that is a clever idea! Hang a pegboard above your diaper changing table and you have a place to put everything you need! Just make sure you hang it our of baby's reach so you don't end up with a box of wipes hitting you on the head! (via Taryn Whiteaker Designs)

This DIY giant pegboard looks so stylish and is the perfect place to display pot plants, pictures and your favourite knick knacks! (via Vintage Revivials)

If you have a blank wall in your kitchen why not add a pegboard and use it for storing your kitchen utensils. The handy baskets at the bottom are a great way to store cutting boards and muffin pans. They look like mail baskets. (via Curbly)

I love the black and white with the touches of colour from the sewing supplies! Great idea to hang a clock up there on the board so you don't lose track of time! (via My Domaine)

Here's a way to use a pegboard in a child's bedroom or playroom to keep all of the crafty stuff under control. I love those hanging buckets along the bottom for pens and crayons and the wire bins for play doh. Oh and a shelf for the dolls! (via Petit and Small)

Here's another sewing supplies pegboard, those longer hooks are really good for buckets and small totes! (via Craft-O-Maniac)

What a brilliant way to keep all of your thread spools on display – and of course colour co-ordinated! (via Honey Bear Lane)

How about turning your board into a gift wrap station? (via It's the Little Things that Make a House a Home)

Ooh adding some string globe lights makes the whole thing look much prettier! (via Tilly Buttons)

If you have lots of ribbons or washi tape rolls to store try adding some narrow baskets onto your board with metal hooks. (via Cheri Lehnow)

Well there's an idea I've not come across before. Paint your pegboard and use it as a headboard! (via Curbly)

Whether you use stickers for scrapbooking or decorating your planner this is a great way to keep track of what you have! (via Pebbles Inc)

These are craft supplies, but when I first saw this pegboard it made me think of a dressing table. It would certainly be a good way to store your makeup and beauty products especially if you incorporated a mirror. (via Home Stories A to Z)

Here's another Washi Tape or ribbon storage idea, using a batten across two hooks so that you don't even have to take the rolls down to use them! (via A Spoonful of Sugar)

Love this idea of using space inside a door for clever storage! (via BHG)

Of course pgeboards are also a great place to store DIY or gardening tools. (via The Design Files)

If you have to share your pegboard with someone else this is a great way of marking your territory! (via Brit + Co)

Here's a unique way to display your pegboards… by framing them! (via Tatertots and Jello)

Oooh if you have the space think what you can do with a whole wall of board! (via Thistle Wood Farms)

Here's a neat way of adding shelves into your organization, using Ikea spice racks! (via Bondville)

I am totally in love with this idea and might just have to incorporate it into our new kitchen! Forget the tiles, use pegboard as a splash back and you have instant storage! (via HGTV)
Pin these ideas!
Hit the button to save these ideas for later.
Don't forget to
follow us on Pinterest
for more great stuff!

&
---