DISCLOSURE: Some of the links below are affiliate links. This means that, at zero cost to you, I will earn an affiliate commission if you click through the link and finalize a purchase. All opinions are my own, and I only recommend products that will add value for my readers.
If your budget is tight and you really want to decorate for Halloween just head to the Dollar Store and then get crafty with some of these spooky ideas!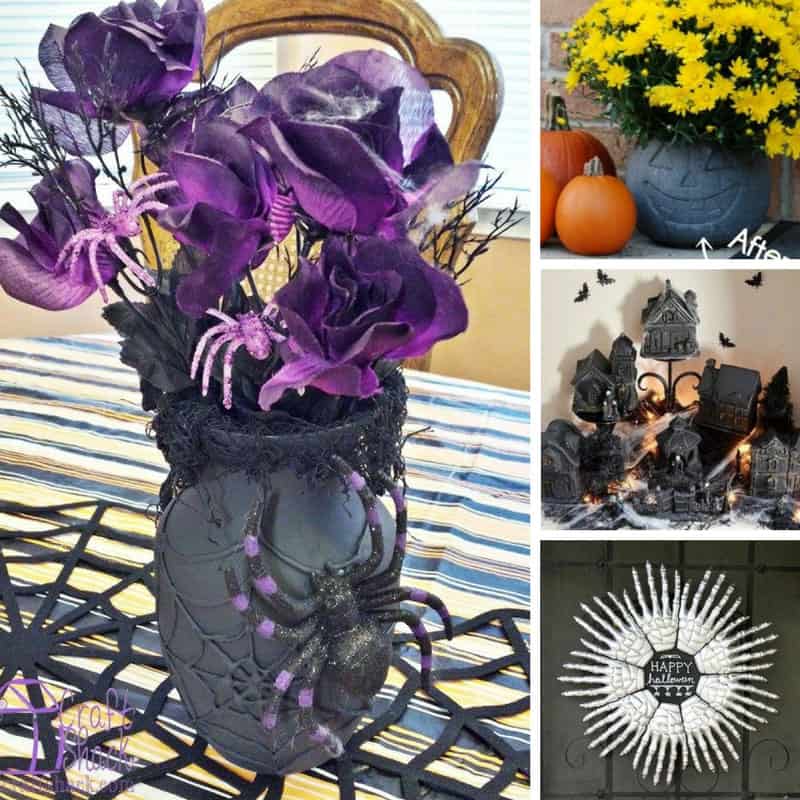 Dollar Store Halloween Decor Ideas

It's so easy to spend a lot of money decorating for Halloween when there are so many weird and wonderful decor items to buy. But if your budget is tight don't worry, just head to your local Dollar store and make your own decorations!
I've been hanging out over on Pinterest looking for the best Dollar store Halloween decor ideas I could find, and you're not going to be disappointed by this collection. I found everything from a boneyard lantern and some skull candlesticks to a spider vase and even a pumpkin planter that looks like its made from cement, but totally isn't!
As always be sure to scroll all the way to the end so you don't miss any of the great ideas. And don't forget to pin your favourites as you go!
Related Posts:
Boneyard Lantern
;
This lantern is super spooky with all of those skulls and bones! Make sure you follow the directions carefully because you need to use some caulking to make the bones look like they're floating amongst all of those spooky skulls! (via Oh My! Creative)
Dollar Store Halloween Wreath
;
Your trick or treaters are going to love this wreath! How spooky do all of those hands look? And I love the addition of the chalkboard frame in the middle so that you can write a spooky message to your guests! (via Eighteen 25)
Creepy Crawly Spider Pumpkin
;
::shudder: Just look at all of those teeny tiny creepy spiders and ants swarming all over that pumpkin! This has to be one of the easiest, but most effective no carve pumpkin ideas I've ever seen! (via The Kim Six Fix)
Dollar Store Pumpkin Topiary
;
Of course not all of your Dollar Store Halloween crafts have to be creepy! I love the way Kim has taken these pumpkins and turned them into a topiary to add some Halloween flair to her front porch! (via The Kim Six Fix)
Skull Candlesticks
;
Yeah, and then we're right back over to spooky! These creepy skull candlesticks are so clever, and cost less than five bucks to create! (via Cap Creations)
Dollar Store Spider Halloween Vase
;
Love the black and purple combo on this spider themed vase. You'll need to grab your glue gun and a sharpie marker as well as some black spray paint and of course a Dollar Store vase and spider! (via Craft Shack Chronicles)
Glittered Pumpkin Pails
;
If your trick or treater loves a bit of glitter this is the Dollar Spot makeover you need to see! It's super simple but will turn a boring pumpkin pail into something more glamorous! (via Eddie Ross)
Spiderweb Wine Glasses: A Tutorial
;
Whether you're planning a Halloween party or even a wedding these spiderweb glasses are going to go down a storm! They're so easy to make too, just make sure you use glass paint if you want to be able to wash them and use them again next year! (via Diary of a Mad Crafter)
Altered Halloween Books Tutorial
;
How amazing are these Halloween spell books? They'd look great as party props or as part if your Halloween mantel decor. And no one will guess that they started out life as old books and Dollar Store plastic paraphernalia! (via Better After)
DIY Mummy Vase – Last Minute Halloween Crafting
;
If you need some last minute Halloween decor for a party then this is the DIY project for you because it literally takes minutes but looks spookily brilliant! Of course your kids might like it more if it's filled with candy instead of flowers! (via https://chickenscratchny.com/2013/10/mummy-vases-dollar-store-crafting.html😉
Plastic Pumpkin Bucket Planter
;
If you really want a concrete pumpkin planter for your front porch display but can't stomach the cost you'll be pleased to know you can make one from a Dollar Tree plastic pumpkin pail! This DIY is quite genius, which explains why its been saved over 107000 times on Pinterest! (via Endlessly Inspired)
Spider Attack!
;
Oh my goodness, those creepy crawling spiders look so realistic marching up that door you'll need to be careful not to give your guests a heart attack! (via Delia Creates)
Spooky Skeleton Dollar Tree Craft
;
Grab your glue gun and some fabulous skeletons and you've got the makings of a creepy vase that will make a great Halloween centerpiece! (via Dollar Store Crafts)
Halloween Village – DIY Dollar Store Craft
;
Do you dream of having a Halloween village to display on your mantel but can't bring yourself to spend the money? What about it I told you that you could make one for about ten bucks… using a Christmas village? Check it out it's brilliant! (via The 36th Avenue)
How to Make Spooky Halloween Candles
;
If you only have half an hour to spare and you need to make some fabulous Halloween decorations you can't go wrong with these fabulous candles! (via Today's Creative Life)
Day of the Dead Dollar Store Skull
;
If you're looking for a low cost Day of the Dead DIY then check this one out. It's amazing how you can transform a boring looking skull with some craft paint! I bet the kids would love making these too! (via The Kim Six Fix)
Spooky Door Hanger
;
What a brilliant way to make a Halloween door hanger, using stove burner covers from the Dollar Store! Unfortunately this tutorial is no longer available – but you simply need to rough up the covers with some sand paper and then use spray paint to recolour them. Then use some Mod Podge to add the letters! (via Pinterest)
How to Make a Tipsy Pumpkin Topiary (with Dollar Tree Pumpkins)
;
Here's another pumpkin topiary idea, I love the shabby chic look to this one! You'll need to look for styrofoam pumpkins if you can though I think this DIY would work with plastic ones too. (via Hometalk)
Halloween Soap
;
Well if this soap doesn't encourage your kiddos to wash their hands I don't know what will! (via Little Bins for Little Hands)
DIY Eyeball Lights
;
Here's a great way to add some spooky lighting to your Halloween porch this year. These DIY eyeball lights are super easy to make and are sure to give your trick or treaters a fright! (via Landeelu)
Googly Eyes Halloween Wreath
;
And why not follow the spooky eye theme through with a wreath to hang on the door! This is a brilliant craft if you have a habit of buying googly eyes at the Dollar Store… or is that just me?? (via No 2 Pencil)
Related Posts:
Pin these ideas!
Hit the button to save these ideas for later.
;
Don't forget to
follow us on Pinterest
for more great stuff!

&
---