These easy sewing projects for the home are GENIUS! Get organized at a FRACTION of the cost of buying this stuff at the store! We ❤ the mesh travel bag!
This post may contain affiliate links, which means I may receive a commission if you click on a link and purchase something. As an Etsy and Amazon Associate I earn commissions from qualifying purchases.
Sewing Projects for the Home
If you love to put your sewing machine through its paces you have to check out these sewing projects. So many different SUPER CUTE things to make that will help you and the family stay ORGANIZED! Your daughter will LOVE that bedtime book pillow right? And those drawstring bags would be useful for LEGO bricks, and swimming kits and even library books!
They'd make great housewarming or even Christmas gifts too!
There's so many great projects here be sure to scroll all the way to the end so you don't miss any – and pin your favourites along the way!
15. The One-Trip-Up-the-Stairs Basket Sewing Pattern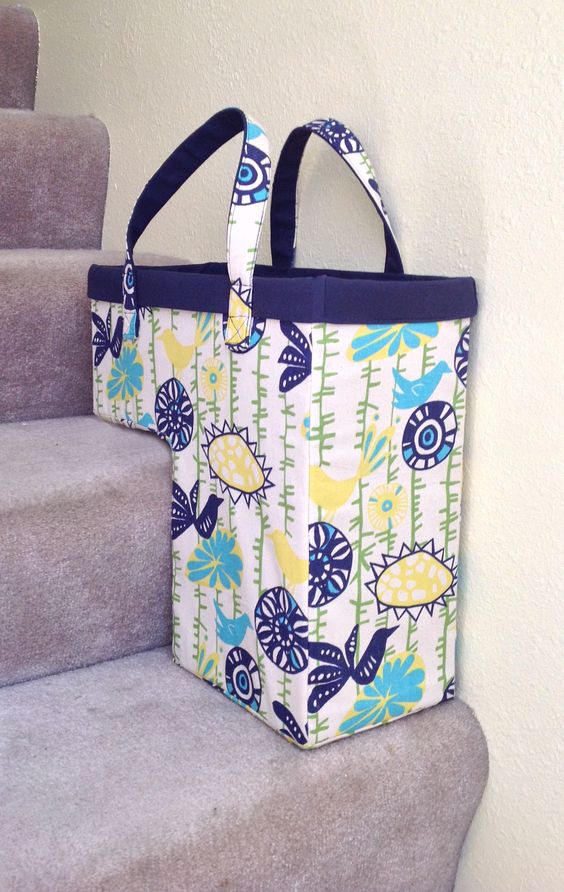 Found it here >> Pattern Pile
What a brilliant idea! Pop this bag on your stairs and then fill it with all of the things that need to go up – or down!
14. Bedside Pockets Organizer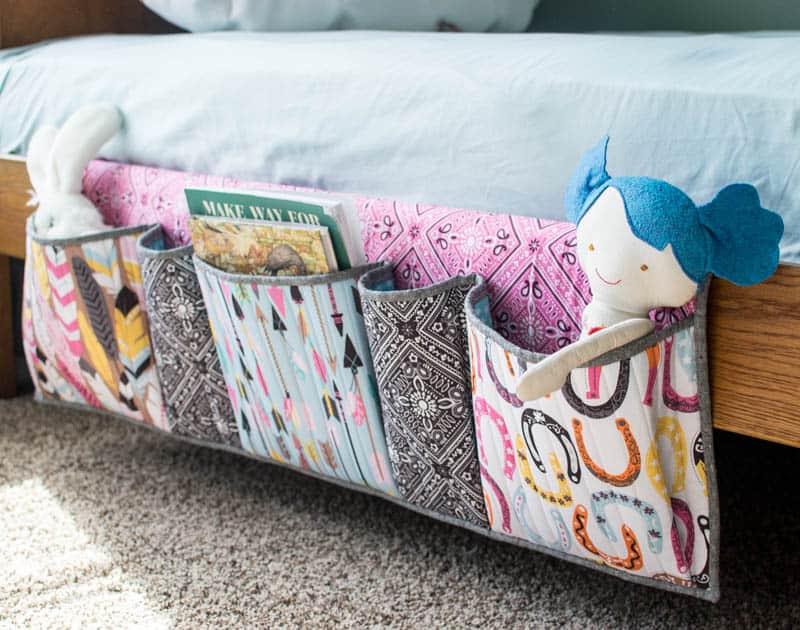 Found it here >> Sew Can She
GENIUS idea for adding storage pockets to your bed! This would work great on kid's beds as well as grownups!
13. Makeup Brush Organizer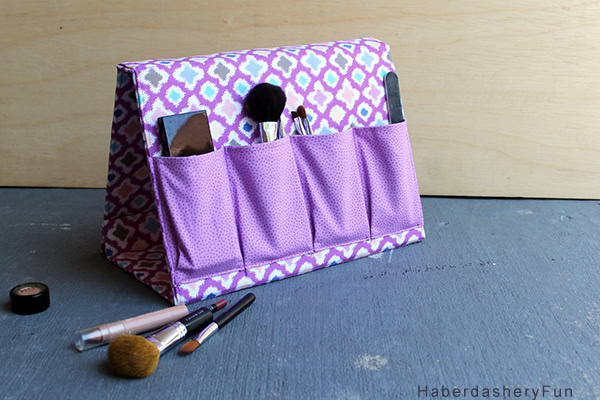 Found it here >> Haberdashery Fun
LOVE this organiser – it's so clever the way it opens out and stands up when you need to use the makeup brushes. Would also be a great pen holder if you love to colour or draw!
12. DIY Cord Keeper from Fabric Scraps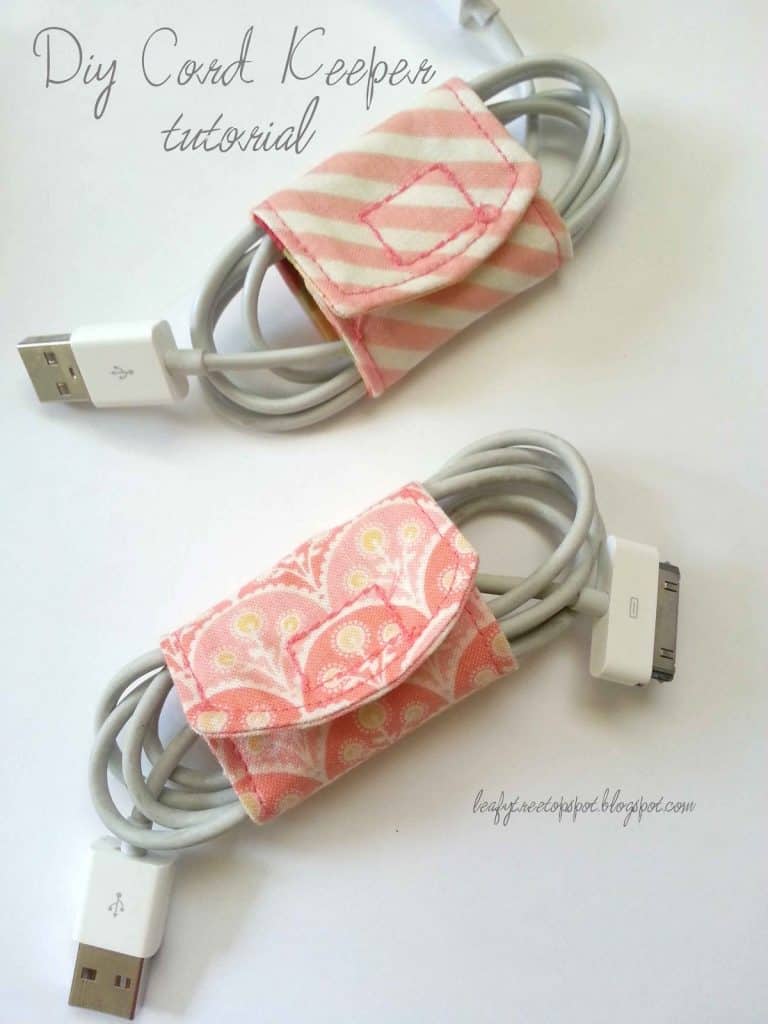 Found it here >> Leafy Tree Top Spot
I hate it when my charging cords and ear bud wires get in a tangled mess. This is the PERFECT frugal solution!
11. Grocery Bag Holder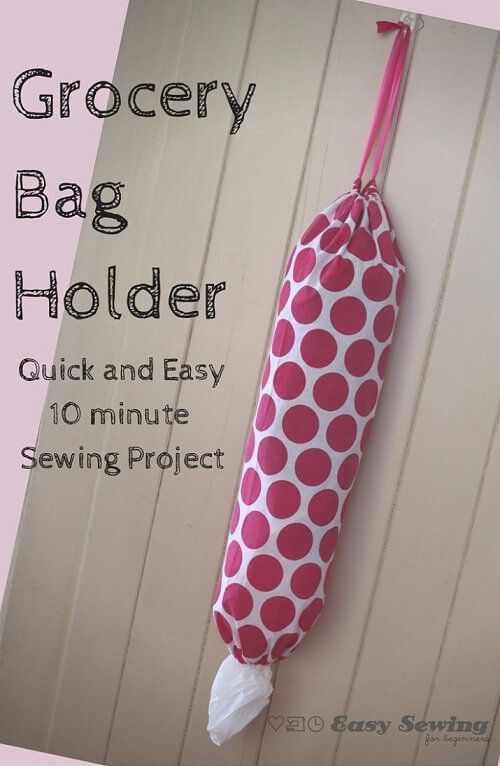 Found it here >> Easy Sewing for Beginners
Keep your grocery bags under control with this super EASY sewing project. You just need a cute tea towel to recycle!
10. Car Diddy Bag Sewing Pattern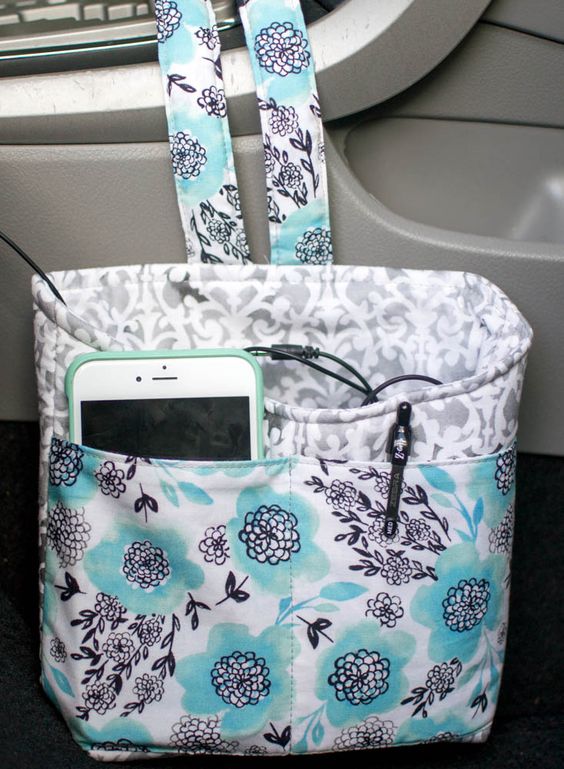 Found it here >> Sew Can She
Keep your phone and other bits and pieces safe in the car with this CUTE bag!
9. Hanging Organizers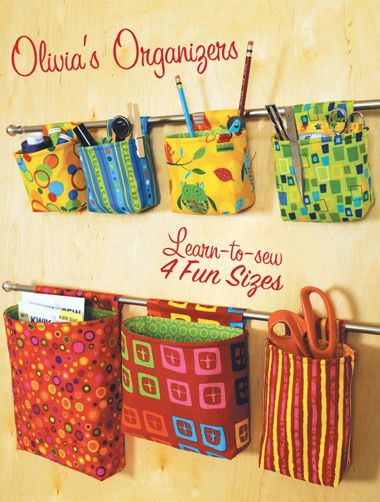 Found it here >> Amazon
So many ways to organise your home with these hanging organisers. Bathroom, kitchen, kid's room, crafts…
8. Fabric Storage Cubes

Found it here >> The Sewing Directory
Storage Cubes are SUPER useful – and you can make your own for far less than they cost to buy. And they're prettier too!
7. Easy DIY Phone Charger Holder (Flamingo Toes)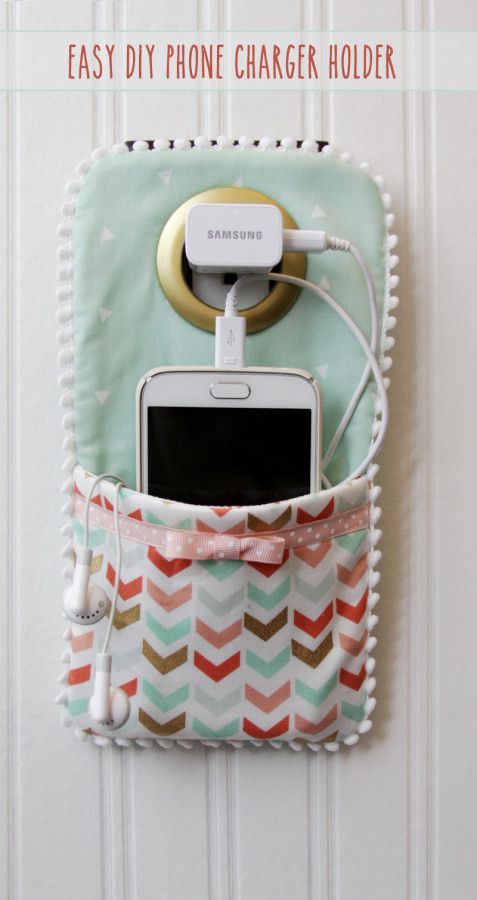 Found it here >> Flamingo Toes
What a BRILLIANT way to charge your phone without it cluttering up the countertop. These charger holders would make great gifts too! Use one of these command hooks to hang the holder next to charger rather than on the actual plug though.
6. How to Sew a Reading Pillow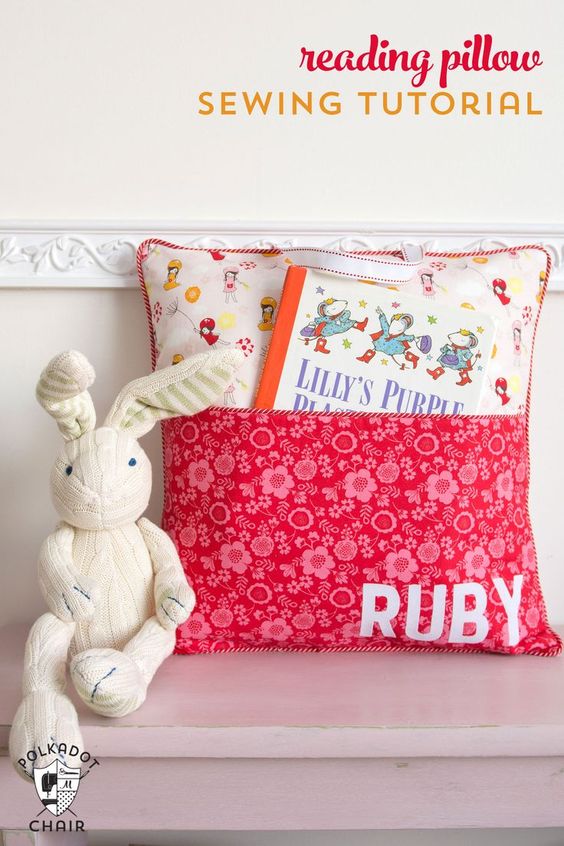 Found it here >> Polka Dot Chair
GENIUS! No more hunting for your child's favourite book at bedtime, because you can keep it in this pillow!
5. On the Go Organizer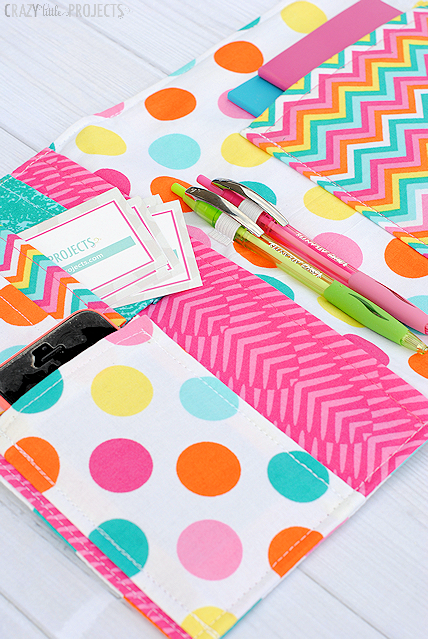 Found it here >> Crazy Little Projects
If you spend a lot of time waiting in car pool lines or watching your kids play sports carry one of these organisers with you so you can stay organised on the move!
4. Simple Mesh Bag Sewing Tutorial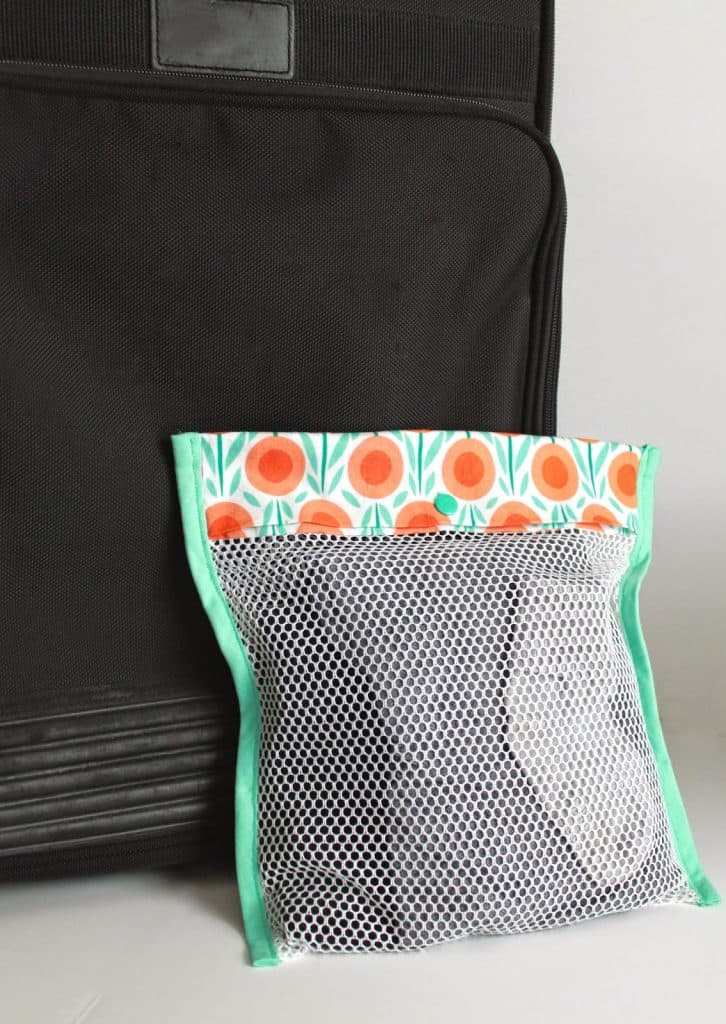 Found it here >> The Inspired Wren
Mesh bags are BRILLIANT for organizing clothes when you travel but they are so freaking expensive! This SUPER EASY tutorial lets you make your own! Use different fabric for each family member to make it even easier to get dressed in the morning on vacation!
3. Mini Book Tote Bag Pattern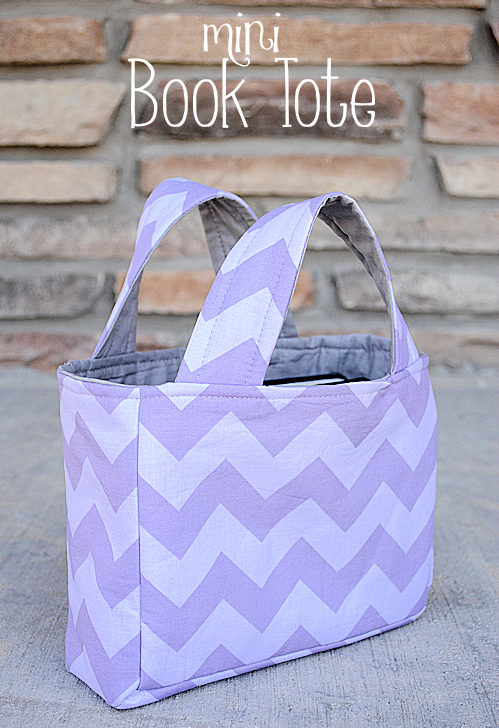 Found it here >> Crazy Little Projects
This GORGEOUS tote bag is the PERFECT way to keep all the library books safe and sound!
2. Simple Drawstring Basket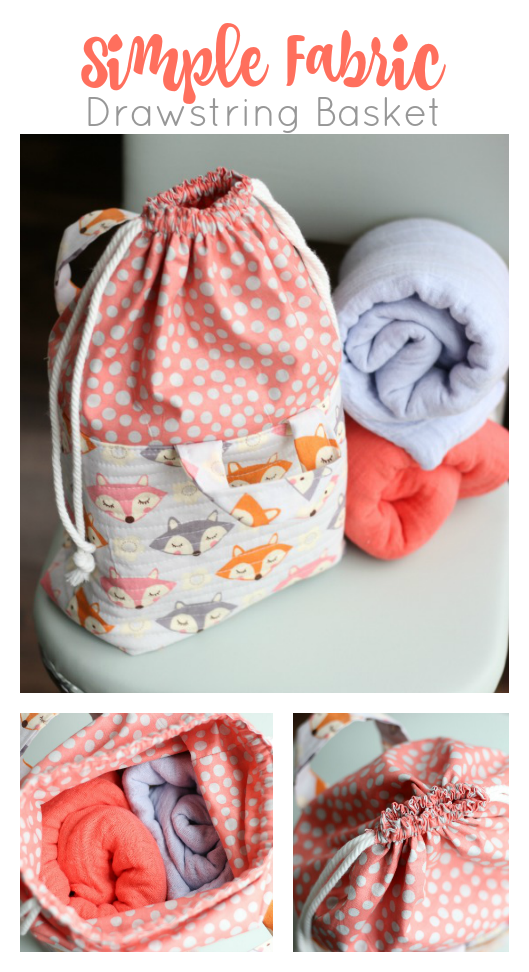 Found it here >> Glue Sticks
You could use this drawstring basket to organise so many things! Swim kit, baby blankets, cloth diapers, knitting supplies… They're so EASY to make they will make great gifts too!
1. Desk Organizer Pattern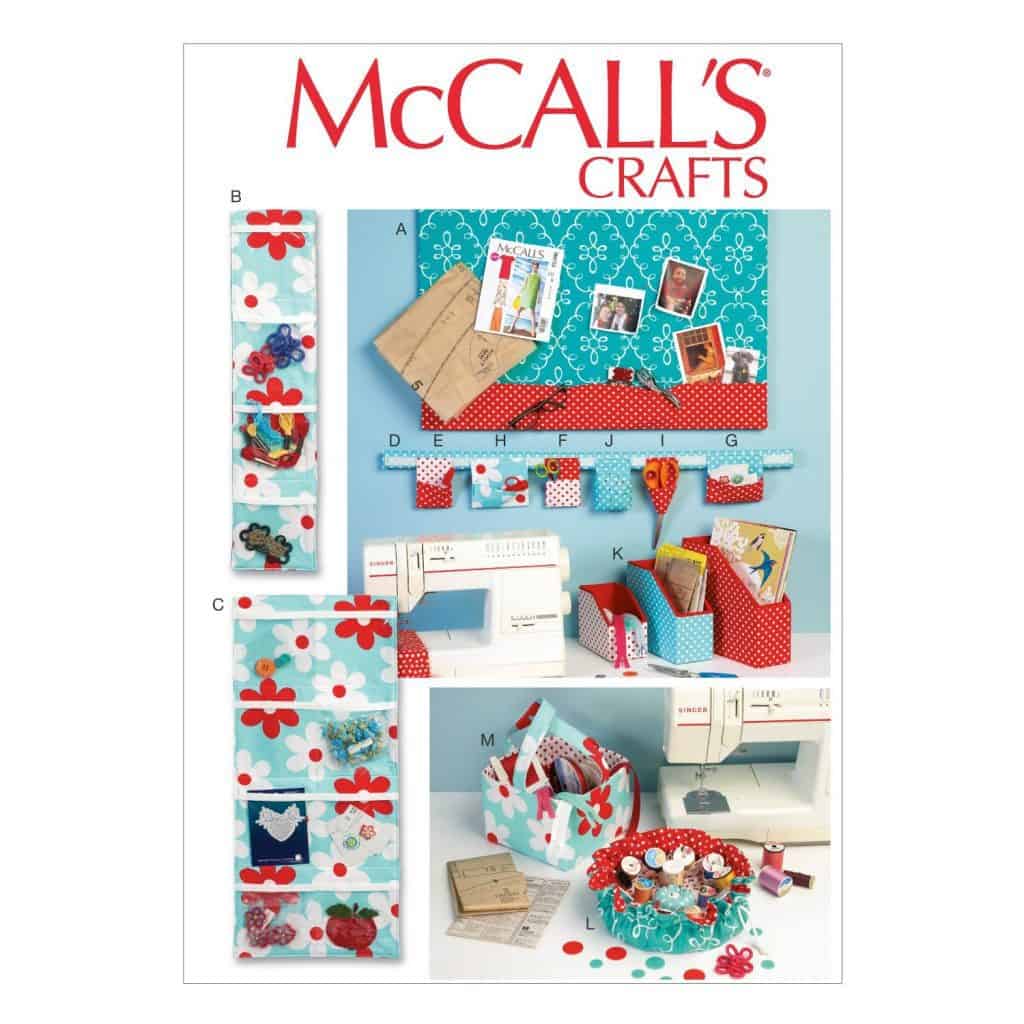 Found it here >> Amazon
LOVE this! Multiple sewing projects all rolled into one. The perfect way to have all your desk storage completely co-ordinated!
More Craft Ideas Here