This post may contain affiliate links, which means I may receive a commission if you click on a link and purchase something. As an Etsy and Zazzle Affiliate I earn commissions from qualifying purchases.
Inside: These no-carve pumpkin decorating ideas are just what you need to create beautiful fall decor that won't rot away!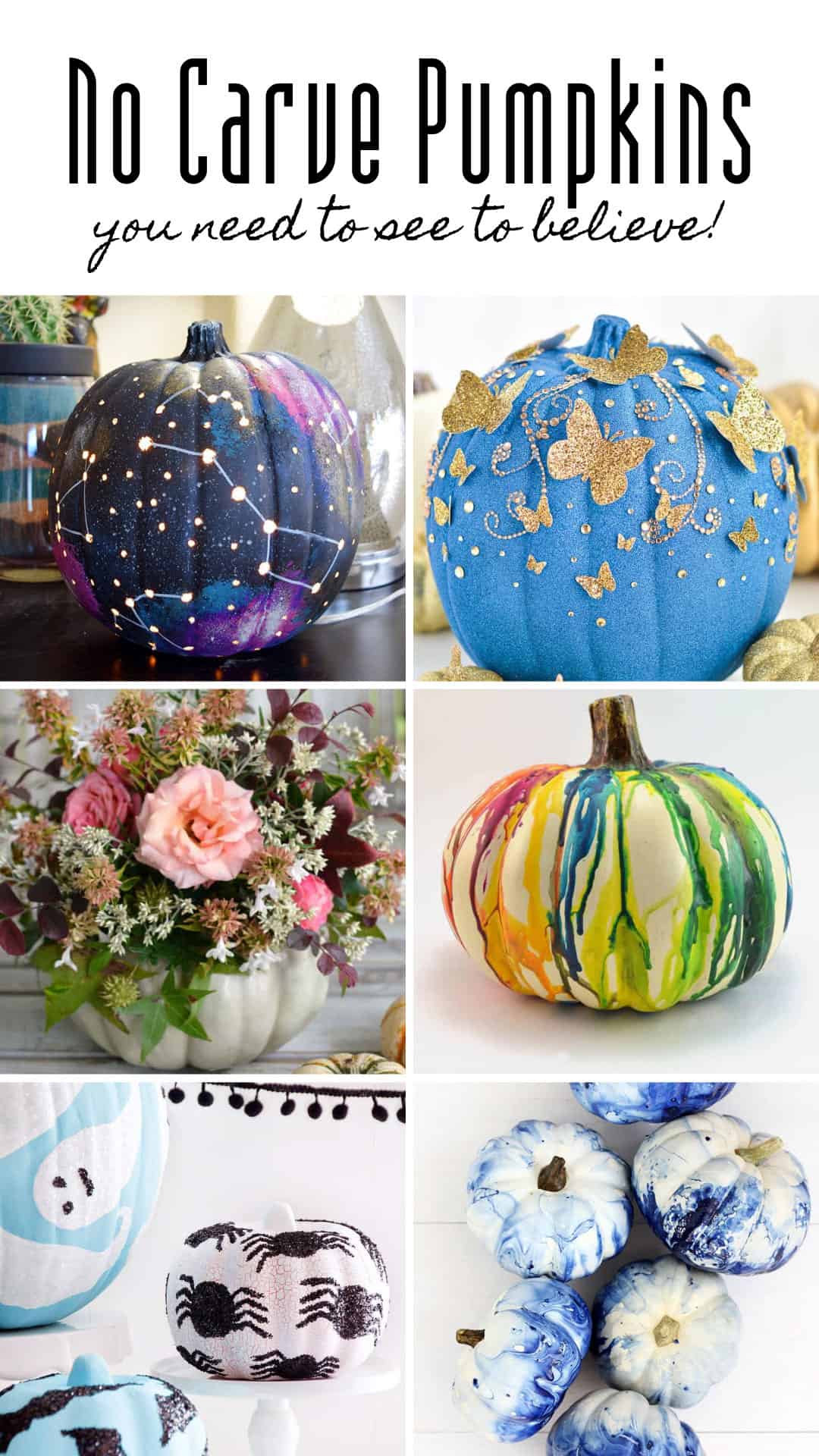 I've never been too keen on carving pumpkins, it's an awful lot of mess and effort and then they don't ever last long. Last year our gorgeous jack-o-lanterns were a rotted mess on the doorstep before Halloween even arrived!
So this year I thought I'd see if there was a way to decorate with pumpkins without the guts and gore. And I found a whole stack of unusual pumpkin decorating ideas – without carving!
And the no-carve pumpkin ideas I found will look gorgeous as part of your Fall decor at home, or as a party centerpiece or even for a Fall baby shower or wedding celebration!
I found everything from confetti pumpkins and pumpkins made from bandanas to chalk-painted pumpkins and even one that looks like a unicorn!
As always be sure to scroll all the way to the end so you don't miss any of the great ideas ♥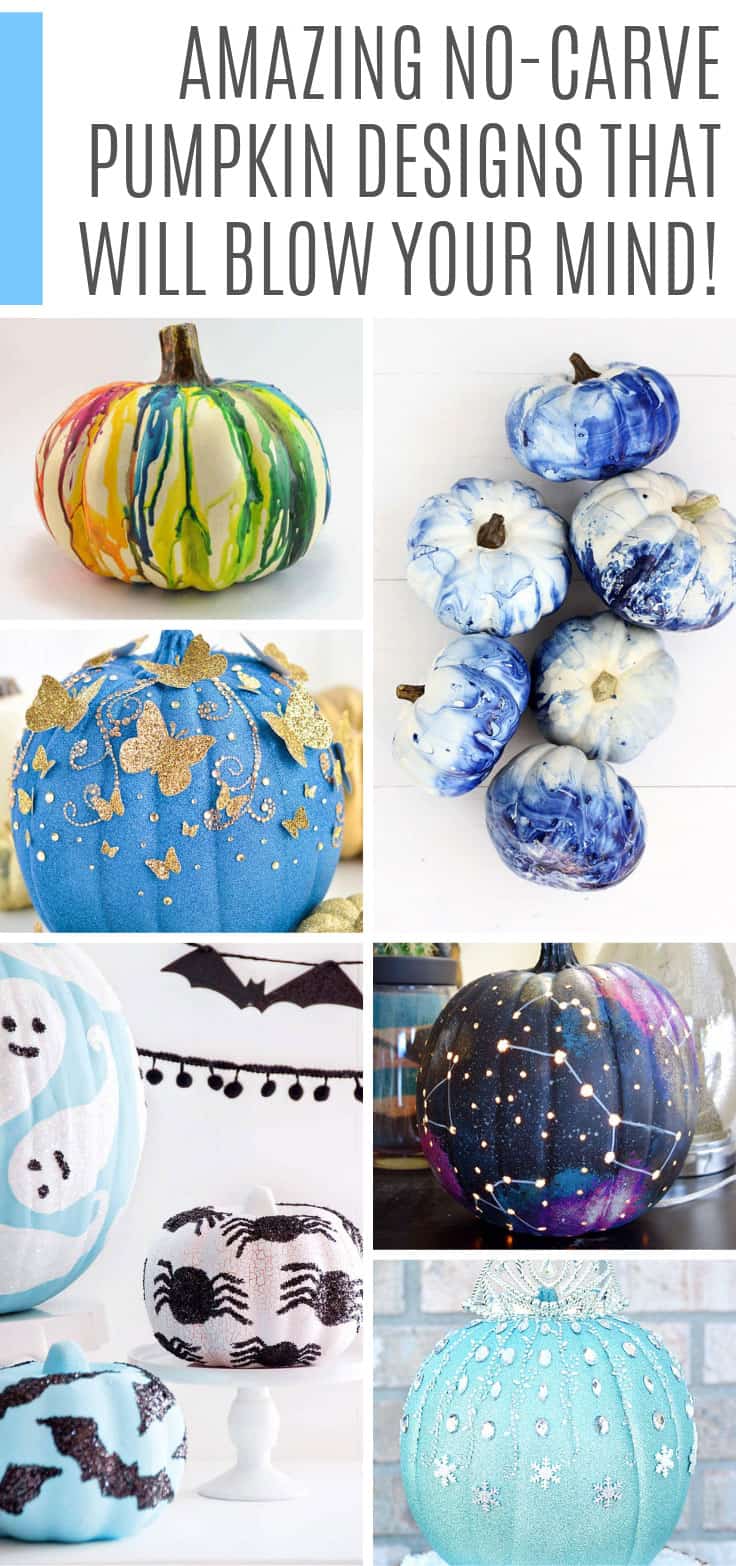 Kid Friendly Pumpkin Decorating Ideas
No carve pumpkins are perfect for decorating your home throughout the Fall, but what if the kids want to get involved too?
These no-carve ideas are perfect if your kiddos are squeamish and don't like carving up their pumpkins, this way they don't have to miss out on the fun!
Melted Crayon Pumpkin Craft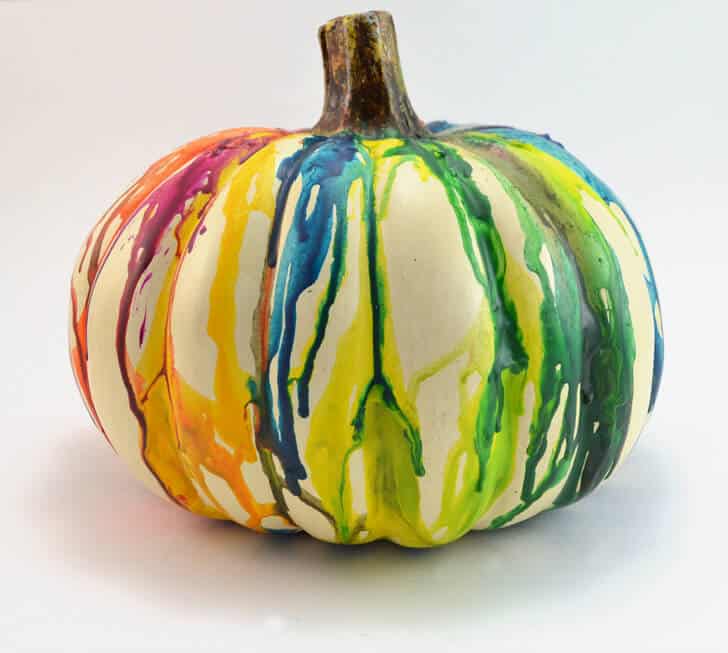 Ooh this one looks like fun for kids… decorating a pumpkin by melting crayons on it! (via Dream a Little Bigger)
Marbled Indigo Pumpkins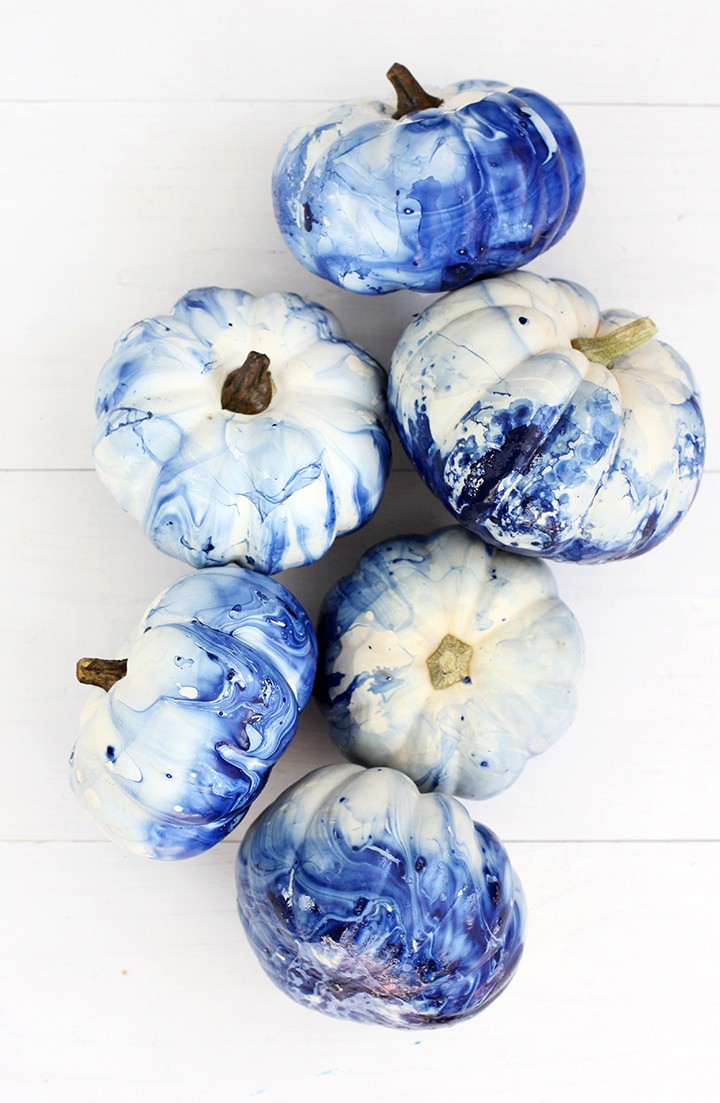 Here's a fabulous way to breathe some life into white-painted pumpkins! The marbling effect is really striking and you could use whatever color you liked, though I do love the indigo. (via Alice & Lois)
Galaxy Pumpkin – an Out of this World Jack-o-Lantern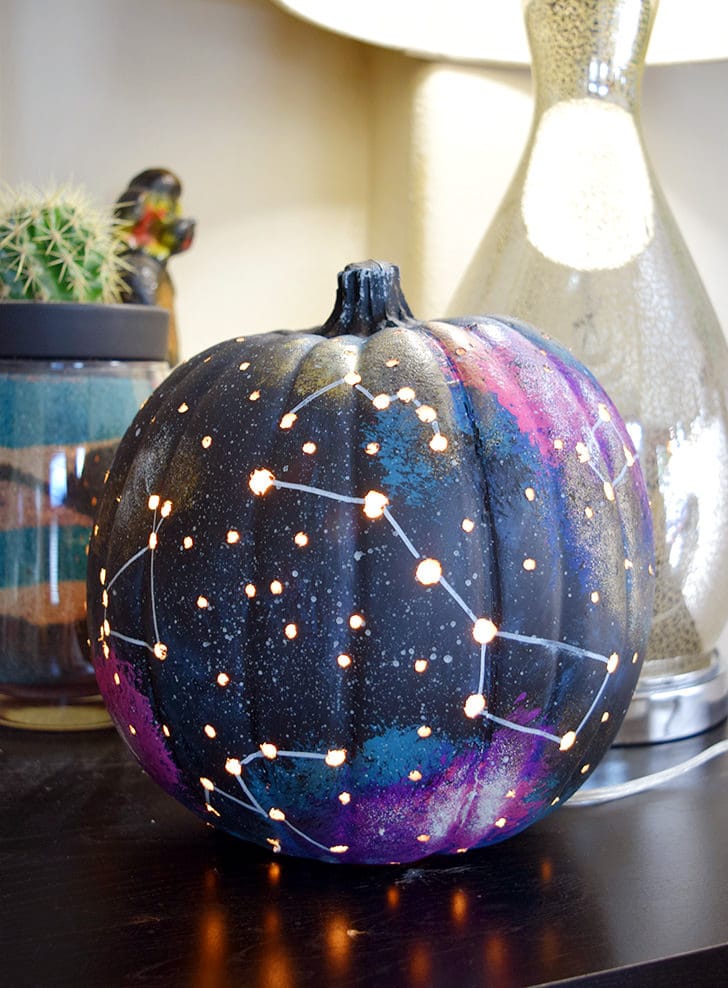 We love galaxy DIY projects and this pumpkin is amazing! I love the addition of the constellations on the side! (via Dream a Little Bigger)
DIY Pun-kins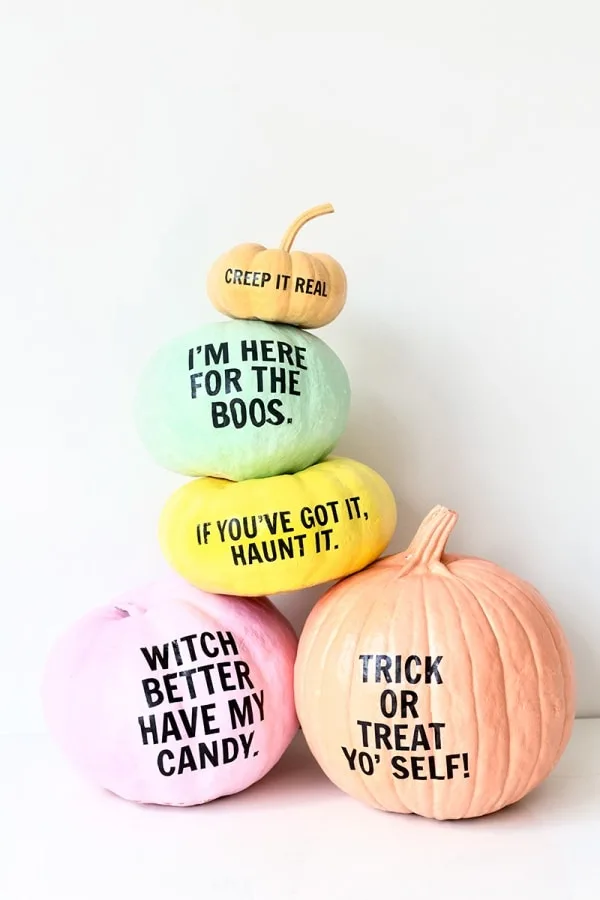 To add a little humor to your Fall pumpkin displays check out these funny pun-kins! (via Studio DIY)
Cinderella Pumpkin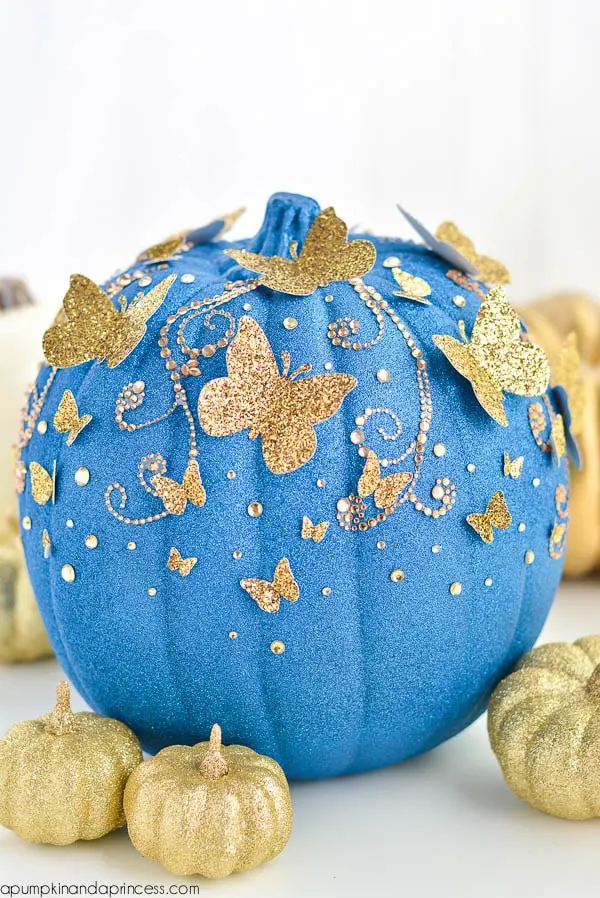 Oh my goodness. Which is the most infamous pumpkin in fairytale lore? Cinderella's of course! This project will take a lot of time and patience but the end result is stunning. It would make the perfect centerpiece for a princess-themed birthday party! (via A Pumpkin and a Princess)
Beauty and the Beast Pumpkin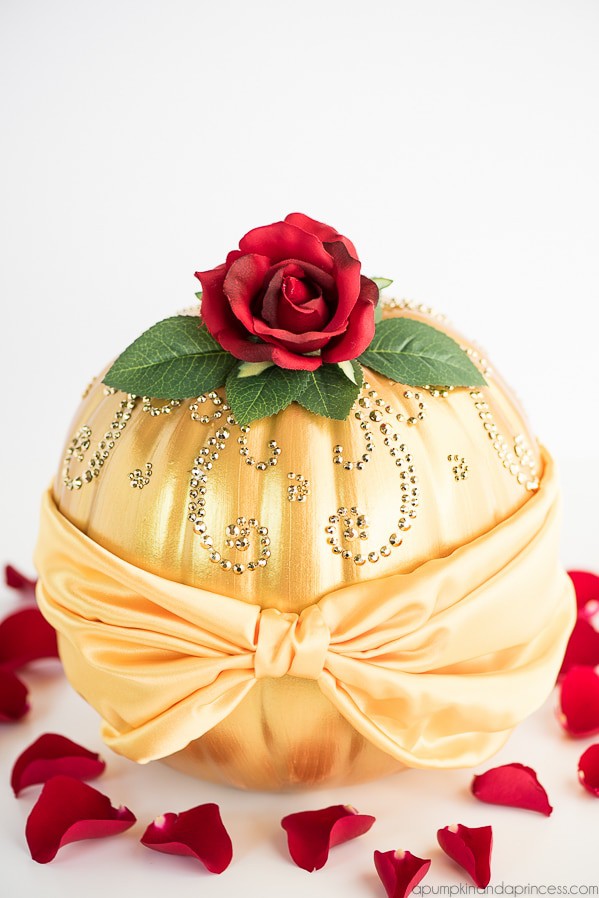 Or how about this gorgeous pumpkin inspired by Belle's ballgown in Beauty and the Beast? (via A Pumpkin and a Princess)
Frozen Inspired Elsa Pumpkin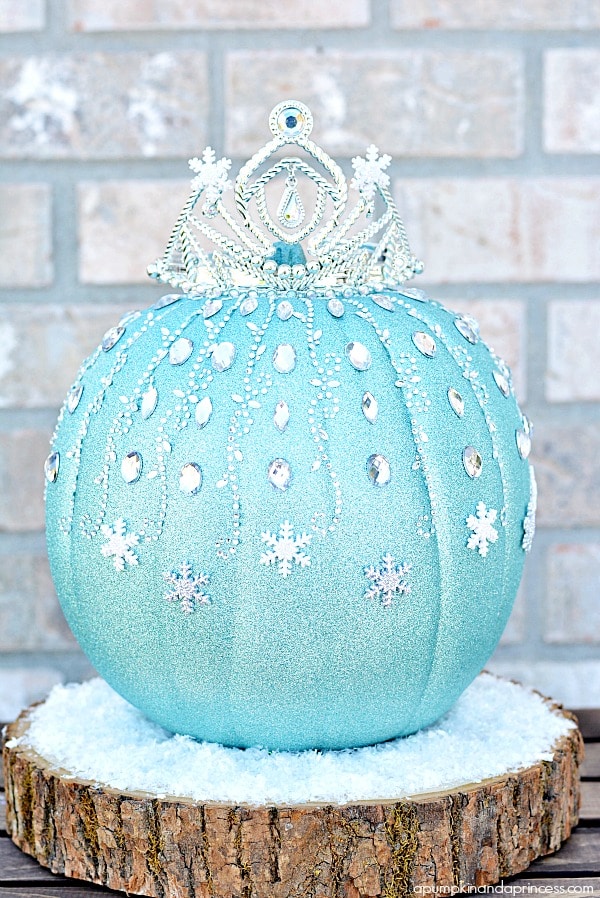 Or inspired by the ice queen herself with all its sparkle and glitter! (via A Pumpkin and a Princess)
Unicorn Pumpkin Tutorial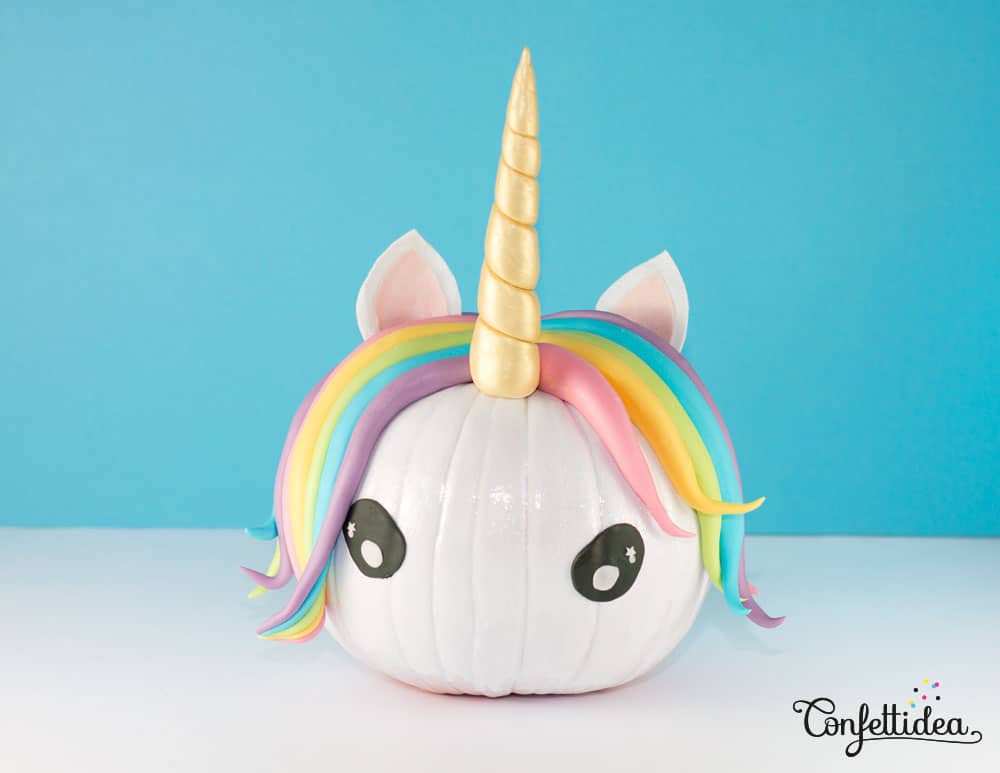 If you're looking for no-carve pumpkin decorating ideas for kids then you can't go wrong with these magical unicorns! (via Confetti Idea)
Glitter Decorated Pumpkins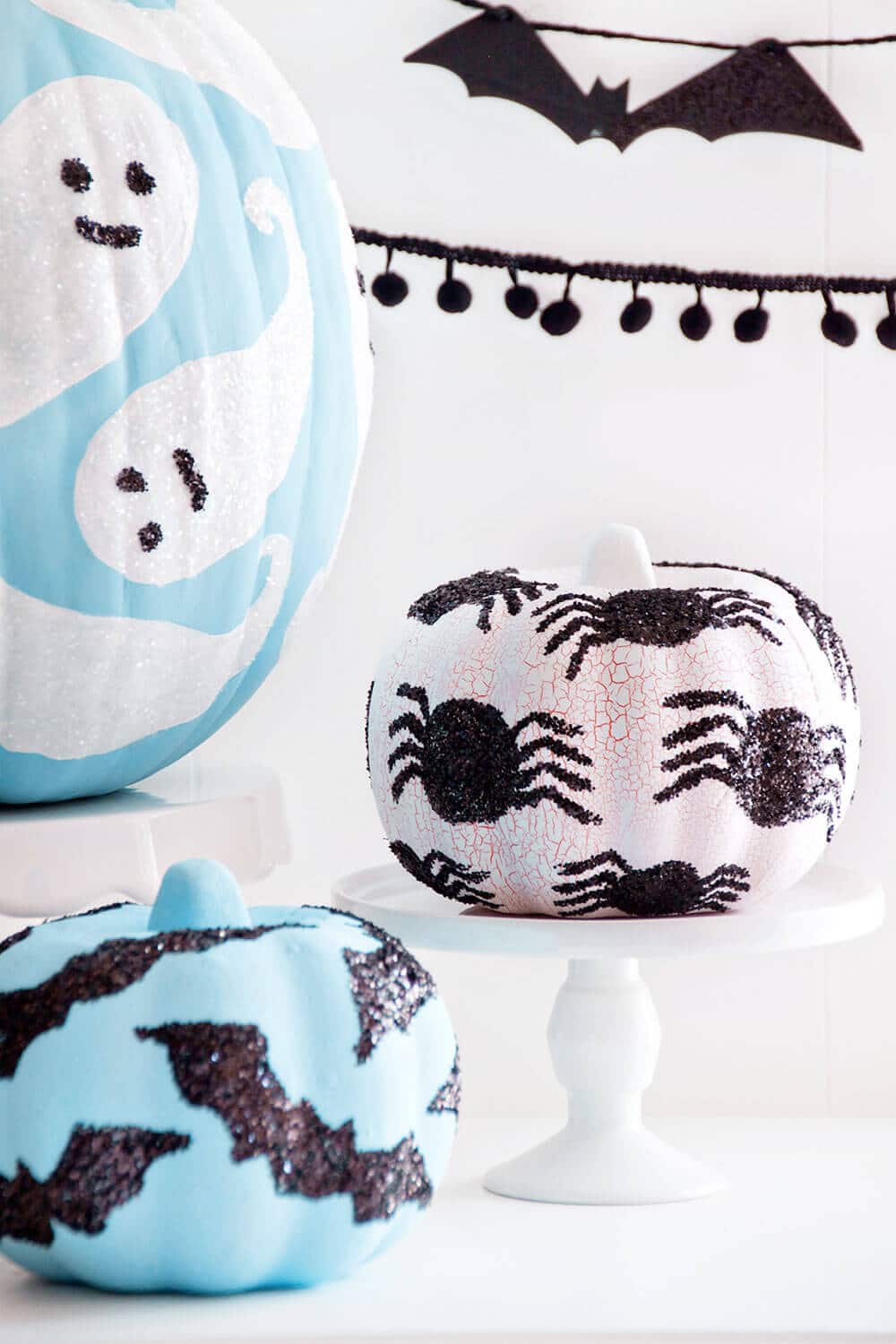 Oh my, take a look at these fabulous glitter pumpkins! I love the pastel colors and think they scream Halloween baby shower centerpiece! (via I Heart Naptime)
No-Carve Pumpkin Decorating Ideas



So many fun ideas in this post, but I think I love the one covered in giant sparkly gems the most! (via Ooly)
Pumpkin Decorating Ideas – Without Carving
Ok, now we've done all the cute kid-friendly pumpkin ideas let's look at some grown-up designs you can use to decorate your home for Halloween and Thanksgiving. You can use these no-carve pumpkins as part of your table decorations or front porch decor.

Related Posts: 12 Beautiful Fall Wreaths That'll Make Your Front Door Say Welcome!
DIY Confetti Pumpkins for Fall Decor!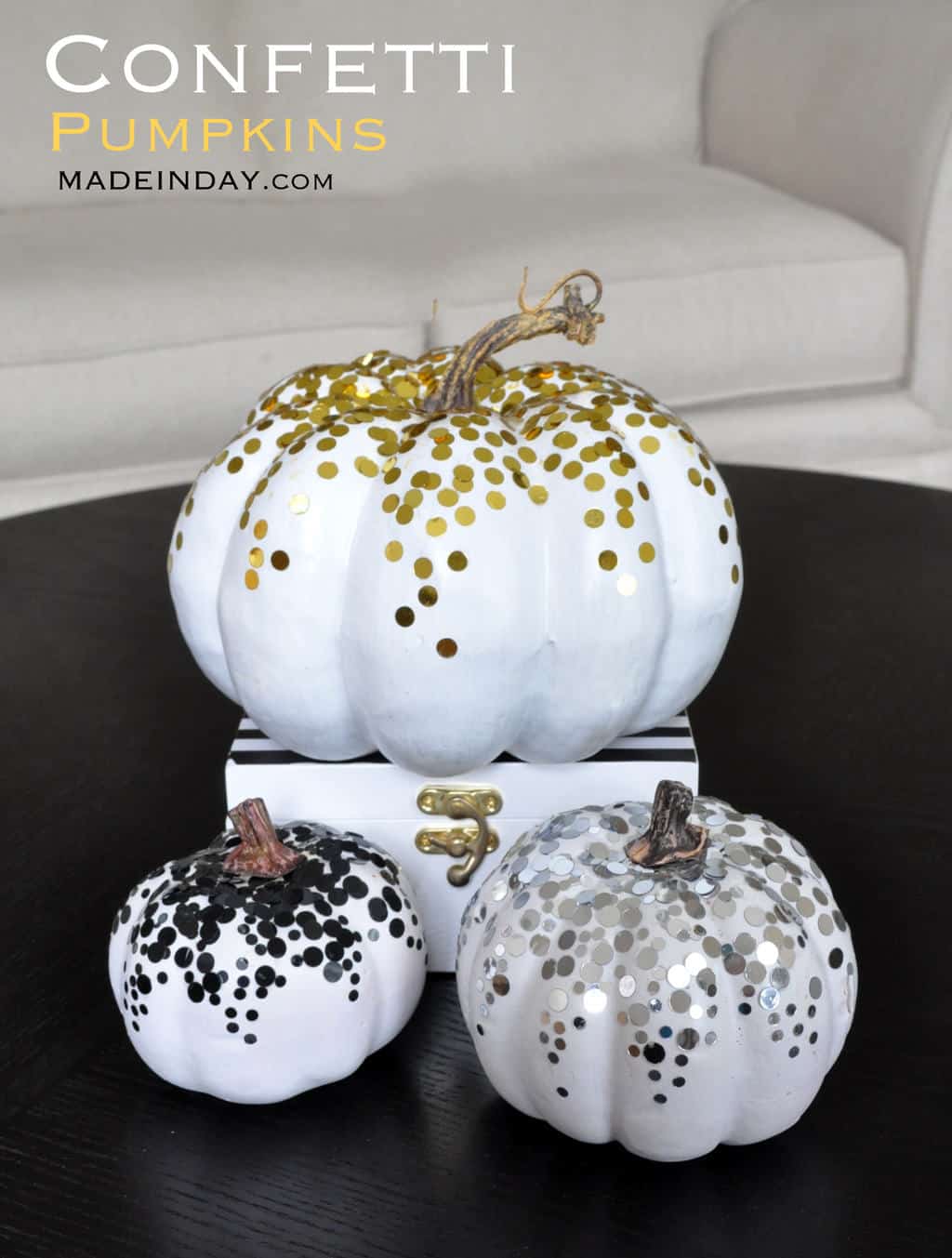 These sparkly confetti pumpkins are so glamorous and you can use colors to match your decor or your party theme. They'd be great centerpieces for a Halloween baby shower or even a wedding! (via Made in a Day)
Pumpkin Floral Centerpiece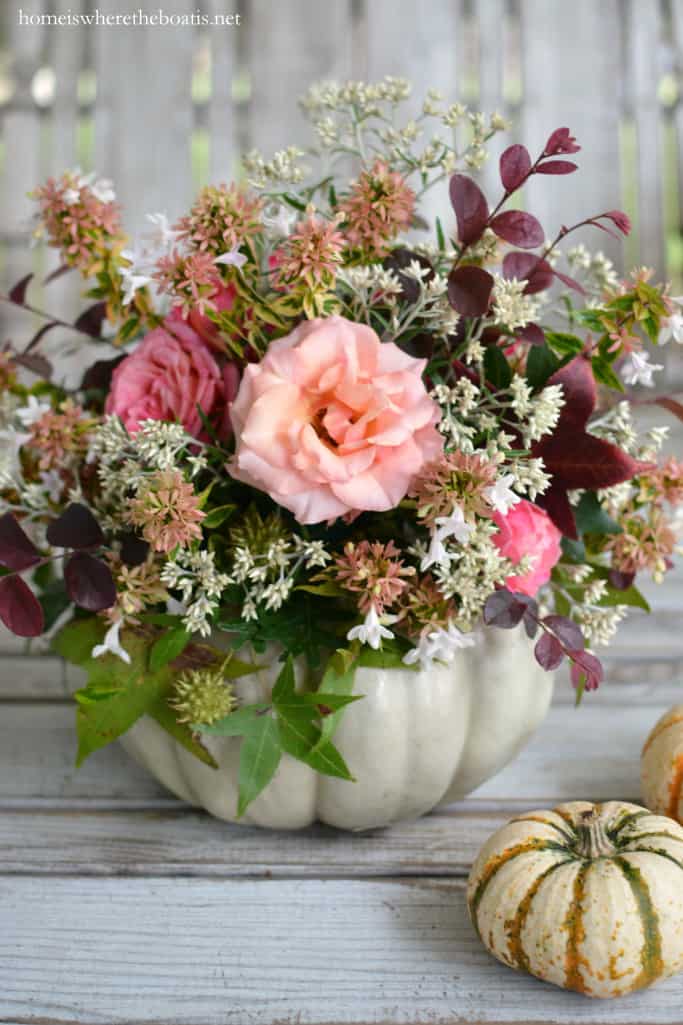 This pumpkin centerpiece is beautifully filled with Fall flowers. It's surprisingly easy to make too. (via Home is Where the Boat is)
Fall Front Porch Pumpkins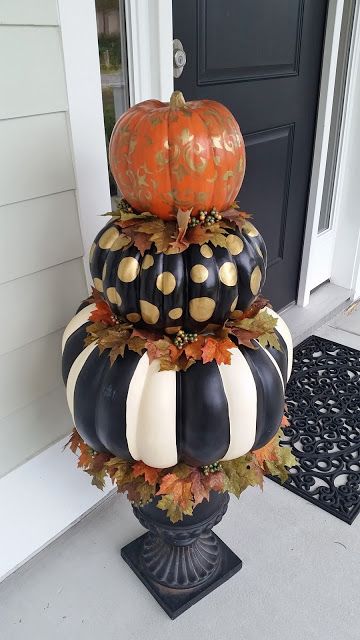 Wow, this front porch pumpkin display looks super expensive, so you'll be surprised to discover that it's made using Dollar Store pumpkins! (via Lucy Designs)
Glitter Stalk Pumpkins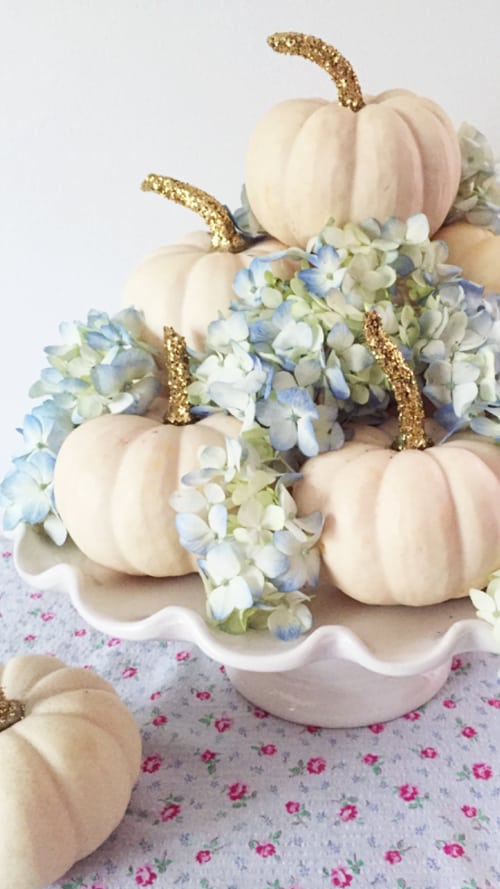 Oh, these are just precious, and you can use whatever flowers you like to make the centerpiece. Another perfect idea for a Fall baby shower! (via Such Pretty Things)
DIY Dry Brushed Chalk Painted Pumpkins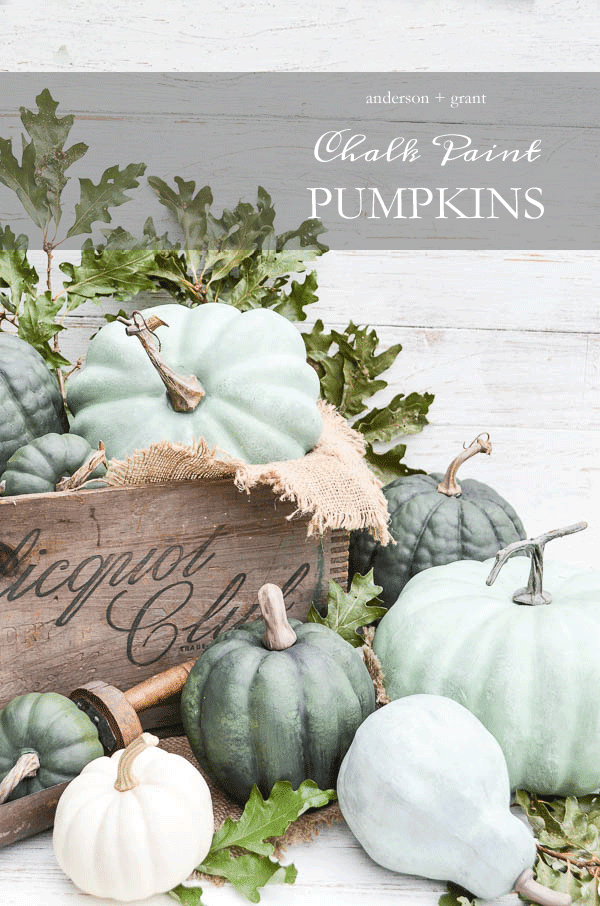 Oooh if you love chalk paint crafts this is the no-carve pumpkin decorating idea for you! You'll be able to create the most stunning Fall centerpiece! (via Anderson + Grant)

How to Make Velvet Pumpkins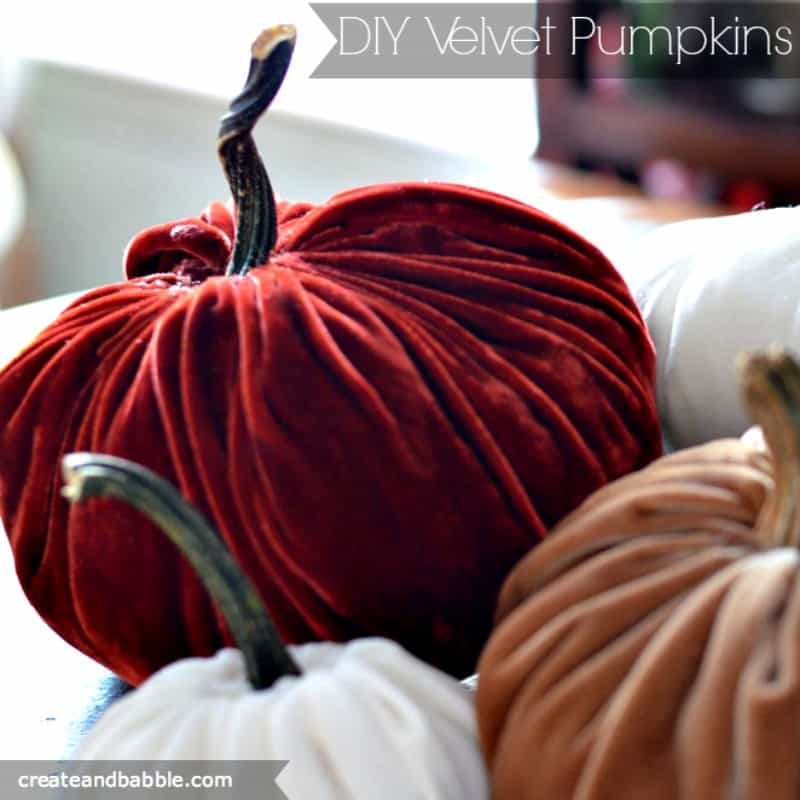 Oh my goodness your Fall mantelpiece is going to look stunning with a few of these velvet pumpkins on display! (via Create and Babble)
DIY Magnolia Pumpkin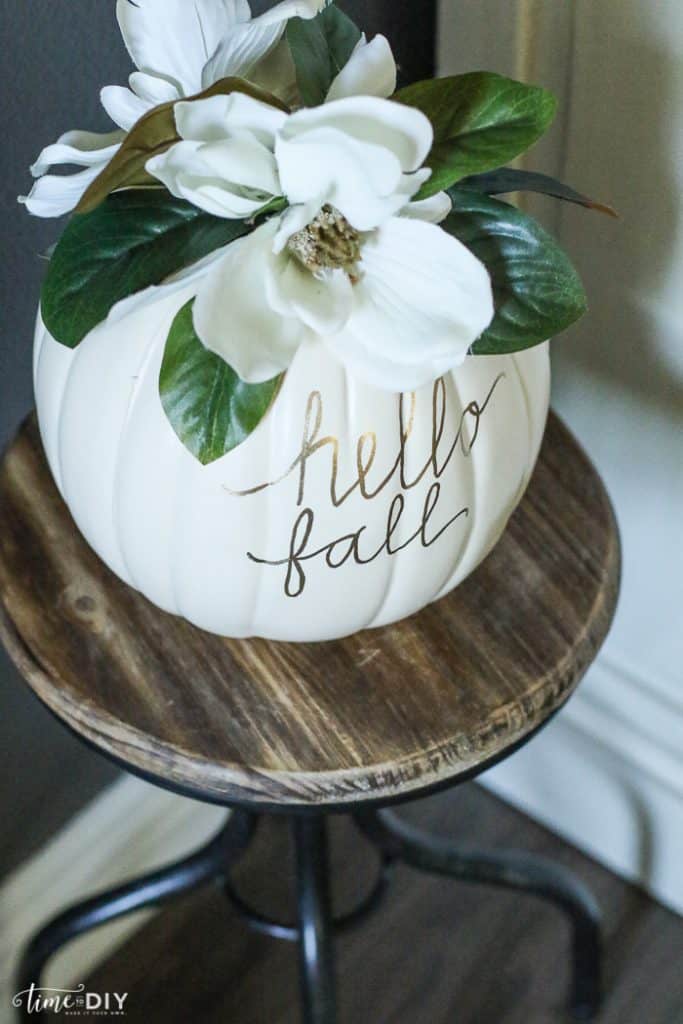 This magnolia pumpkin is stunning and I love the addition of the message on the side. Hello Fall. (via Lolly Jane)
Unique Ways to Decorate Pumpkins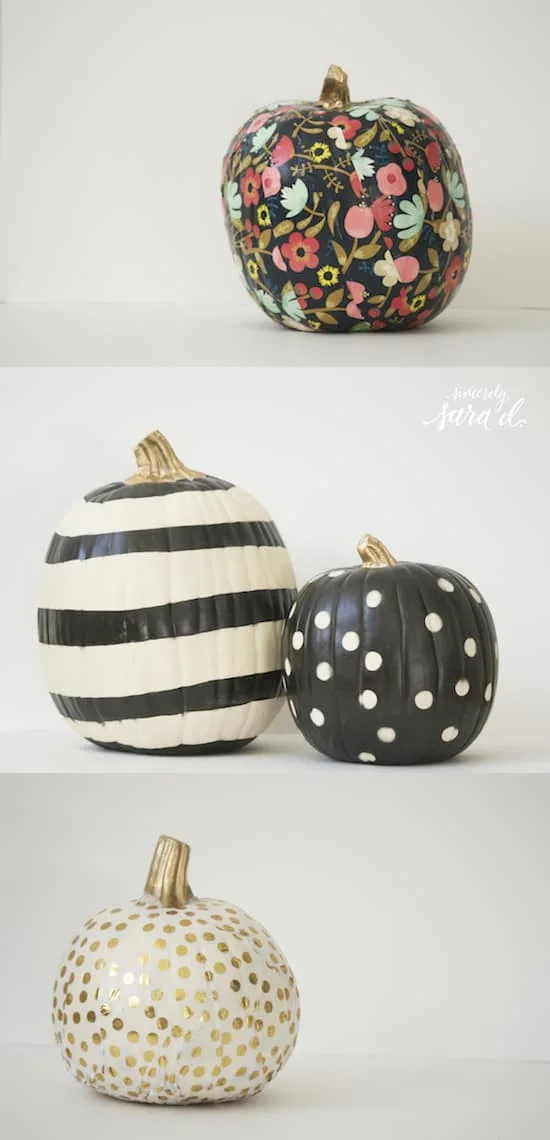 There's a whole host of no-carve decorating ideas here, but I am totally in love with that ModPodge flower one at the top of the picture! (via Sincerely, Sara D)
Country Bumpkin Halloween Bandana Pumpkin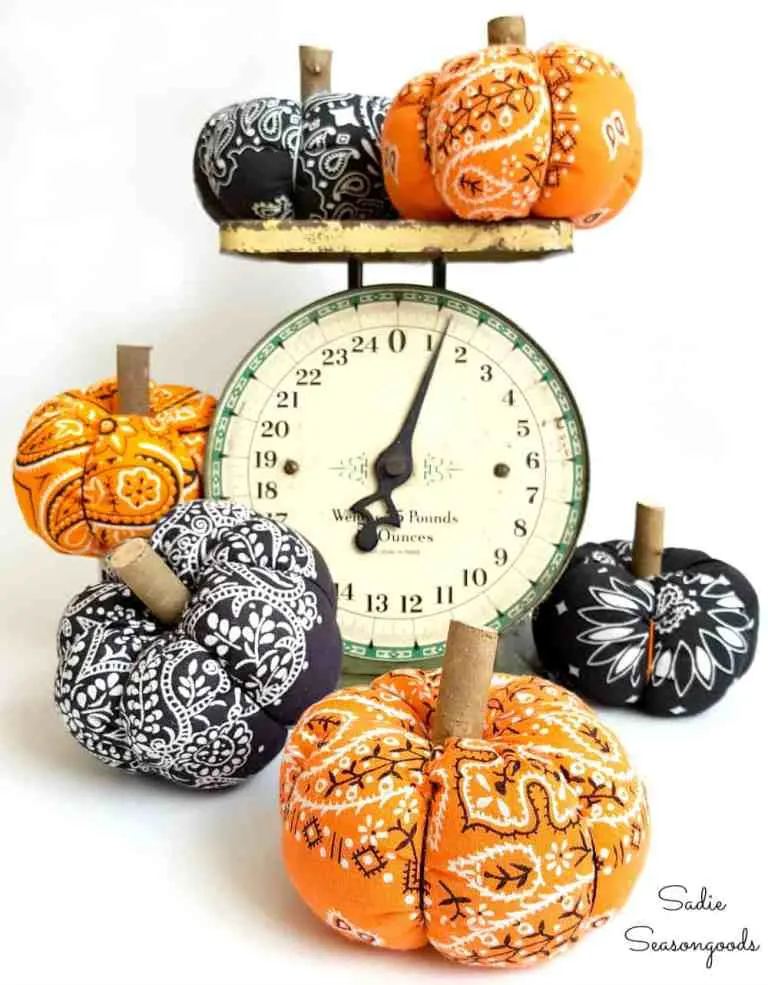 Oh I love these bandana pumpkins! And they're stuffed with fiberfill rather than a pumpkin which means they'd look great on your mantel, or on the sofa as a comfy little pillow! (via Sadie Seasongoods)
How to Paint Pumpkins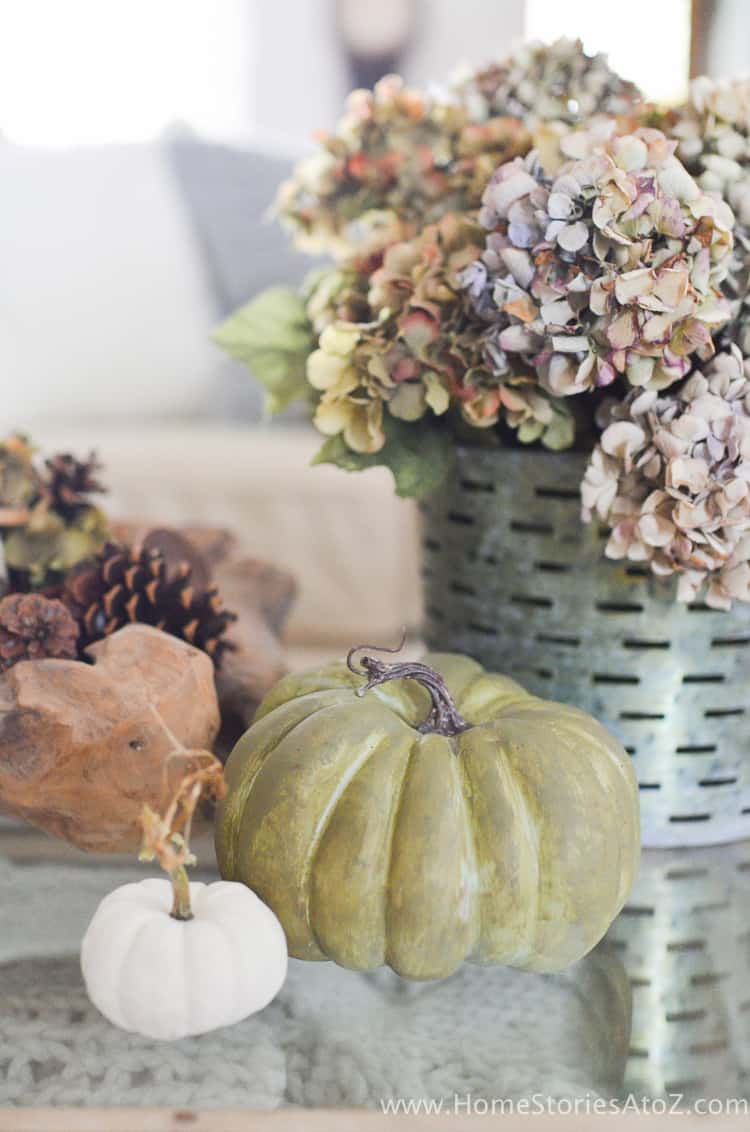 These painted pumpkins look fabulous as part of a Fall mantel display. (via Home Stories A to Z)
Fall Centerpiece with Chalk Painted Pumpkins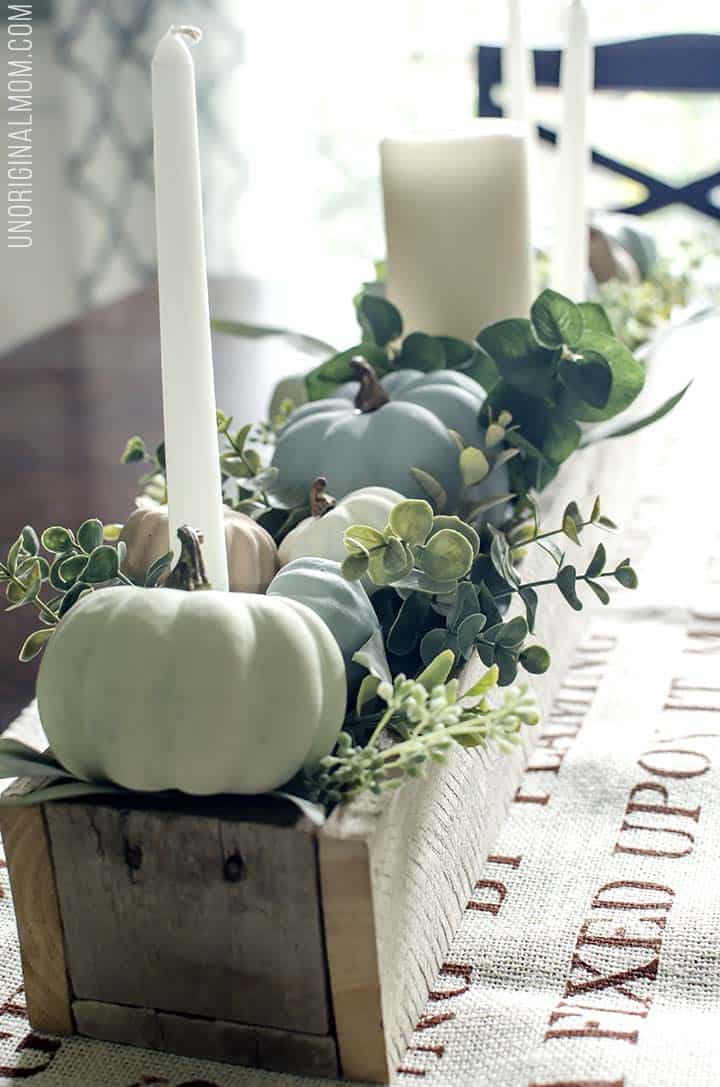 OOh back to chalk paint again for this stunning pumpkin centerpiece! (via unOriginal Mom)
DIY Painted Baseball Pumpkin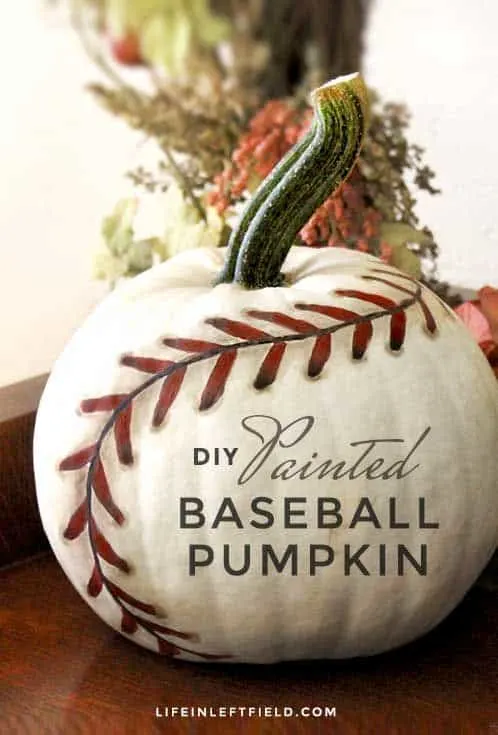 Here's a great decorating idea if you're a family of baseball fans, turn a pumpkin into a baseball! (via Life in Left Field)
Toilet Paper Roll Pumpkins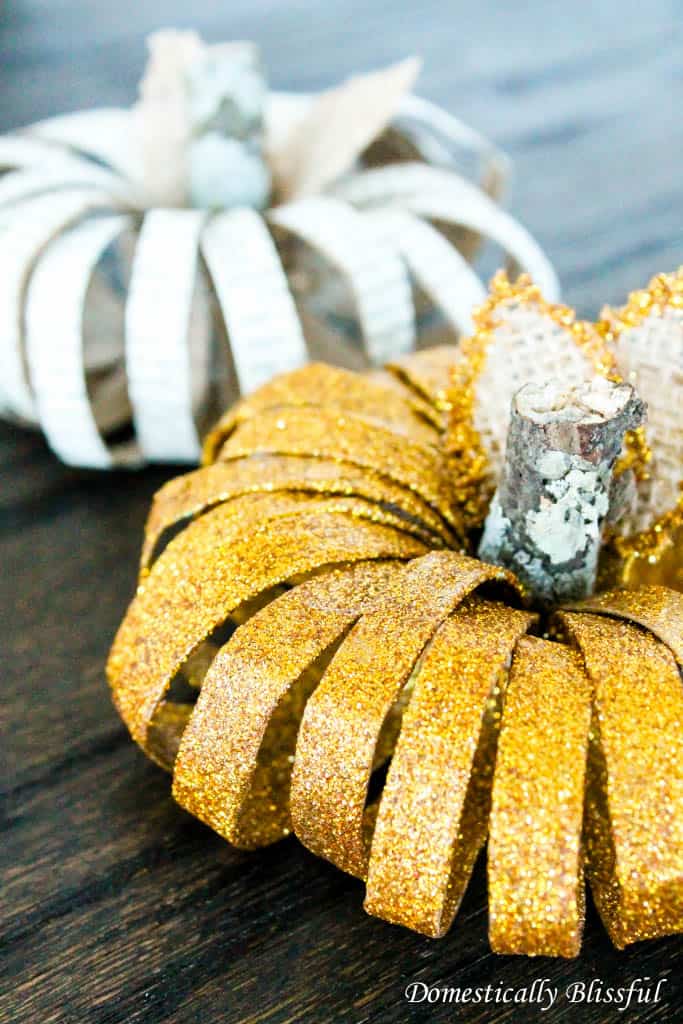 I can't believe that these fabulous pumpkins came from toilet paper rolls! (via Domestically Blissful)
Vinyl Lettered DIY Pumpkins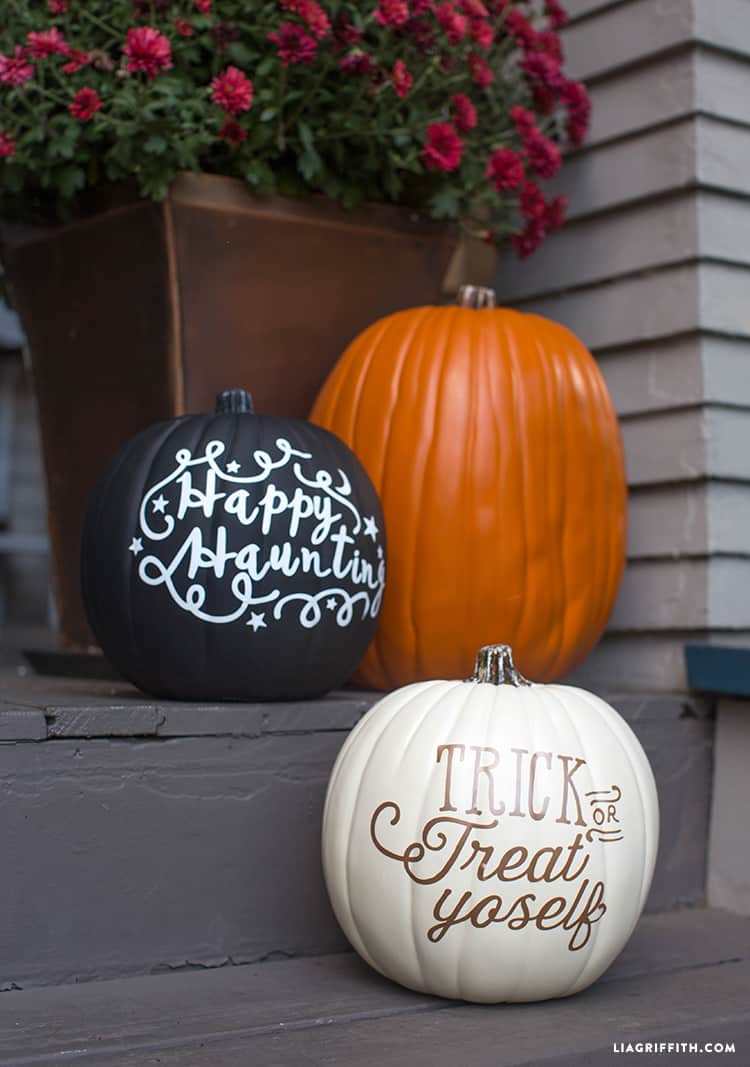 If you love to decorate with vinyl letters go grab your Cricut Explore and make some fabulous pumpkins for your front porch! (via Lia Griffith)
DIY Paint Splattered Pumpkins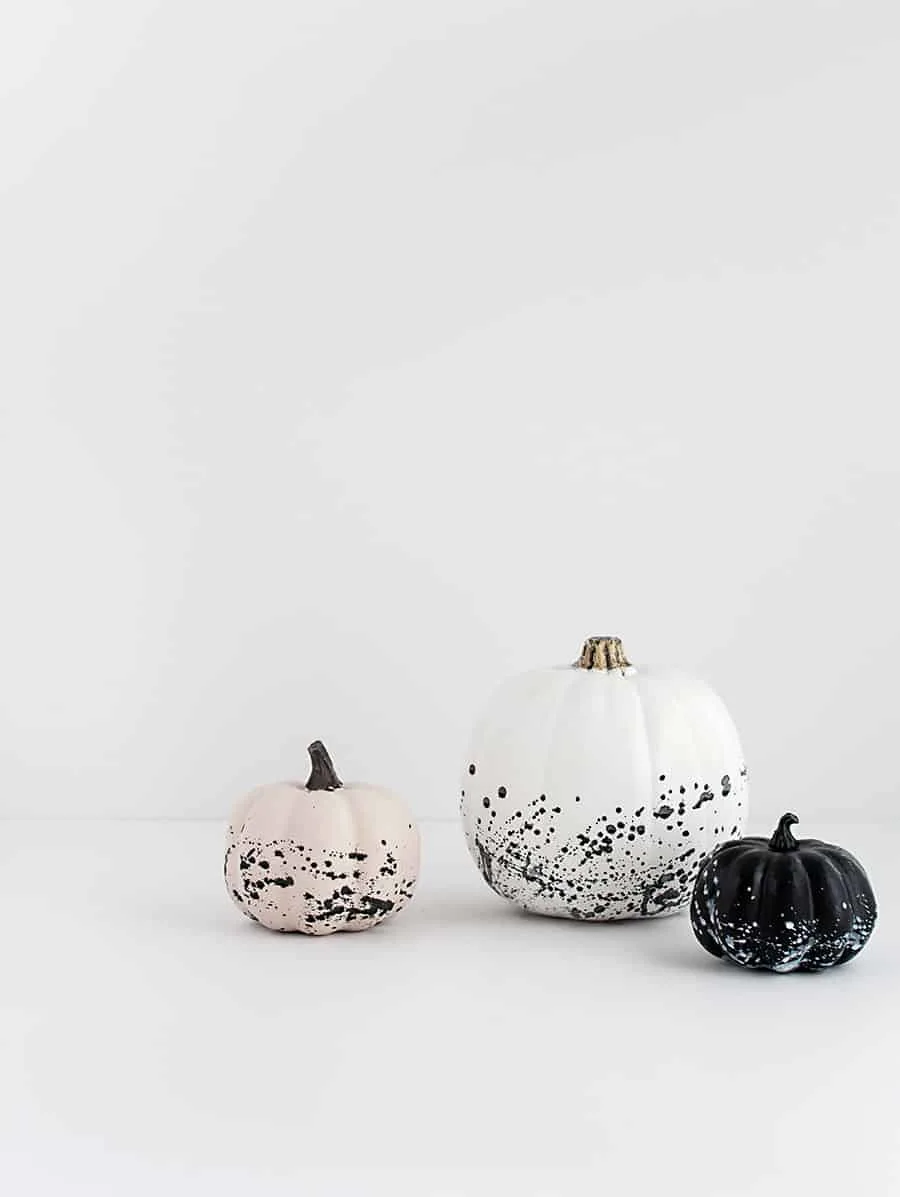 I bet the kids would have a blast making paint-splattered pumpkins with you! (via Homeyohmy)