While you're busy decorating your home for Halloween don't forget about your fairy garden! From teeny pumpkins and floating ghosts to spooky visitors we've got lots of Halloween fairy garden ideas!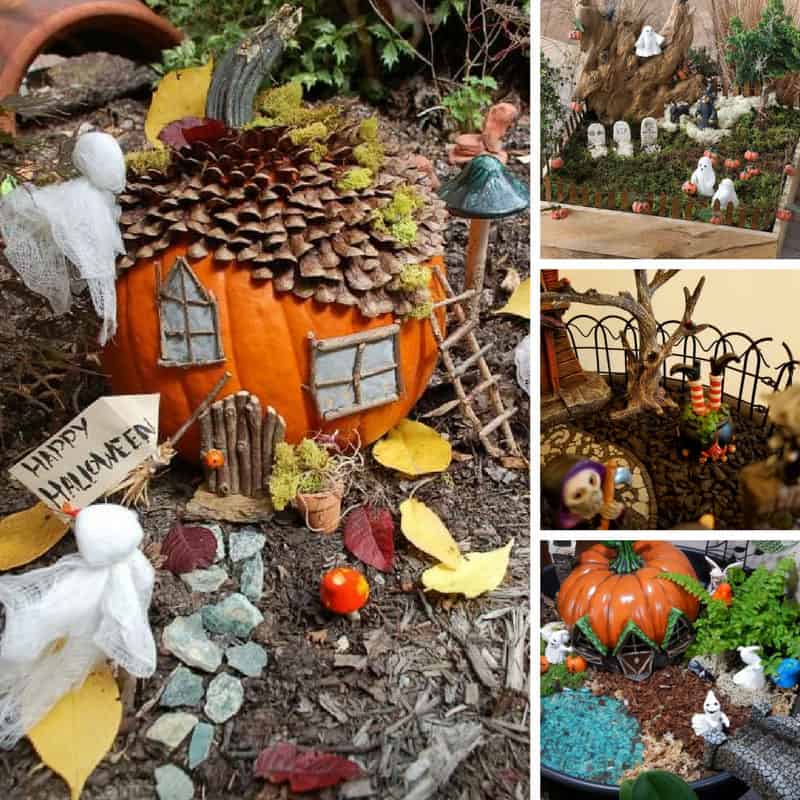 This post may contain affiliate links, which means I may receive a commission if you click on a link and purchase something. As an Etsy and Amazon Associate I earn from qualifying purchases.
Halloween Fairy Gardens

My mermaid garden collection has been one of the most popular posts here during the summer, but now we're heading towards October I think it's time we started thinking about pumpkins and ghosts instead. Which is why I've just been searching out the spookiest Halloween fairy gardens I could find to inspire you!
I found everything from pumpkin houses and floating ghosts to fairy gardens inside pumpkins and even a fairy sized graveyard!
As always be sure to scroll all the way to the end so you don't miss any of the great ideas. And don't forget to pin your favourites as you go!
Related Posts:
Halloween Project Idea: DIY Fairy Garden

(via Consumer Crafts)
Make a Miniature Garden for Halloween

(via Lush Little Landscapes)
Fairy House Jack-o-Lantern

(via Kitchen Counter Chronicle)

(via Fairyland Craftique @ Etsy)

(via Fairie Hollow)
Make a Halloween Fairy House

Love these spooky floating ghosts! (via HGTV)

(via The Little Hedgerow @ Etsy)

(via Sortra)

(via The Bracelet Shop @ Etsy)

(via Tonkadale)

(via Tinker Treasures @ Etsy)

(via Hole's Greenhouses and Garden Centre)

(via The Enchanted Acorn @ Etsy)

(via Cut Out + Keep)

(via Mini Gardener)

(via Fairy Concepts)
Pumpkin Fairy House: a pumpkin house for fairies!

(via Crafts by Amanda)

(via Vitamin-Ha)

(via Teelie's Fairy Garden)
A Halloween Fairy Garden in a Pumpkin

(via A Pumpkin and a Princess)
Pumpkin House Decorating for Fairies

(via Darice)
Bird Bath Fairy Garden For Fall

(via Across the Boulevard)

(via The Enchanted Acorn @ Etsy)

(via Leslie Wozniak)
Make a Halloween Fairy Garden Centerpiece

(via Our Daily Craft)
Halloween Miniature Garden

(via Hometalk)

(via The Garden Junkie)
Related Posts:

Pin these ideas!
Hit the button to save these ideas for later.
Don't forget to
follow us on Pinterest
for more great stuff!
&
---