This post may contain affiliate links, which means I may receive a commission if you click on a link and purchase something. As an Etsy and Amazon Associate I earn commissions from qualifying purchases.
Inside: Get the 101 on wedding Save the Date etiquette, including when to send them, who to send them to and some unique ways to ask guests to save your date!
Congratulations on your engagement!
Since you're here I'm guessing you are in planning mode for your big day and wondering where Save the Date cards fit into the scheme of things.
Did you know that Save the Date cards are a relatively new thing?
Ask your parents or anyone else who got married more than 10 years ago and they'll tell you that they simply sent out wedding invitations to their guests.
Since you've probably been sharing your good news with anyone who will listen you might be wondering why you need to take this extra step.
Here's a few good reasons:
It's a good way to get first dibs just in case they know other people who are getting married on the same day.
It's the perfect way to get everyone excited about your wedding.
Your guests will appreciate the heads up, especially if they have to ask for the day off, organize childcare or brush up on their dance moves!
Keep reading and we'll cover some save the date etiquette as well as some unique ways you can ask guests to save your date.
Before we go any further click here to join our Smart Brides on a Budget VIP Newsletter where we reveal the mistakes you want to AVOID when throwing a wedding on a budget!
When should wedding save the dates go out?
Now you know WHY brides are encouraged to send save the dates to their guests let's take a look at WHEN you need to send them.
If you are getting married locally, or in the same country as the one you live in, your save the dates can go out four to six months before the wedding day.
If you're getting married on a three-day weekend it's worth giving guests extra notice so be prepared to send those cards six to nine months out instead.
If you are getting married abroad then you'll need to give your guests some extra notice since they're definitely going to need to book time off work and make travel reservations.
For destination weddings you will want to send your save the dates at least nine months to a year out from your wedding, earlier still if you have your hotel room block agreed before then.
What information should you include on a wedding save the date?
Save the dates are super simple.
You need to include your names, the date of your wedding and the general location, which is usually the town or city as well as the state. For destination weddings you would let them know the country.
If you have your wedding website set up you can include the URL or a QR code so that guests can check for more detailed information as you add it.
Who do we need to send a save the date to?
This one is super important to get right because whoever you send a save the date to must also receive an invitation.
When you were pulling your guest list together I'm guessing you have an A list… made up of people you absolutely want to celebrate your big day with. And a B list… made up of people you feel like you "should" invite, but you wouldn't really miss them if they weren't there.
Only send save the dates to your A list.
Remember the rule: if someone receives a save the date they must receive an invitation.
So if you send a save the date to the girls from your goat yoga class, you still have to invite them even when you get tired of being trampled on by a small animal, quit yoga and don't have time to see them anymore!
The good news is that the reverse of the rule is not true.
If it turns out that goat or no goat you've made some friends for life at that yoga class feel free to send them an invitation even though you didn't ask them to save the date!
Can we send our save the dates via email?
You can… but it's not the best way to do it. Here's why:
Your electronic save the date might fall foul of the spam filter
Older guests might not have an email address or know how to check their email
You can't stick an email on the fridge as a reminder of the date you've set!
If you're on a tight budget then electronic save the dates can be a compelling option, but the safer bet would be to choose an inexpensive save the date card that you can mail instead.
As well as buying inexpensive cards you can save money on your save the dates by sending postcards rather than cards in envelopes.
Are save the dates the same as wedding invitations?
You might be wondering whether you can skip sending out invitations once you send your guests a save the date card.
This is a mistake you do not want to make.
Save the dates are not the same as wedding invitations.
The save the date lets your guests know the date and general location of your wedding.
The invitations on the other hand give them the nitty-gritty details including the exact location for the ceremony and the reception and the time the celebrations get started.
Are save the dates the same as wedding announcements?
Save the dates and wedding announcements are totally different and one must not be mistaken for the other.
You send a save the date to let an intended guest know the date of your wedding.
A wedding announcement on the other hand is sent to people you didn't invite to the wedding to let them know that you got married.
Wedding announcements are traditionally sent the day after the wedding, and must never be sent before in case the recipient mistakes it for an invitation!
Clever ways to ask guests to save your date
Brides usually send paper save the date cards out to their guests, but that's not the only way to do it.
If you want to stand out from the crowd check out these fun and unique save-the-date ideas!
Save the Date Paper Coasters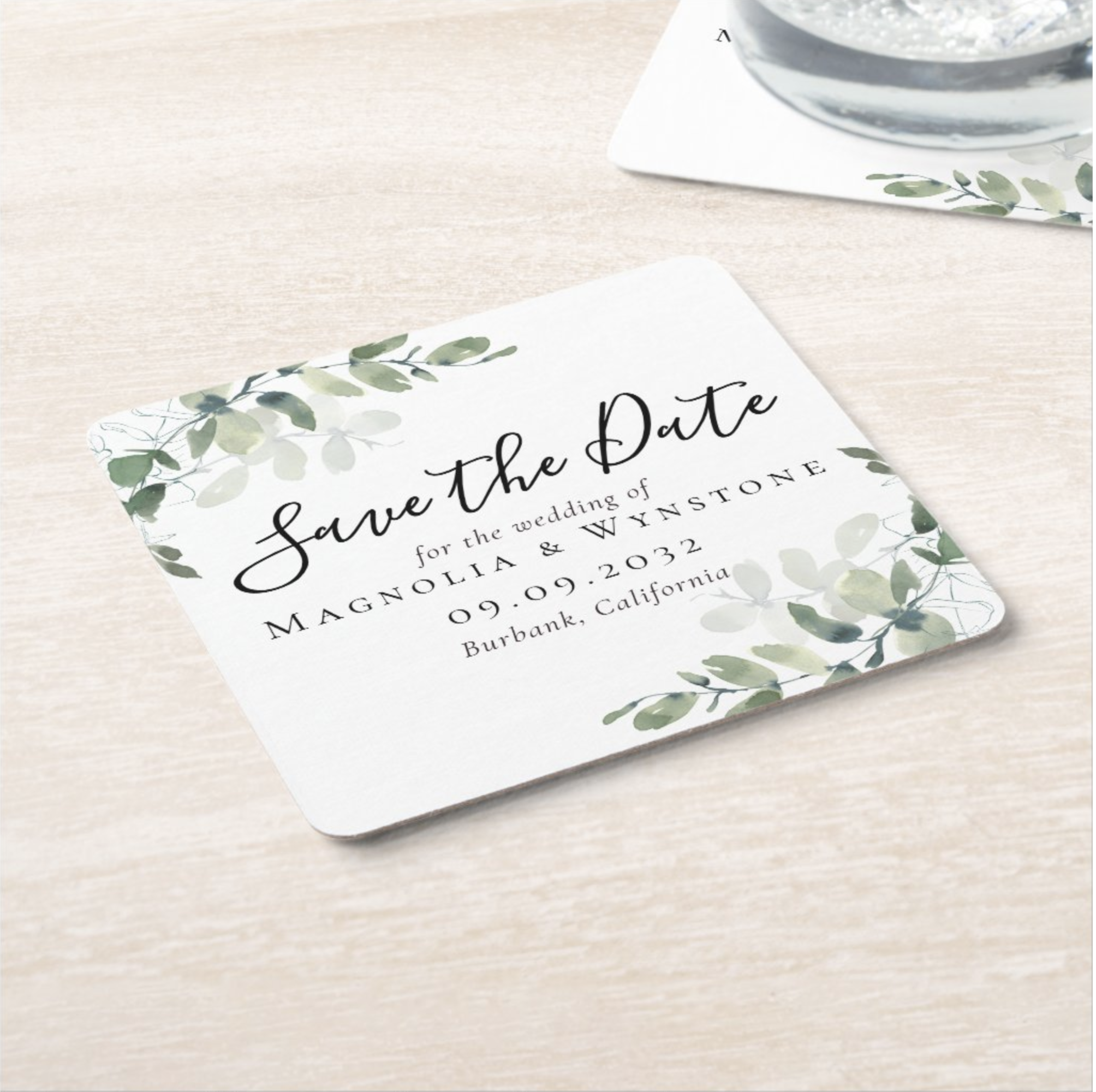 These affordable paper coasters can be mailed to guests to encourage them to save your date.
Save the Date Magnets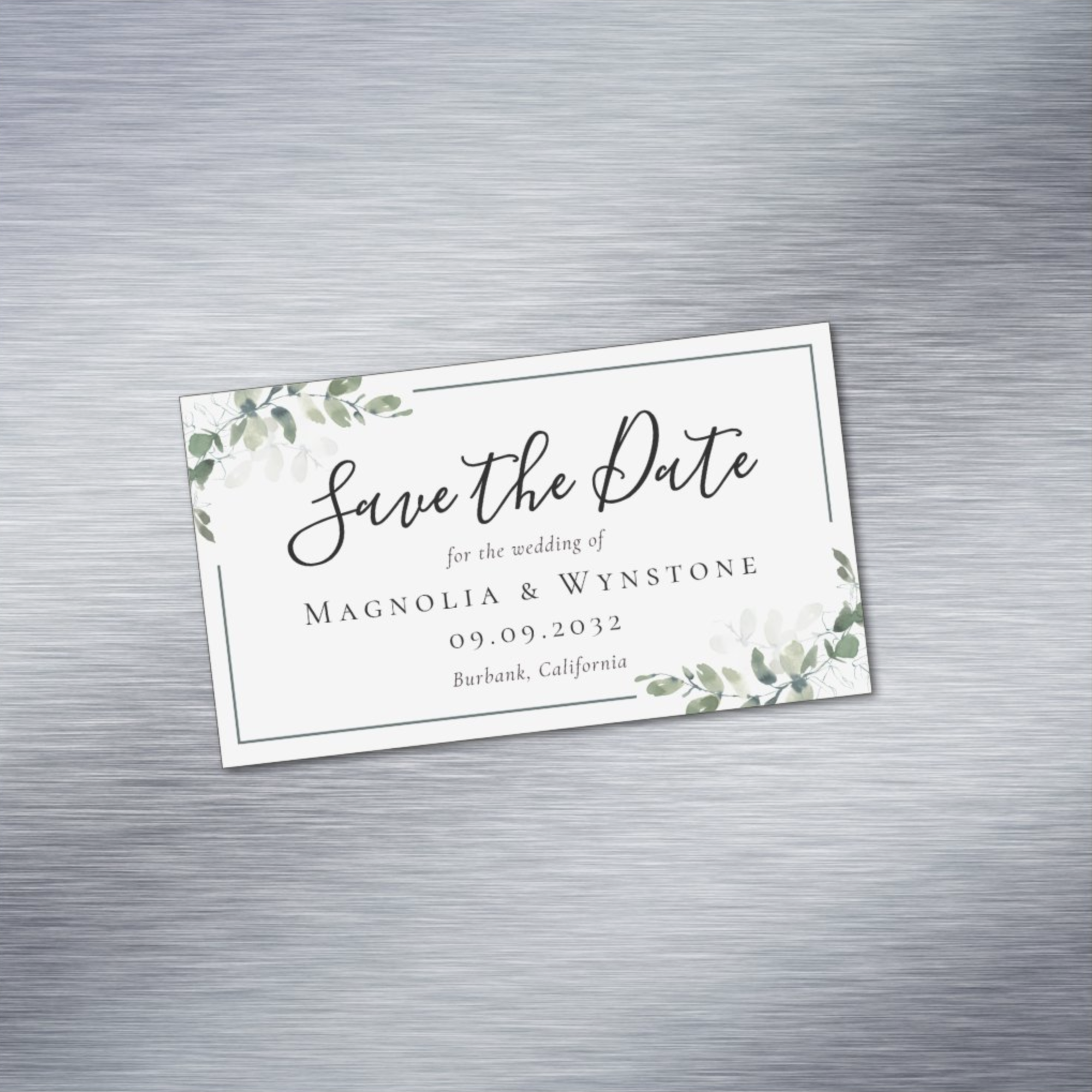 The perfect place to keep your save the date notification is on the fridge so these magnetic cards are just what you need to send!
Save Our Date Photo DIY Bookmarks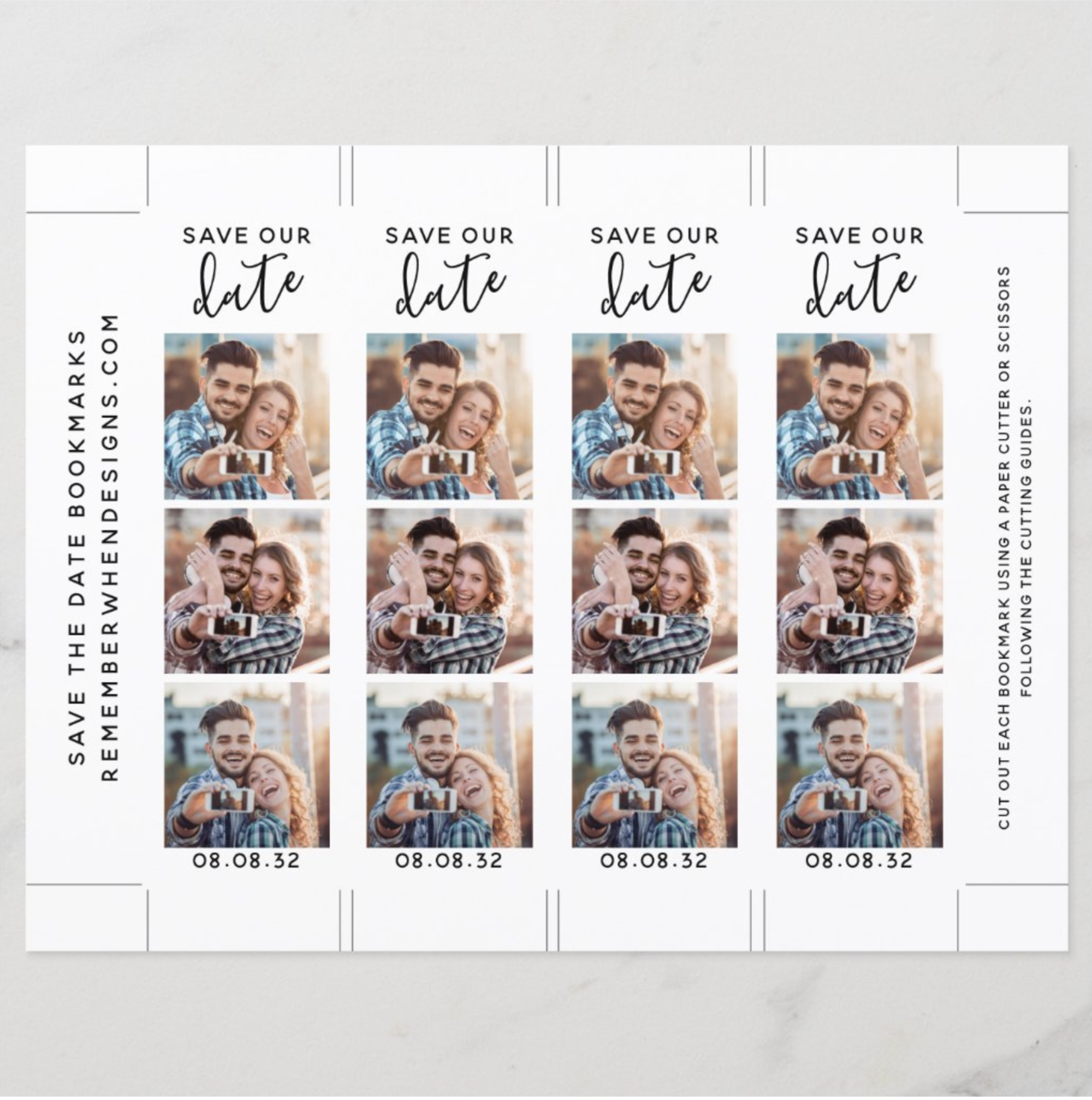 These cute Save Our Date photobooth style bookmarks are professionally printed and shipped to your door. Then you'll need to cut out the bookmarks and send them to your guests.
Can Cooler Save the Dates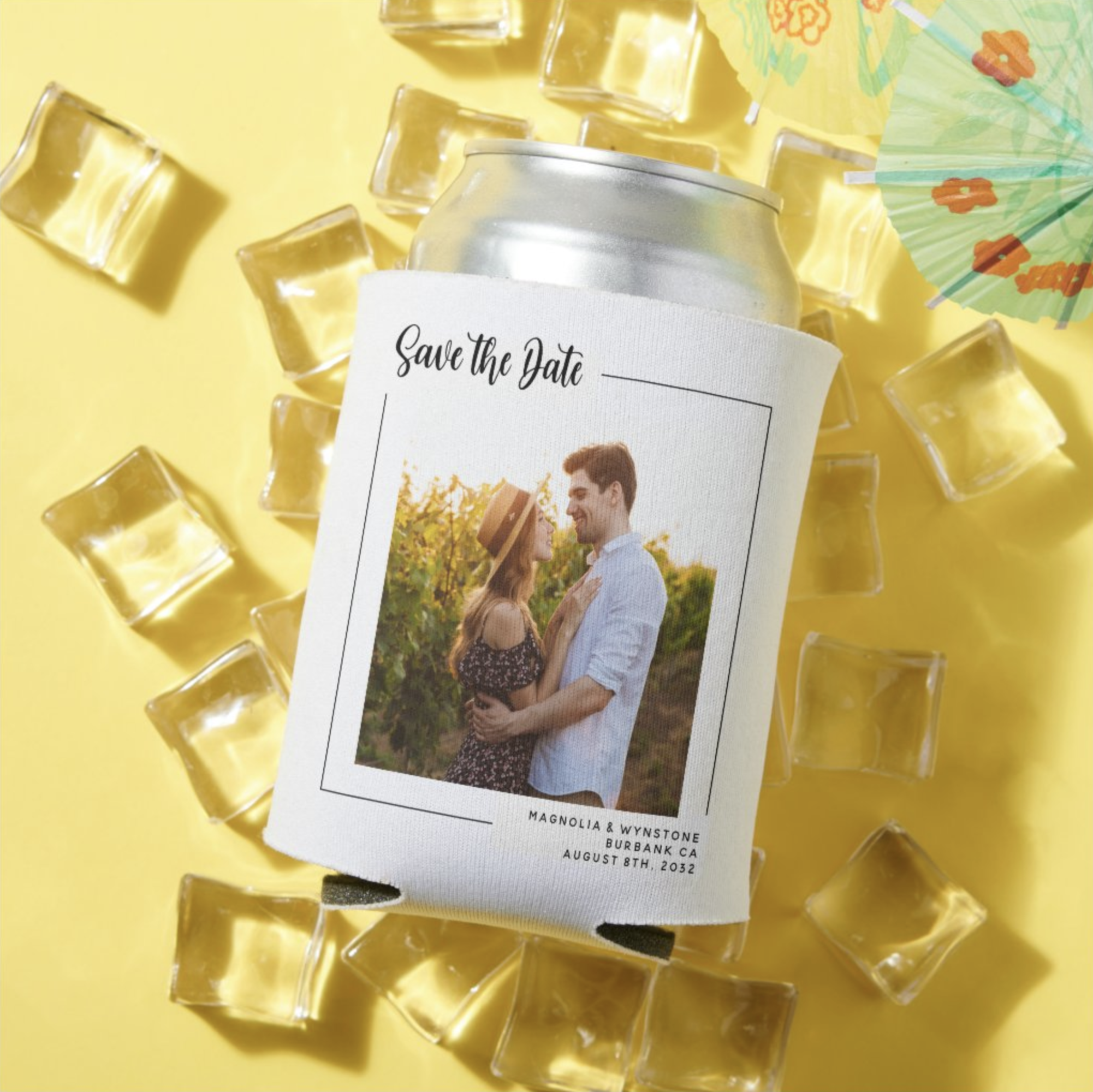 These modern can cooler photo save the dates are a great way to announce the date for your summer or destination wedding.
Bottle Opener Save the Date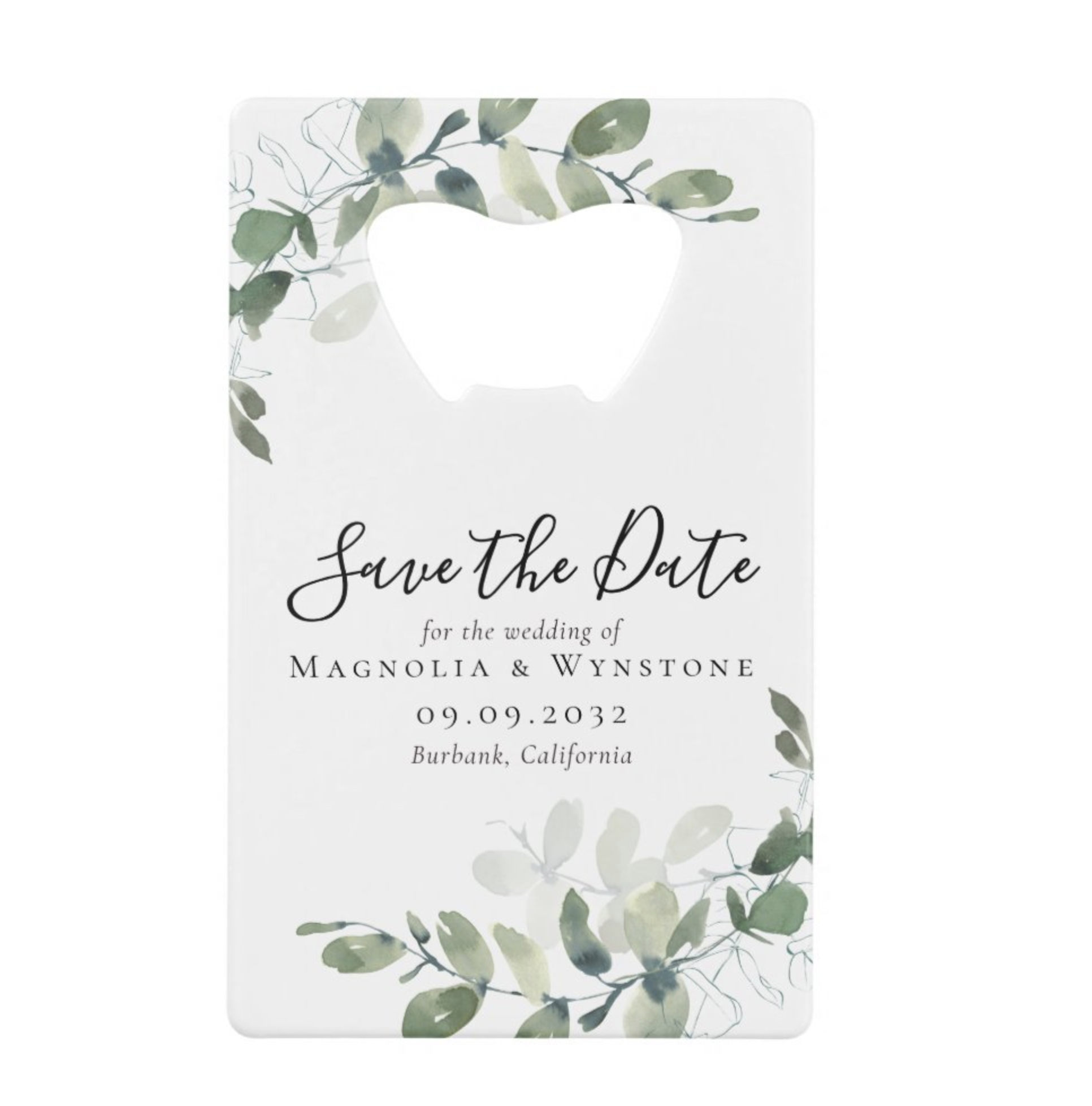 These chic bottle openers will remind your guests of your date whenever they crack open a bottle of beer!
Destination Wedding Save the Date Luggage Tags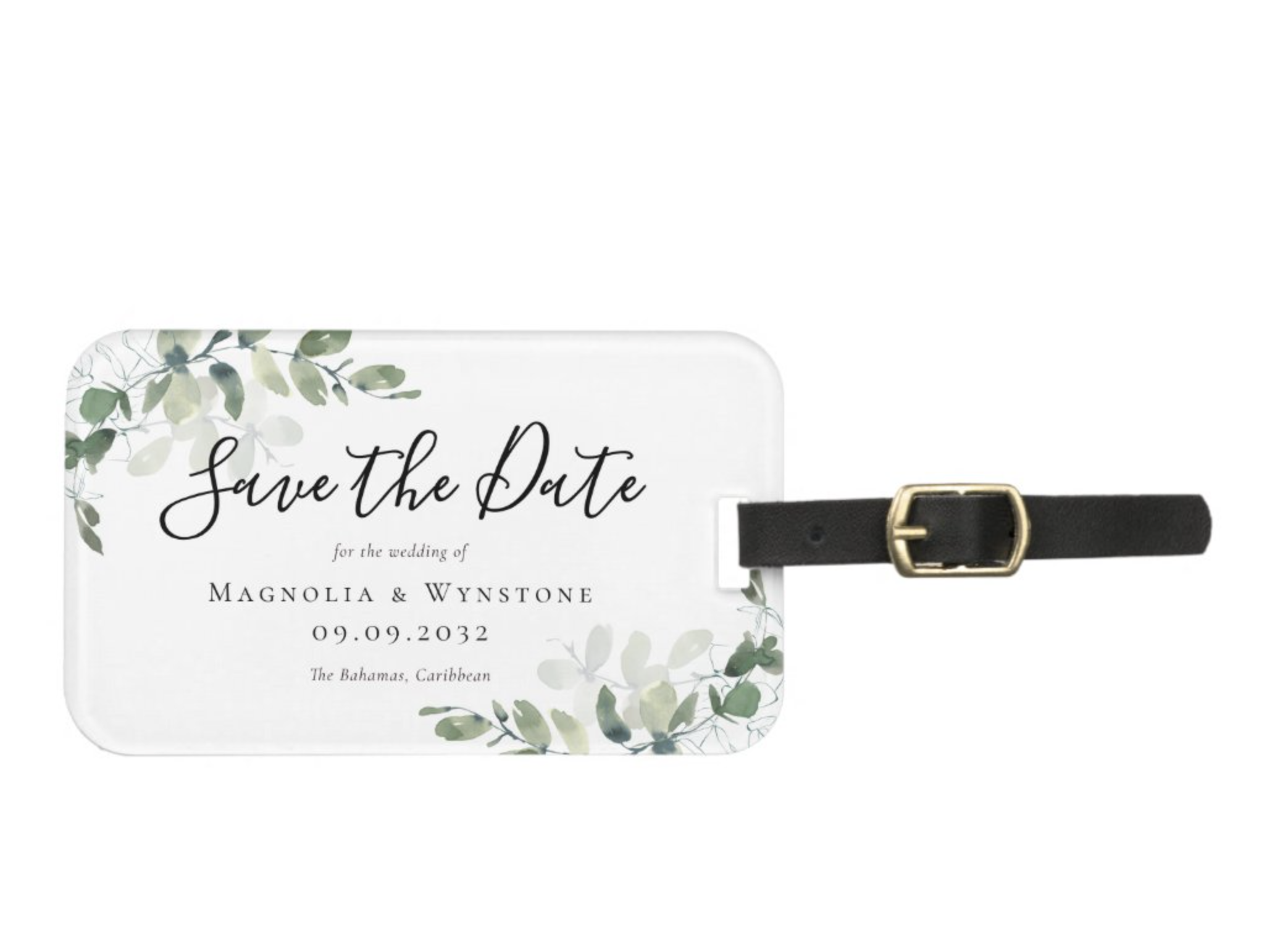 Ask guests to save the date for your destination wedding with these chic luggage tags.
Edible Save the Dates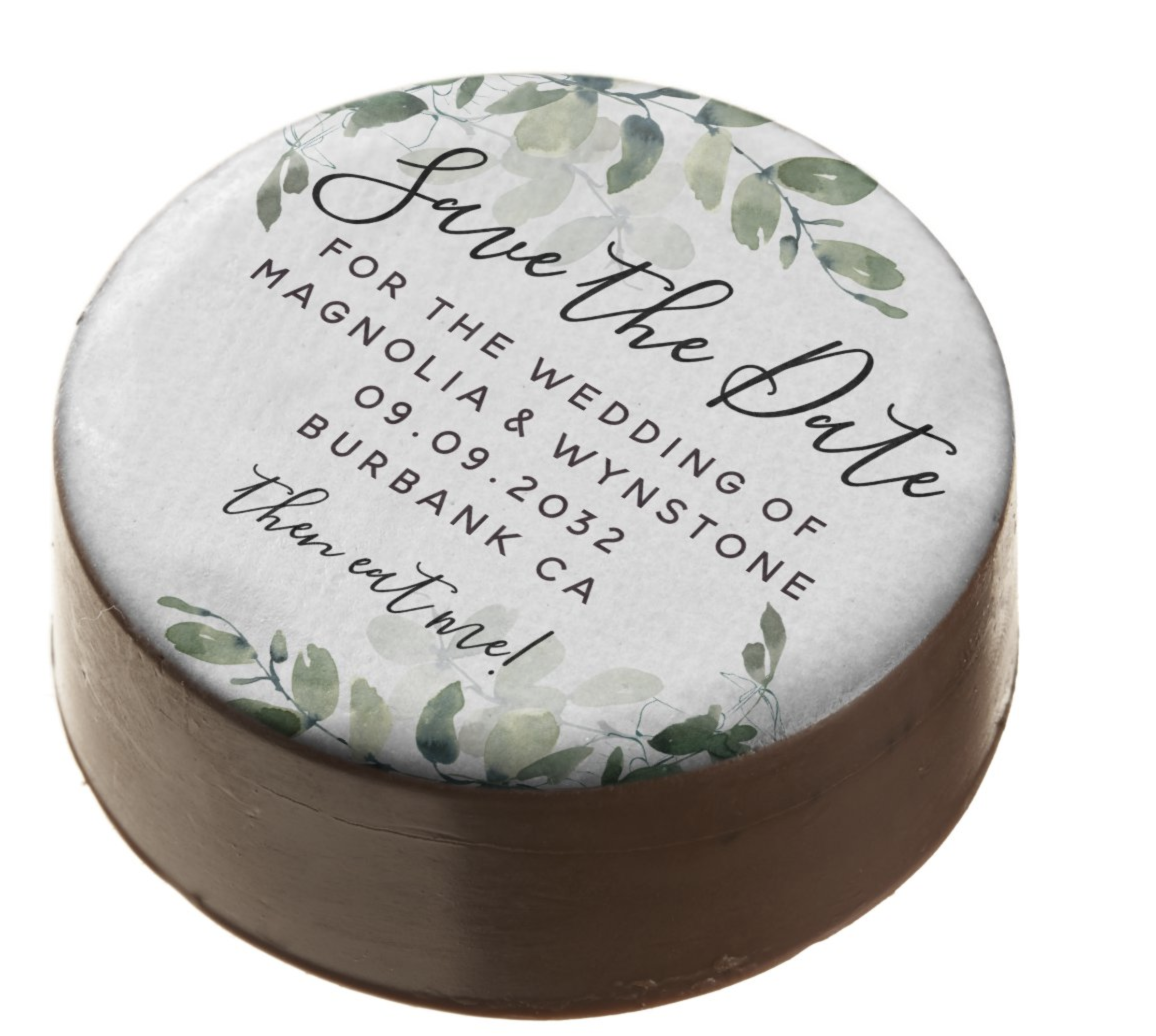 Stand out from the crowd with these edible save the dates!
Pencil Us In Save the Date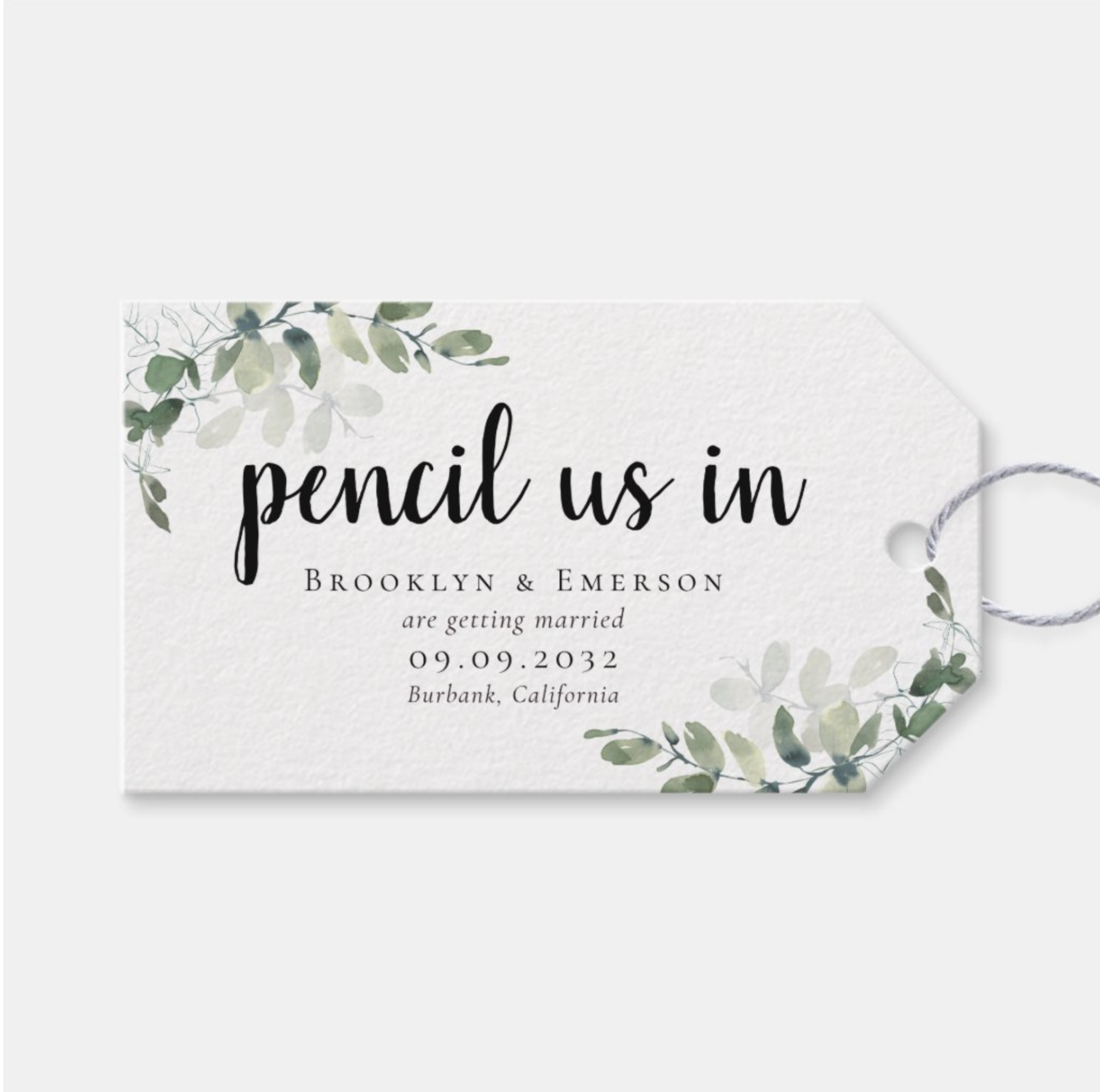 Encourage guests to pencil you in with these chic gift tags that you can attach to the personalized pencils.
Save the Date Ornaments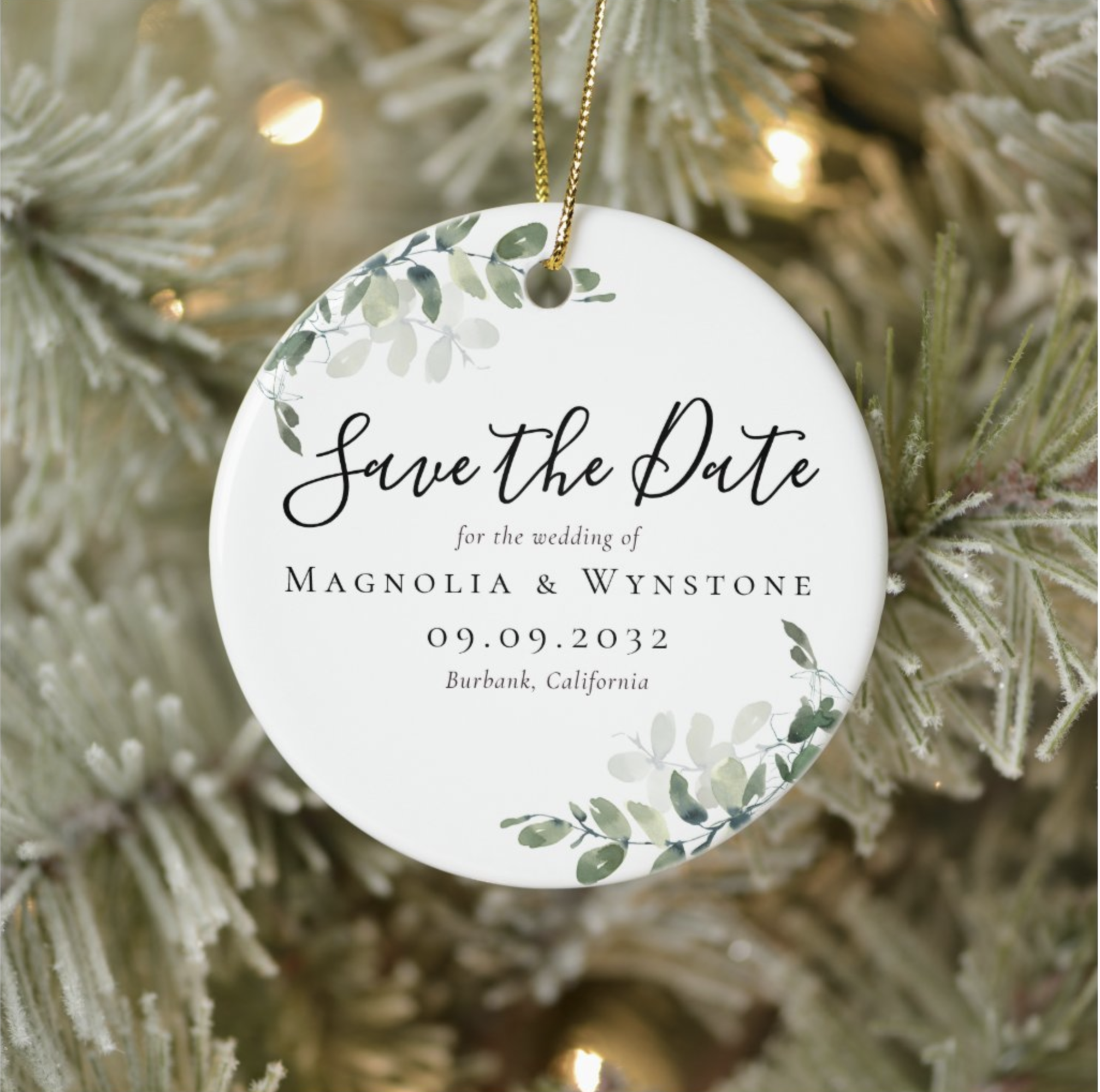 If you are sending your Save the Dates during the holiday season these chic ornaments would be a great choice.