DISCLOSURE: Some of the links below are affiliate links. This means that, at zero cost to you, I will earn an affiliate commission if you click through the link and finalize a purchase. All opinions are my own, and I only recommend products that will add value for my readers.
Inside: Wedding invitations can cost as much as $8,000. Save money on wedding stationery without looking cheap… even if your entire wedding budget is much less than $8,000!
What's a reasonable amount to spend on wedding invitations?
I hope you're sitting down because the answer might surprise you!
According to Brides.com, the average cost of wedding invitations is $5,000 to $8,000.
Yowzers!
If that's more than your entire wedding budget you might be having a panic attack right now. But don't worry, we've got you covered!
Before we go any further click here to join our Smart Brides on a Budget VIP Newsletter where we reveal the mistakes you want to AVOID when throwing a wedding on a budget!
Surprising mistakes people make trying to stay on budget with wedding stationery
I was once a bride trying to throw a wedding on a budget. I wanted to hire a designer to create bespoke wedding stationery for me and it wasn't in my budget AT ALL.
It seemed the only way to save money on wedding stationery and invitations was:
to print them at home, or
go full-on Martha Stewart and craft them all yourself!
These ideas seem totally reasonable, especially if you've been on Pinterest looking at wedding inspiration.
I quickly learned these ways were not the answer… and I wasted a lot of money in the process!
Why printing your wedding invites at home is a costly mistake
My husband and I got married in Disney World, which wasn't cheap, so I needed to find a way to cut costs in order to invite our friends and family to our Happily Ever After wedding reception back at home.
Since hiring a designer was out of the question I decided to print my own invitations at home.
There are so many gorgeous wedding invitations for sale over on Etsy I'm sure it's something you've considered to save money.
You buy a digital version and then print them yourself at home. What could be simpler?
That's what I thought.
Here's where I was wrong:
You can't print your wedding stationery on plain old copy paper so I had to buy cardstock.
The automatic paper feed on my printer didn't work with cardstock so I had to feed in each piece one at a time. Which was a very slow and mind-numbing process!
The manual feed has a habit of not going in straight, so I had to reject a number of invitations because they were wonky!
When your printer ink starts to run out the colors start to fade or change to a different shade entirely so I had to waste ink replacing cartridges that weren't even empty.
Each sheet of cardstock had two invitations on it. So I had to cut them in two, which meant investing in a paper trimmer since the scissors weren't cutting it… pardon the pun!
By the time I'd spent money on cardstock, new printer cartridges and a paper trimmer (with replacement blades) those print-at-home invitations weren't saving me that much money.
Not to mention the time I spent loading the cardstock, reprinting the wonky ones and cutting the darn things in two!
Bottom line: Printing your own wedding stationery might seem like a great idea, but it costs money to buy cardstock, ink and a paper cutter and it takes a lot of time and patience to print them properly!
The problem with DIY wedding stationery (sorry, Martha)
For many of us when we think about saving money our first thought is to "do it ourselves" right?
In fact many brides ask: "Is it cheaper to buy invitations or make them?"
You might think that crafting your own invitations is a good way to cut the cost.
This might make you think again…
I have a friend who decided she was going to save money by hand-making the 100 wedding invitations she needed for her guests.
She watched a ton of YouTube videos and had this vision in her head of how she was going to combine all of these ideas into these beautiful handmade invitations that everyone would drool over.
Here's what actually happened:
She spent a ton of cash at the craft store filling her cart with cardstock and stencils and fancy markers.
She spent two hours making two invitations only to end up with something that looked like her 4-year-old niece made it at preschool (her words not mine!)
She abandoned the plan to DIY her invites and listed her unused craft supplies on eBay to see if she could recoup some of the money she'd spent at the craft store!
Here's the problem with DIY wedding stationery:
The supplies are not cheap (and you always underestimate what you need and have to keep running back and forth to the craft store!)
Crafting something from scratch takes a lot of time (which let's face it as a bride planning a wedding on a budget is not something you have a lot of!)
Creating the same thing over and over again can get monotonous (and you can't binge watch Netflix while you're doing it in case you get distracted and make a mistake!)
Even if you manage to go the distance and create all of the invitations you need they then cost more to mail because all the embellishments make the envelopes lumpy!
Bottom line: Unless you are Martha Stweart, crafting your own wedding stationery is a costly project that might well end in tears!
How the smart brides on a budget save money on wedding stationery
I knew there had to be a better way for brides to have beautiful wedding stationery without having to learn new skills or spend lots of their precious time trying to do it themselves.
And if you're not crafty, then you're out of luck trying to DIY your wedding invites.
What if there was a place where budget-conscious brides like you could get wedding stationery:
… in beautiful contemporary designs,
… that's professionally printed,
… and won't break the bank?
Is hiring a bespoke stationery designer the answer?
Nope.
Bespoke stationery designers charge extra for designing a suite that's unique to you as a couple.
That extra charge is on top of:
the cost of the fancy handmade paper,
the letterpress printing or engraving,
the envelope stuffing,
the hand lettered addresses,
and the custom wax seal to seal the envelopes with.
Can you see where that $8,000 figure comes from now?
Bottom Line: Custom-designed wedding suites are beautiful and if you have the money go for it! For brides on a budget, the cost of a custom suite could mean cutting your guest list in half so you can afford to buy them.
How smart brides save money on wedding stationery
I'll keep this simple: Templates.
If custom-designed wedding stationery is the same as having a bridal gown designed and made from scratch then template wedding stationery is the same as choosing a ready-made one from a store which is then altered to fit you.
Here's why templates are the key to saving money on wedding invitations and other stationery needs.
You don't have to pay a designer,
they're digitally printed which is less labor intensive and therefore cheaper than letterpress,
by DIYing some of it yourself (filling in a form online, easy!) you save tons of money!
At Remember When Designs we help you save money on wedding stationery by offering you contemporary designs at affordable prices.
All of our wedding suites are designed with easy to edit text templates.
So all you need to do is:
pick out a design you like,
fill out a simple form with the details of your wedding,
sit back and relax while your stationery is professionally printed and shipped directly to your door!
Keep reading to find out how you can take the power of template wedding stationery next level to SAVE BIG!!
Clever tips for saving money on wedding stationery that you've probably never heard before
We've pulled together a list of 21 clever tips and hacks that will show you how you can save money on wedding stationery without it looking cheap or tacky.
1. Use digital printing
Letterpress invitations are super popular right now. My Instagram feed is full of them. But while they look beautiful they are very labor-intensive to make and that means they cost $$.
The same goes for engraved and hand-lettered invitations.
Anything that takes a talented designer a long time to make by hand is going to take a chunk out of your budget.
And that's why smart, budget-savvy brides opt for digital printing.
Digitally printed invitations are:
far more affordable,
they don't take as long to make,
and you have more color and pattern options to choose from.
Our wedding suites are all digitally printed by Zazzle giving you affordable modern designs without the headache of having to print them yourself!
2. Skip the bells and whistles
Foil detailing and bevel cut edges might look attractive but they all add to the price of the wedding invitations.
Don't forget that your invitations are not the star of the show here… you are!
You can save a lot of money on your wedding stationery by keeping things simple.
3. Think about the paper type
You can save money by choosing cardstock over handmade paper, vellum or parchment.
At Remember When Designs we use two different cardstock weights to help you save money on your wedding stationery.
Our affordable range uses 120lb matte cardstock and our budget range uses a slightly lighter 110lb semi-gloss cardstock.
To put that into perspective:
a custom-designed wedding invitation on handmade paper might cost around $4-5,
one of our affordable 120lb cardstock invites costs around $2
one of our budget 110lb cardsctock invites costs around 60 cents.
If you need 100 invitations for your wedding you're looking at a saving of $440!
4. Swap the wax seal
…for a sticker.
If you want to seal your envelopes go for a personalized sticker over a wax seal.
Wax seals may seem like a nice idea but they are expensive to buy and they get damaged in the mail.
Designers actually suggest that you protect your wax seal by putting the sealed envelope inside an outer envelope before you mail it!
Yikes!
So now you need to double your envelope budget…
And you'll have to pay more to have your envelopes hand-canceled because the postal service machinery doesn't like mail with lumps and bumps!
5. Skip the envelope liners
It's a nice idea to have a pop of color or even a coordinating pattern inside your envelopes, but those liners cost money.
And how many of your guests are really interested in the envelope?
The days of ladies sitting at vintage desks daintily opening their mail with a silver letter opener are long gone.
These days the envelope gets torn open and tossed in the recycling before the contents are looked at!
If you have your heart set on that pop of color head you can buy colored envelopes (like these) online and have them delivered in a few days!
6. Or skip the envelopes!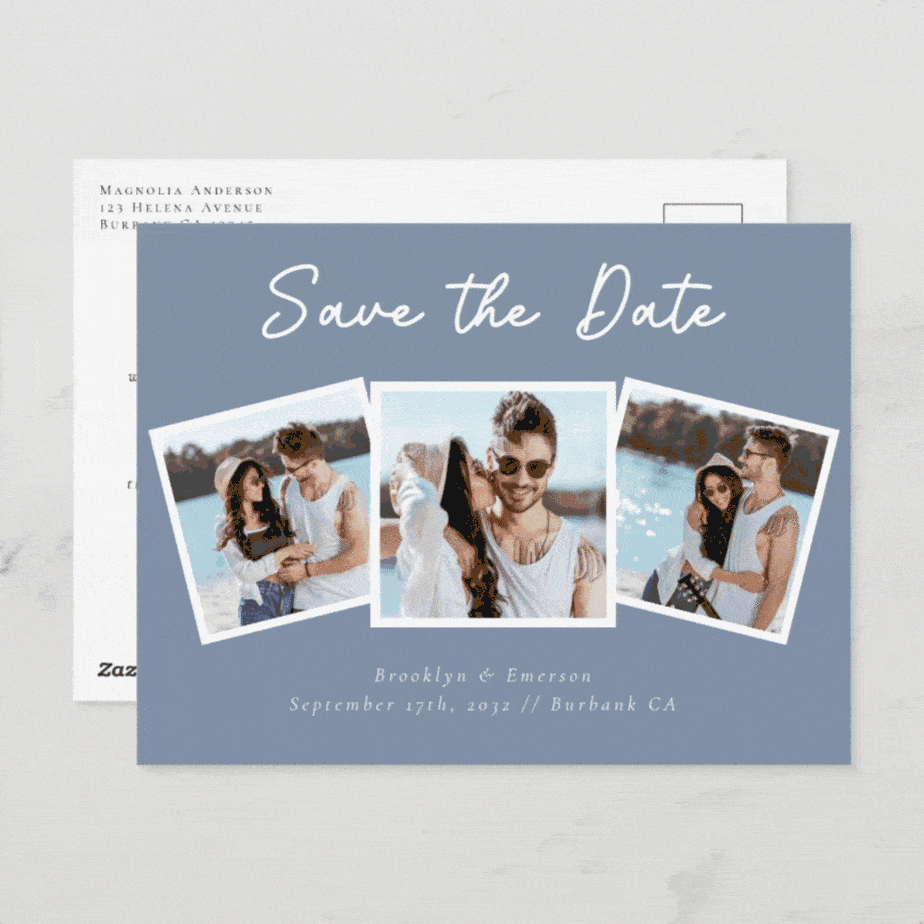 One way smart budget-savvy brides save money on their wedding stationery is to skip the envelopes altogether.
If you think that postcards are only sent by people on vacation you'd be mistaken.
The great thing about postcards is not only can you send them without an envelope (saving you money) but they cost less to mail than their envelope counterparts!
You can save money by sending a postcard for your:
7. DIY your invitations
We're not saying channel your inner Martha! When we say DIY your own invitations we're talking about stuffing and addressing the envelopes.
Once all your wedding stationery has been delivered invite your bridesmaids over, find a romantic comedy on Netflix, test out some wedding wine, and start a production line!
8. Use QR codes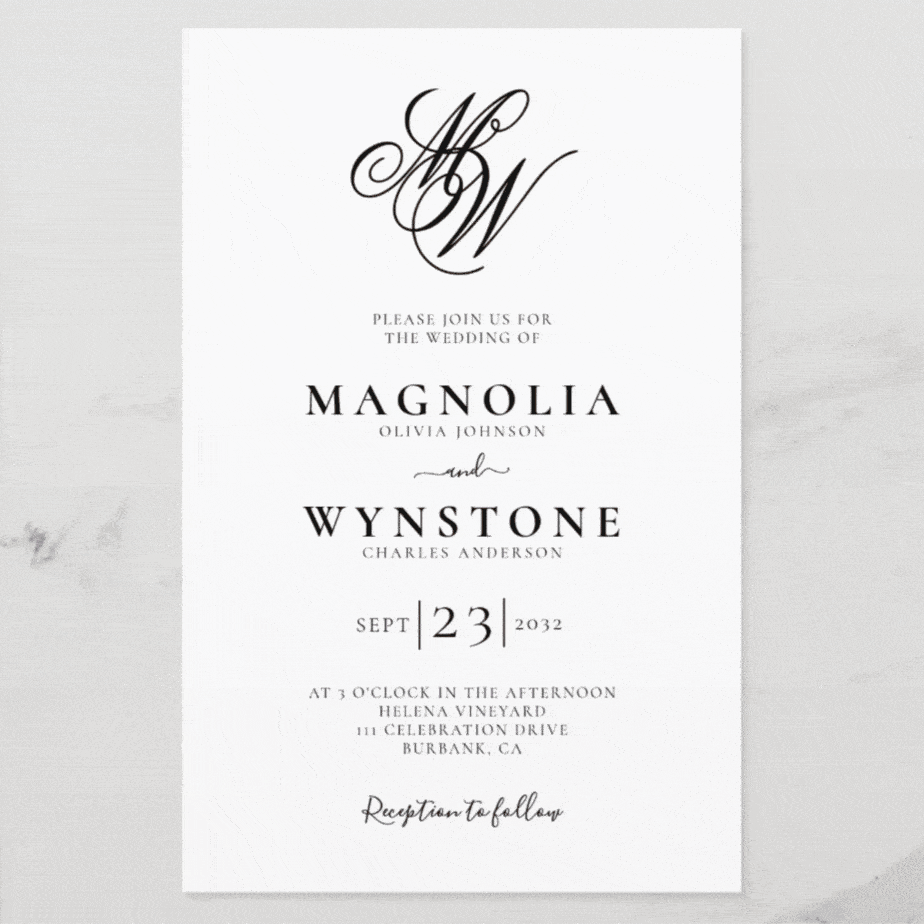 Traditionally wedding invitation suites were made up of:
the main invitation,
the RSVP response card and
several insert cards to give guests the information they needed about the Big Day.
The cost of these separate insert cards soon adds up.
An easy way to cut the costs of your wedding stationery is to skip them altogether and put the information on your wedding website.
Next you create a QR code that guests can scan with their smartphone to access your website, and upload that code to one of our invitation templates.
Now you can save money by not having to buy all of these insert cards (or stamps so guests can mail you back their paper RSVP cards #doublewin)
RSVP Response Card
Reception Card
Pre and Post Wedding Events Details Card (Welcome Drinks – Farewell Brunch)
Accommodations Card
Directions Card
Attire // Dress Code Card
Registry or Wishing Well Card
9. Create a custom domain
The one downside to using QR codes is that some of your guests might not have any idea what to do with it.
This is why it's a good idea to also include a link to your wedding website on the invitation.
You could use the free address that comes with your wedding website service. It might look something like this:
www.wedsites.com/us/magnoliaandwynstone-2022 (totally made up!)
Let's face it that's long, difficult for guests to type in and looks kinda ugly!
Or you could buy your own custom domain to use because:
they can cost less than 20 bucks to buy,
they're easy to type in,
and they look cute!
Now you can use a domain like www.magnolialoveswynstone.com, or www.lilyandjack.wedding instead!
10. Use a coupon
We all know that one of the best ways to save money on anything is to use a coupon.
And the great news is that Zazzle LOVES special offers and promotions.
The best way to find out when there's a coupon code ready for you to use is to get on my email list:
I'll inbox you when there's a coupon you can use for your wedding stationery so
you don't have to subscribe to their official list and get adverts for things you don't need right now!
11. Don't order too many invitations
A common mistake brides make is to order the same number of invitations as they have guests.
But not every guest needs their own invitation.
Instead, you need to order one per couple or family group (if they all live at the same address).
As you're writing out your guest list be sure to group couples and families together so you can count up how many invitations you actually need to order!
12. Order extra invitations
I know it looks like I'm contradicting myself here!
Once you know how many invitations you need based on couples or families on your guest list add one a handful more.
You never know when:
an invitation might go astray in the mail and you need to send another, or
when your mom might bump into your second cousin twice removed at the hair salon and tell her she just has to come to the wedding!
Another reason to order extra is that Zazzle has tiered discounts for bulk purchases.
For example, because a tier discount kicks in at 75 invitations it only costs 60 cents more to order 75 invitations instead of the 70 you needed to order.
When you place your order check the discount tiers as you might be able to save money by ordering extra, or at the very least save money (per invitation) on the extra handful you might need.
13. Simplify your On the Day stationery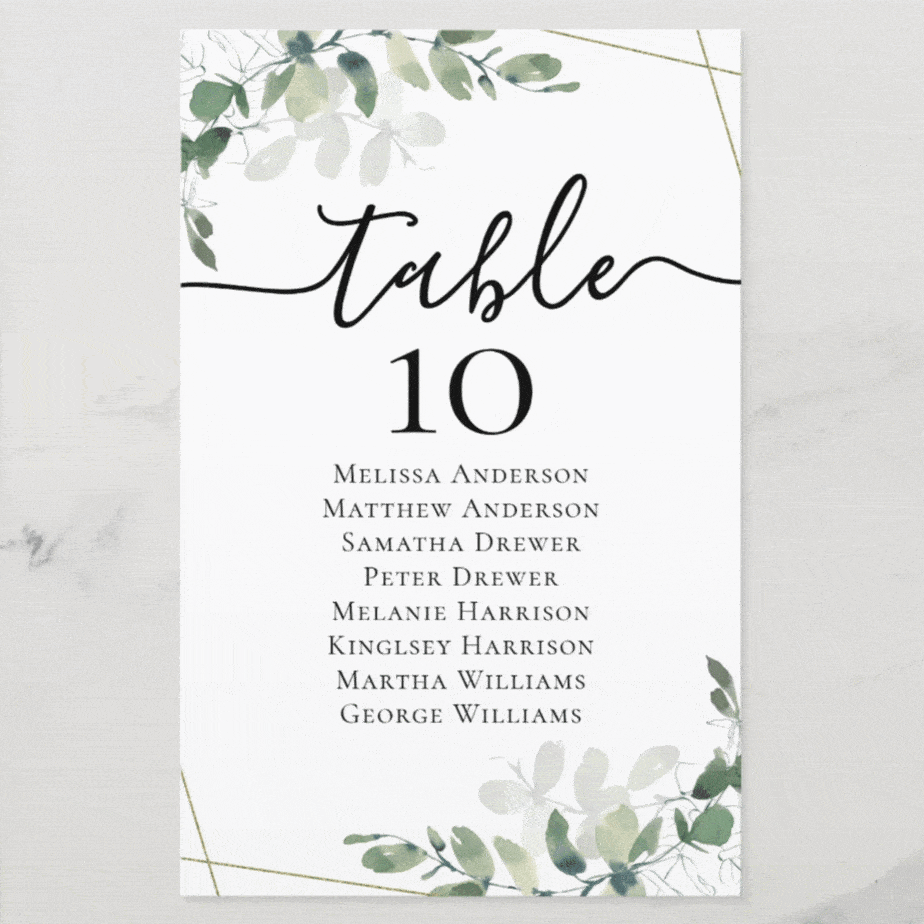 We talked about simplifying your wedding invitation suite to save money, and you can also simplify your On the Day stationery too.
Rather than paying for individual place cards for each guest, you could put their names on the table number card (and let them choose their own seat around the table).
You could even go one step further and skip the individual menu cards by putting the menu information on the back of the table number card (like this)!
14. Skip the magnets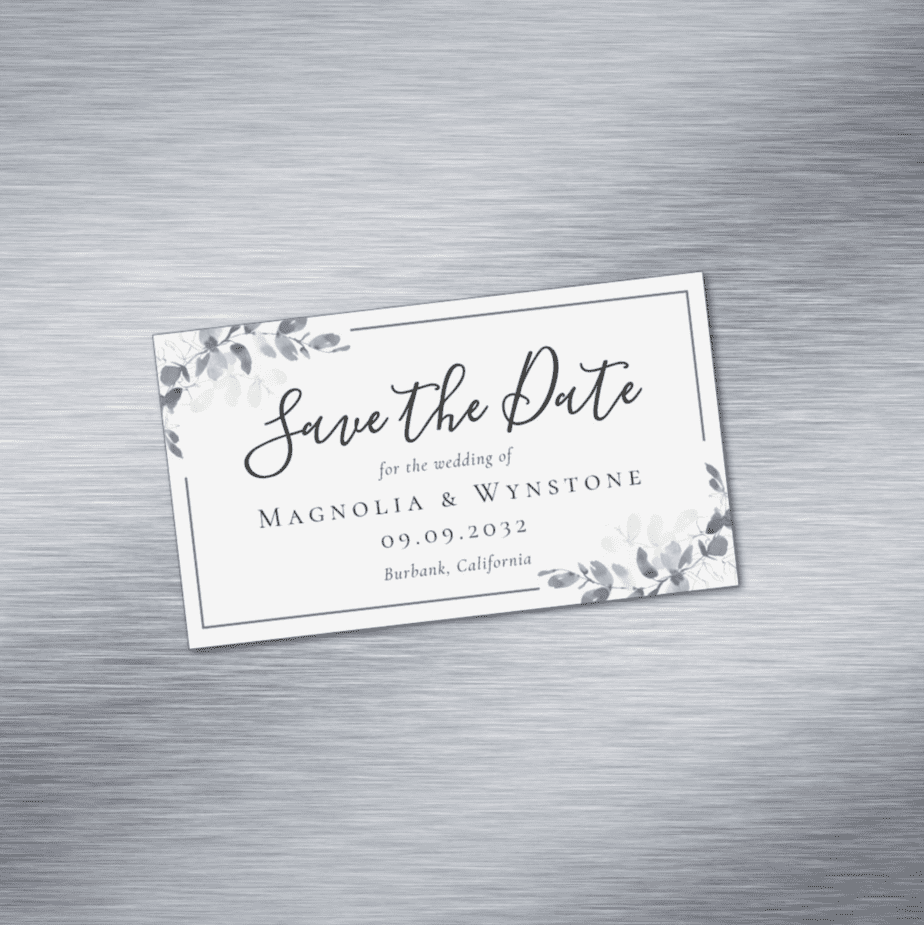 Here's a tip for saving money on your Save the Dates.
It's become quite popular for brides to send out magnetic cards because they can be stuck directly to the fridge as a constant reminder of the wedding date.
The problem with magnets is:
They're more expensive to buy than cards or postcards
They cost more to mail
And everyone throws them away after the wedding!
You can save money on your Save the Dates by sending out postcards but if you have your heart set on magnets choose one of our business card-sized save the date magnets that cost around $11 for 25, instead of the regular magnets which cost $5 each!
15. Watch the weight
If you're wondering why magnetic cards cost more to mail it's because they're heavier than regular cards.
And the postal service charges by weight as well as size.
This is another reason to keep things simple by skipping those insert cards and directing guests to your wedding website instead.
The same goes for ribbons and bows or any other embellishment that can make your envelope lumpy because hand-canceling also costs extra.
16. Don't be square
While we're talking about extra mailing costs I was surprised to discover that the US Postal Service also charges more for you to mail a square envelope.
This is kinda sad, but if you're on a budget and you need to save money on wedding stationery avoid those square invitations and stick to rectangle ones to keep your mailing costs down!
17. Triple check the details
One cost that brides often incur is reprint costs for the invitations and other stationery when they realize that they misspelled something, or left some important information off the invitation.
Our template-based stationery helps you cut down on mistakes thanks to our easy-to-fill-in form and sample text to guide you through the process.
So you don't have to worry about forgetting to add the time or the location of the ceremony!
It is still possible to misspell things though (including on occasion the groom's name…)
When you place an order with Zazzle it goes directly from your computer or mobile device to the printers. There is no one checking or proofreading anything for you.
So it is very important that you double and then triple-check all of your spellings and be sure the information is 100% accurate before you hit the order button!
18. Be prepared
Another way to save money on wedding stationery is to order as much of it together as you can.
This means you can take advantage of coupon codes and have lower shipping costs.
For example when ordering On the Day Stationery be prepared to order your table cards, wedding signage and guest books all at the same time, rather than in separate orders.
If you're not sure what wedding stationery you need then be sure to join our Smart Brides on a Budget VIP Newsletter so we can send you our handy Wedding Stationery Checklist!
19. Use a single company
Using a single company to print your entire wedding stationery suite can also help:
cut down on shipping costs
create a cohesive feel to your Big Day with coordinating stationery elements
make sure you don't end up with two sets of menu cards becasue you accidentally ordered them twice!
At Remember When Designs our suites include everything from Save the Dates and Bridal Party Proposal cards through to Wedding Invitation Suites, On the Day Stationery and Thank You cards.
We make it easy for you to order everything you need all in one place.
20. Consider the practicalities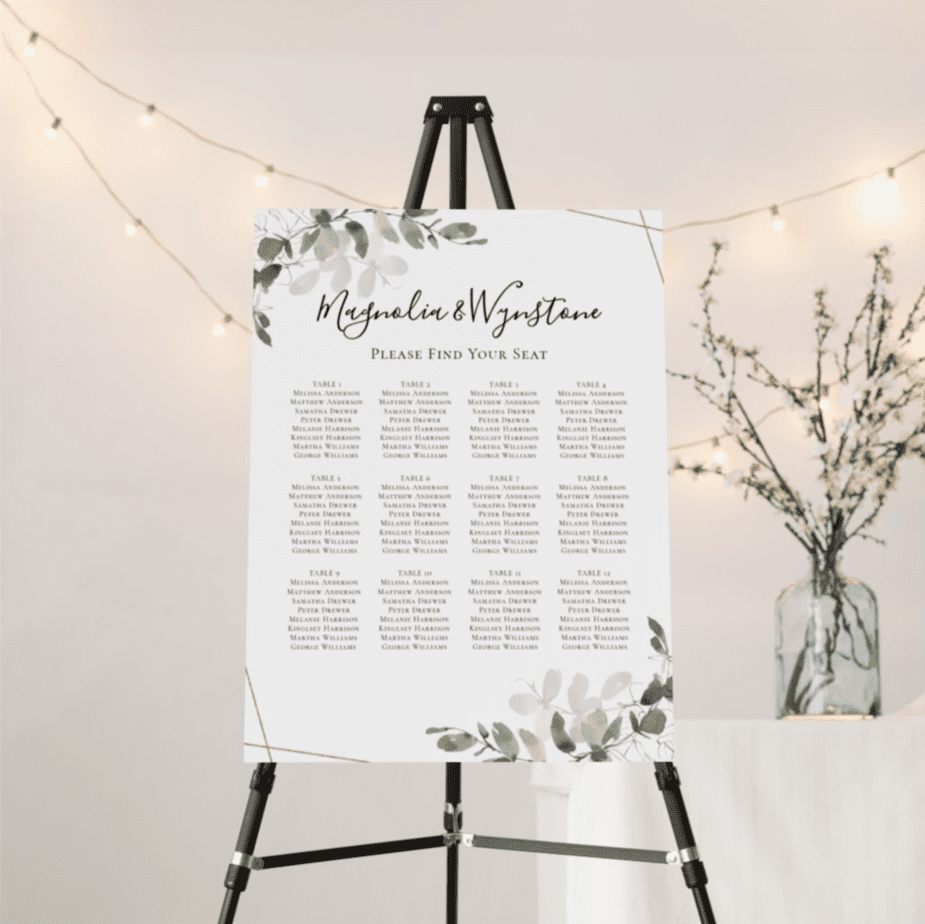 Sometimes when we're trying to get the best deal on something we forget to look at the big picture.
For example when you're choosing your wedding signage ask the venue whether they have frames or easels that you can use, and what size the paper needs to be.
It also helps to know whether you're allowed to attach anything to the walls.
This will help you decide whether you want paper signs, vinyl banners or even foam-backed boards.
Paper signs are the cheapest to buy, but if you have no way to display them without incurring extra costs for frames you might save money overall by buying vinyl or foam-backed signs.
21. Bring your own wine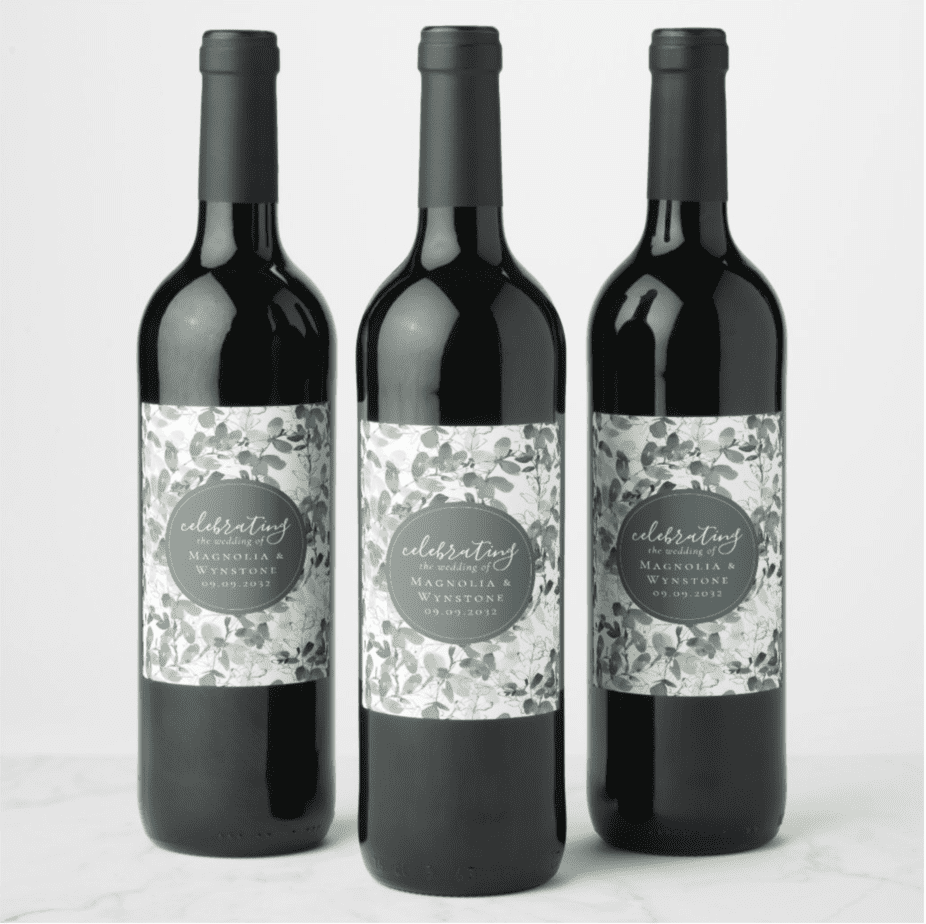 I know you're probably wondering what the heck bringing your own wine has to do with saving money on wedding stationery.
Instead of spending 40 bucks a bottle for wine provided by the venue look for one with no corkage and bring your own wine.
You can save money by ordering from a company like Wine on Sale and then use our custom wine and beer labels so that guests are none the wiser (they'll probably prefer your budget choice anyway!)
Stop by and browse our wedding collections!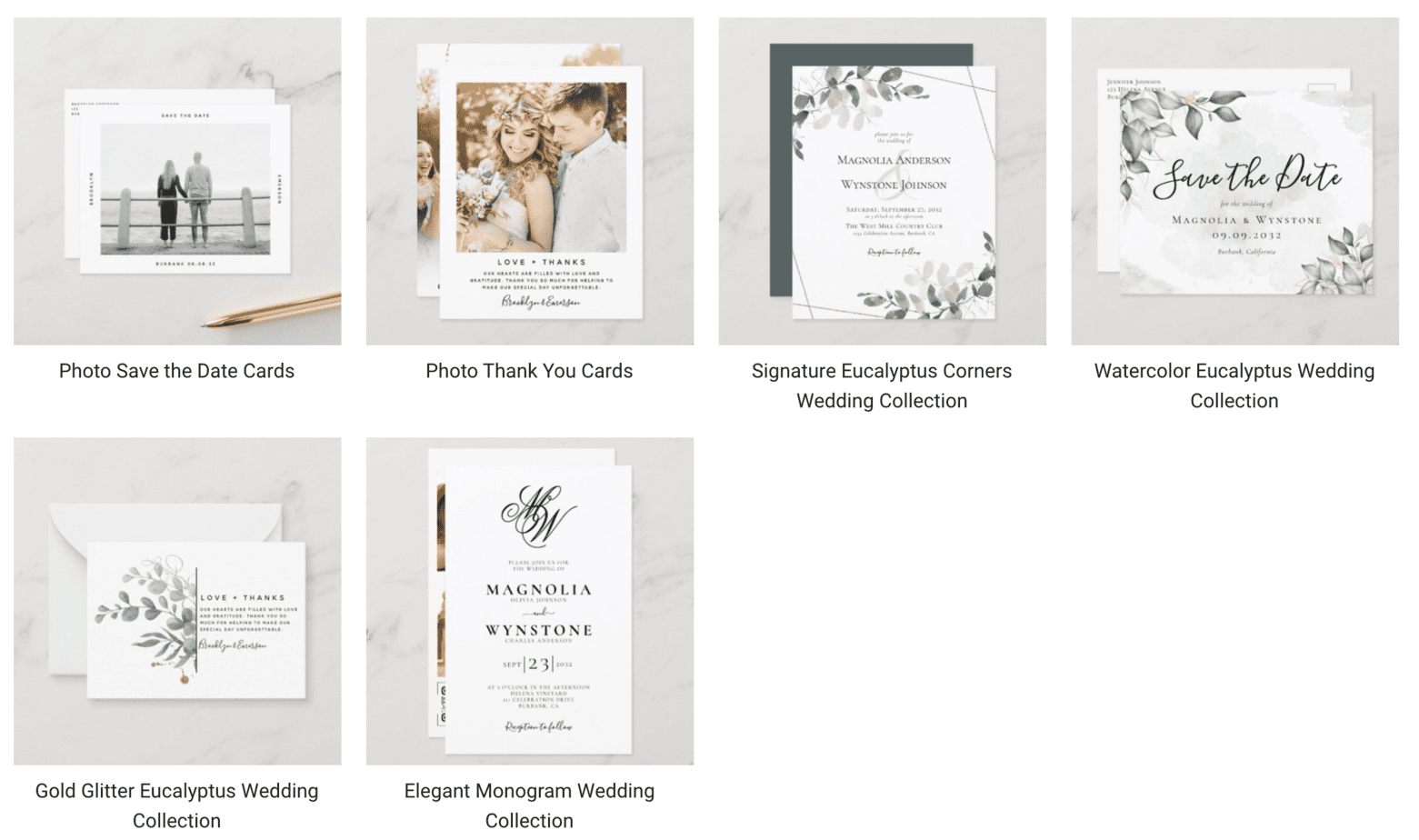 Now you know why templates are the key to saving BIG on your wedding stationery stop by our store and browse our contemporary wedding stationery suites.