This post may contain affiliate links, which means I may receive a commission if you click on a link and purchase something. As an Etsy and Zazzle Affiliate I earn commissions from qualifying purchases.
If you find yourself colouring in your kid's books long after they've lost interest and gone to play with something else then keep reading because this is going to be right up your alley. Today's collection is all about Adult Coloring Books – Free printable pages to be exact!
If you want to try out some adult coloring pages before you go and treat yourself to a whole books this collection is just perfect for you. Just print them out, grab your favorite pens and start relaxing!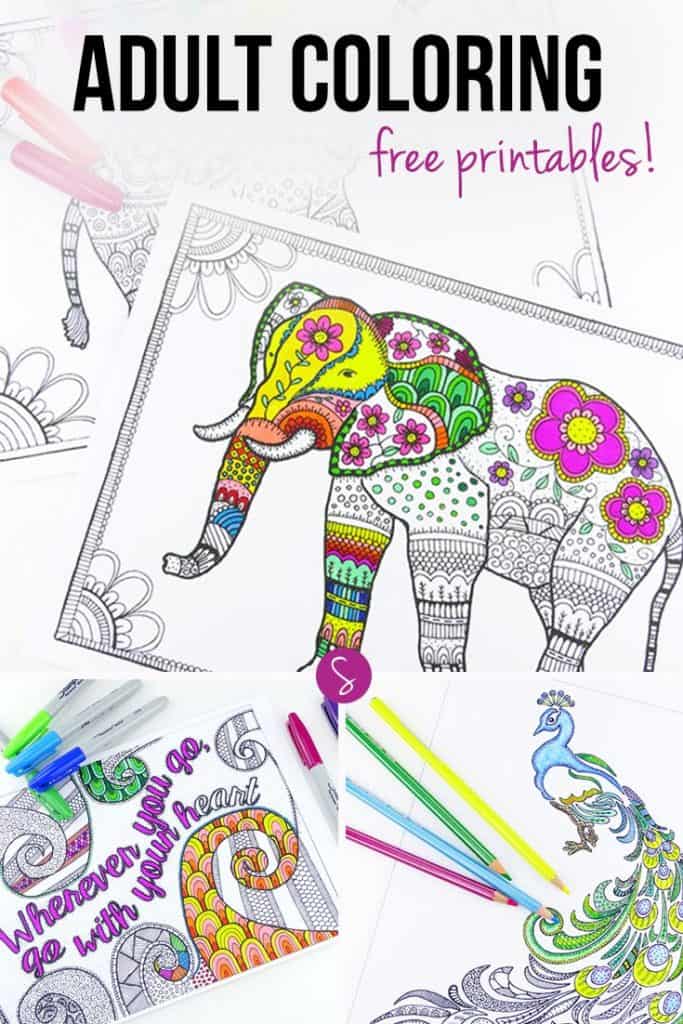 Adult Colouring Books – Free Printable Pages

Forget about farmyard animals or characters from popular animated movies, we've rounded up 28 free printable pages that have been designed specifically for adults to colour. So print out the ones that inspire you, grab your colouring pens and let your mind drift away…
1 Grown Up Colouring Books – A collection of colouring books and free printable pages to get you started.
2 Shoes – This is the perfect choice for a shoe lover, or a wannabe Cinderella.
3 Print Free Coloring Pages For Adults To Print – So many fabulous colouring pages available on this site. I really liked the look of this one by Thaneeya McArdle.
4 Contemplative Fairy Free Colouring Page – There are quite a few options to choose from here that are greta for mom and kid alike, but personally I like the contemplative fairy.
5 De-Stress with Free Colour Therapy for You and Your Family – If you decide to give this gorgeous fairy garden a whirl be sure to send your final picture in to Cherie so she can feature it on her blog!
6 Own Colouring – "When you get bored of colouring mandelas or flowers check out these options, perfect for teenage girls too."
7 Free Elephant Coloring Pages for Adults – "Print these freebies, grab your coloring pens (or borrow them from your kids), set yourself comfortably, turn on some music and color away! Don't plan the colors in advance, pick them as you go – your mind will pick just the right color for your current mood."
8 Free Coloring Page for Adults – "Sometimes a good quote and vivid colors are all you need to keep your mind at ease!"
9 3 Flower Swirl Coloring Pages for Adults – "Why should kids have all the fun when coloring is such a stress reliever! Grab these free printable flower swirl coloring pages for adults color away! Naturally these are fun for kids too!"
10 Peacock Coloring Page for Adults – "I think peacocks are just beautiful, their vivid colors really are a sight."
---
---
11 Butterfly Coloring Pages for Adults – "Butterflies are pretty sweet as they allow for a whole array of colors – you can also go for a more monochrome approach and play with shades (I need to get a bigger set of coloring pens for that but it's on to buy list for sure)."
12 Dreamscapes – "Abstract and elegant."
13 Ornate Owl – Adult Coloring Page – "A gorgeous ornate owl who would make a fabulous gift for an owl lover."
14 Steampunk Designs – "For a colouring page with a difference."
15 Difficult Coloring Pages – "Beautifully intricate."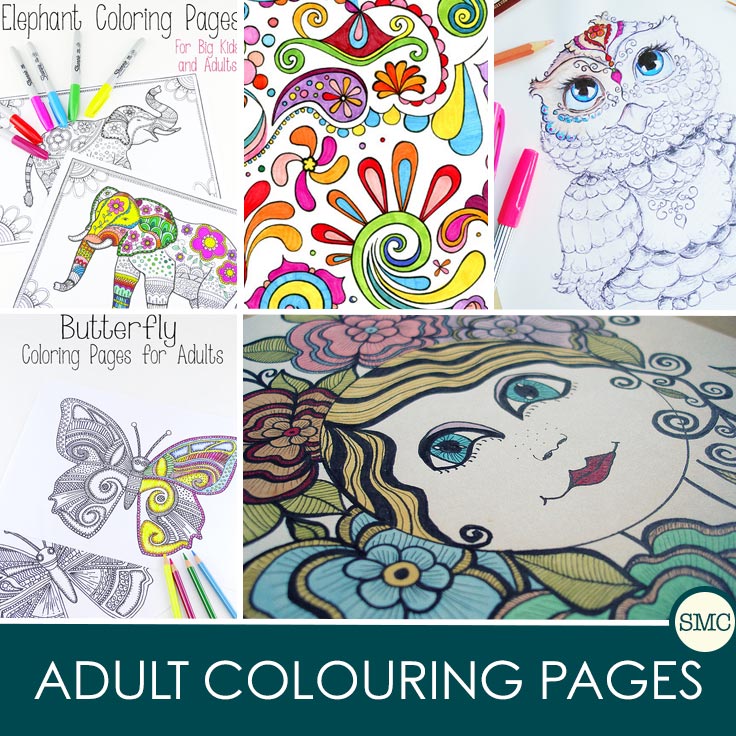 16 The Lorax-Inspired Earth Day Coloring Page - "Especially for fans of the Lorax." 17 Hattifant's GIANT Mandala Flower Doodle Coloring In Poster - "Don't colour by yourself, this piece is big enough to get the whole family involved!" 18 Mother's Day Free Coloring Page - "Because nothing beats time spent colouring with your mum." 19 Garden Party Owl to Colour - "A gorgeous owl at a garden party."
---
---
20
If You Can Be Anything Be Kind
- A beautiful quote page to colour and then display, in a frame perhaps. 21
Color Me Inspired: Vol. 1 | A Hand-Lettered & Illustrated Inspirational Adult Coloring eBook | Dawn Nicole
- "A whole book full of gorgeous illustrations to colour, over and over again." 22
Free Printable Owl Coloring Page
-"Owls have always been somewhat mysterious. When I observe them, they bring peace to my heart." 23
Star Mandala to Color
- "A beautiful starry celestial 70s inspired mandala to colour." 24
Everything Will Be Okay
- "Wouldn't this make a wonderful holiday gift? Colored by you, placed in a frame... art for a loved one... or five loved ones! I should warn you though, you'll want to pull out your pencil sharpener and tune up your colored pencils - I am rather fond of tiny, intricate designs." 25
Free Abstract Coloring Page to Print: Detailed, Psychedelic Abstract Art to Color
- "Colouring abstract art is a meditative and liberating process." 26
Adult Coloring Pages: Printable Coloring Pages for Adults and Artists
- "Think outside the page. Decorate bags, flags, tee shirts, denim jackets, jeans or your deck chairs using one of these cool adult colouring page patterns. Make a wall hanging or a pillow, design a very special greeting card or project your favourite design on a wall and decorate an entire room." 27
Printable Design Coloring Pages for Adults
- "Enjoy these original adult and teen colouring pages with topics ranging from art sketches to kaleidoscopes and mandalas, geometric and abstract design patterns, interesting subway poster style word art and whimsical holiday posters to colour." 28
Free Printable Coloring Pages of Flowers
- "For centuries, people all around the world have been trying to capture the allure of flowers with their words and images. From poets to writers and painters to photographers, we all at some time are obsessed with how terrific they truly are. flowers bring a sense of calm in our hearts, so colouring them in is a wonderful way to relax." 29
Floral Designs
- There are some beautiful floral options available here.
Adult Colouring Books - That Make GREAT Gift Ideas!
So many creative souls are sharing their illustrations online for your colouring pleasure, but we shouldn't forget that there are whole books available too. After all free printable pages are great for personal use, but they don't really work well as a gift! Here are some of the most popular coloring books available today: 1
Enchanted Forest: An Inky Quest & Coloring Book
- When is a colouring book not a colouring book? When it's also a quest that takes you through an enchanted forest to discover what secrets lie inside the castle. As you colour in each page you will also have to search for hidden objects and pass through intricate mazes! 2
Creative Coloring Inspirations: Art Activity Pages to Relax and Enjoy
- If you love to colour using marker pens or water colours you need to make sure your chosen colouring book has nice thick pages so that the colours don't seep through, so this one is the perfect choice. And it is full of inspirational quotes too which are a great way to stimulate your sub-conscious while you paint or colour. 3
Creative Haven Entangled Coloring Book
- If
coloured pencils
are your favourite medium then these beautiful illustrations are just what you need to relax and unwind, make sure you have a
pencil sharpener
handy though because some of the designs are pretty intricate! 4
Creative Haven NatureScapes Coloring Book
- If whimsy and mandelas don't inspire you why not try this NatureScapes book which is full of spectacular illustrations from seashells on sand through to peacocks in flowering magnolia trees. And the thing I love most about this book is that the illustrations are all printed on one side of the paper only, and the pages are perforated, so once you've finished colouring or painting you can easily remove your art work and display it for others to see.
Displaying Coloring Book Pages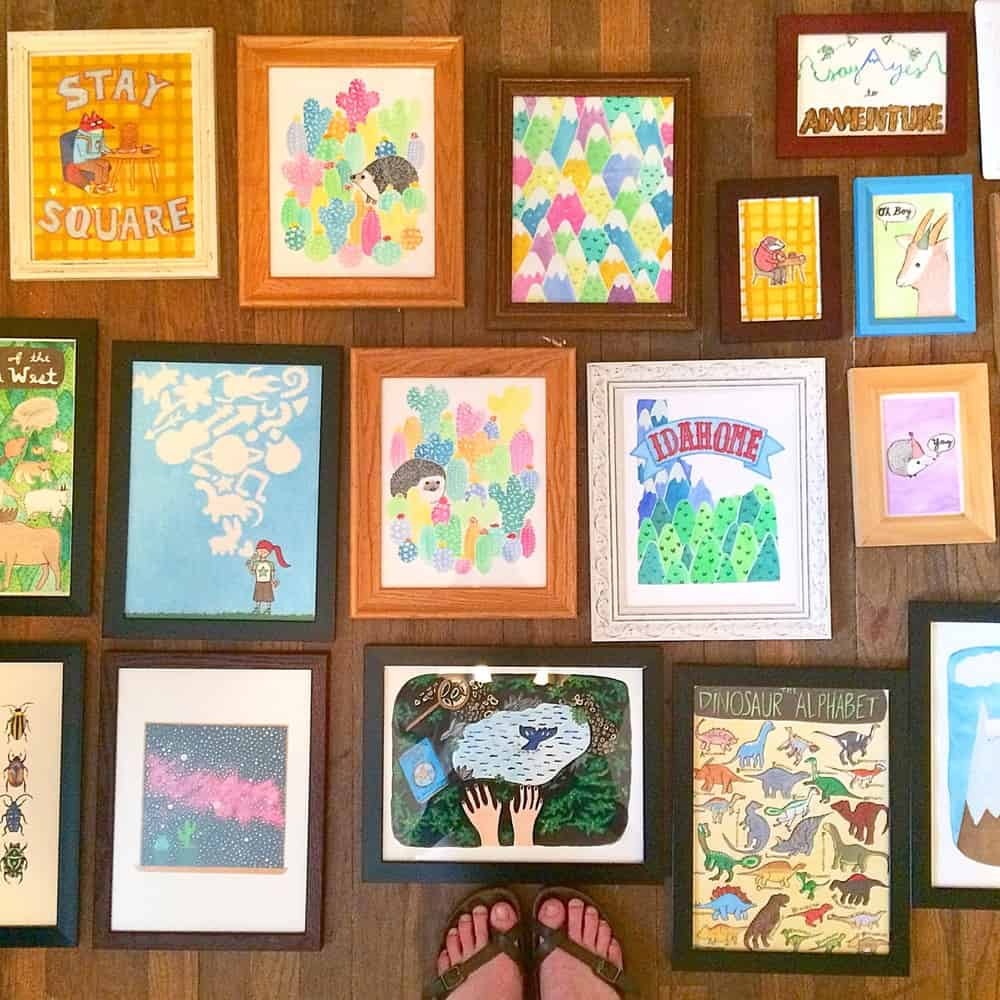 Image Credit: The Dapper Jackalope
Whether you're coloring in a free printable or a page from a book you're going to come across an image that you love so much you will want to display it for everyone to see.
Framing Coloring Book Pages
Your first option is framing your coloring book pages. It's so simple to do, all you need is a frame, a matt and something to mount it on the wall with. 1. Remove the page from the book as carefully as you can. 2. Place it behind the matt and then slip both into the
frame
. 3. Use a hook to hang the picture on the wall. See I told you it was easy!
Turning Your Coloring Book Pages into Wall Art
Another great way to display your artwork is to skip the frame and turn your picture into wall art instead. It's just as simple: 1. Purchase a
canvas panel
or board that is slightly smaller than your coloring page 2. Remove the page from the book carefully. 3. Spray the back of your page and the front of the board with
spray adhesive
. 4. Line up your page with the board and press it down firmly. 5. Use an
X-Acto knife
to cut away the excess paper. 6. Hang on the wall with pride.
---
---