If you love Altoids and you're never quite sure what to do with the empty tins try making one of these awesome playsets. They're perfect for road trips and restaurants!
This post may contain affiliate links, which means I may receive a commission if you click on a link and purchase something. As an Etsy and Amazon Associate I earn commissions from qualifying purchases.
When we were gathering up ideas for road trip games the other day we came across the most adorable playset that was made inside an Altoid tin, which inspired us to set out and find some more amazing Altoid tin toys for you to create for your children!
We've got everything from miniature kitchen playsets and a teeny dinosaur land to pet bugs and even a portable LEGO playset!
As always be sure to scroll all the way to the end so you don't miss any of the great ideas. And don't forget to pin your favourites as you go!
Altoid Tin Toys
28. Turn it into a miniature kitchen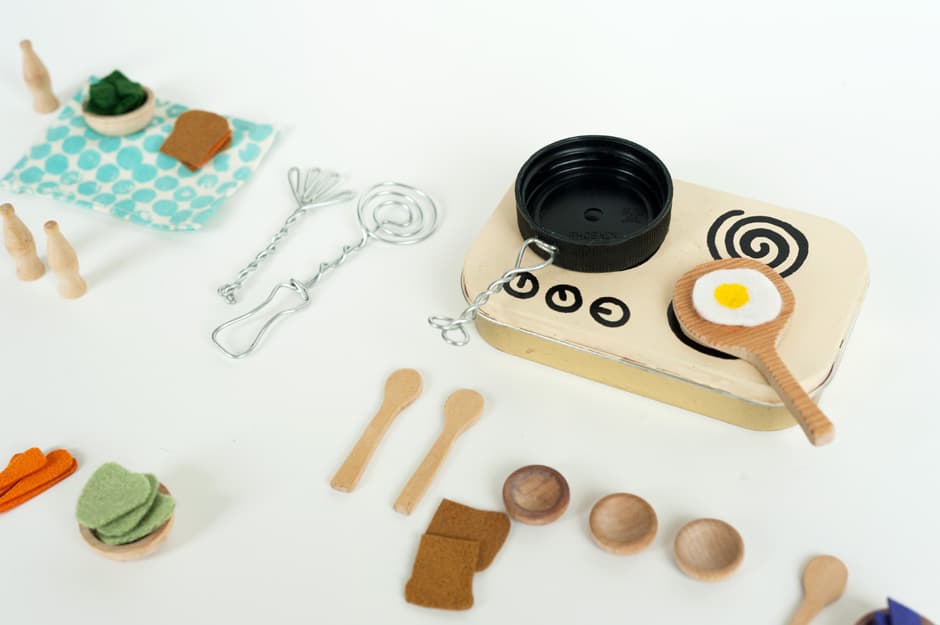 Found it here >> Made by Joel
If your little one loves their play kitchen then make them a teeny playset that they can take to granny's or to occupy them in a restaurant when you're out for dinner.
27. Make a dinosaur land playset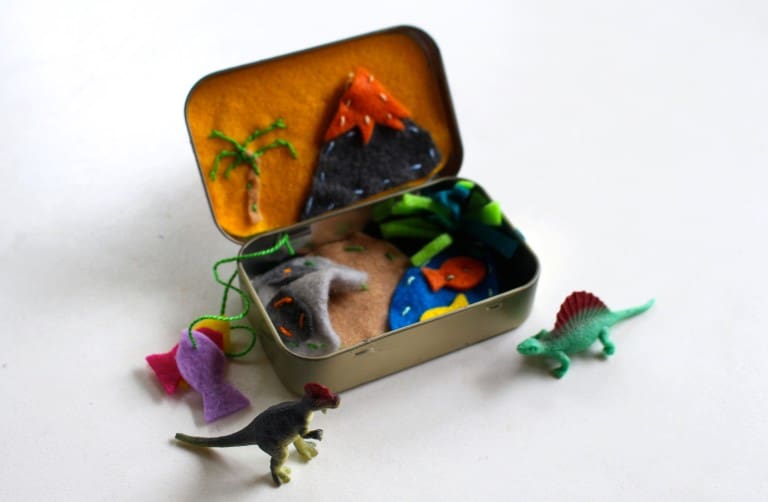 Found it here >> Liberated Mind
Your little dinosaur fan will LOVE this playset complete with volcano!
26. Make a mother's emergency kit
Found it here >> New Life New Purpose
This isn't a toy for your child, it's an emergency kit that you can fill with plasters and bandages, but be sure to include some teeny toys so that you can occupy your child while you fix up their bumps and scrapes.
25. Make a mouse and his teddy bear pal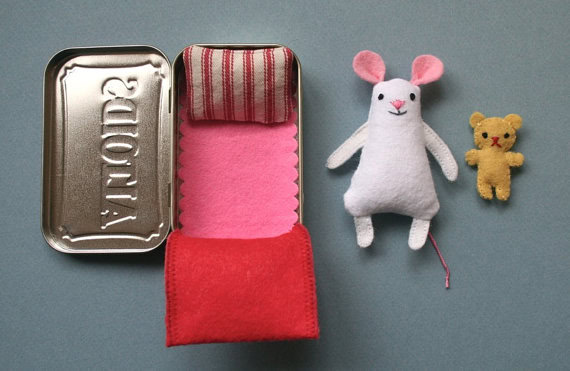 Found it here >> @mmmcrafts
This little guy has a teeny teddy bear and a comfy bed and is just perfect for travelling in a pocket or backpack.
24. Make a skating rink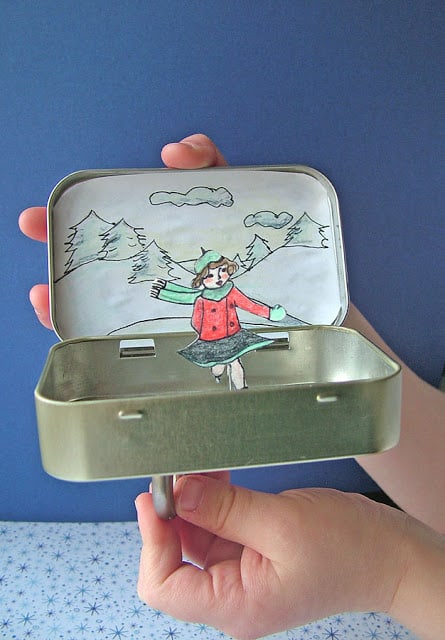 Found it here >> Small World Land
If you want to seriously impress your child make this ice skating girl who magically skates around on the ice!
23. Make a travelling companion
Found it here >> @mmmcrafts
If your child is anxious about travelling then make them a little friend who can live in a tin in their pocket.
22. Make a mini LEGO playset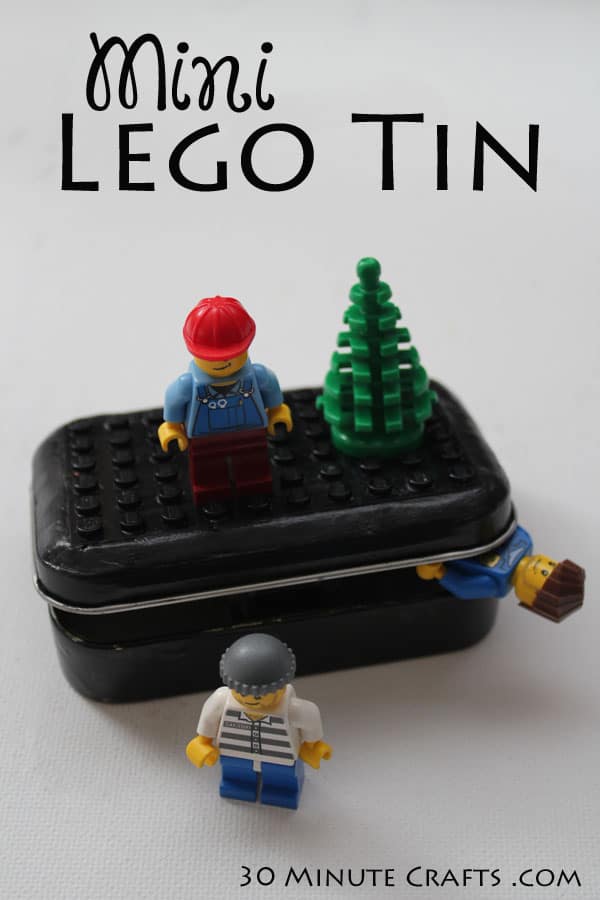 Found it here >> 30 Minute Crafts
If you're road tripping to Legoland then take a closer look at this playset which is a great way to keep your child occupied in the lines, or keep their minifigs safe for trading.
21. Fill it with a Beauty and the Beast playset
Found it here >> @kattymoon
If your little princess loves Beauty and the Beast then this tiny Altoid tin playset would make the perfect gift.
20. Make a travel baseball game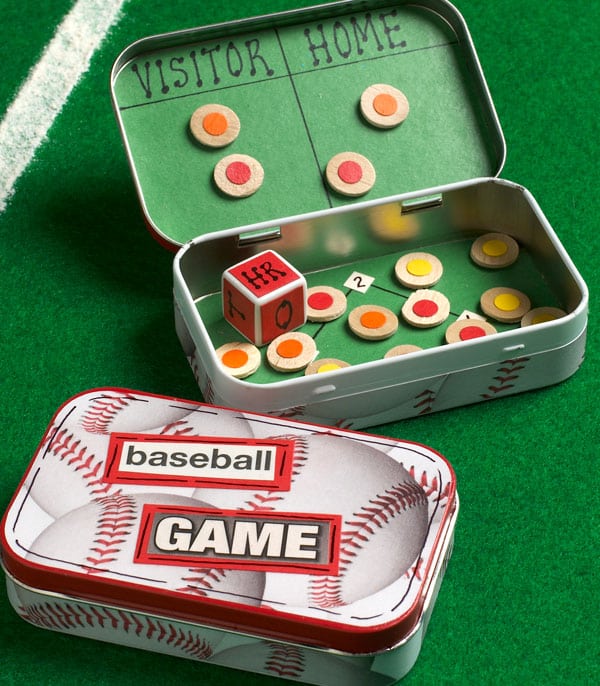 Found it here >> Plaid
Here's a great travel game for baseball fans. It's super simple to make too.
19. Fill it with farm animals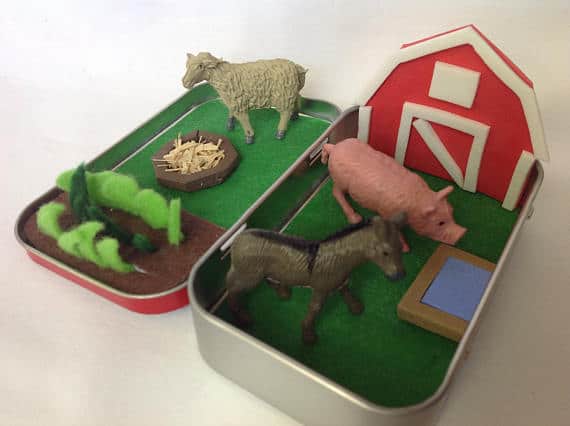 Found it here >> @kattymoon
Quiet toys are perfect for doctor's waiting rooms, church and restaurants as well as car journeys and if your child loves farms this little playset will keep them occupied.
18. Give a penguin a home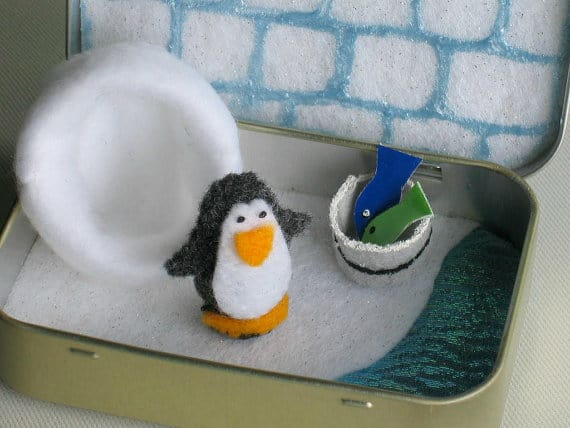 Found it here >> @wishwithme
If you are road tripping to see penguins then THIS adorable playset is a must for the car journey!
17. Make a soft bed for an adorable teddy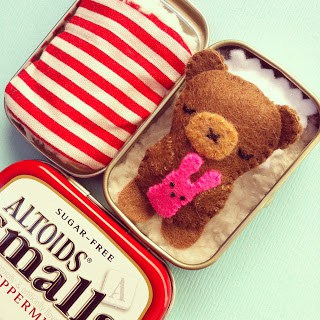 Found it here >> By Bido
Tiny tins call for tiny toys, and this teeny teddy is the most adorable thing cuddling that even teenier bunny!
16. Give a hamster a home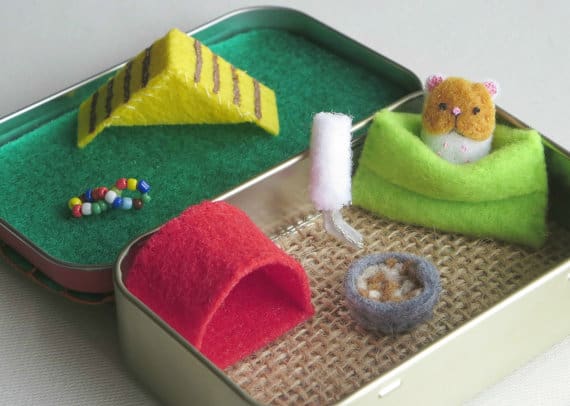 Found it here >> @wishewithme
Here's a wonderful idea for an altoid tin playset: make a home for a wee hamster, complete with water bottle and play ramp!
15. Make a travel checkers game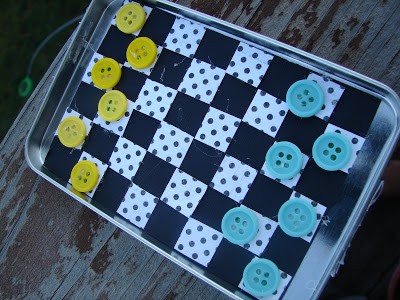 Found it here >> A Girl and a Glue Gun
Raid your button jar and make a travel checkers game inside your altoids tin.
You can easily get adhesive magnet sheets here.
14. Make a fabric scrap paper doll kit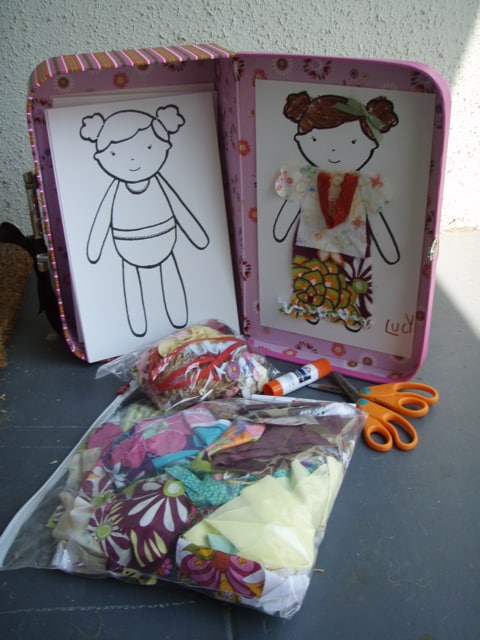 Found it here >> This Mama Makes Stuff
Here's a great way to use up all those fabric scraps you've been saving for a rainy day!
13. Create a bed for a princess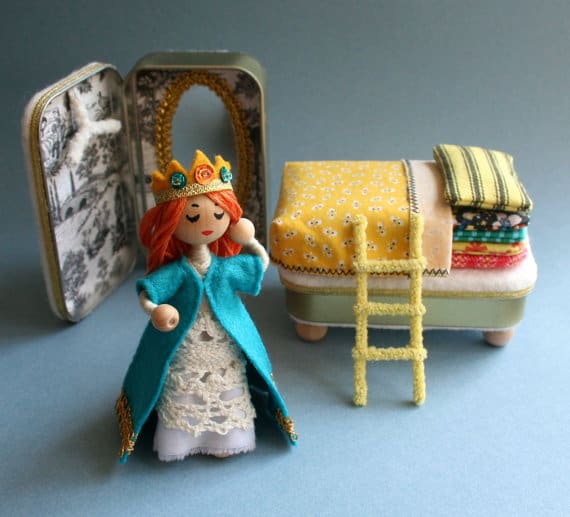 Found it here >> @mmmcrafts
If your daughter loves the Princess and the Pea story she is going to LOVE this little playset.
12. Make a magnetic paper dolls playset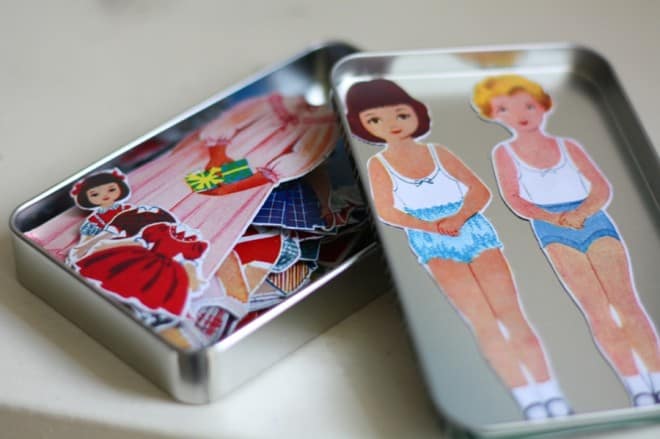 Found it here >> Kirtsy
Do you remember the Betsey McCall paper dolls from when you were a child? So much fun but super fiddly too. Magnetize them and you have a teeny travel game that will keep your child occupied for hours!
You can get adhesive magnet sheets here.
11. Make a theatre for the three little pigs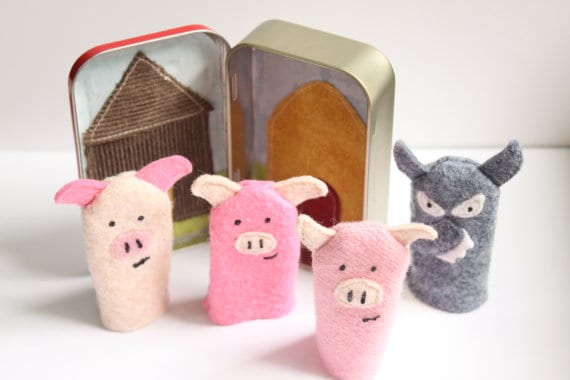 Found it here >> @artisaninthewoods
What a fun idea! Turn your altoids tin into a mini theatre and add some three little pig finger puppets to put on a show.
10. Turn it into a home for Squinkies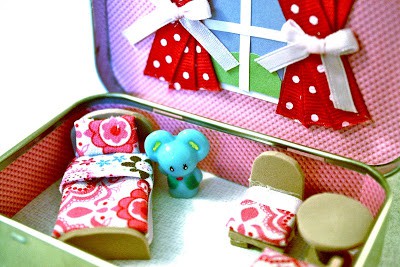 Found it here >> My Froggy Princess
How adorable is this teeny house complete with a comfy bed and a table to eat breakfast. What a wonderful view from the window too!
9. Make a house for a tiny mouse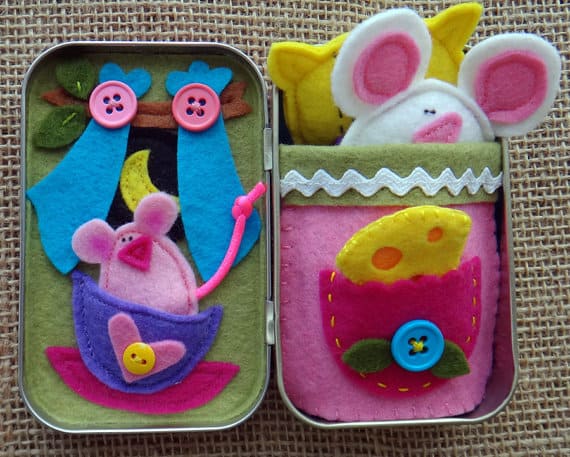 Found it here >> @LindyJDesign
This tiny mouse has a comfy bed and a piece of yummy cheese. It's the perfect playset to pop in a pocket for a trip to grandma's house.
8. Make a pocket sized magnetic fishing game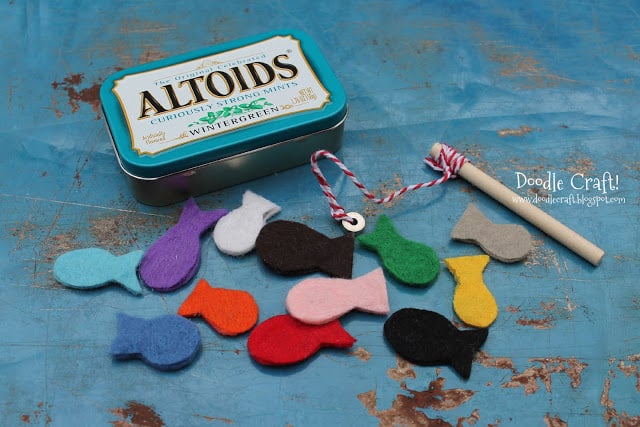 Found it here >> Doodle Craft
Cut out some cute little fish, add some magnets and a fishing rod and you've got yourself a travel sized fishing game. You can see who can catch the most fish, or have your little ones practice their colour recognition.
7. Make a comfy bed for a cat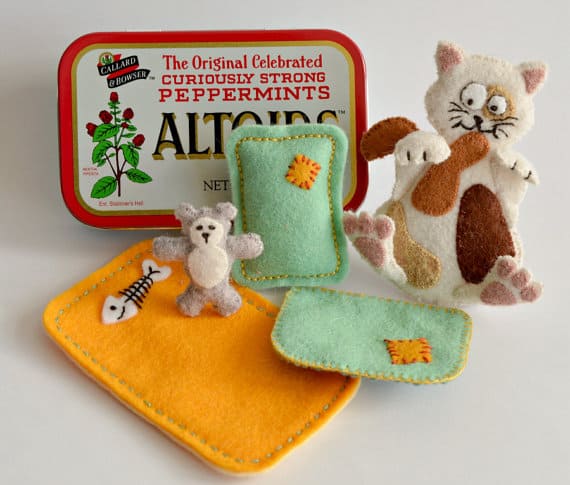 Found it here >> @CreaturesInStitches
Once upon a time there was a little cat called Tiggy who slept in a tin with a cosy blanket and a teddy… and then let your child decide what happens next.
6. Make a tiny portable peg family
Found it here >> Small World Land
Make a family of tiny dolls out of wooden pegs, and then add some scenery to make a teeny playset that's just perfect for road trips!
You can easily get wooden pegs here
5. Create a miniature pet hotel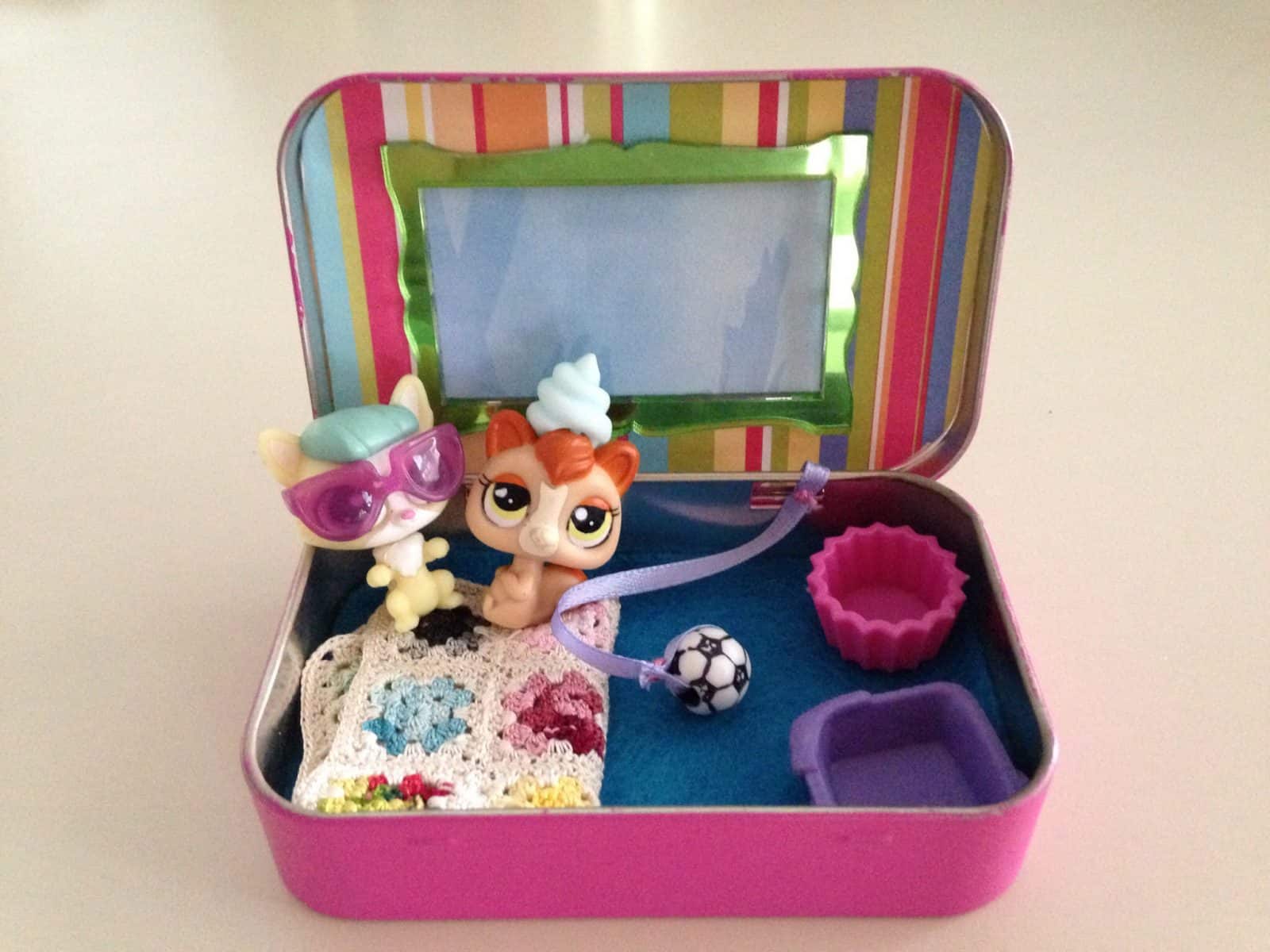 Found it here >> Pinterest
Decorate your mini pet hotel with funky wallpaper, a comfy blanket and a basket to sleep in and then invite your pets to stay.
You can get a set of miniature Palace Pets here
4. Turn it into a roadway playset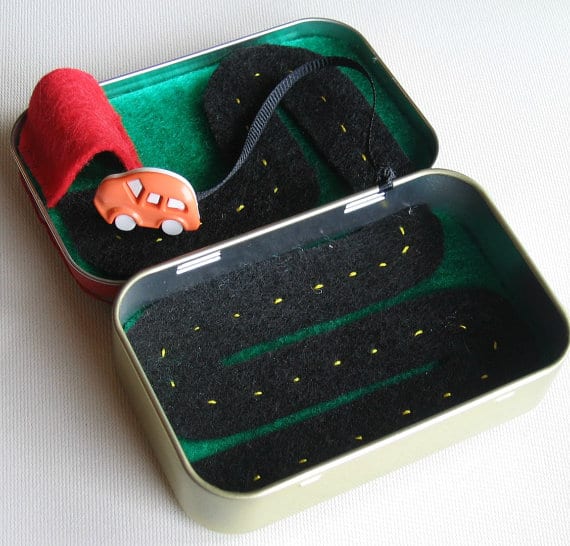 Found it here >> @wishwithme
Keep your little one entertained with a roadway playset, complete with button car and a little red garage to park in.
3. Fill it with pet bugs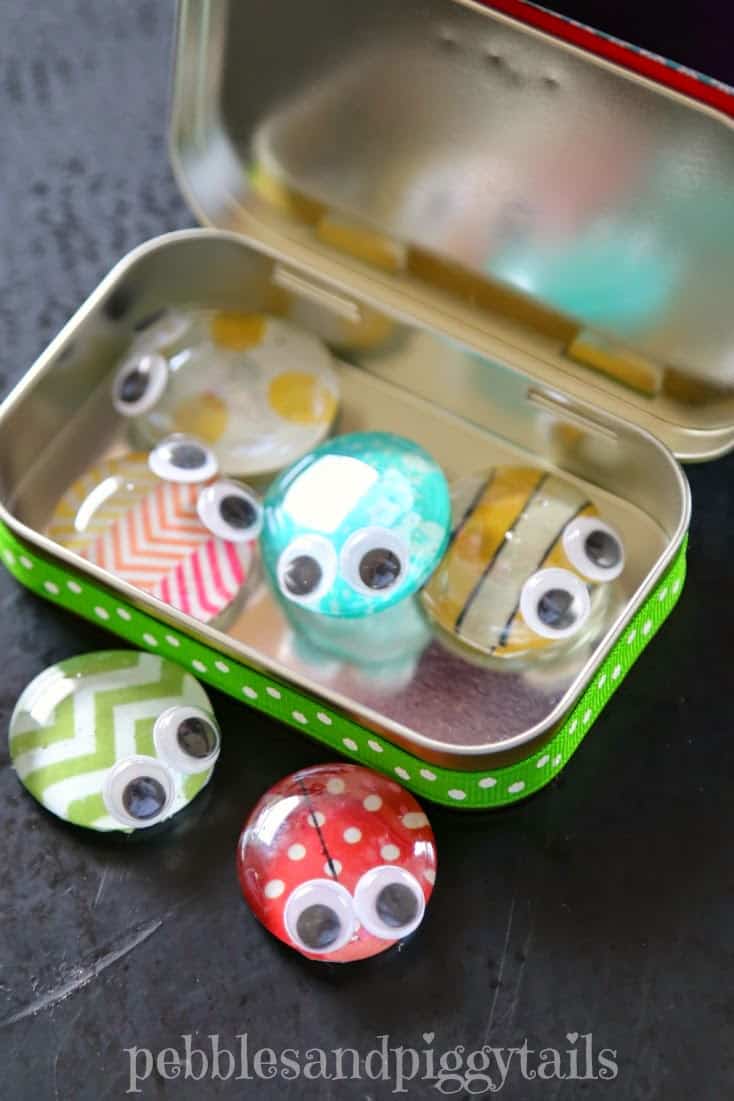 Found it here >> Making Life Blissful
Make some cute bugs using glass gems and paper scraps and then decorate your Altoids tin as a home for your bugs.
2. Make a Lily Pad Leap game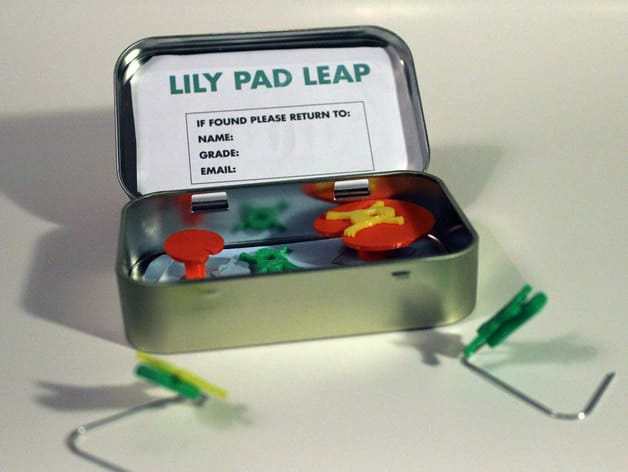 Found it here >> Thingiverse
You'll need a 3D printer for this one in order to assemble the pieces and then you can have a competition to see who can flick their frog onto the lily pad the most times.
1. Turn the tin into a portable LEGO playset

Found it here >> Coupons
Add a LEGO base to the top of your tin, some bricks and minifigs inside and you've got yourself a portable LEGO playset.