This post may contain affiliate links, which means I may receive a commission if you click on a link and purchase something. As an Etsy and Amazon Associate I earn commissions from qualifying purchases.
&
---
An essential oil diffuser is a must have for as many rooms in your home as possible. But what about when you're out and about?
To take your oils with you wherever you go you should consider an essential oil diffusing necklace – or two!
There are some beautiful options available and they're great for kids as well as grown ups!
These necklaces make excellent Christmas gift ideas for women who love essential oils.

Essential Oil Diffuser Necklace with 4 Leather Discs and Silver Pendant 18 Chain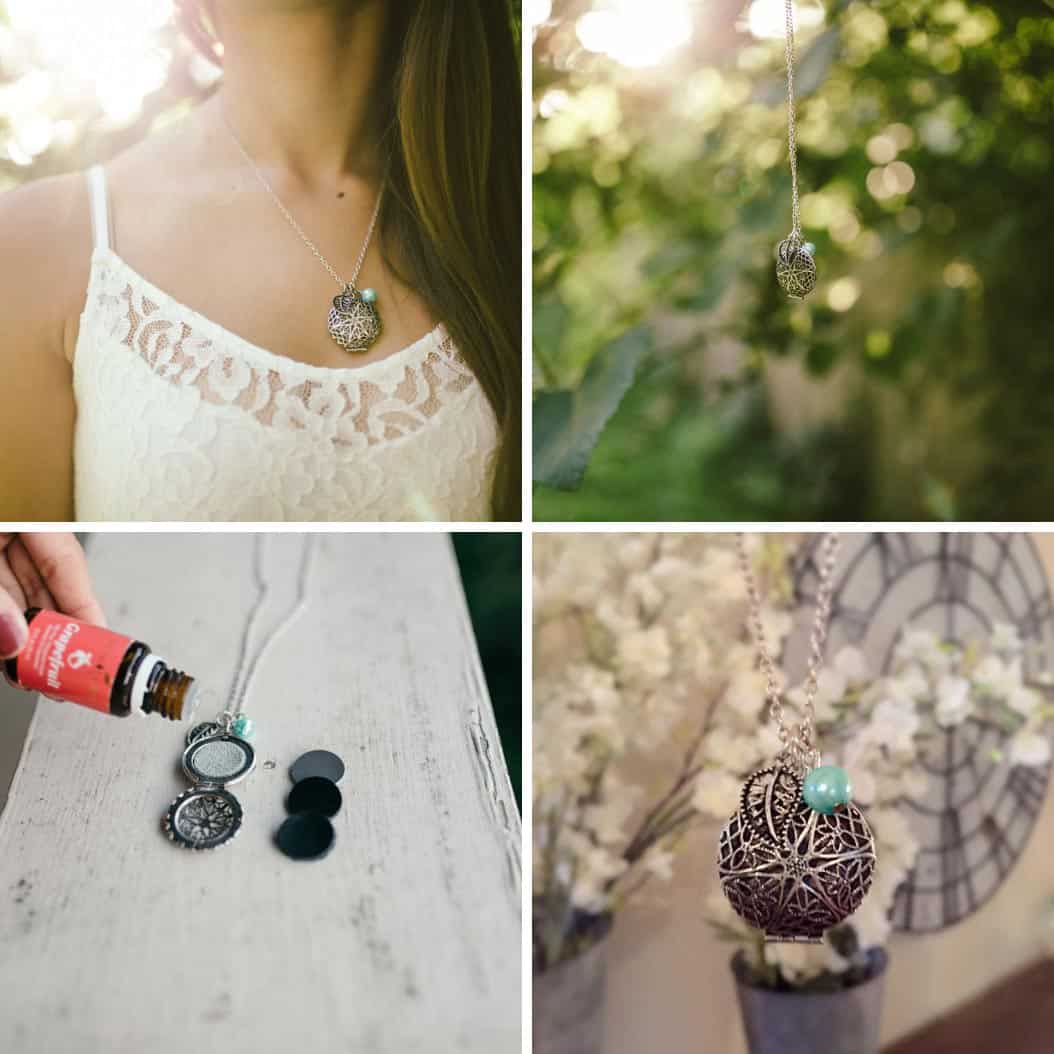 Perfect for any occasion

This pendant is just beautiful and would be great to wear for any occasion.
It comes with four leather discs so you don't have to worry about mixing up the oils, and they're reusable too. Just add a couple of drops to one of the discs (the rough side), open up the pendant (like a locket) and pop the disc in (rough side facing out). You'll be able to enjoy the benefits of your oil for the whole day.
The pendant itself is made of zinc alloy and copper so you shouldn't suffer any skin sensitivity. It comes in three colours: antique silver, antique bronze and bronze so you can choose the one you love the most.
Essential Oils Diffuser Locket Necklace

If you love filigree silver you will love this!

If you prefer filigree silver jewellery this in the one for you. It has a long 30 inch chain and the pendent itself is 3cm tall.
It comes in a gift bag making it a perfect gift idea for a friend who also loves essential oils.
Sunflower Aromatherapy Essential Oil Diffuser Necklace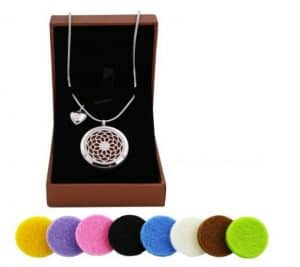 Hypoallergenic and color changing

This sunflower necklace with a 24 inch chain is so pretty and made of stainless steel so it's completely hypo-allergenic and will last for years.
It comes with eight refill pads and we love how they are all different colours, because they show through the pendant. This really is a necklace you can modify to suit any outfit or occasion!
Flower Lava Stone Aromatherapy Pendant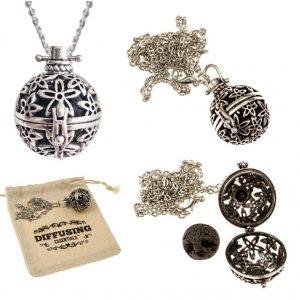 Unusual design is a conversation starter

If you're not a fan of traditional looking locket pendents try this one instead. It's such an unusual design it's bound to become a conversation starter (great if you are a Consultant).
Unlike the other pendants that use felt or leather pads with this necklace you actually put a couple of drops of oils on a lava stone inside the pendant and the scent will last for hours (or even days!)
If you want to switch oils just wash the lava stone in warm soapy water and then let it air dry to remove the scent.
Girls and Teen Aromatherapy Lava Stone Colorful Beaded Pendant Essential Oil Diffuser Necklace
Great choice for girls and teens

Let's finish up our necklace collection with this brightly coloured design that is perfect for girls!
The beaded chain is adjustable from 14 inches to 17 so it's great for little girls right through to teens and the pendant holds a lava stone ready to diffuse a couple of drops of oil.