These homemade DIY keychain ideas are perfect for you or as gifts for friends and family. Don't miss the beaded keychains! So cute!
DIY Keychain Ideas
If you're forever losing your keys try making one of these fabulous keychains to encourage you to keep them safe! These DIY keychain ideas make great Christmas or housewarming gifts too.
You are going to be spoiled for choice with these lovely ideas and video tutorials so be sure to scroll the page for all the ideas and don't forget to pin your favourites for later!
Related Posts:
27. Wood Bead Keychains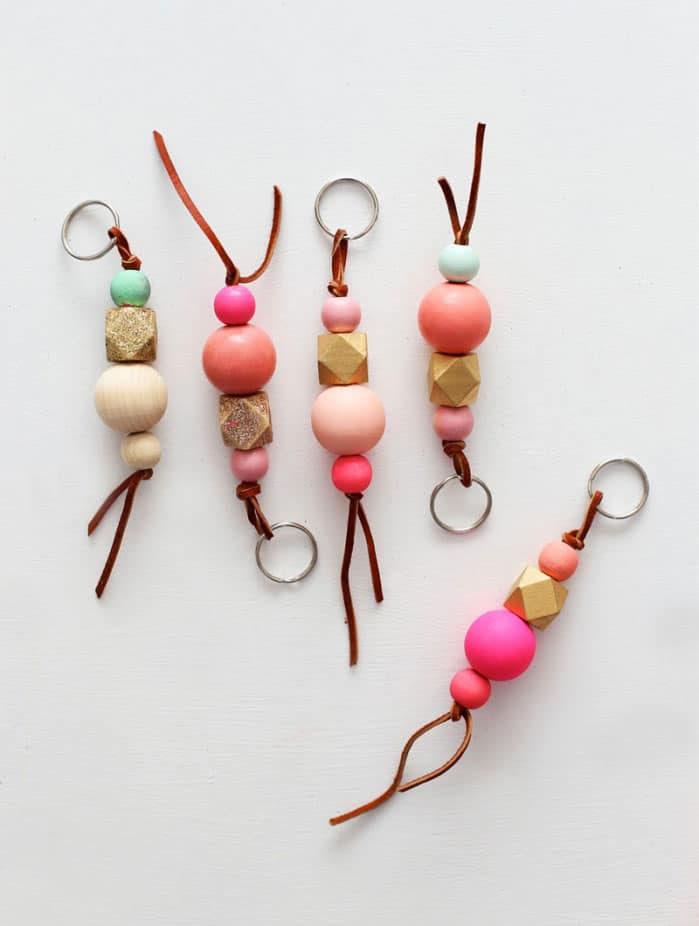 These leather beaded keychains look super stylish and would make fabulous gifts for your girlfriends.
26. Fabric Scrap Keychain Tutorial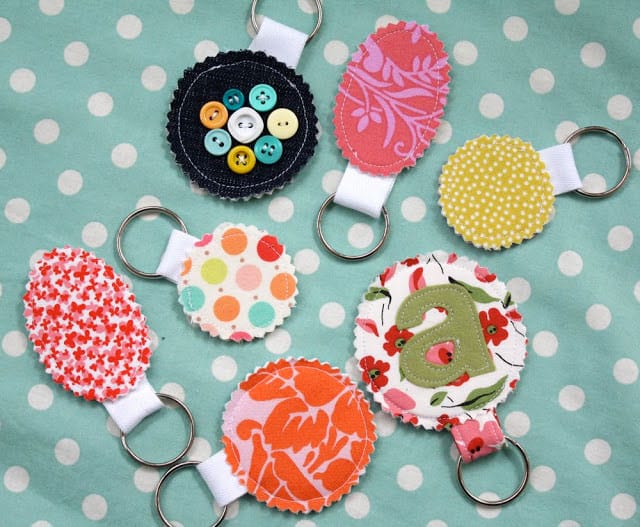 If you're looking for fun ways to use up some of your fabric scraps stash then have a go at making some keychains!
25. Rainbow Perler Bead Keychain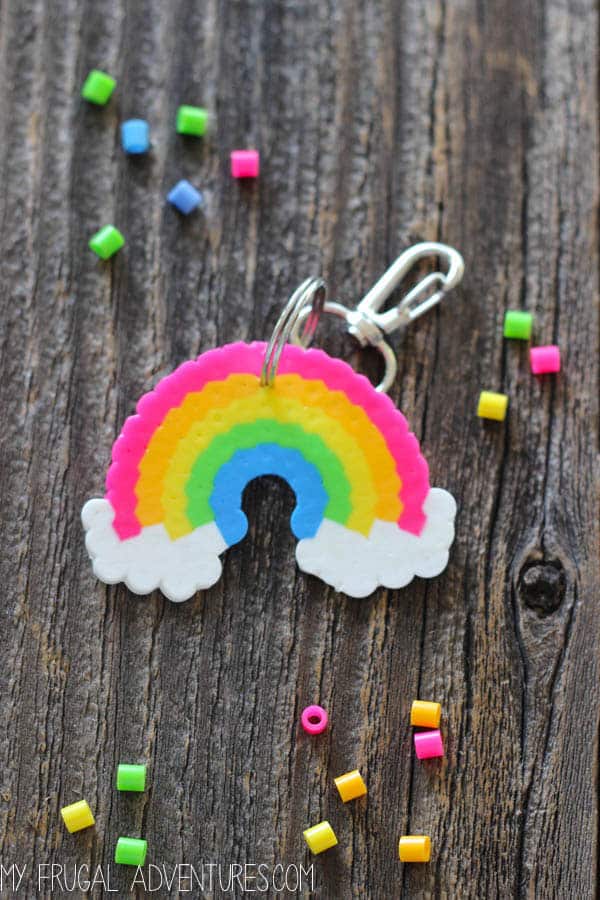 This perler bead rainbow keychain is sure to put a smile on your face every time you reach for your keys!
24. Mini Star Wars Yoda Keychain Charm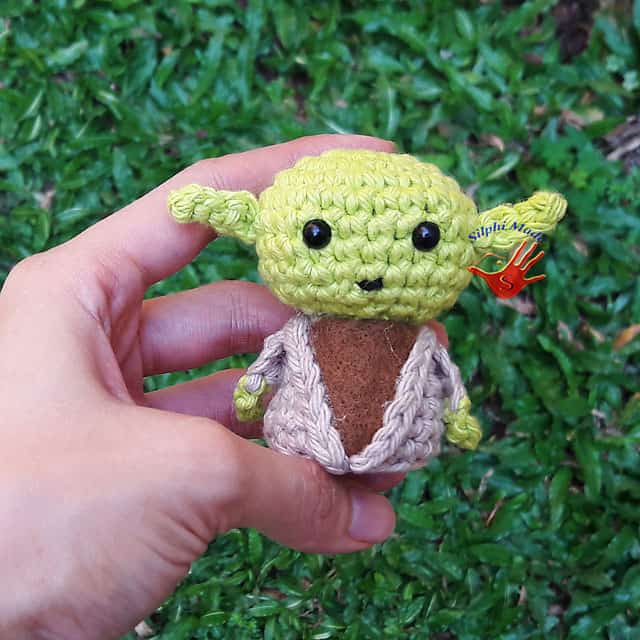 We fell in love with this little guy and found this Yoda pattern so you can make something similar.
23. How To Make Easy Keychains with Shrinky Dinks
You can customize these keychains with any kind of paper punch or hole punch and then decorate with nail polish.
22. Coffee Shop Keychain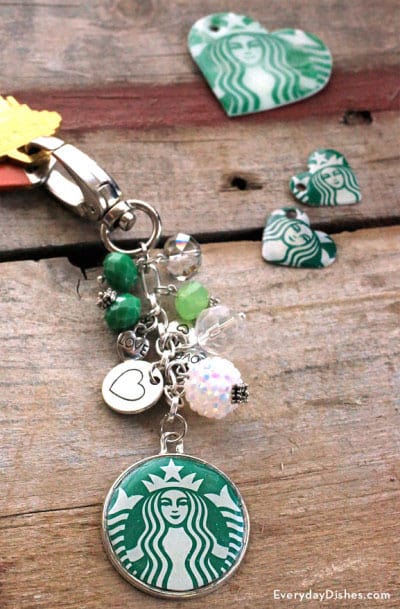 How's this for a unique gift for your coffee loving friend? Of course if you don't love coffee you could use the logo from your favourite soft drink, or even a photograph of a loved one!
21. DIY Pompom Keychain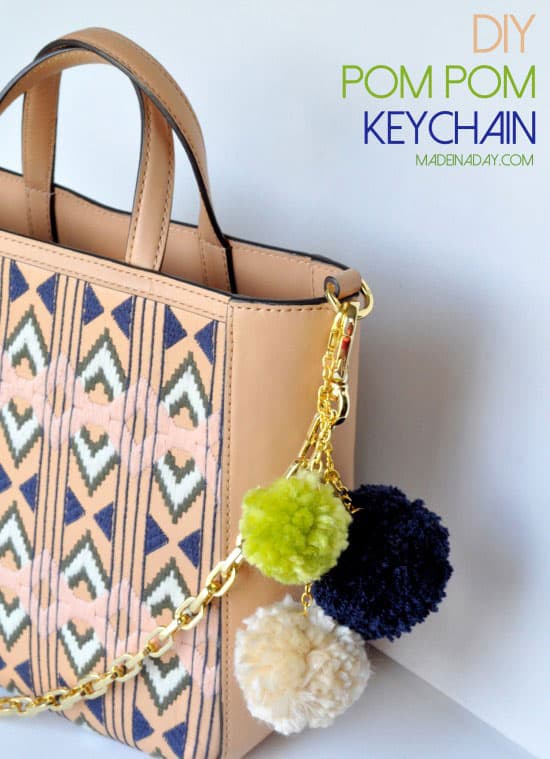 Its time to put that pompom maker to good use and create some fabulous keychains and purse zipper pulls!
20. How to make Havaianas key chain
This Havaianas keychain is the perfect gift for a beach lover!
19. DIY Animal Keychains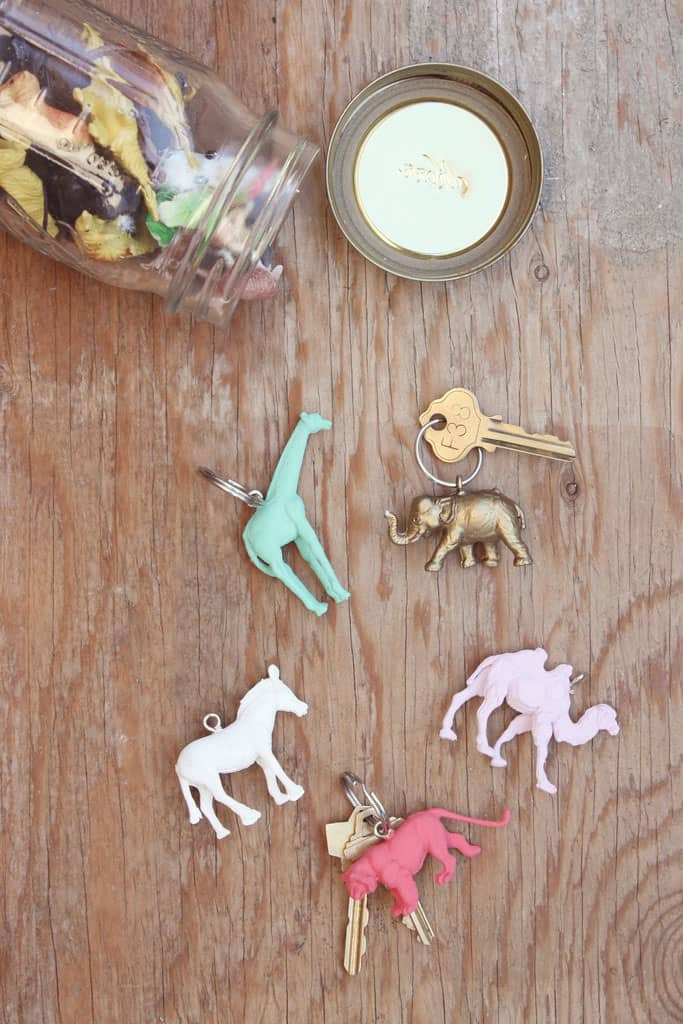 These animal keychains started out life as plastic toy animals and have been given a fabulous makeover!
18. Easy DIY Leather Tassel Keychain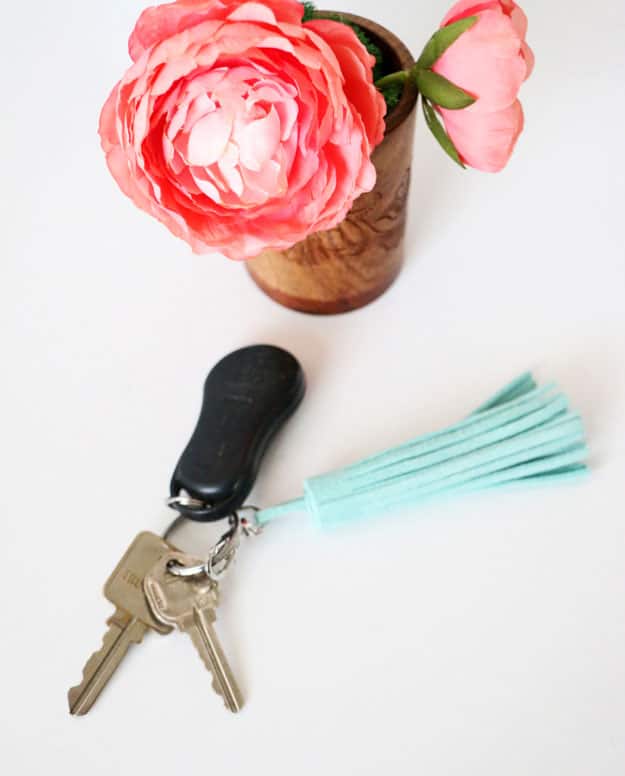 This leather tassel will look fabulous on your keys or as a zipper pull for your purse.
17. DIY Name Tags & Keychain Charms
Transform plain metal washers into a personalized key-chain tags for Feather's Day or Dad's Birthday
16. Personalized Beaded Keychains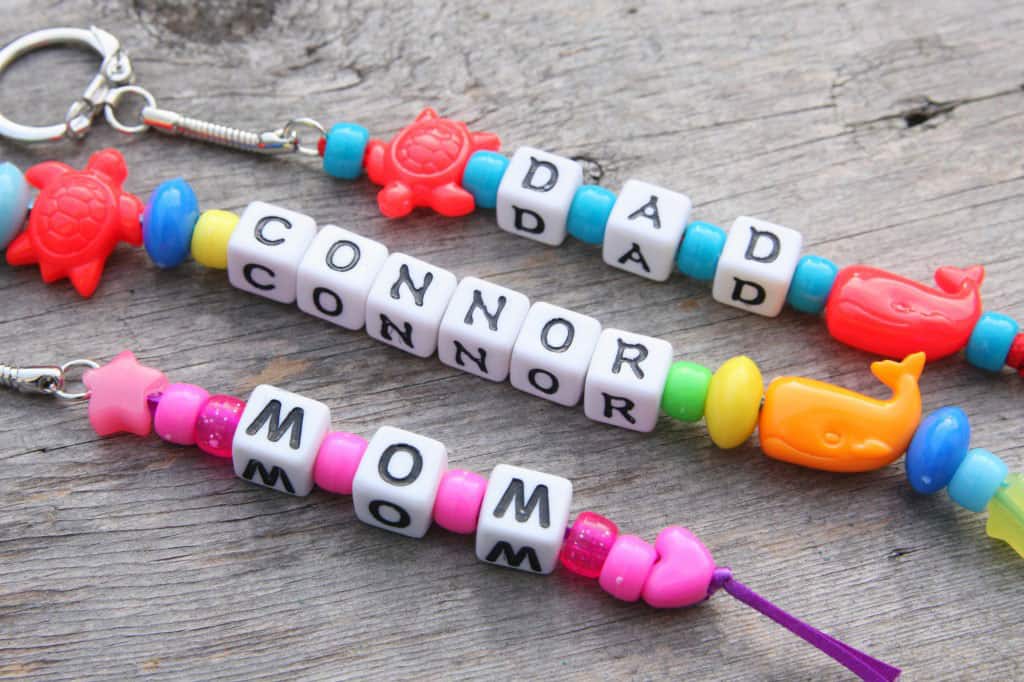 These keychains are quick and easy to make and a great craft to do with your kids on a rainy afternoon!
15. DIY Clay Keychain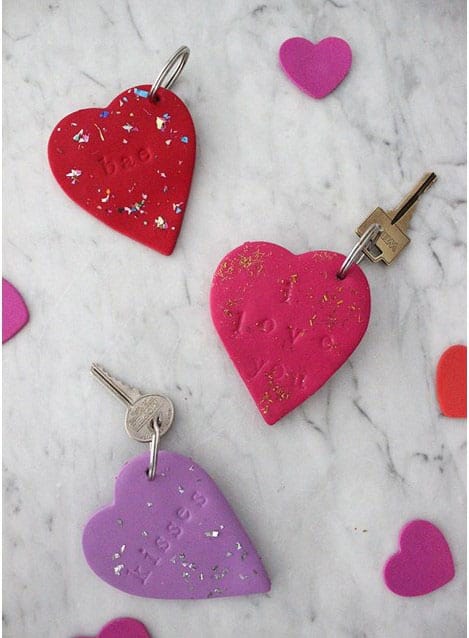 Grab your favourite shaped cookie cutters and get to work making as many keychains as you like.
14. Leather Keychain DIY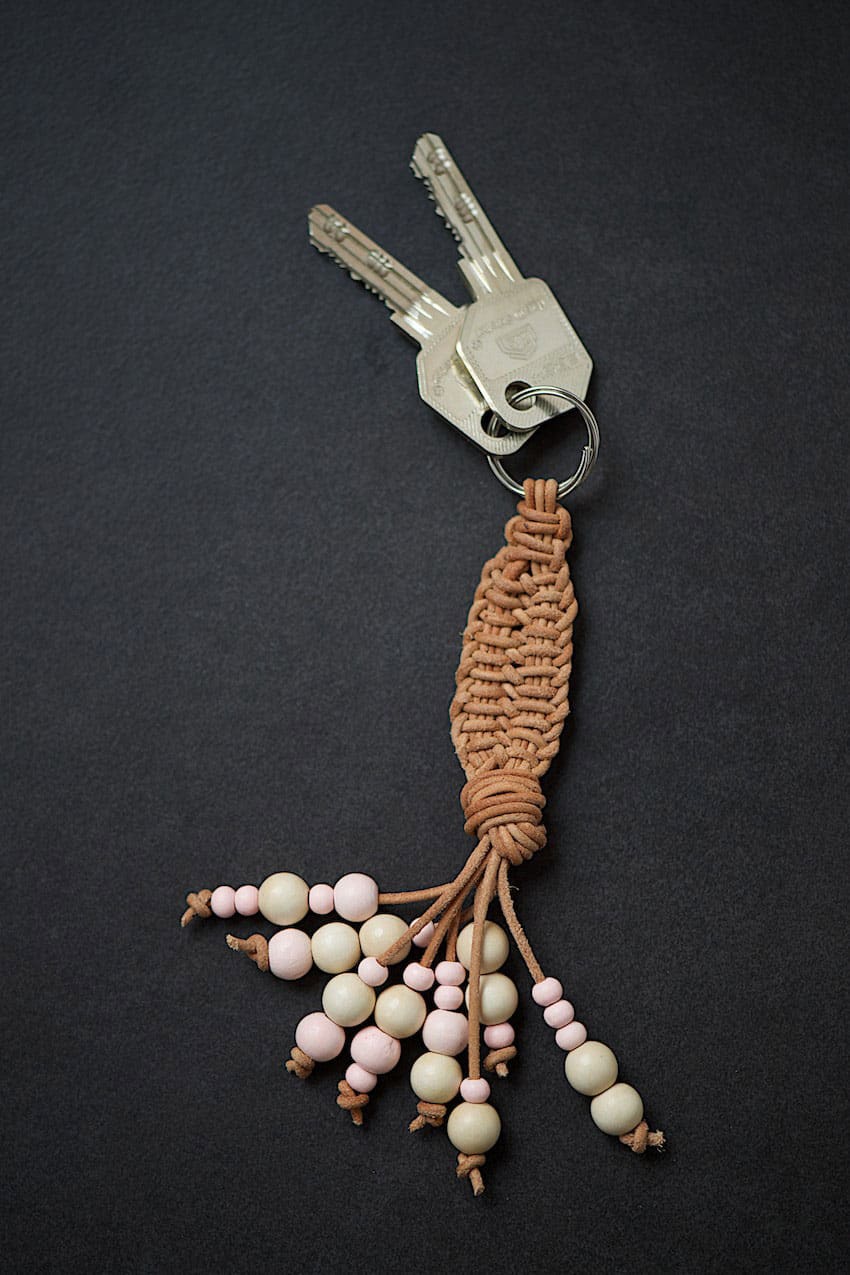 We love this macrame style keychain because once you get the hang of it you can design your own by using different knots.
13. DIY Fabric Chapstick Holder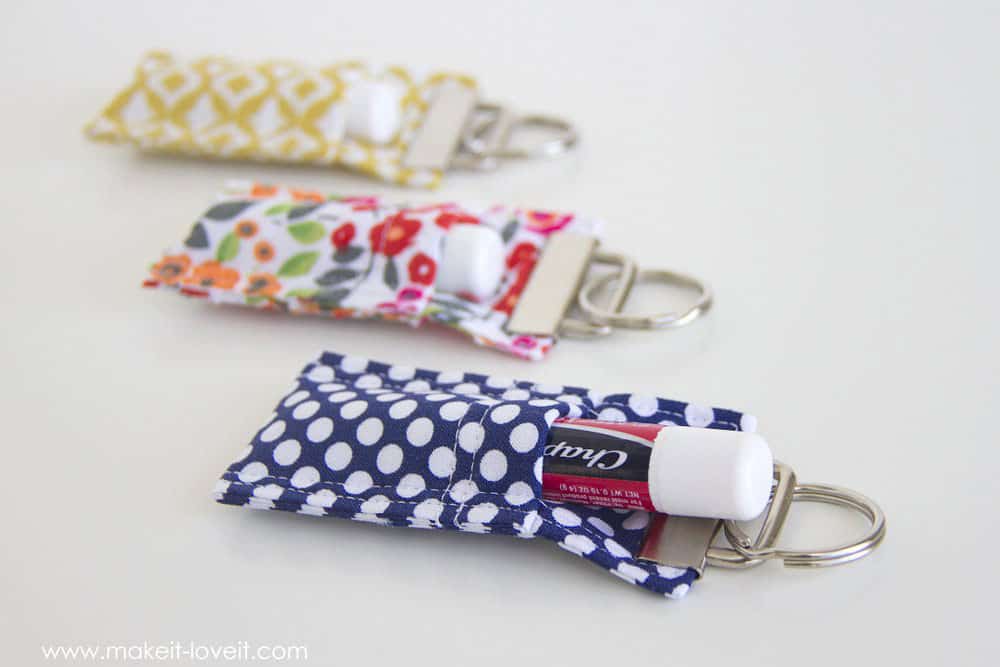 What's even more useful than a keychain? A keychain with a pocket for your favourite chapstick of course!
12. Box Knot Keychain Craft – Video Tutorial
We're on a bit of a macrame kick at the moment which is why we loved these fabulous box knot keychains!
11. Beaded Keychain Kids Craft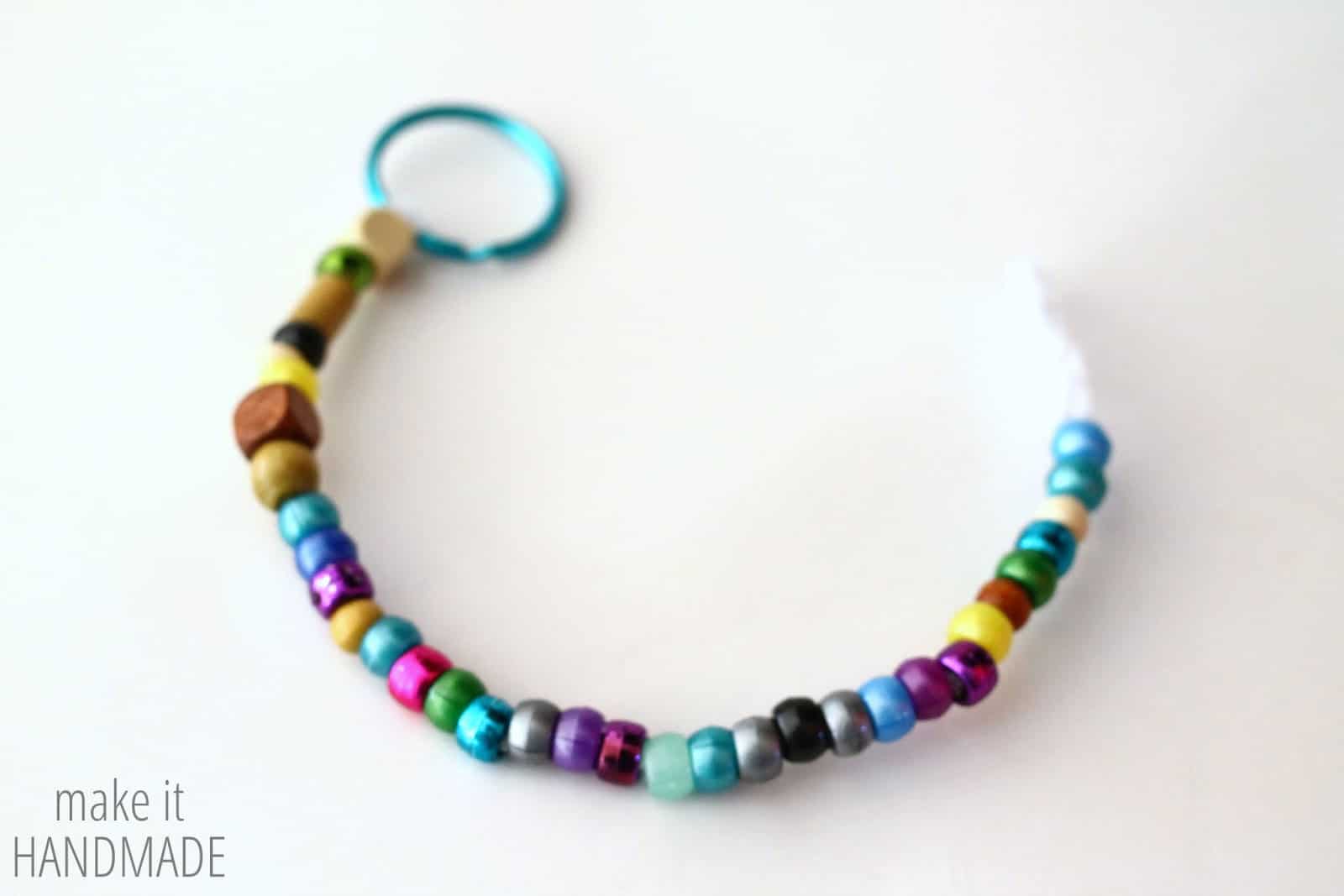 Here's a keychain craft that is so simple your children will enjoy making them. They make great gifts for grandparents and other family members.
10. Leather Conversation Heart Keychains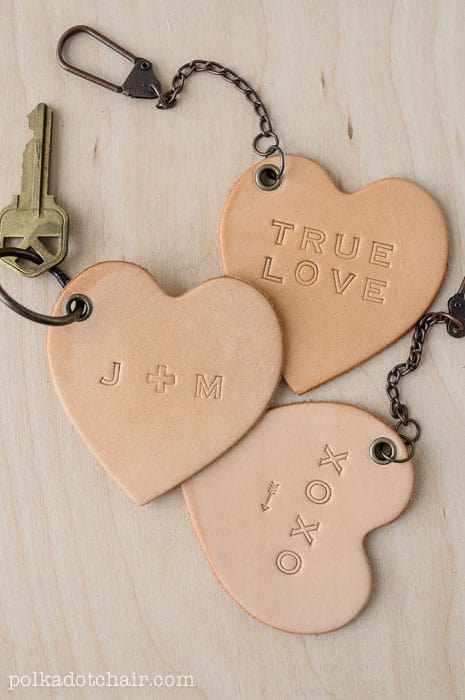 These keychains look fabulous, and expensive, but they are a DIY and surprisingly easy to make because you use pre cut leather hearts.
9. How to make keychains with mini glass bottle charms
We are in love with these tiny glass bottle keychain charms! You could make a potion bottle set as a gift for your favourite Harry Potter fan!
8. Mini Penguin Amigurumi Keychain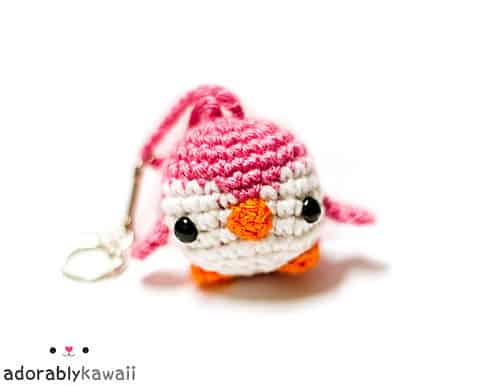 This little Amigurumi penguin is totally adorable and could be made from leftover yarn in your stash.
7. Retro Camper Perler Bead Keychain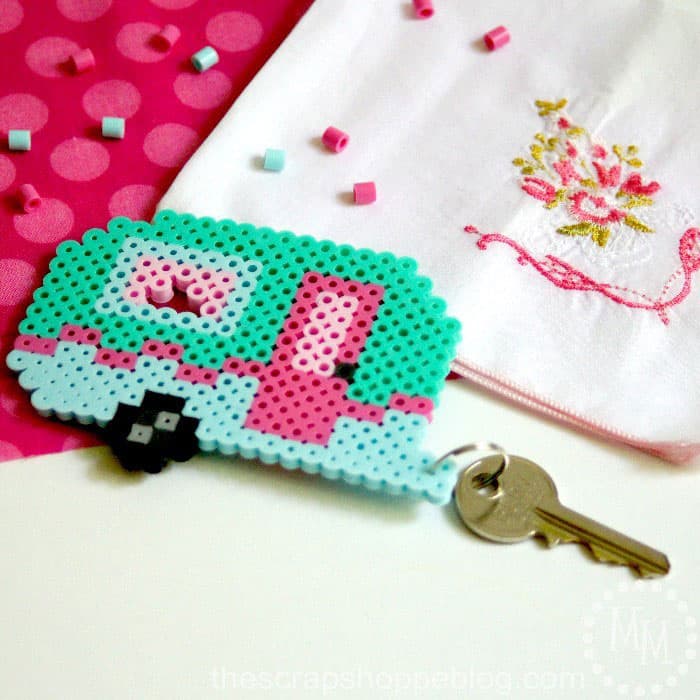 If there's a retro camper fan in your life you need to raid your kids' perler bead stash and make them one of these fabulous keychains.
6. Birthplace Map Keychain Charms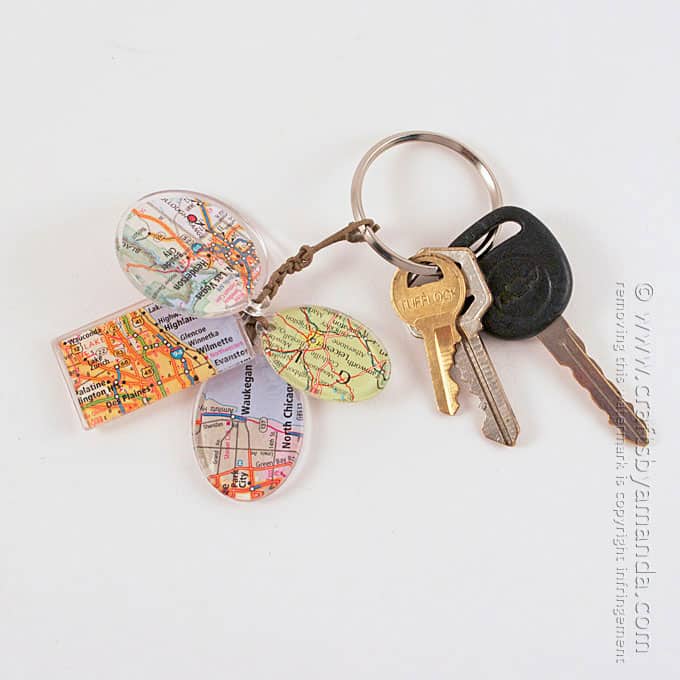 If you are struggling with gift ideas for your dad or your hubby have a go at making one of these keychain charms using maps from his birthplace or other favourite places.
5. Make a figure keychain
How adorable is this little gal? And she is super easy to make too so why not make a whole family to keep your keys safe!
4. Braided Tshirt Keychain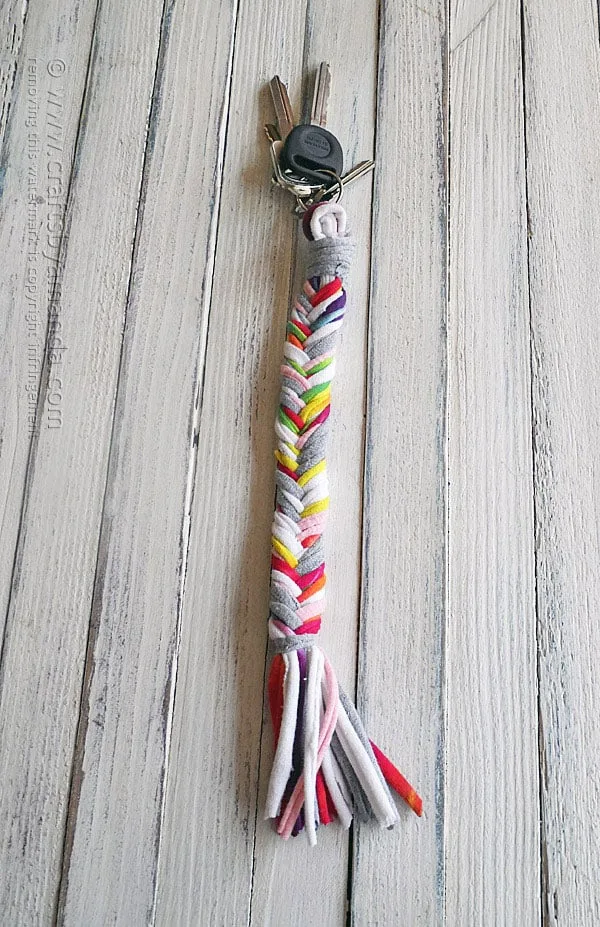 If your kids have outgrown a load of shirts don't turn them all into cleaning rags, try making some of these fabulous braided keychains instead!
3. DIY Glass Orb Keychain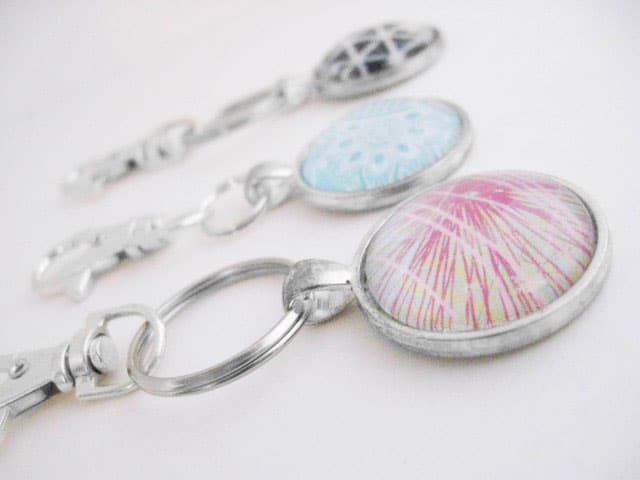 These glass orb keychains are quick and easy to make and you can customize them to your heart's content so they make great gift ideas for any occasion.
2. Colorful Heart Clay Keychains
Use polymer clay and glitter to make fabulous heart shaped keychains.
1. Glitter Heart Key Chain DIY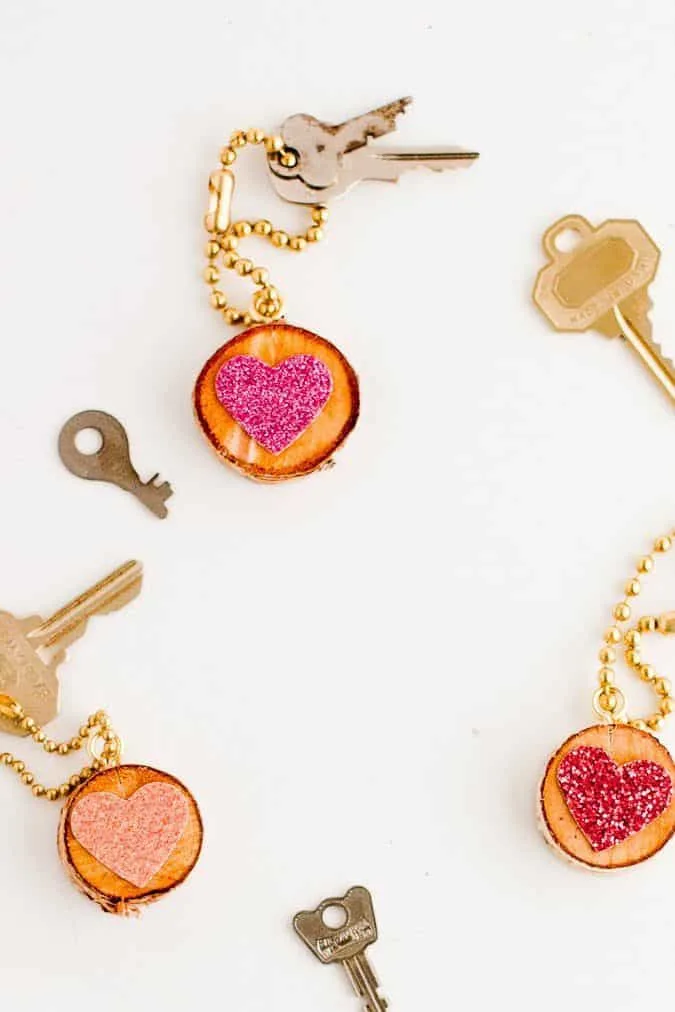 The shiny hearts look fabulous against the birch disks of these keychains. Why not make one for your tote bag, your zipper pouch or even your pup!