This post may contain affiliate links, which means I may receive a commission if you click on a link and purchase something. As an Etsy and Amazon Associate I earn commissions from qualifying purchases.
If you struggle to have your daily intake of water because you don't like the taste then fruit infused water recipes will become your new BFF! Not only does your water taste so much better, but some of the nutrients from the fruit and herbs passes into the water so it's actually healthier too!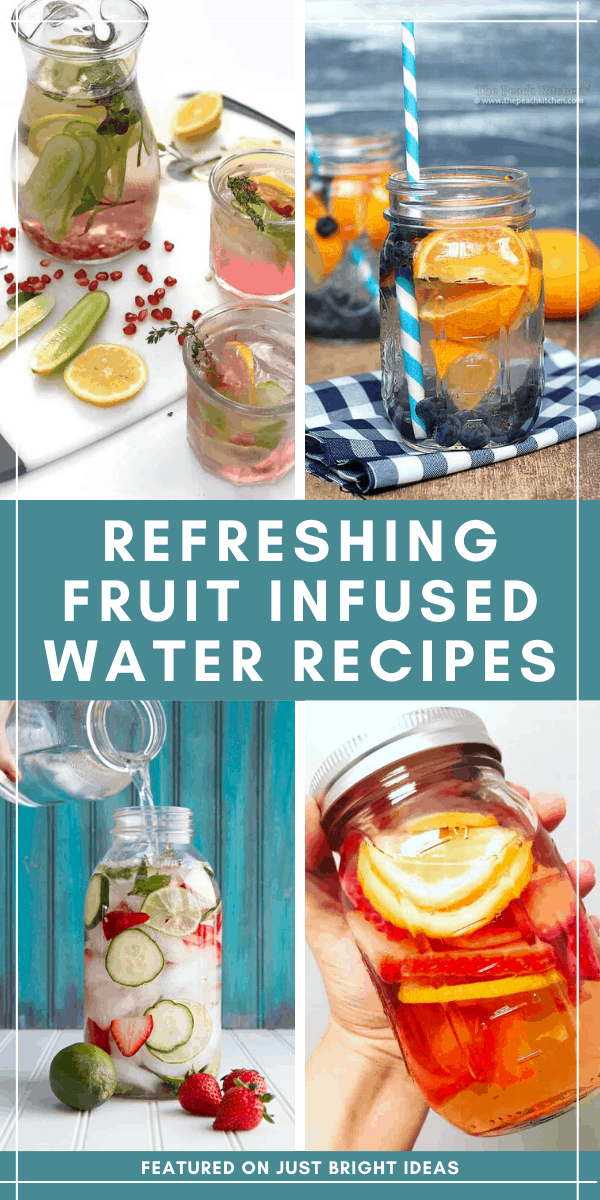 What are the Benefits of Fruit Infused Water?
It tastes great – and you can choose the fruit and herb combos to suit your tastebuds
It's easy to make – you just need fruits, water and a glass pitcher or glass
It boosts your metabolism – especially if you include lemon in your recipe
It slows the paging process – because the fruit infused water contains powerful antioxidants
It gives you more energy – because it's packed full of vitamins
It helps your body get rid of toxins – because it's packed full of antioxidants
It satisfies your sweet tooth – because it's naturally sweet and has far less calories than sugary drinks
How to Make Fruit Infused Water
If you're wondering how to make fruit infused water the answer is pretty simple.
You add a variety of fruits, vegetables, and herbs to your water and then leave it for a bit so that all of the flavours from the ingredients infuse (AKA flavour) the water.
People often ask whether they should remove the rind of the fruit before they add it to the water. Now there is a nutritional benefit in putting the whole fruit in, because many of the nutrients are in the rind, but it can make the water taste a little bitter, especially if you leave it to sit for a while before drinking.
So try it with the rind and if you don't like the taste remove the rind in future. It's better for you to drink the infused water with a few less nutrients than be totally put off my a bitter taste and resort to sugary sodas instead!
What Type of Water is Best to Use?
If you have access to it then filtered water is always better, because it's cleaner and will improve the overall flavour of your infused water. You can use water straight from the tap or faucet but it might not taste quite as nice.
Always make sure that your water is cold, or at room temperature. If you use warm or hot water the produce will fall apart at a rapid rate and the amount of nutrients that end up in your infused water will be reduced.
Keep a filtered water pitcher in the fridge and you'll always have access to refreshingly cold filtered water when you want to make yourself a drink.
Do You Need to Use Organic Fruit?
If at all possible, try to select organic fruits and vegetables. These can often be found in the produce of your supermarket, but a better option might be to get them from a weekly CSA, farmer's market, or contacting local farmers directly. This allows you to get fresh fruits and veggies that you know were grown locally without added fertilizers and other chemicals.
Organic produce does tend to provide a better flavor for infused water. However, the most important part is having healthy water with your favorite fruits and veggies, so if you can't use organic, don't worry too much about it!
How to Prepare the Ingredients to Make Fruit Infused Water
Once you've decided what ingredients you want to use, you will then need to prep them before putting them into the fruit infused water pitcher.
You should always rinse the fruits and vegetables to make sure no chemicals are left on them. Even if you bought them organic, it is still a good idea to rinse them and make sure they are clean.
If you are using herbs, you want to crush them with a muddler since this will help to release the oils. You don't need to do this if the herb is leafy, like mint or basil.
Most fruits and vegetables need to be cut at least in half before being put in the pitcher so that they can release their flavors. Hard fruits and vegetables like cucumber and apples need to be cut into thin slices since they can take longer to release flavor to the water. Berries and citrus fruit are softer, so just cutting them in half or into quarters should be fine.
Do You Need a Special Fruit Infused Water Pitcher?
Now you are ready to start putting your infused water together.
Before you add in the water, make sure you have the right container. Glass is always recommended over plastic because plastic pitchers and bottles won't keep the water as fresh.
You can use a regular glass jug if you already have one, but if you don't it's worth investing in a fruit infused water pitcher because it has a special section in the middle where you put the fruits and herbs, and then the flavour is released out of the holes into the water.
If you're going to be drinking your water outside of the house then a fruit infused water bottle is also a good idea because you can make the water right there in the bottle and then take it with you.
How Long Does the Water take to Infuse?
When making infused water, you will add the produce and herbs first, then add your room temperature or cold water on top. You then want to let the water infuse so that you can get good flavors and nutrients from the fruits and vegetables being used.
If you are leaving it out on the counter, this is usually done in about 2 hours. Otherwise, wait 4-6 hours if keeping it in the refrigerator for the infusing process. If you leave it overnight, it will be super flavorful.
How Long Can You Keep Fruit Infused Water?
The ideal time to drink infused water is within 24-48 hours after the infusing process is complete. It is usually best to drink it the same day, but at least try to drink it within the first couple days.
Waiting 3 days is okay, but don't leave it for longer than that. Make sure you are not leaving the fruits and vegetables in the water for this long though. They should be removed and only the water should remain in the pitcher for this long. Citrus fruits will remain fresher for longer, while melons are going to get soft and mushy quickly.
Also keep in mind that if you drink the infused water the same day, you can usually refill it 2-3 times with the produce in the fruit infused water pitcher or glass and still get good flavor from it.
Best Infused Water Recipes
Now you know HOW to make fruit infused water let's take a look at some of the best water infused recipes so you can get started making a refreshing drink.
15. Orange, Mint and Cucumber Detox Water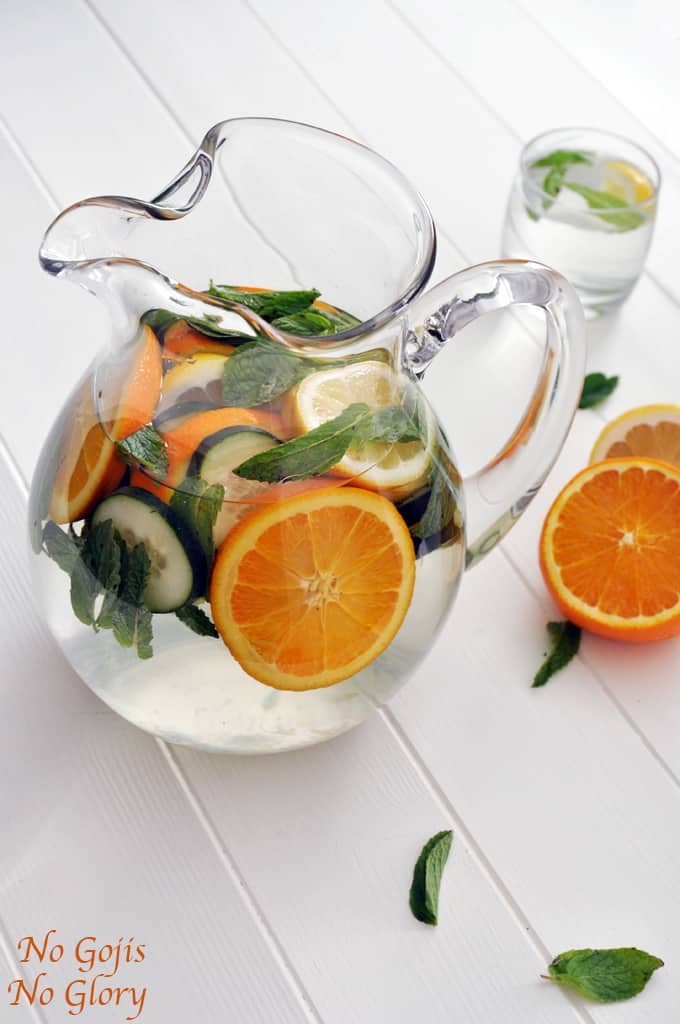 Found it here >> No Gojis No Glory
This refreshing water is perfect if you are trying to detox.
14. Lemon and Strawberry Infused Water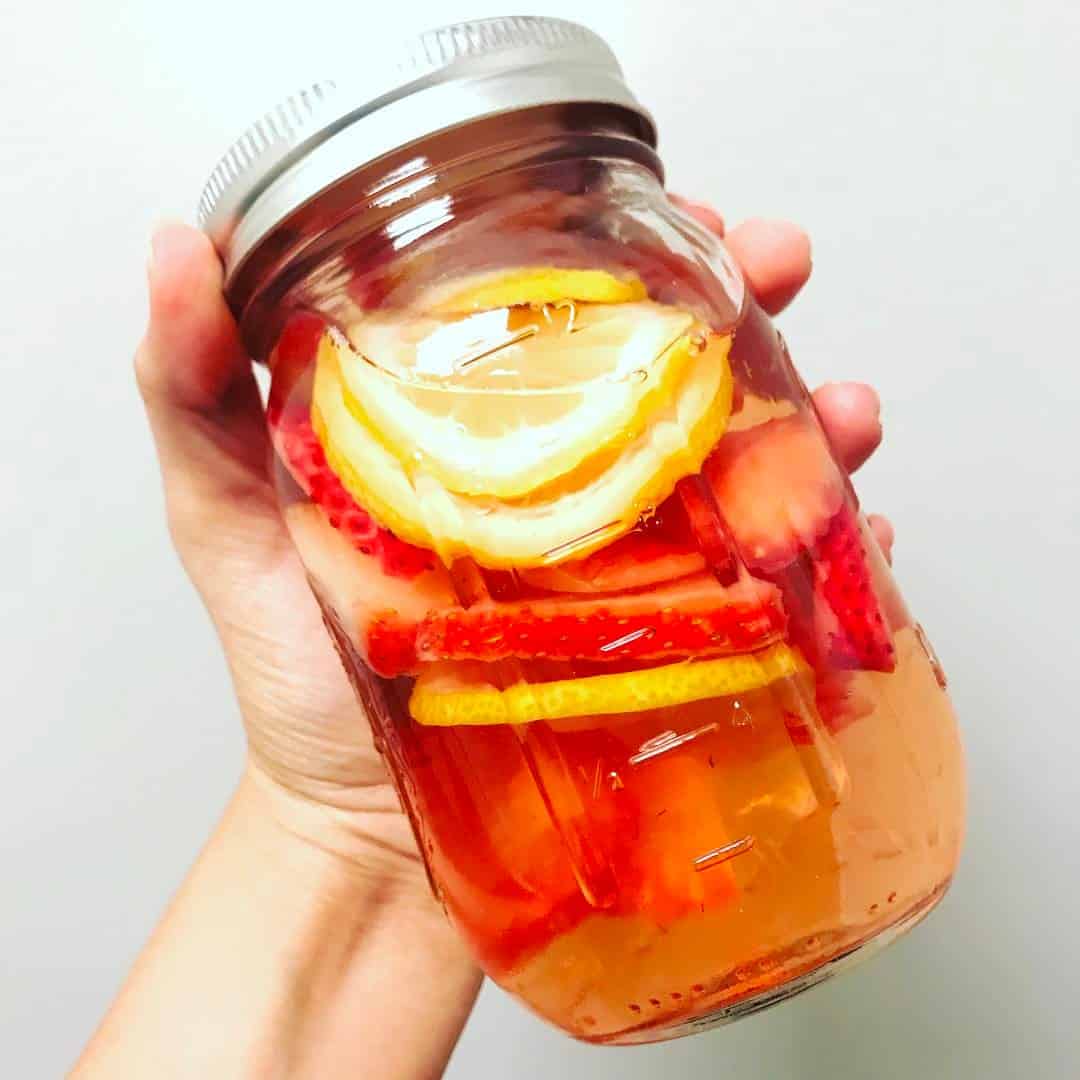 Found it here >> @jessicaescamillafitness
This infused water combination tastes just like fresh strawberry lemonade!
13. Apple Detox Infused Water Recipe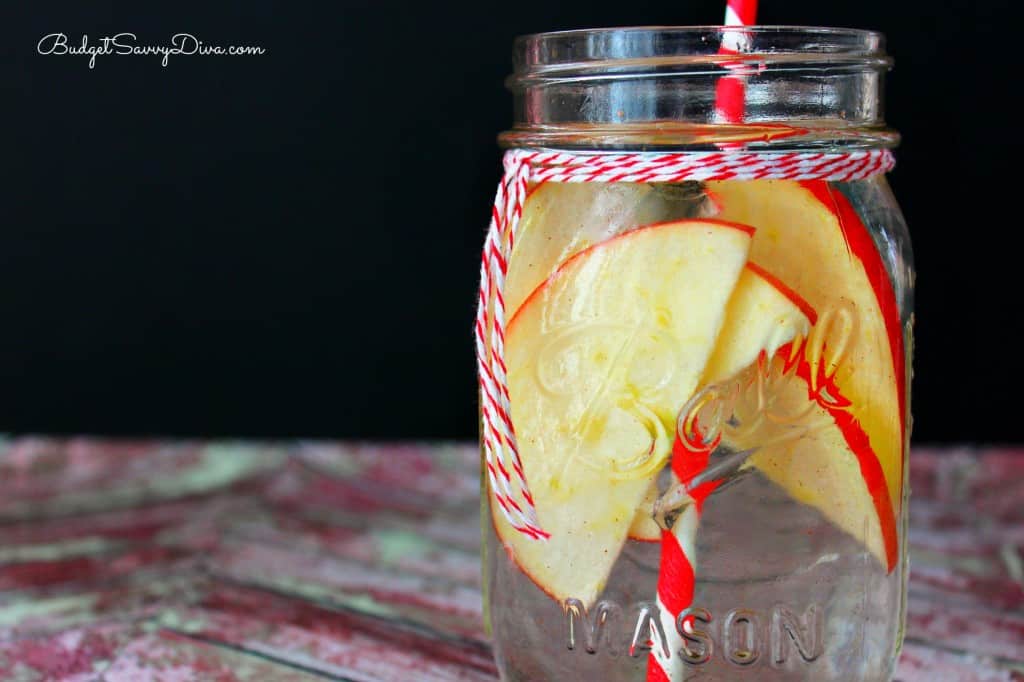 Found it here >> Budget Savvy Diva
If you don't have a fruit infuser water bottle you can enjoy your drink in a mason jar instead.
12. Flavoured Water Recipe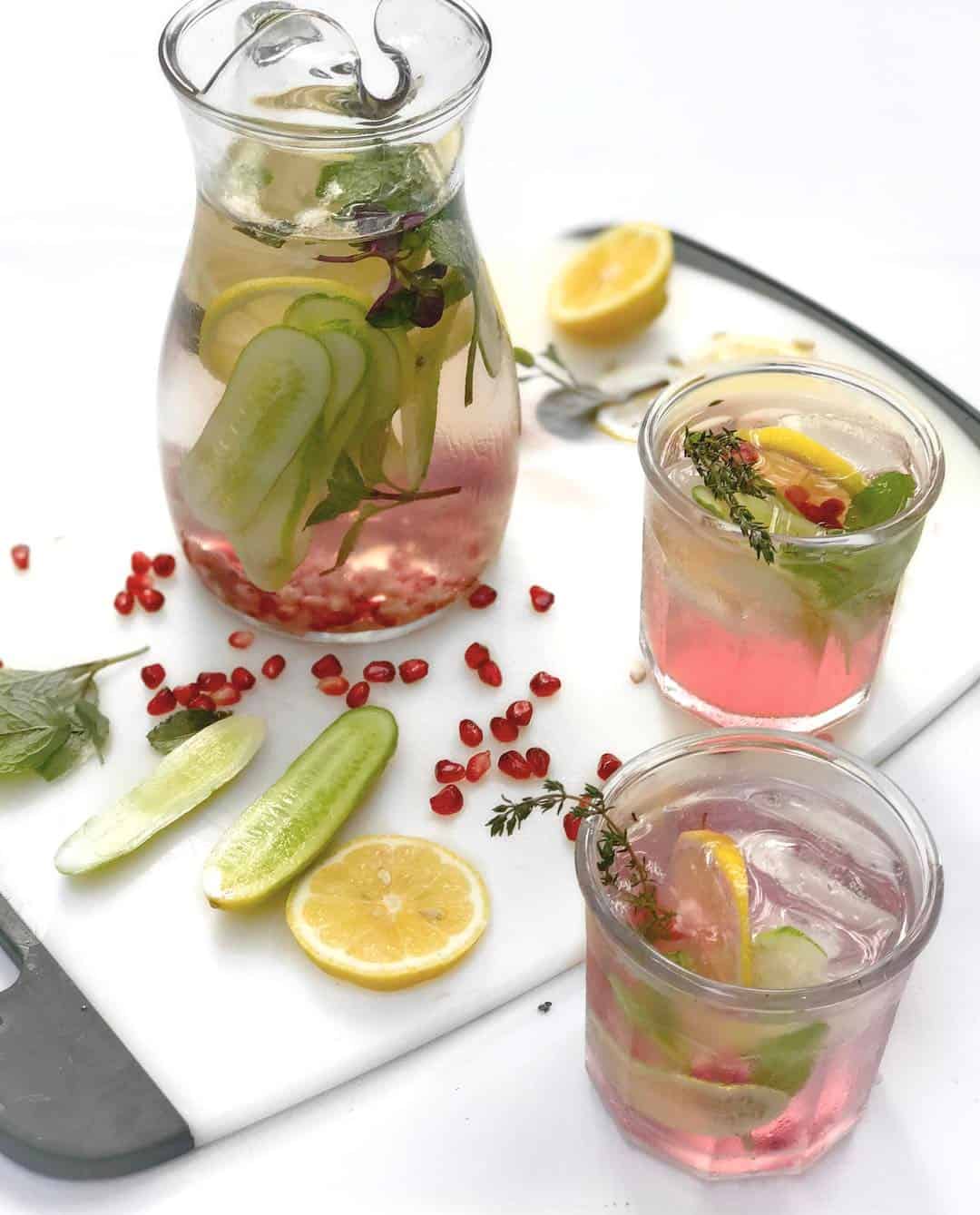 Found it here >> @pattkla
This refreshing infused water recipe has pomegranate and mint.
11. Blueberry and Orange Infused Fruit Water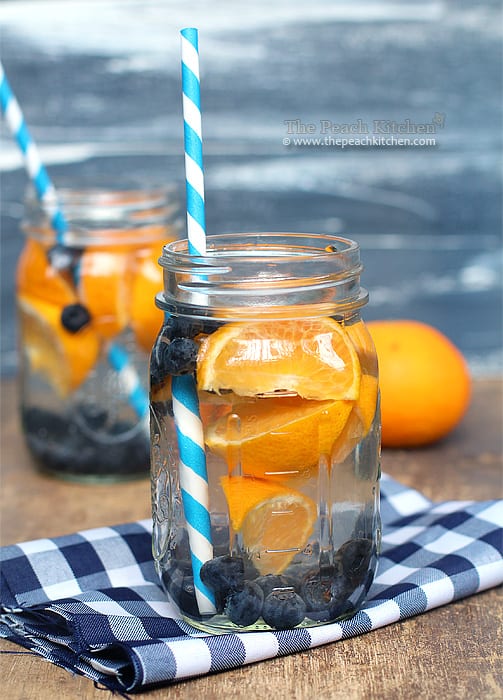 Found it here >> The Peach Kitchen
Be brave and jazz up your infused water with some blueberries.
10. Blackberry Mint Infused Water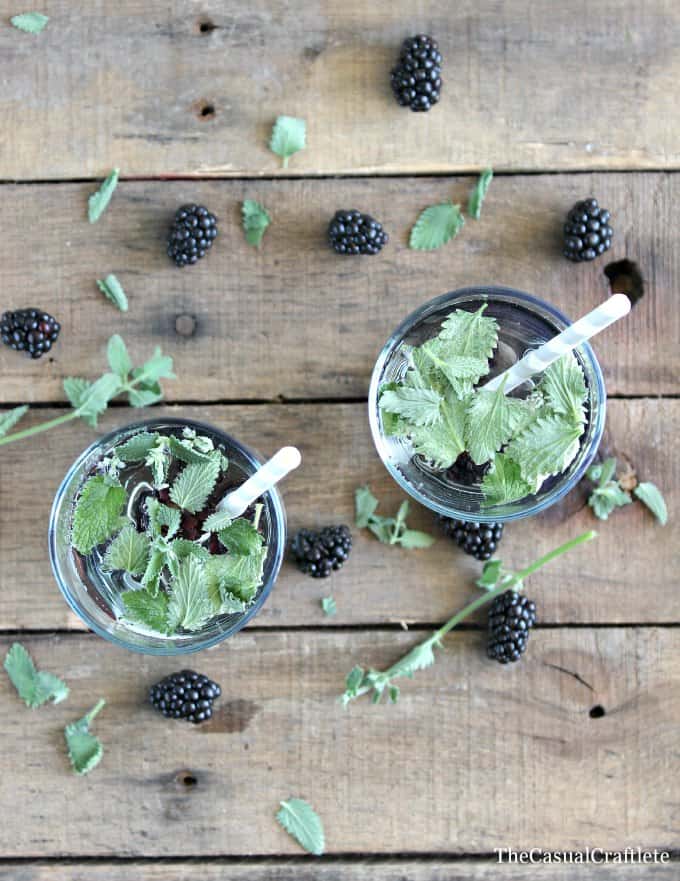 Found it here >> The Casual Craftlete
This blackberry and mint infuser combination is perfect for a Summer's day.
9. Strawberry, Lime, Cucumber and Mint Infused Water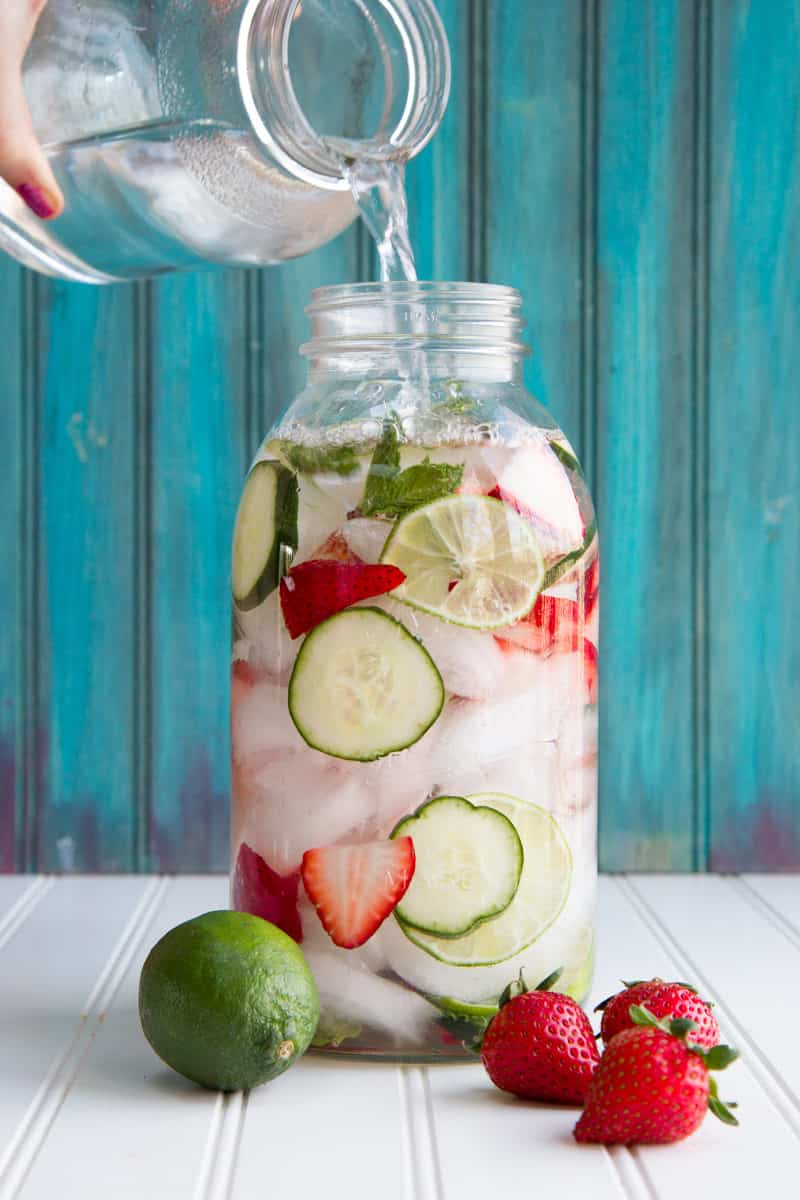 Found it here >> Wholefully
Sweet strawberries and refreshing cucumber, mint and lime make this fruit infused water recipe a real winner!
8. Cherry Mint Infused Water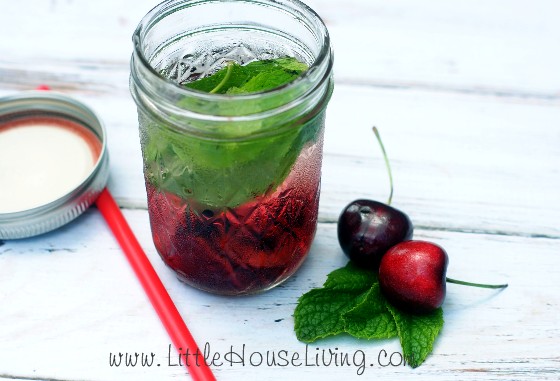 Found it here >> Little House Living
Cherries and mint make a great combination.
7. Ginger Peach Flavoured Water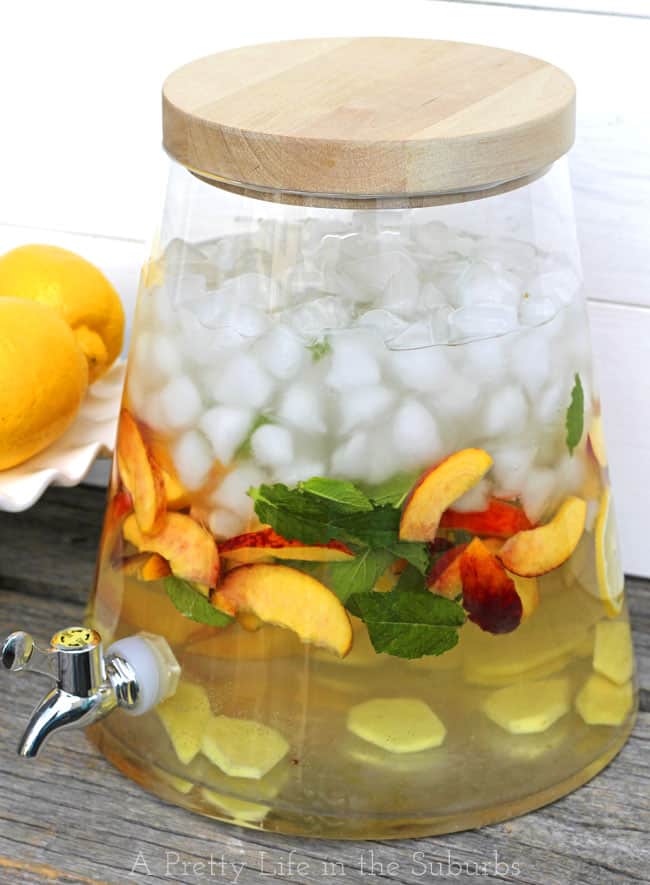 Found it here >> A Pretty Life in the Suburbs
Whether you're having a party, or you just want to keep the kids hydrated in the backyard, set up a drink station with this delicious fruit infused water recipe and let everyone refill their cups as often as they like!
Get a glass beverage dispenser with a spigot here
6. Strawberry Watermelon Infused Water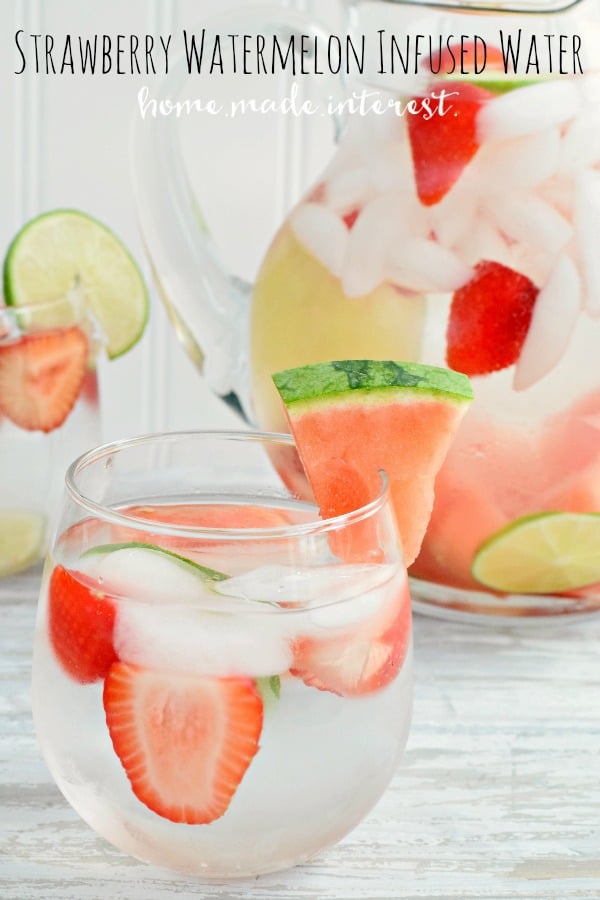 Found it here >> Homemade Interest
Super refreshing and the perfect summer beverage!
5. Cucumber Lemon Lime Basil Infused Water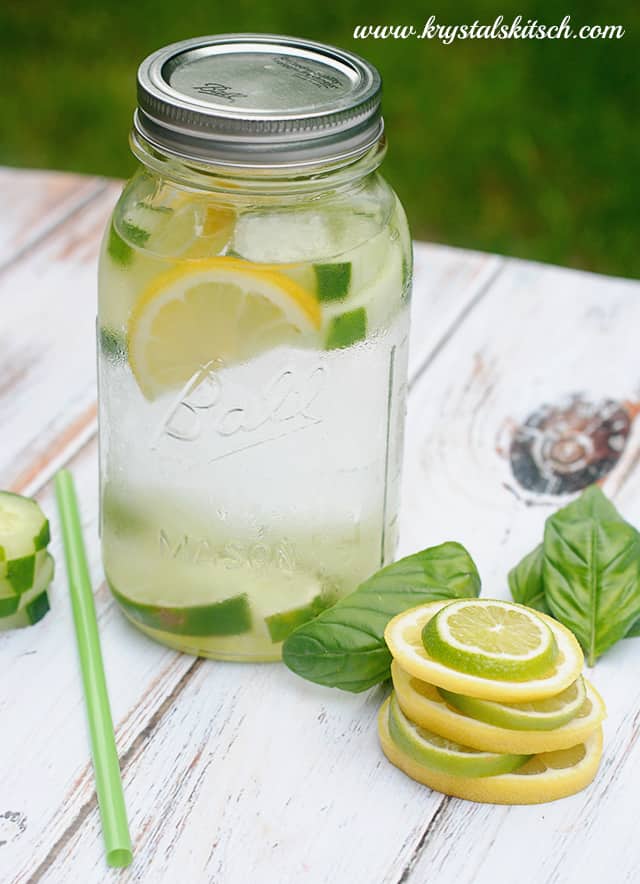 Found it here >> Sunny Sweet Days
This recipe will remind you of those fancy spa waters.
4. Sparkling Citrus Coconut Water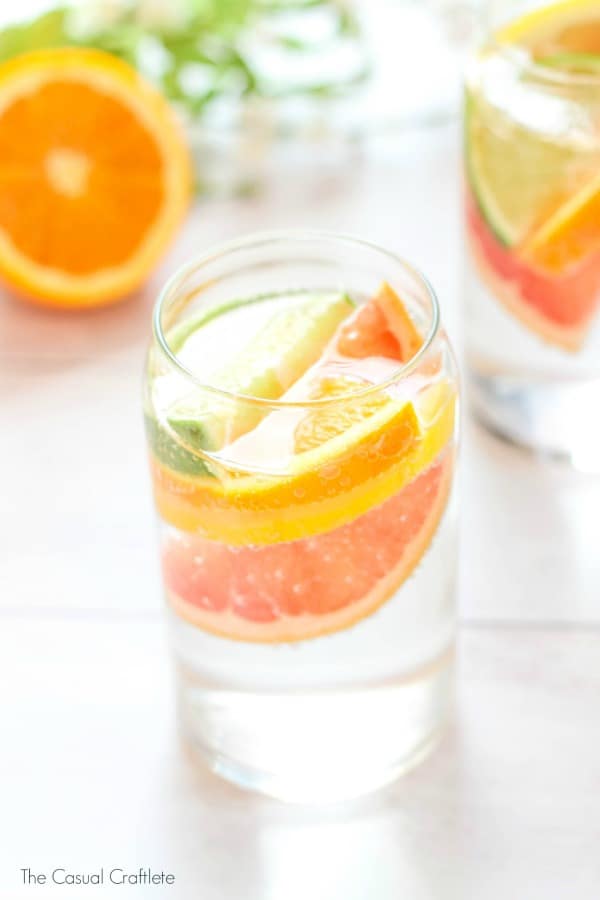 Found it here >> The Casual Craftlete
Infused water doesn't have to be still. If you prefer your drink with a little fizz try using sparkling coconut water.
3. Refreshing Fruit Infused Waters
2. Raspberry and Mint Scented Water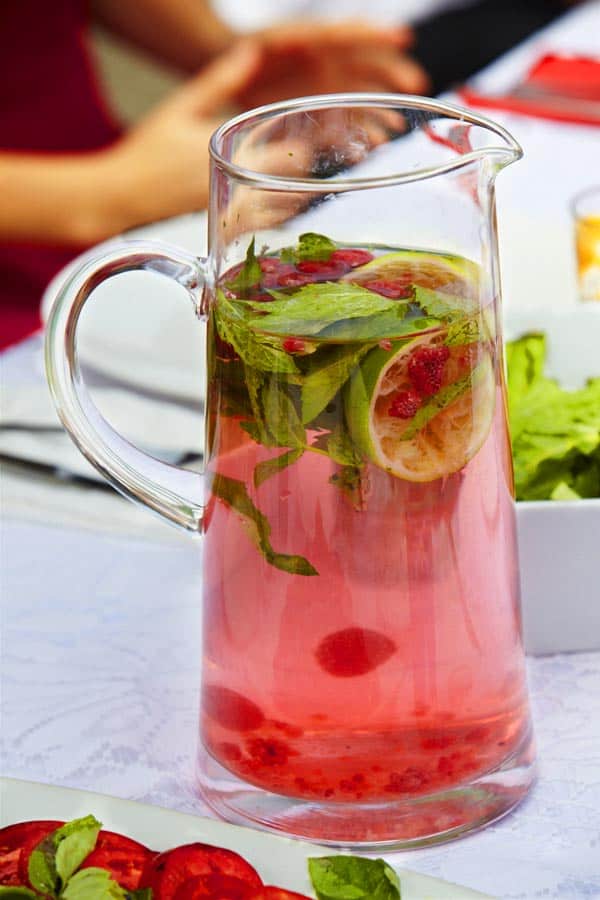 Found it here >> Sammy and Bella
Who could turn down a drink that was this pink?
1. Coconut and Lime Infused Water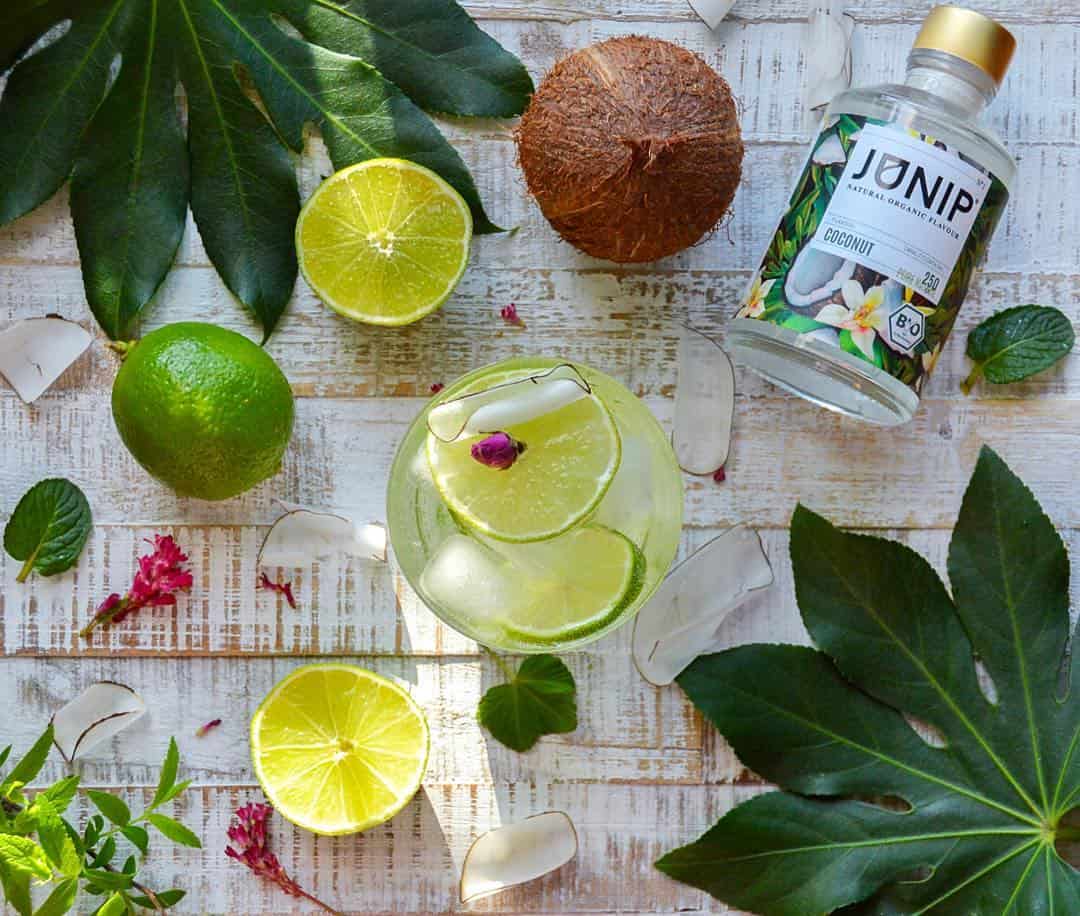 Found it here >> @sophiebuh79
The combination of coconut and lime is sure to make you feel you're cast away on a dessert island!