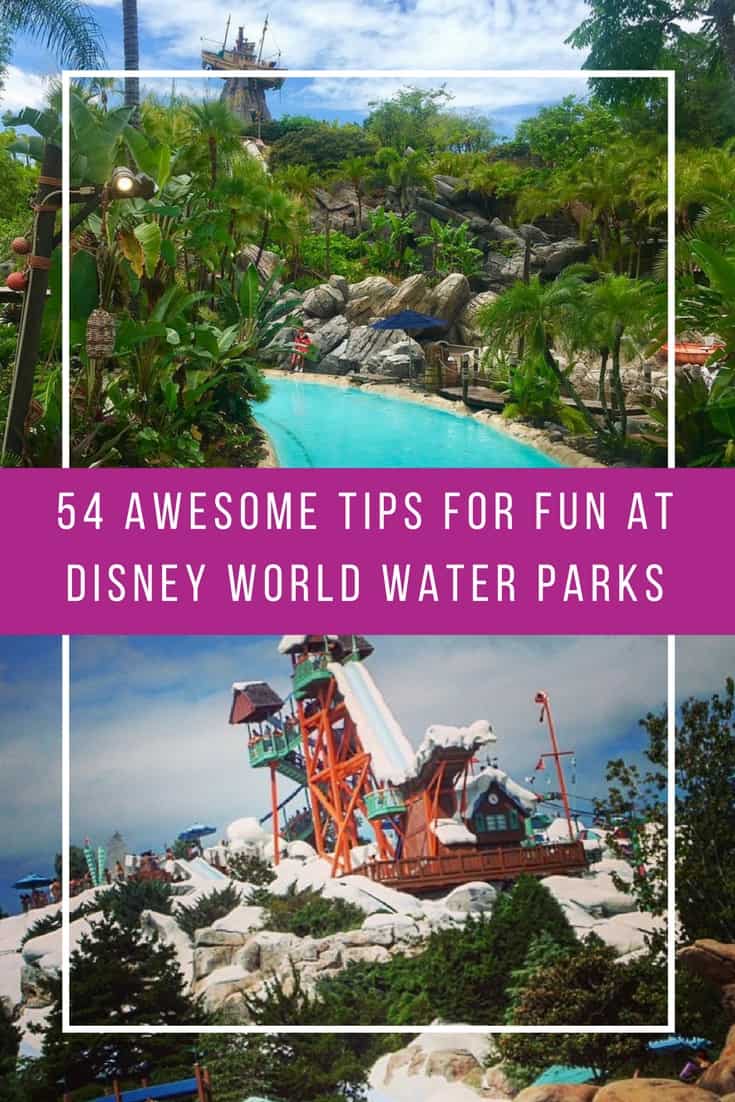 Pin these ideas! Hit the button to save these ideas for later. Don't forget to follow us on Pinterest for more great stuff!
This post may contain affiliate links, which means I may receive a commission if you click on a link and purchase something. As an Etsy and Amazon Associate I earn commissions from qualifying purchases.
&
---
If you're planning a vacation at the Disney World Resort you won't want to miss out on a chance to visit Typhoon Lagoon, Blizzard Beach, or even both. Disney World water parks are not like your typical water park. Forget about endless hot concrete and minimal shade and instead think tropical retreat, with white sands and shaded areas where you can set up camp for the day. Oh and plenty of waterslide fun! Here's our best tips for the Disney World water parks so you can have as much fun as possible!
Tips for Both Disney World Water Parks

1. The Disney Water Parks are not covered by your basic Magic Your Way tickets and require separate admission. You can add the Water Parks & More option to your ticket or you can pay separately.
2. The Water Parks are open seven days a week all year round. In the winter months (November through March) only one park will be open while the other is closed for maintenance.
3. The parks may close if there is a heavy storm. As soon as the storm passes over is one of the best times to visit as the water parks will be deserted.
4. Try and visit during the week as the locals are known to visit the parks during the weekend.
5. Arrive early. Be at the entrance to the Water Park about half an hour before the official opening time. You'll find it easier to find a good spot to set up camp – and the lines for the slides will be shorter.
6. Don't want to go early? Arrive after 3pm. Many of the guests who arrived in the morning will be leaving for the day and the park is much quieter.
7. Want to save money on locker rental? Arrive after 3pm when the park starts to offer reduced rental charges for lockers.
8. Try and choose a lounger that's in the shade – it can get very hot in the parks in the heat of the sun.
9. You are allowed to carry coolers into the parks so take a picnic and save money on food.
10. While you might be tempted to stash your valuables in your cooler or bag we highly recommend you rent a locker. They are not that expensive and it saves you worrying about your car keys and camera.
11. If you have a Magic Band then leave your cash and credit cards in your hotel room, you can use your Magic Band to enter the park and pay for lockers and food.
12. Travelling with kids? The park layouts can be confusing which makes it easier for your children to get lost. All the lifeguards wear red bathing suits and Disney name tags so make sure your kids know how to spot one. The lost kids' area is near the locker rental and that's where the nearest lifeguard will escort your child.
13. It's easy for adults to get lost too – and forget where they made camp! Pay attention to where you have left your bags – look out for the nearest slide or other land mark to help you.
14. The pathways can get very hot in the heat of the sun. Swim shoes are allowed on the slides and will save your feet from burning!
15. Ladies – opt for a swimsuit rather than a two-piece which you might lose on the fast slides!
16. Don't wear bathing suits with zips or buckles as you won't be allowed on the slides.
17. Leave your good bathing suit at home – the seat of your suit is likely to get snagged by the slides or on the bottom of the wave pool.
18. Don't forget the sunblock and make sure you apply it generously and often.
19. If you plan to arrive at the park and stay all day then consider investing in a refillable mug – all the soda you can drink for one price. Please note that you can't use your Resort refillable mug as they aren't recognised by the drink stations.
20. Invest in a rash guard or swim shirt (especially for the kids) to make sure you don't burn yourself while enjoying the slides.
21. Take your own towels with you. You can rent towels at the park but they aren't very big.
22. Staying at a Disney Resort? You can take towels from the pool area to the Water Parks and then leave them in the Return Bin when you are done. Just don't remove the towels from your room!
23. Treat yourself to an underwater video camera – you won't have to worry about ruining your camera or smartphone in the park and will be able to take some great underwater shots.
24. Tubes are provided for the slides that require them and a limited supply of tubes are available at the lazy river rides. You do not have to pay to hire a tube.
25. There is a minimum height restriction of 48 inches on the water slides.
26. Children in diapers are required to wear swim diapers or plastic pants. If you plan on visiting the water parks multiple times on your trip buy a pair or two of reusable swim pants as they work out much cheaper than using disposable ones.
27. Guests with back or neck problems and expectant mothers are encouraged not to ride.

Image Credits: @disneywithkandj and @mitchbardwell