We've rounded up 10 of the best DIY Advent Calendar Ideas to help your family count down the days to Christmas.
Easy Advent Calendars to Make at Home
December is only weeks away now, where on earth has the year gone? While we still have time to put off thinking about Christmas, time is running out if you want to make a DIY Advent Calendar.
I'm not a big fan of those store bought calendars with chocolates in. What I really want is a homemade calendar project that is simple enough to create, but that could be a family heirloom, or at least last throughout their childhood!
So I've been hanging out over at Pinterest looking for ideas, and there are so many easy advent calendars to make we might end up with more than one!
Don't forget to scroll all the way to the end so you don't miss any of the bright ideas.
Goody Bag Garland Advent Calendar

Oh my goodness, how awesome is this idea? An advent calendar made from goody bags you can buy from the Dollar Store! I love how they double up as a garland too. (via Exquisitely Unremarkable)
Message in an Ornament Advent Calendar

I am amazed by this unique advent calendar idea, I've never seen anything like it! (via Squirrelly Minds)
Random Acts of Kindness Christmas Tree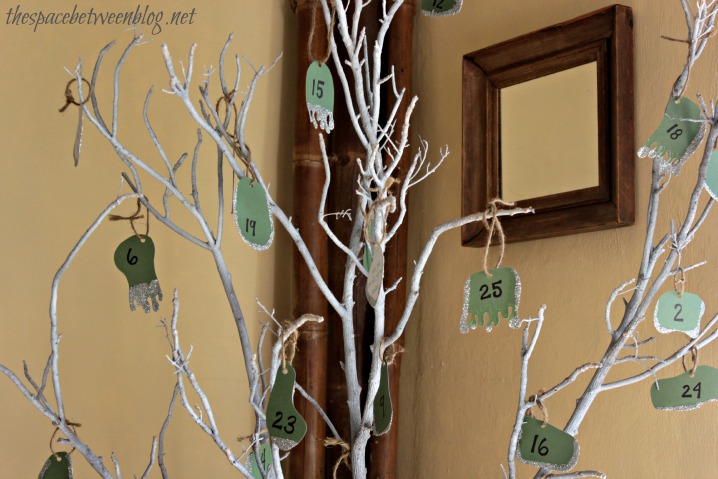 I love this idea for an advent calendar, because as well as counting down the days to Christmas it also encourages daily random acts of kindness. (via The Space Between)
DIY Paper Cup Reindeer Advent Calendar

I love this idea for a frugal advent calendar made from paper cups, decorated to look like reindeer! (via Balancing Home)
DIY Advent Calendar

I love the bright colours used on this advent calendar, it's made from 2″ favour tins and looks amazing! (via Makoodle)
Santa Countdown to Christmas

Oh this is so adorable! A lovely friendly Santa face, and each day you add another bit of cotton wool so come December 25 he has a full beard. (via Paper Creations by Kristin)
Easy No Sew Burlap Advent Calendar

Ready for another no sew option that is so beautiful it could become a family heirloom! (via Finding Home Farms)
Christmas Tree DIY Advent Calendar

Here's another idea that uses clothes pegs, but it's styled to look like a Christmas tree. (via Everyday Dishes)
Colourful Paper Advent

What a fabulous way to show off some of your favourite family photos from the year gone by! (via A Beautiful Mess)
DIY Advent Calendar to Make with the Kids

And finally, if you like to hang a garland from your mantle piece at Christmas why not give this a try this year instead. (via Modern Parents Messy Kids)

---