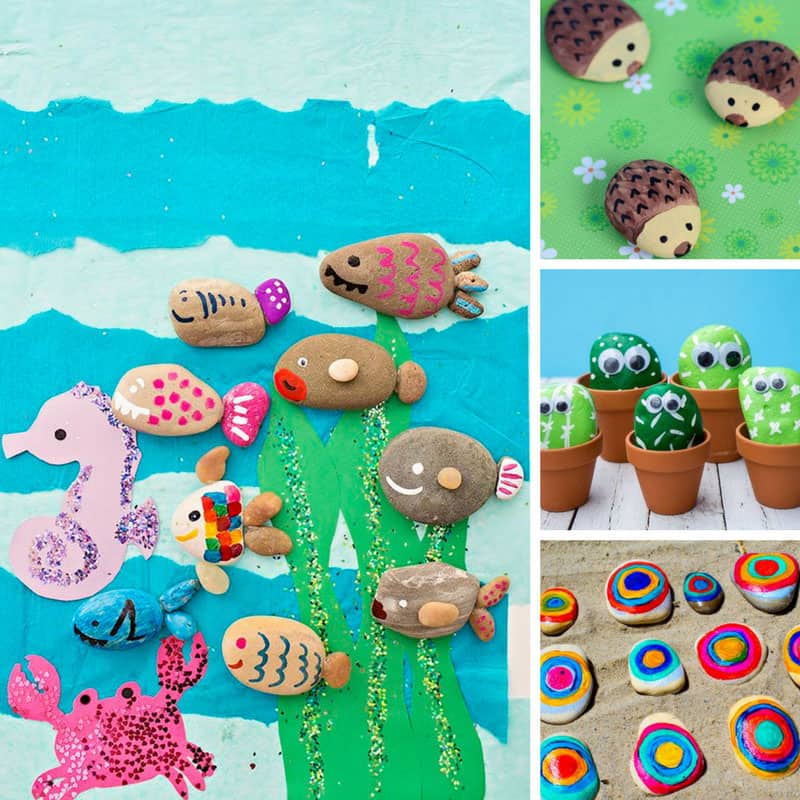 If you're looking for easy painted rock ideas we've got everything from hedgehogs and bumble bees to galaxy rocks and kindness rocks!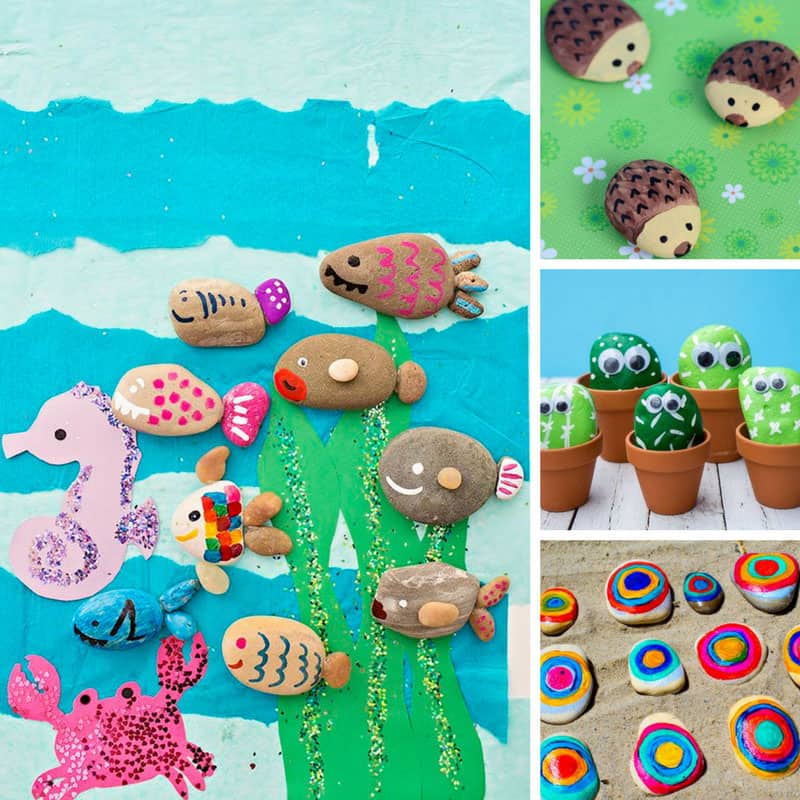 Easy Painted Rock Ideas
We collected a bag full of beautiful flat stones this summer that are crying out to be turned into something crafty so I've been searching for easy painted rock ideas to do with the kids. And oh my goodness there are so many fabulous ideas we might need to go and find more rocks!
I found everything from hedgehogs and math rocks to Hungry Caterpillar story stones and even a beautiful silhouette landscape!
As always be sure to scroll all the way to the end so you don't miss any of the great ideas. And don't forget to pin your favourites as you go!
Related Posts:
Hedgehog Painted Rocks – Rock Crafts for Kids

Oh how cute are these little hedgehogs! (via Easy Peasy and Fun)
Bee Painted Rocks

And these painted bees are adorable too – I love their wings! (via Easy Peasy and Fun)
Ladybug Painted Rocks

Or how about ladybugs? These would make the perfect gift for someone who loves gardening so they could have a whole trail of ladybirds weaving through their flowers! (via Crafts by Amanda)
LEGO® Minifigure Painted Rocks

These LEGO painted rocks made me smile, and if your little one loves LEGO they'll love making and playing with these! (via Frugal Fun 4 Boys)
Pink Pet Owl Rock

Here's a great twist on the pet rock idea, paint a pet owl instead, you need just the right shaped stone I think but she looks so regal sitting there on her perch! (via DecoArt)
Pet Cactus Rocks

Ha! Or make pet rocks that are disguised as cactus plants! (via The Best Ideas for Kids)
DIY Cactus Painted Rocks

Or you could paint the rocks to look just like a cactus, which makes it the perfect gift for someone who needs a bit of greenery in their life but always kills pot plants! (via El Nido)
Painted Rock Photo Holder Craft for Kids

Here's a way to make those painted rocks useful, add some wire to turn them into cute photo holders. (via Buggy and Buddy)
Rock Photo Holders

And here's a grown up version of the same painted rocks craft! These would make gorgeous gifts too for displaying favourite photos. (via One Little Project)
Painted Rock Fish

Oh this is just adorable! Turn the rocks into fish and then make an underwater scene with them! (via hello, Wonderful)
Kandinsky Inspired Rock Art

I confess I had to Google Kandinsky, but when I saw this painting I could easily see how it had inspired these gorgeous rainbow painted rocks! (via Art Crafty Kids)
Hands-On Math with Painted Number Rocks

Here's a way to make math a little more fun, by using painted rocks as manipulatives! What a perfect idea for Tot School! (via Fun a Day)
Sight Word Pebbles

Oh and look you can use painted rocks for sight word practice too! (via The Imagination Tree)
Garden Rocks

I love this take on story stones, using garden images on the rocks to spark the imagination. (via The Craft Train)
Hungry Caterpillar Story Stones

Oh and how beautiful is this set of story stones for retelling the Hungry Caterpillar! (via The Purple Pumpkin )
Learn about Emotions with Build-a-Face Story Stones

And these fabulous face painted stones can be used to learn all about emotions in a fun and tactile way. (via Where Imagination Grows)
Pour Painted Paper Weight

Wow these pour painted paper weights are gorgeous! They'd make fabulous gifts for any occasion! (via Happy Hooligans)
Leaf Printed Rocks

This is a great activity to support a session learning all about leaves and trees. (via The Pinterested Parent)
Fluffy Pet Rocks

Oh and here are some more pet rock ideas – love the furry yarn hair! (via The Craft Train)
Painted Rock Woodland Animals

These are really cute, and really you could paint any animals on your rocks. Like farm animals, or the animals from the Gruffalo story! (via DecoArt)
Rock Town Painted Village

You'd need some pretty large stones for this project but how fabulous is this painted rock town? (via DecoArt)
Make Leaf Rocks

And here is another idea for painting leaf rocks. (via YouTube)
Magical Landscape Silhouette Painted Rocks for a Rock Hunt

Oh these silhouette painted rocks are just beautiful. (via Adventure in a Box)
How to Paint Marble Rocks

Here's another painted rock idea that would make a great paper weight. The galaxy marble effect is quite stunning. (via Creative Green Living)
Kindness Rocks Project

Wow. What an amazing idea! Paint up your rocks with heartfelt messages and then leave them around your local area for strangers to find. You can find out more about the Kindness Rocks Project here (via Consumer Crafts)
Related Posts:

Pin these ideas!
Hit the button to save these ideas for later.
Don't forget to
follow us on Pinterest
for more great stuff!
&
---
[text-blocks id="end-post-list-kids"]