We've rounded up some easy Patriotic Crafts for Kids to get your little ones in the mood for celebrating on Labor Day or the Fourth of July!
This post may contain affiliate links, which means I may receive a commission if you click on a link and purchase something. As an Etsy and Zazzle Affiliate I earn commissions from qualifying purchases.
Patriotic Crafts for Kids
Independence Day is almost here so we've searched high and low for the best patriotic crafts for kids we could find!
You're going to be spoiled for choice with this collection so be sure to check out all of the ideas and pin your favourites as you go!
28. Celebrate the 4th of July with a Fireworks Painting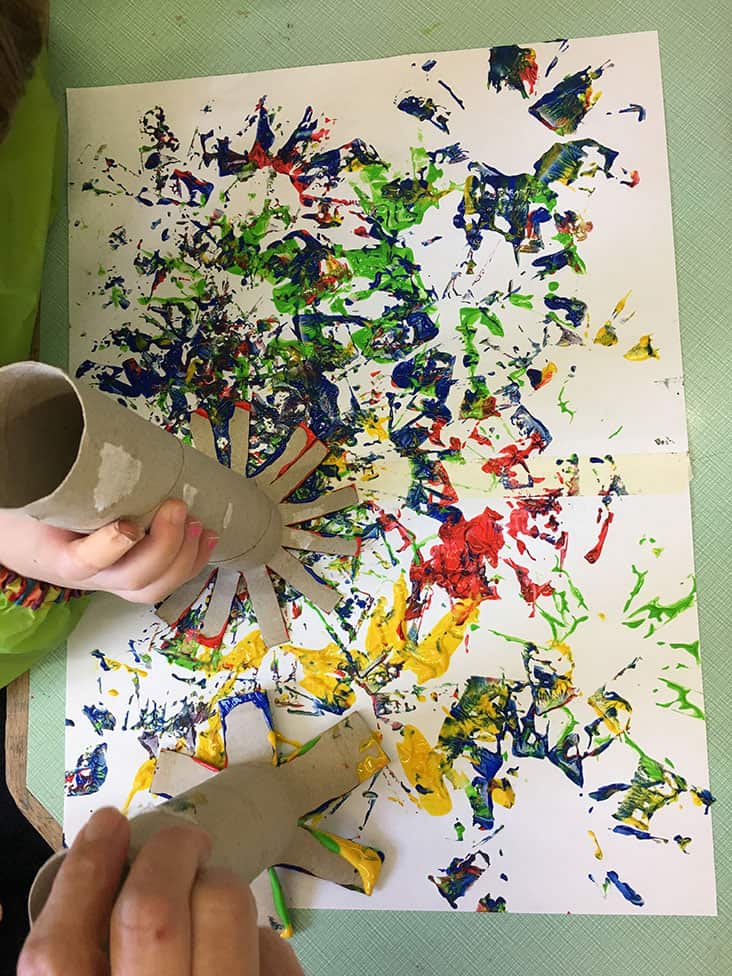 Found it here >> Just Bright Ideas
Kids of all ages will have fun making their own fireworks painting, and it's really easy to set up too.
27. Make a Super Fun Rocket Flyer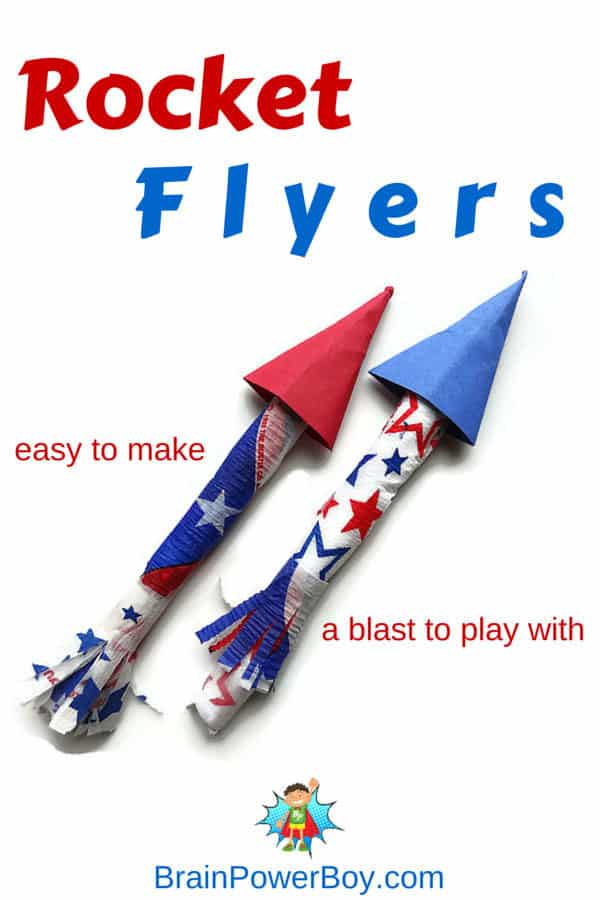 Found it here >> Brain Power Boy
These rocket flyers are super COOL, not only do they look patriotic but with the help of an elastic band they really fly!
26. Fireworks Play Dough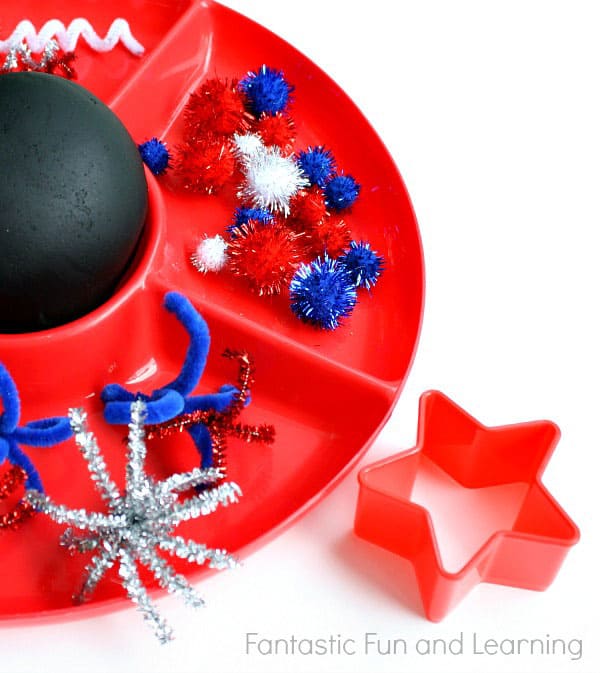 Found it here >> Fantastic Fun and Learning
If you're looking for a no-mess patriotic craft for your kids try this invitation to play with play dough, we were super intrigued to find out how to make play dough black!
25. Salt Fireworks: Festive Fine Motor Craft for Kids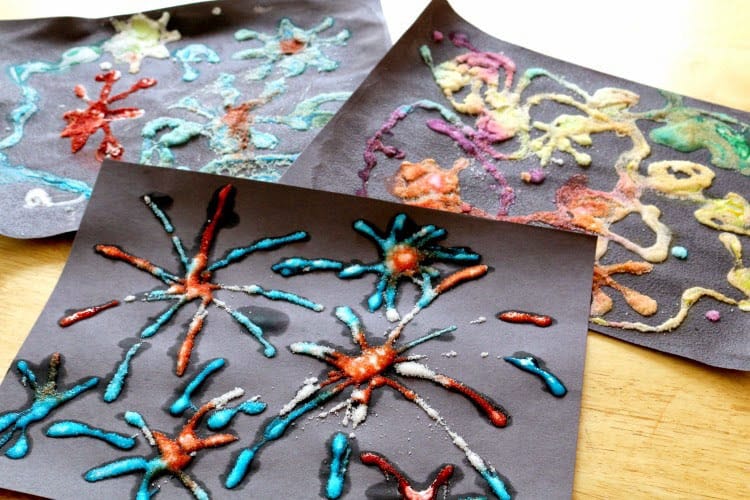 Found it here >> Schooltime Snippets
Here's another way to make a fabulous fireworks picture, this time it's a bit of a science experiment too!
24. Fourth of July Crafts Made from Recyclables
Found it here >> Design Dazzle
If you need a fun table decoration and your kids like recycling crafts this is a great choice for you.
23. 4th of July Printable Paper Chain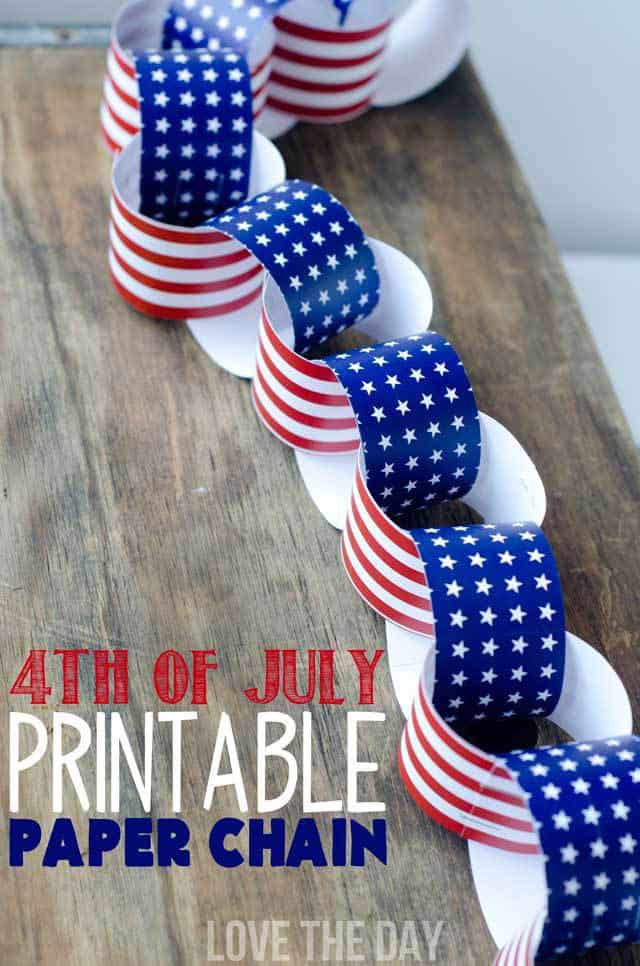 Found it here >> Love the Day
Putting together paper chains is a lovely calming activity at the end of a hectic day.
22. Homemade Confetti Launchers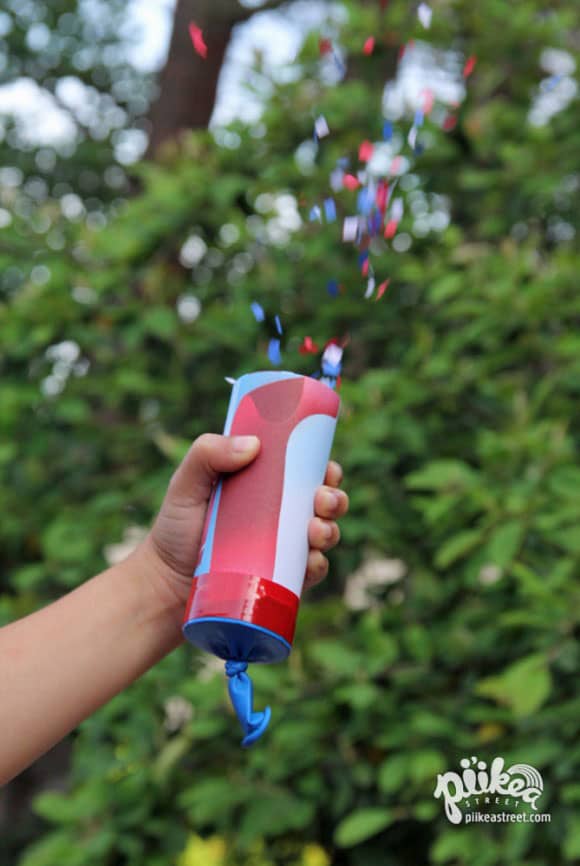 Found it here >> Piikea Street
We cannot get enough of these homemade confetti launchers!
21. Patriotic Firework Paintings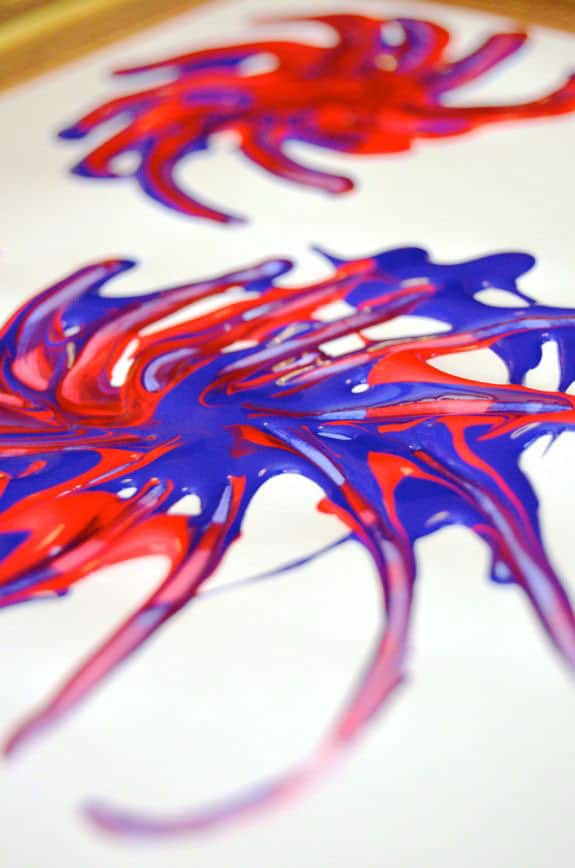 Found it here >> Inner Child Fun
Who knew there were so many different ways to make a patriotic firework painting!
20. 4th of July Sand Art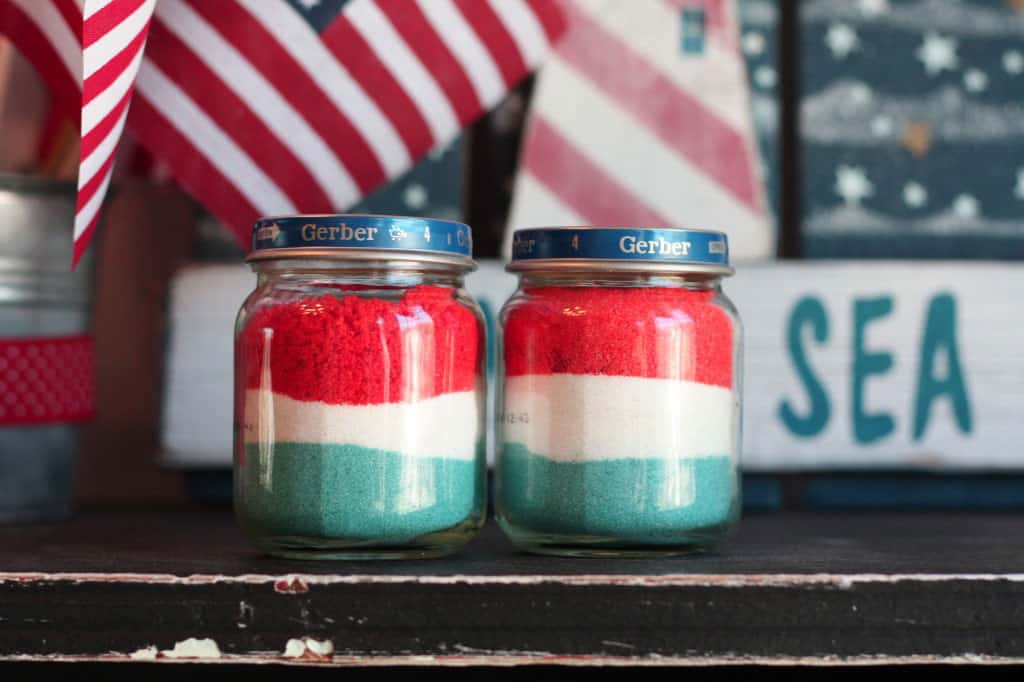 Found it here >> Honey Bear Lane
Here's a patriotic craft that will be enjoyed by the grownups as much as the kids and makes a lovely table decoration too.
19. Light Up the Sky this Fourth of July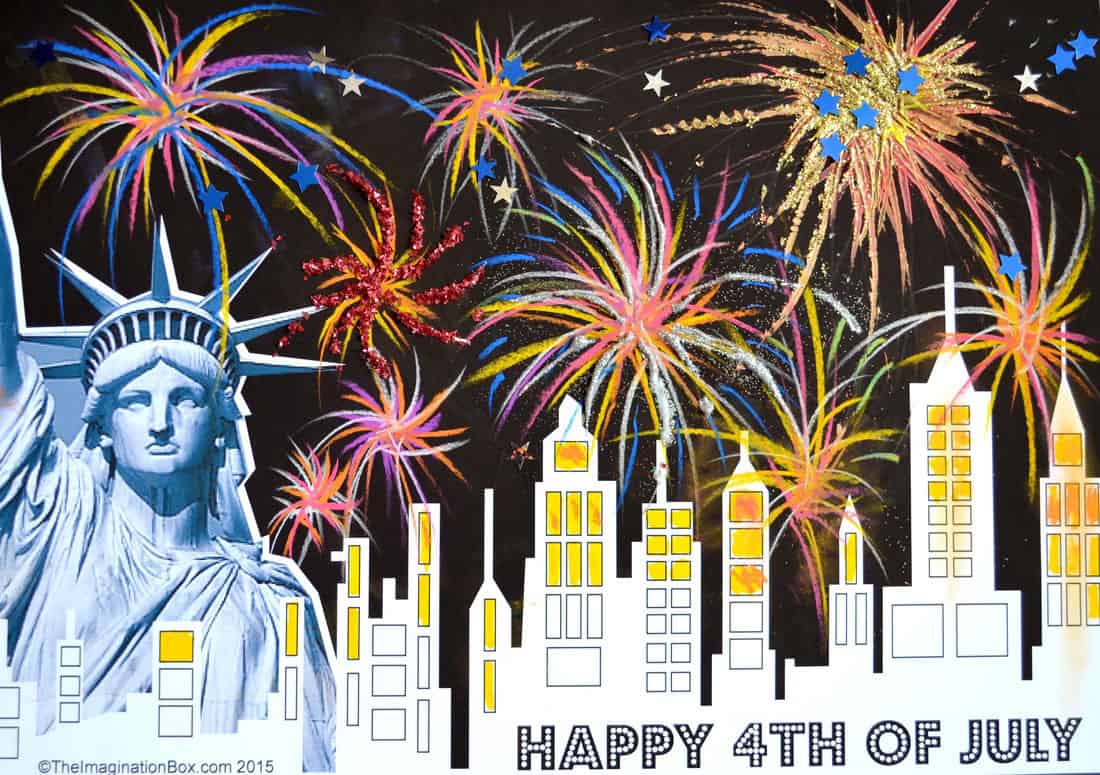 Found it here >> The Imagination Box
Fireworks are made with chalk this time, but the added New York skyline adds a wow factor to this patriotic craft!
18. DIY Bike License Plates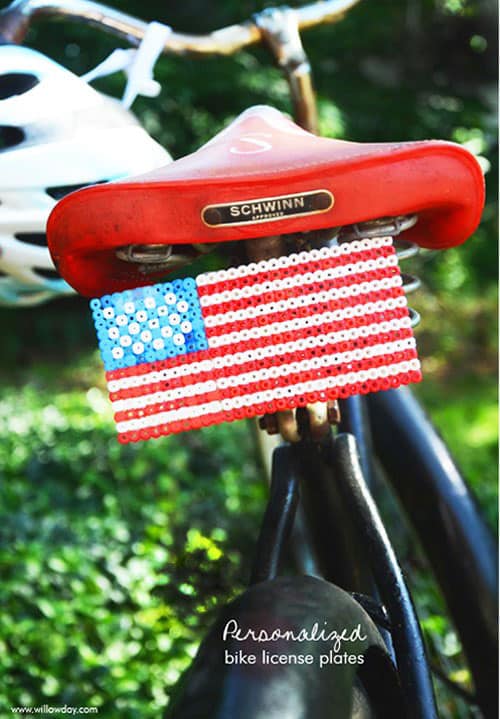 Found it here >> Willow Day
Quick grab the Perler beads because this bike licence plate craft is BRILLIANT!
17. Patriotic Medallion Ribbon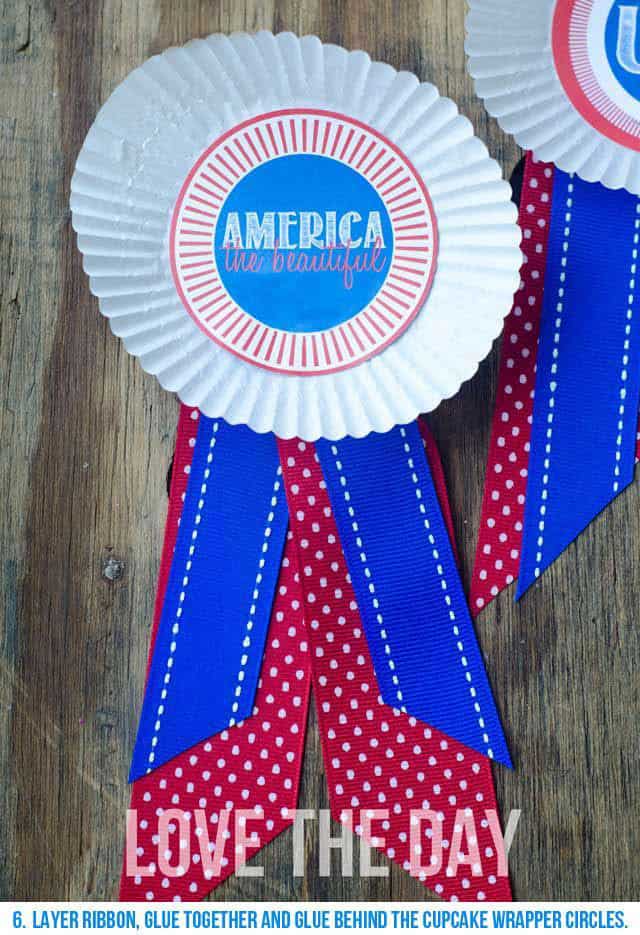 Found it here >> Love the Day
Put everyone at your party in the patriotic spirit by pinning one of these medallion ribbons to their shirt!
16. Easy DIY Rocket Ship Craft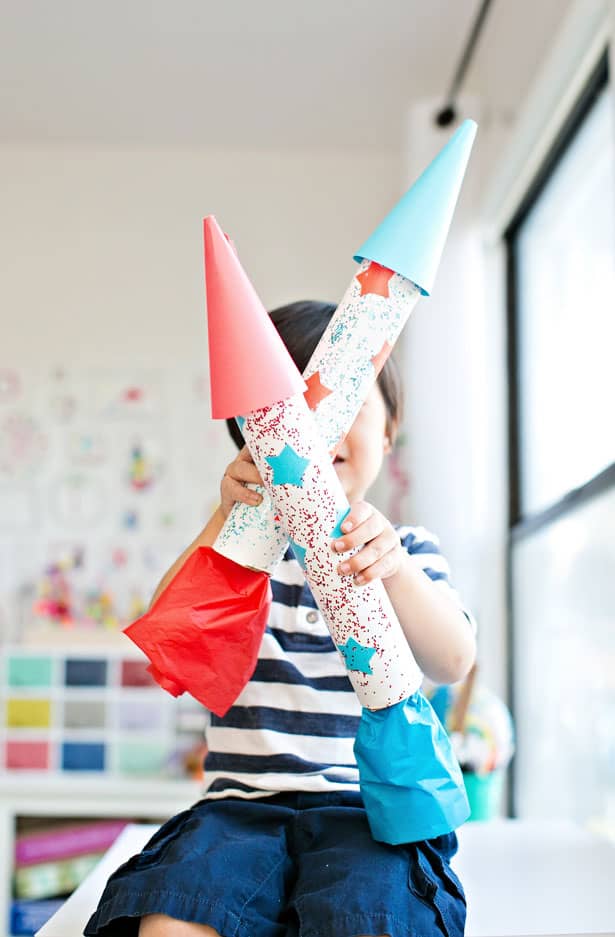 Found it here >> Hello Wonderful
How cool are these rockets? And all dressed up for your July 4th celebrations!
15. Fourth of July Flag Craft for Toddlers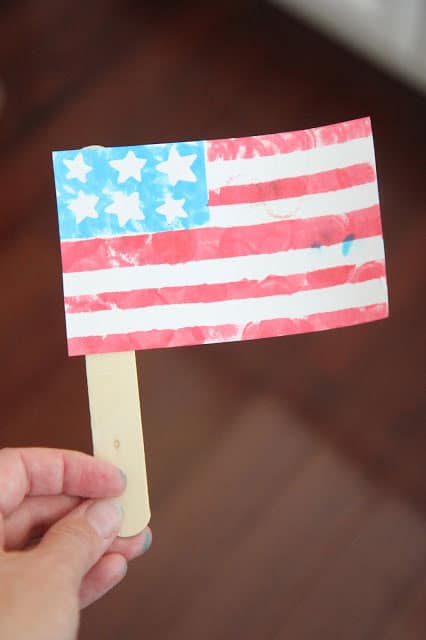 Found it here >> Toddler Approved
This craft is simple enough for a toddler to make and they will love waving their own mini flag at the Independence Day parade!
14. 4th of July Star Sun Catchers: Kids Craft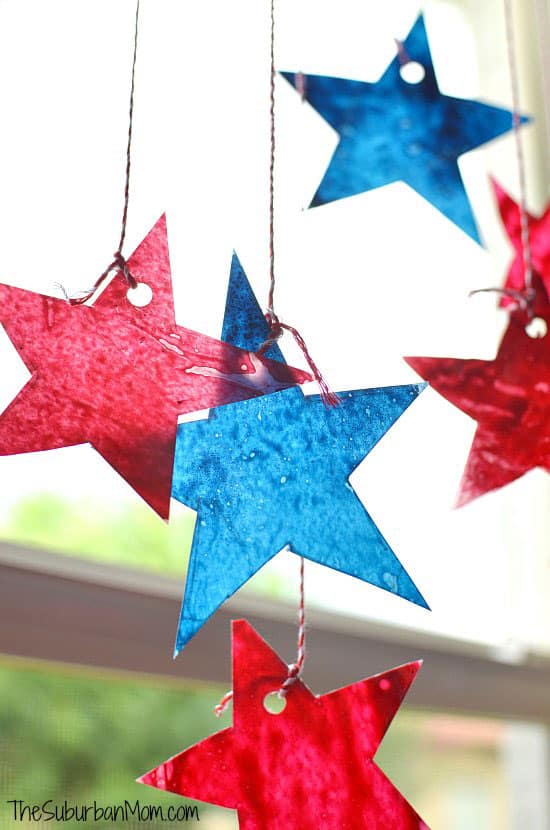 Found it here >> The Suburban Mom
This sun catcher craft is perfect if you need something last minute because you should have all the materials you need at home already.
13. Duct Tape 4th Of July Banner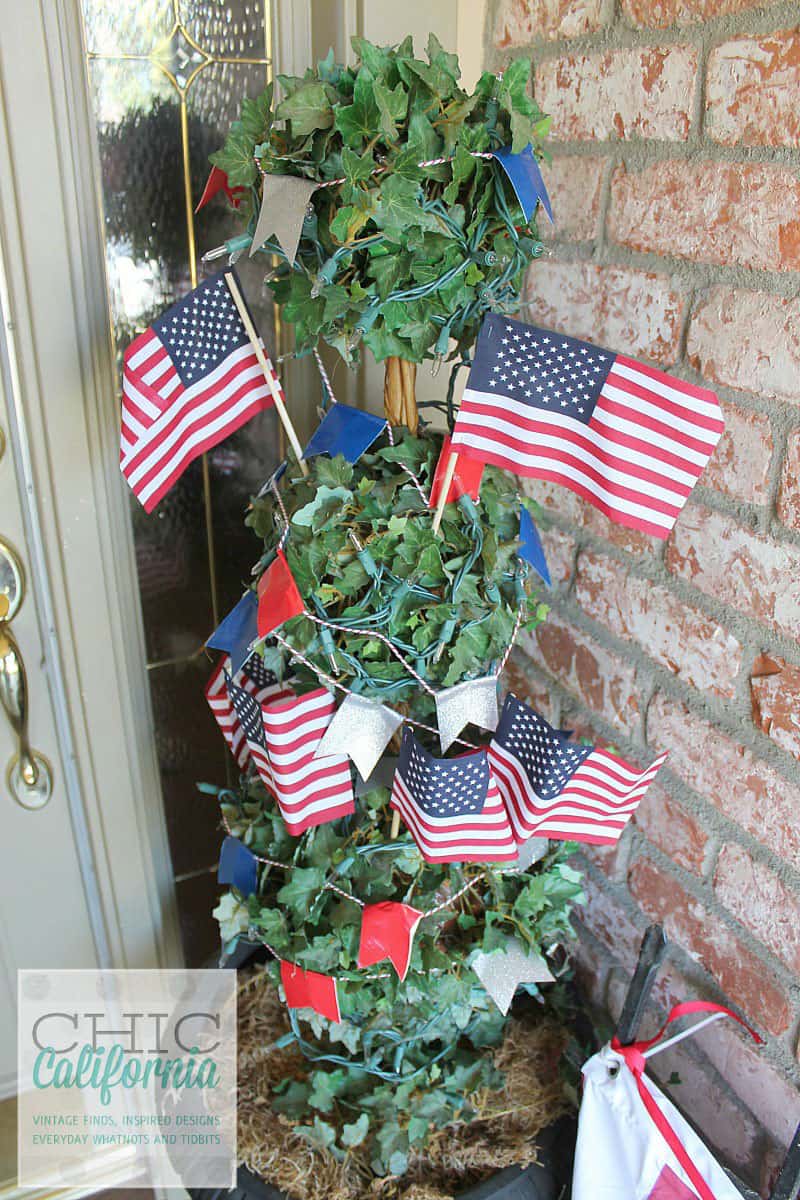 Found it here >> Chic California
If you love to decorate the front porch for July 4th have the kids make you this fabulous duct tape banner!
12. Patriotic Duct Tape Parade Stick
Found it here >> Crafts by Amanda
Let the kids go to town making their own parade stick out of duct tape.
11. DIY Confetti Poppers For 4Th Of July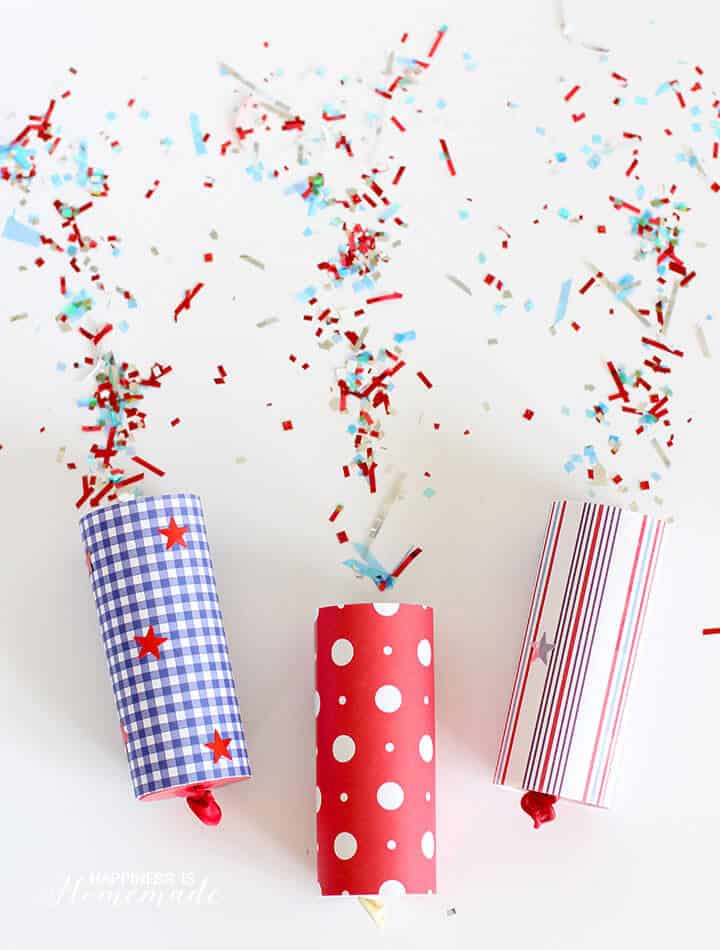 Found it here >> Happiness is Homemade
Because you can never have too many confetti poppers.
10. Patriotic Paper Hat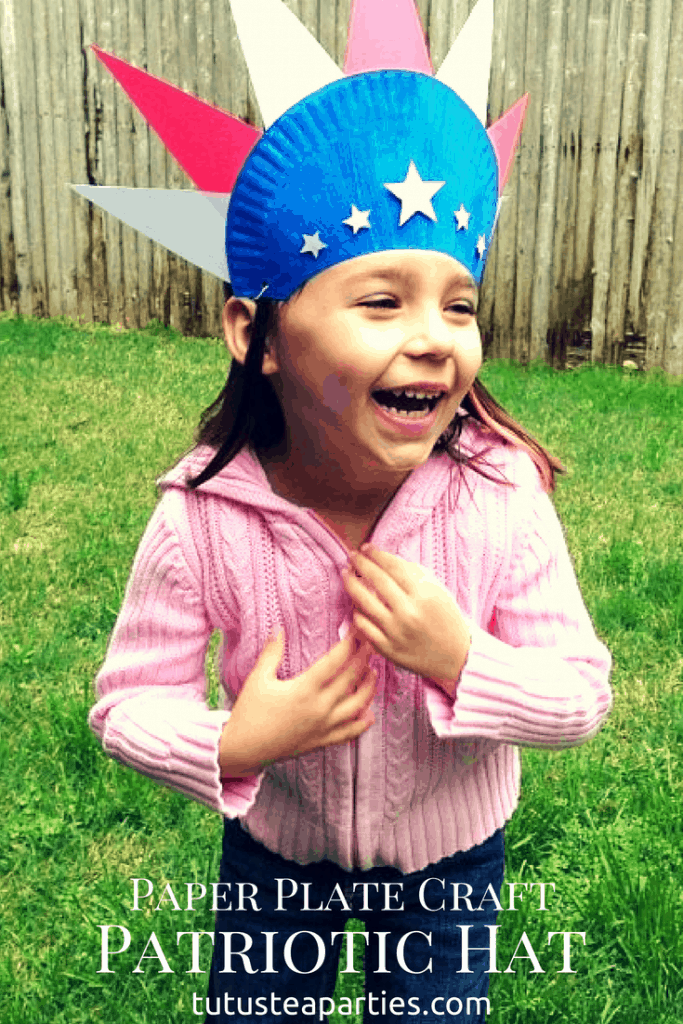 Found it here >> Tutus and Tea Parties
Paper plates are the perfect ingredient for fun toddler activities and if your little ones love to dress up they are going to have a blast making and wearing this wonderful patriotic paper plate hat.
9. Patriotic Windsock Toilet Paper Roll Kids Craft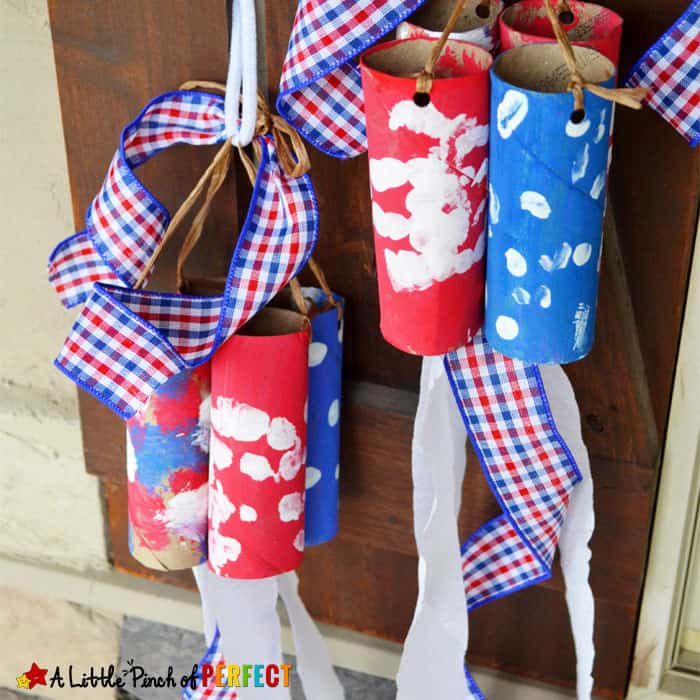 Found it here >> A Little Pinch of Perfect
If you have a secret stash of toilet roll holders this patriotic windsock is just what you've been waiting for! Add some paint and some ribbon to the mix and you have some wonderful July 4th decorations.
8. 4th of July Hair Bows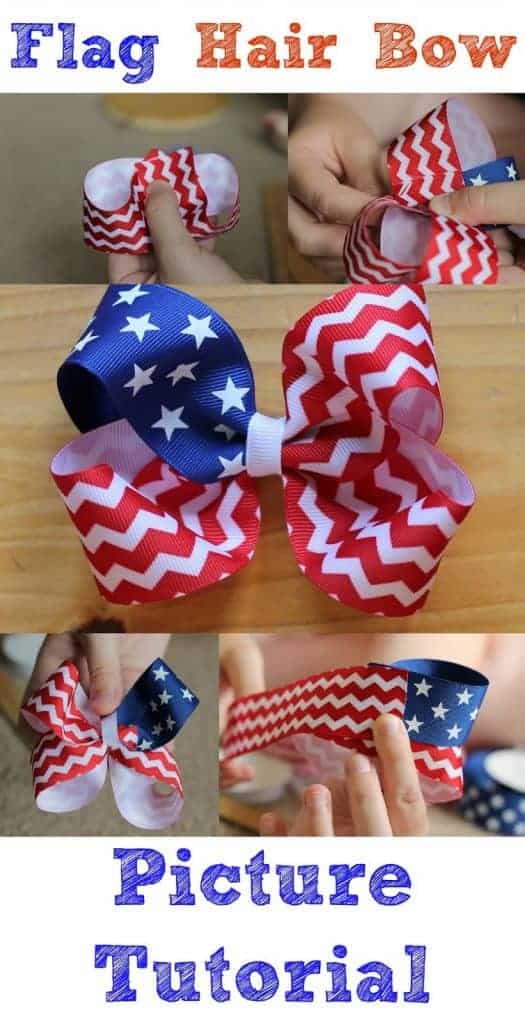 If your little girl loves bows then she will love to help you make this 4th of July hair bow. Heck it's so cute you might want to make one for yourself too!
7. July 4th Glitter American Flag Kids' Art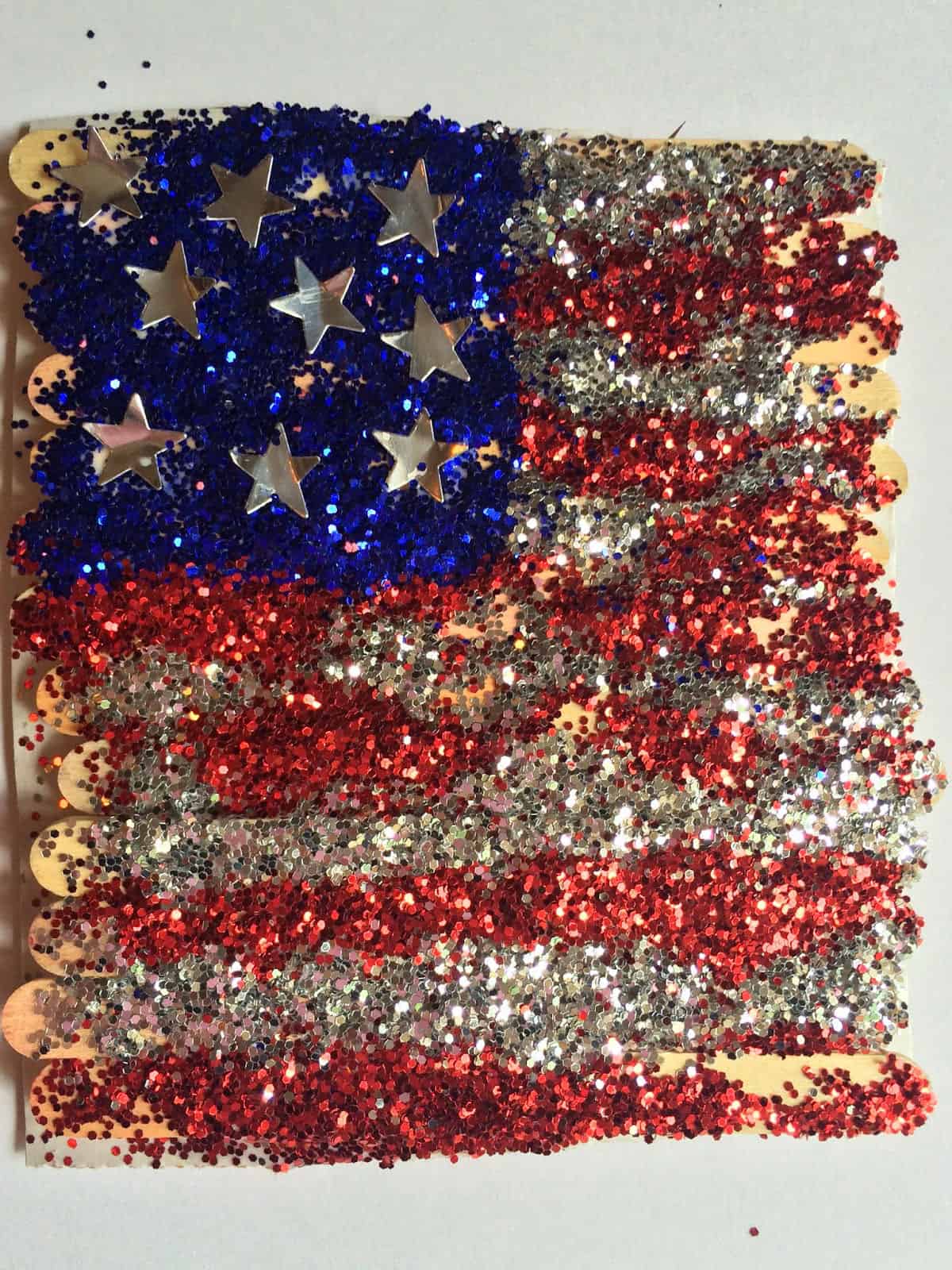 Found it here >> Mini Monets and Mommies
If you've also been hoarding popsicle sticks then Erica has a wonderful craft idea for making 4th of July flags. Your toddlers and preschoolers will have a blast sprinkling the glitter over the popsicle sticks.
6. Toothpaste Box Firecrackers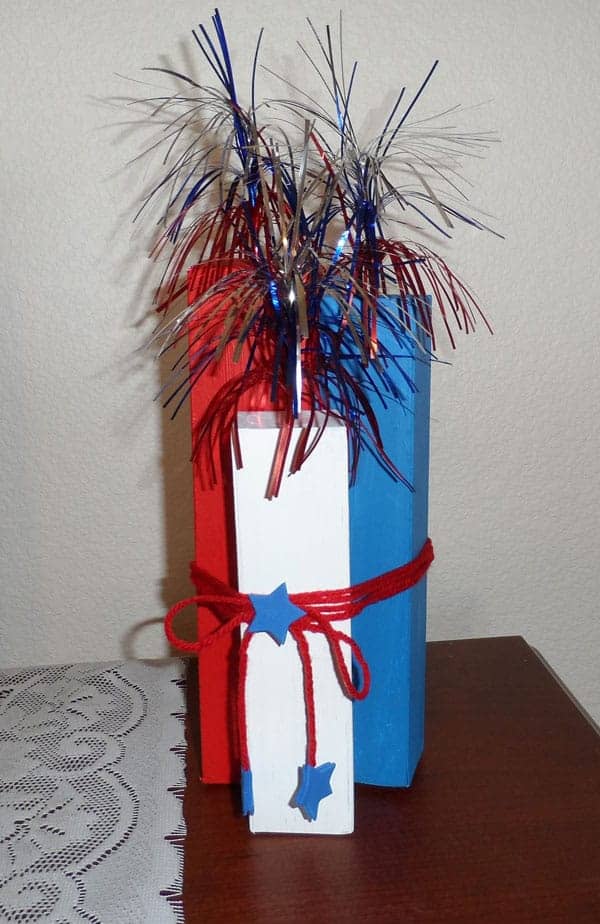 Found it here >> The Joys of Boys
How cute are these firecrackers?? And I love finding crafts that use items you were just going to throw away or recycle!
5. 4th of July Craft for Kids: Patriotic Wand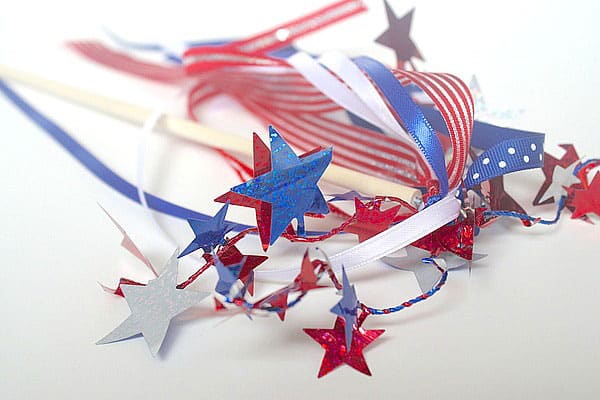 Found it here >> Buggy and Buddy
Younger kids will need some help putting these together, but they will sure have a lot of fun dancing with them when they're done. Perfect to take to a patriotic party!
4. Cookie Cutter Stamping ~ A Classic 4th of July Craft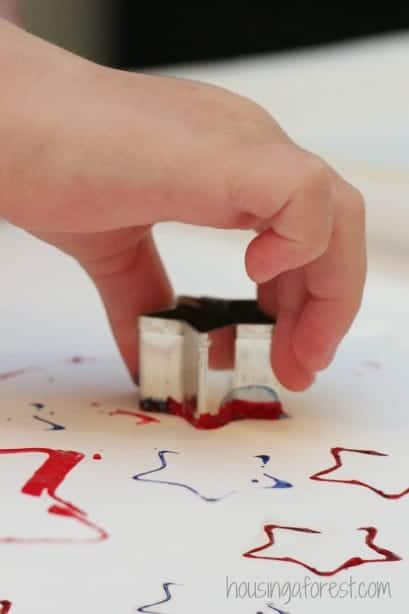 Found it here >> Housing a Forest
This cookie cutter craft is perfect for little hands and will make a fabulous picture to display, or give to grandma as a gift!
3. Easy Patriotic Jar Candle Craft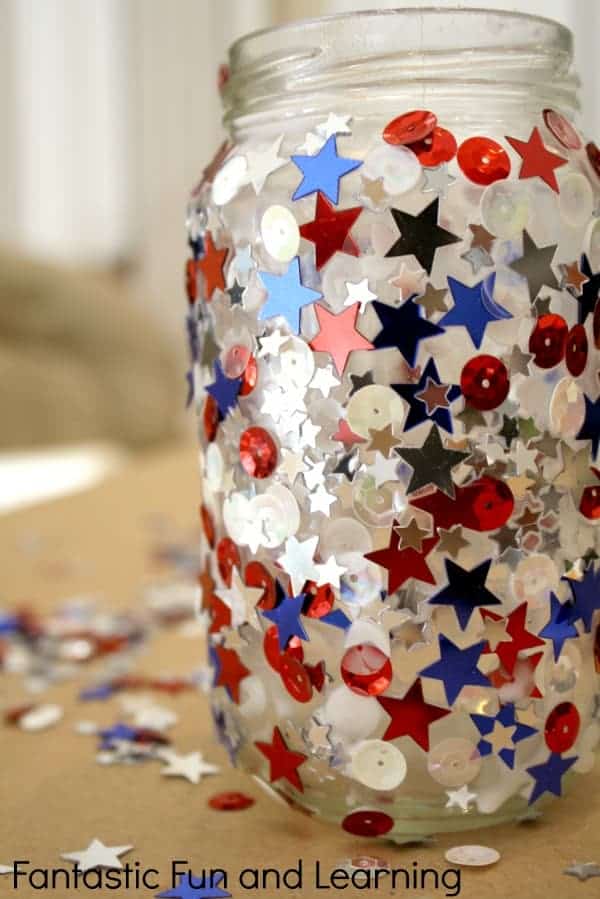 Found it here >> Fantastic Fun and Learning
What a fabulous way to combine fine motor skill practice with a creative craft that is perfect for decorating the table on Independence Day.
2. Sponge Painted American Flag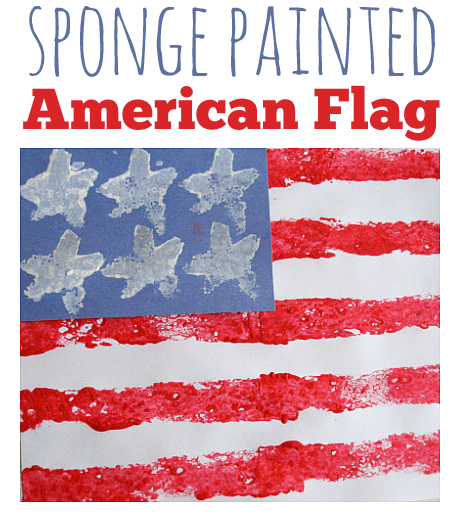 Found it here >> No Time for Flash Cards
This sponge painted flag looks like a lot of fun to make!
1. Spin Art Streamers: A 4th of July Craft for Kids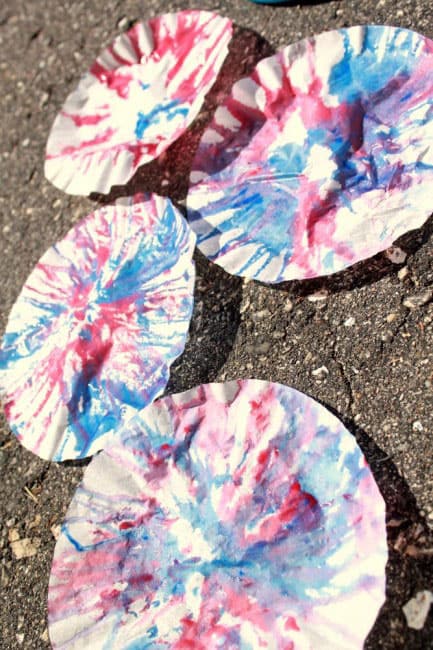 Found it here >> Hands on As We Grow
And then let's finish up our collection of Red, White and Blue, crafts for kids with these fabulous streamers!