Funeral poems are a wonderful way to pay tribute and celebrate the life of your loved one. This collection of poems has been chosen for their comforting words. You can read them as a eulogy poem during the service, at the graveside or include the words in your funeral stationery.
Short Poems for Funerals
Here are our favourite short poems for funerals. They are perfect to read as a eulogy poem, or to be included in a memorial card to hand out to friends and loved ones as a lasting tribute.
Let Me Go by Christina Rossetti
When I come to the end of the road
And the sun has set for me
I want no rites in a gloom filled room
Why cry for a soul set free?
Miss me a little, but not for long
And not with your head bowed low
Remember the love that once we shared
Miss me, but let me go.
For this is a journey we all must take
And each must go alone.
It's all part of the master plan
A step on the road to home.
When you are lonely and sick at heart
Go to the friends we know.
Laugh at all the things we used to do
Miss me, but let me go.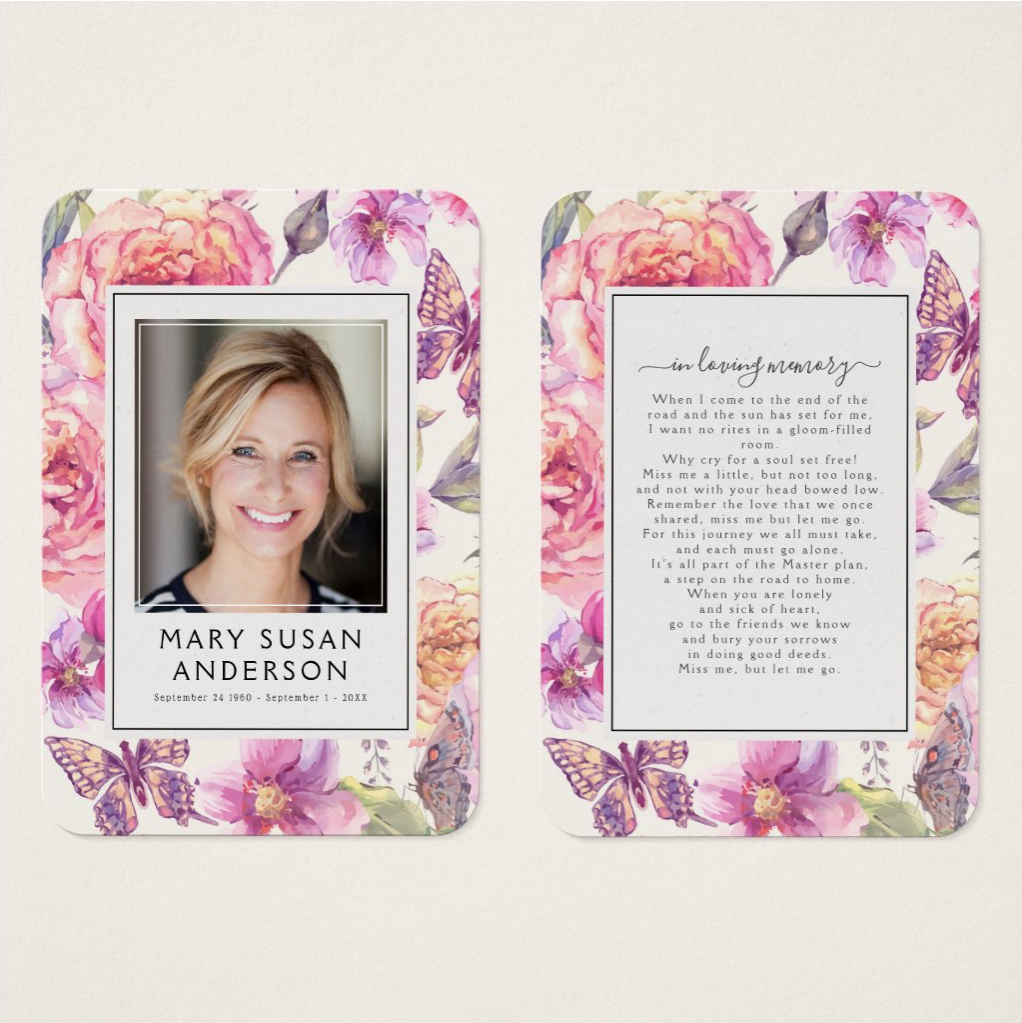 'Tis Better To Have Loved and Lost – Alfred Lord Tennyson
I hold it true, whate'er befall;
I feel it, when I sorrow most;
'Tis better to have loved and lost
Than never to have loved at all.
Music, When Soft Voices Die – Percy Bysshe Shelley
Music, when soft voices die,
Vibrates in the memory –
Odours, when sweet violets sicken,
Live within the sense they quicken.
Rose leaves, when the rose is dead,
Are heap'd for the belovèd's bed;
And so thy thoughts, when thou art gone,
Love itself shall slumber on.
If I Should Die – A. Price Hughes
If I should die and leave you here awhile,
Be not like others, sore undone, who keep
Long vigils by the silent dust, and weep.
For my sake – turn again to life and smile,
Nerving thy heart and trembling hand to do
Something to comfort other hearts than thine.
Complete those dear unfinished tasks of mine
And I, perchance, may therein comfort you.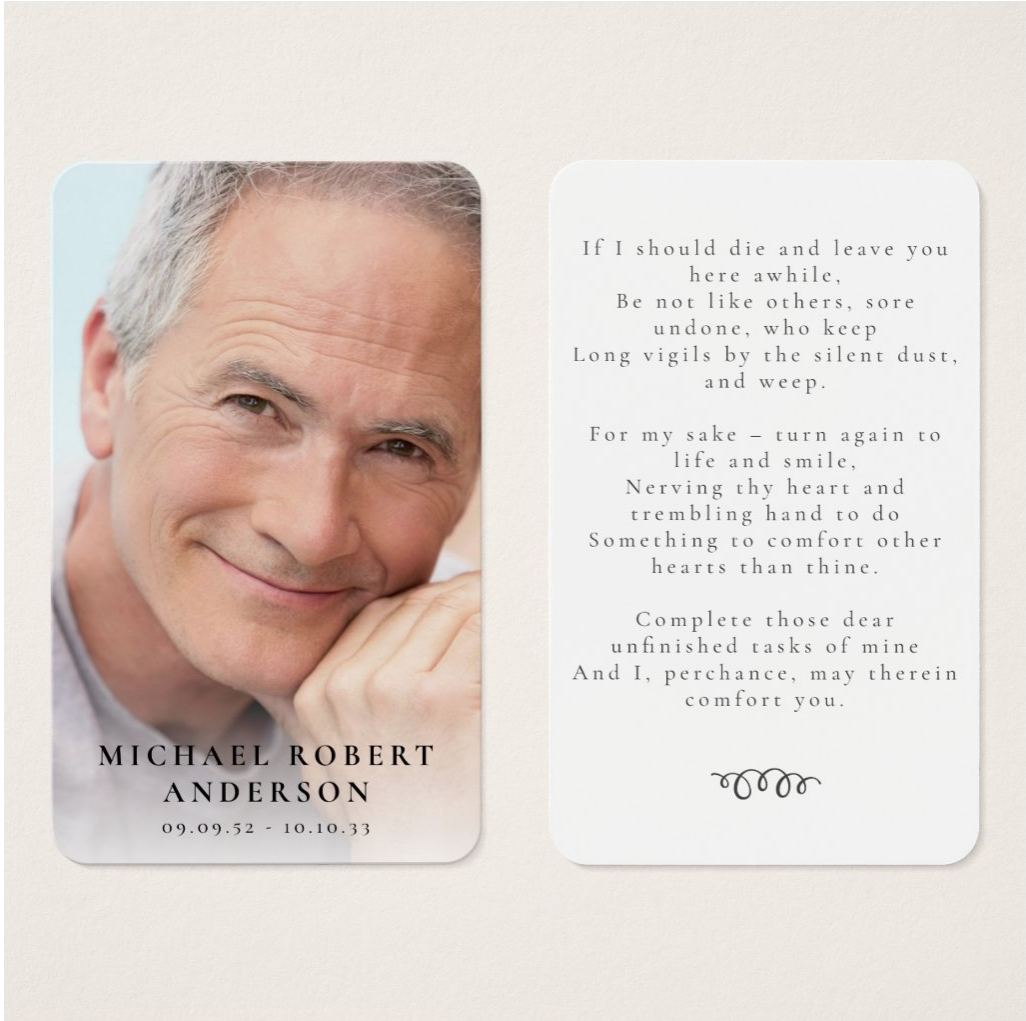 Boats Sail on the Rivers By Christina Rossetti
Boats sail on the rivers,
And ships sail on the seas;
But clouds that sail across the sky
Are prettier far than these.
There are bridges on the rivers,
As pretty as you please;
But the bow that bridges heaven,
And overtops the trees,
And builds a road from earth to sky,
Is prettier far than these.
Warm Summer Sun by Mark Twain
Warm summer sun,
Shine kindly here,
Warm southern wind,
Blow softly here.
Green sod above,
Lie light, lie light.
Good night, dear heart,
Good night, good night.
Classic Funeral Poems
Here is a selection of classic funeral poems. These touching poems contains words that can bring comfort in your time of grief.
Crossing the Bar By Alfred Lord Tennyson
Sunset and evening star,
And one clear call for me!
And may there be no moaning of the bar,
When I put out to sea,
But such a tide as moving seems asleep,
Too full for sound and foam,
When that which drew from out the boundless deep
Turns again home.
Twilight and evening bell,
And after that the dark!
And may there be no sadness of farewell,
When I embark;
For tho' from out our bourne of Time and Place
The flood may bear me far,
I hope to see my Pilot face to face
When I have crost the bar.
Because I could not stop for Death by Emily Dickinson
Because I could not stop for Death –
He kindly stopped for me –
The Carriage held but just Ourselves –
And Immortality.
We slowly drove – He knew no haste
And I had put away
My labor and my leisure too,
For His Civility –
We passed the School, where Children strove
At Recess – in the Ring –
We passed the Fields of Gazing Grain –
We passed the Setting Sun –
Or rather – He passed us –
The Dews drew quivering and chill –
For only Gossamer, my Gown –
My Tippet – only Tulle –
We paused before a House that seemed
A Swelling of the Ground –
The Roof was scarcely visible –
The Cornice – in the Ground –
Since then – 'tis Centuries – and yet
Feels shorter than the Day
I first surmised the Horses' Heads
Were toward Eternity –
Remember By Christina Rossetti
Remember me when I am gone away,
Gone far away into the silent land;
When you can no more hold me by the hand,
Nor I half turn to go yet turning stay.
Remember me when no more day by day
You tell me of our future that you plann'd:
Only remember me; you understand
It will be late to counsel then or pray.
Yet if you should forget me for a while
And afterwards remember, do not grieve:
For if the darkness and corruption leave
A vestige of the thoughts that once I had,
Better by far you should forget and smile
Than that you should remember and be sad.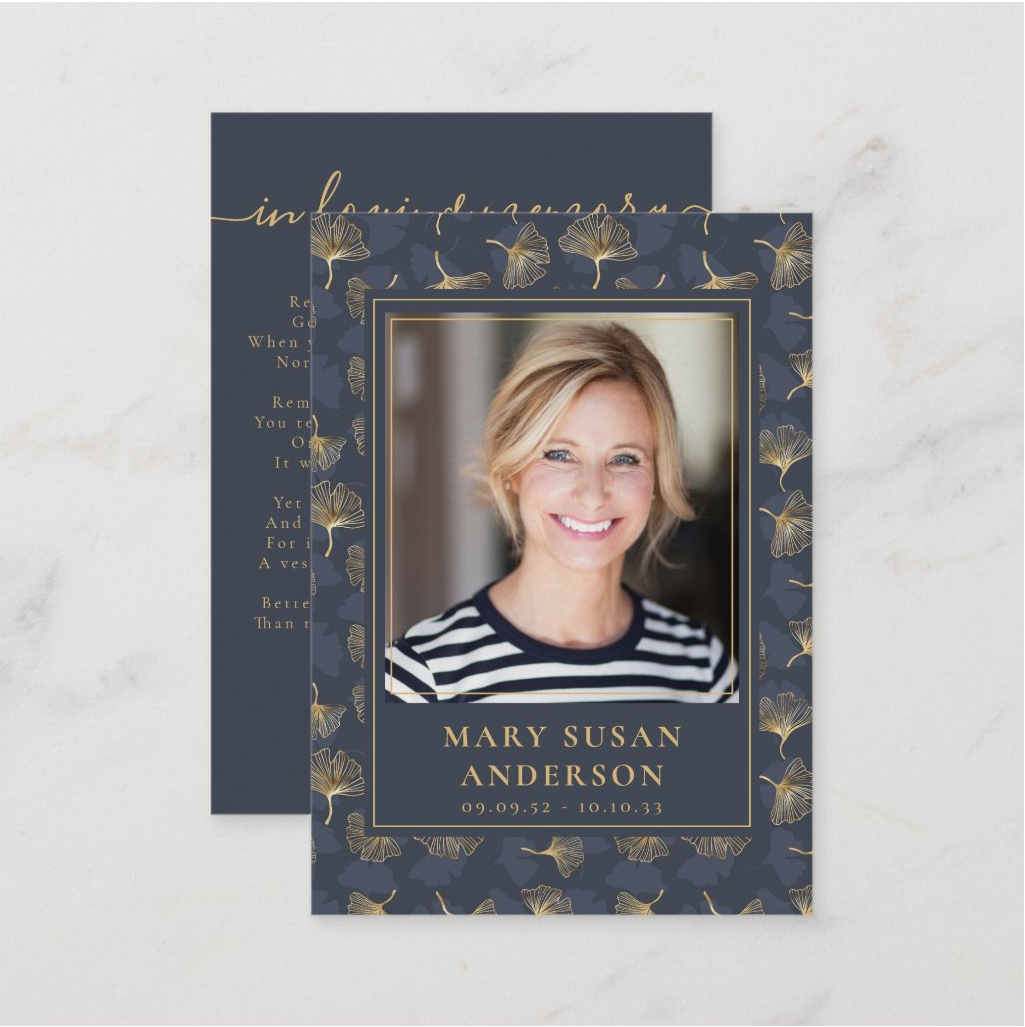 Inarticulate Grief by Richard Aldington
Let the sea beat its thin torn hands
In anguish against the shore,
Let it moan
Between headland and cliff;
Let the sea shriek out its agony
Across waste sands and marshes,
And clutch great ships,
Tearing them plate from steel plate
In reckless anger;
Let it break the white bulwarks
Of harbour and city;
Let it sob and scream and laugh
In a sharp fury,
With white salt tears
Wet on its writhen face;
Ah! let the sea still be mad
And crash in madness among the shaking rocks—
For the sea is the cry of our sorrow.
All is Well by Henry Scott Holland
Death is nothing at all,
I have only slipped into the next room
I am I and you are you
Whatever we were to each other, that we are still.
Call me by my old familiar name,
Speak to me in the easy way which you always used
Put no difference in your tone,
Wear no forced air of solemnity or sorrow
Laugh as we always laughed at the little jokes we enjoyed together.
Play, smile, think of me, pray for me.
Let my name be ever the household word that it always was,
Let it be spoken without effect, without the trace of shadow on it.
Life means all that it ever meant.
It it the same as it ever was, there is unbroken continuity.
Why should I be out of mind because I am out of sight?
I am waiting for you, for an interval, somewhere very near,
Just around the corner.
All is well.
Come! by Walter de la Mare
From an island of the sea
Sounds a voice that summons me,–
"Turn thy prow, sailor, come
With the wind home!"
Sweet o'er the rainbow foam,
Sweet in the treetops, "Come,
Coral, cliff, and watery sand,
Sea-wave to land!
"Droop not thy lids at night,
Furl not thy sails from flight!…"
Cease, cease, above the wave,
Deep as the grave!
O, what voice of the salt sea
Calls me so insistently?
Echoes, echoes, night and day,–
"Come, come away!"
Custom Memorial Cards to Honour Your Loved One
At Sunflower Memorials we pride ourselves in creating funeral and memorial stationery and gifts that will act as a lasting tribute to your loved one.
Memorial cards are a lovely gift that can be given to friends and loved ones who attend the service, or mailed to those who weren't able to offer their condolences in person.
Our cards come in a range of sizes and can be easily personalized with a favourite photograph and your choice of poem. They are then professionally printed and shipped to your door.
You can see the full range of memorial poem cards here.