DISCLOSURE: Some of the links below are affiliate links. This means that, at zero cost to you, I will earn an affiliate commission if you click through the link and finalize a purchase. All opinions are my own, and I only recommend products that will add value for my readers.
From Clark Kent to toothless dragons, kittens to Disney Princesses. So many easy homemade Halloween costumes for kids in this list!
Easy Homemade Halloween Costumes for Kids
Do you spend months planning your children's Halloween costumes or are you a 'last minute' mom who finds creativity in the face of last minute panic?
I'd like to say I'm the former, but I think I'd have to confess to being the latter!
This year I thought I'd get my research done early, but I've found so many amazing easy homemade Halloween costumes for kids I can't quite decide which ones to make.
Clark Kent

I love this inspiration for a Clark Kent costume for a little boy who loves to play Superman. (via We Heart It)
How to Make a Halloween Tutu

If you're wondering how to make a Halloween tutu then this is the post for you. I love that you can use it to turn your little girl into a super cute witch, a candy corn or even a pumpkin! (via Heartbreak Kids)
How To: Easy Bat Wings for Halloween or Dress Ups

Bats are perfect for Halloween costumes and this tutorial will show you how to make a super cute set of wings for your little bat. (via My Poppet)
No-Sew Shark Costume

If you don't like sewing then this is the perfect Halloween costume choice, an adorable shark outfit made from a sweat suit and some felt, oh and a glue gun. (via Atkinson Drive)
Little Red Riding Hood Cloak Tutorial

This cloak is so beautiful it would be perfect for fairytale dress up play all year round! (via Freshly Completed)
Tulle Princess Mini Mouse Dress Tutorial

I love all things Disney so I'm always on the look out for costume ideas and how adorable is this Minnie Mouse tulle dress? (via Inspiration Made Simple)
Tangled Rapunzel Halloween Costume

And here is a gorgeous homemade Tangled dress, perfect for Halloween or a trip to Disney World! (via Sew Like My Mom)
How to Make a Dino Hoodie

Here's another great idea if you don't have a lot of spare time to make a costume. And I love how you can make a cute boy, girl set which is just perfect for brothers and sisters… and twins! (via Mouse House Creations)
Amazing No-Sew DIY Ladybug Girl Costume

And here are the most adorable set of ladybug wings that really don't look that difficult to make. Your little one could wear these all year round for dress up! (via Freshly Planted)
Ballerina Tutu Tutorial

If your little girl (or boy) wants to dress up as a ballerina this Halloween then don't miss this tutorial. I love how there is just a little extra something on the tutu. (via Totally Stitchin')
Princess Merida Costume

Do you have a fan of Brave in your house? This Princess Merida costume is full of details, right down to the quiver belt, and looks simple to put together too. (via Sew Can Do)
Easy Fairy Costume

Oh my goodness, this has to be the most amazing fairy costume I have ever seen. And it's made by a 'last minute' mom too so it's really not the difficult. You could so easily turn this into a Tinkerbell costume just by using green fabrics. (via Being Brook)
Sleeping Beauty Dress

Princess costumes have this thing that they all look so same-y right? Not this one. You know that wonderful scene from Sleeping Beauty where Aurora can't decide whether she wants her dress to be pink or blue? That's the inspiration behind this amazing costume! (via Made Every Day)
DIY Mermaid Costume

Oh my goodness, just when I think I've picked out the perfect costume I find another one that's just as adorable. Like this Little Mermaid. (via The Sewing Rabbit)
DIY Angel Costume

This Lil' Angel costume is simply beautiful. (via Scattered Thoughts of a Crafty Mom)
MEOW! Easy DIY Kitty Cat Costume

Oh and this kitty cat costume is a lovely break from the usual black witches cat. (via Scattered Thoughts of a Crafty Mom)
Black Cat Costume

And see, now I've dissed black cat costumes I go and find this. Aww a tiny toddler would look so adorable in this tutu… (via Do It Yourself Divas)
How To Make a Dragon Costume From a Sweatsuit

And because we seem to be all tulle and tutus here is an adorable costume for a little boy or girl who loves dragons. A dragon made from a sweatshirt. (via Tried & True)
FROZEN Princess Anna Costume

And because I'm sure your little people might want to dress up as Frozen characters this Halloween here's my favourite Princess Anna costume, that costs less than 20 bucks to make. (via Ruffles and Rain Boots)
FROZEN-Inspired Queen Elsa Dress Up Apron Tutorial

And of course here's a Queen Elsa costume too. I love that these are aprons rather than dresses so they go over regular "comfy" clothes. And they can be worn as Halloween costumes or as dress up clothes all year round! (via Inspiration Made Simple)
DIY Olaf Costume

And then we'll finish the Frozen ensemble with an Olaf, which is of course made out of a sweatshirt, as all of the best boy costumes seem to be! (via Desert Chica)
Lego Brick Halloween Costume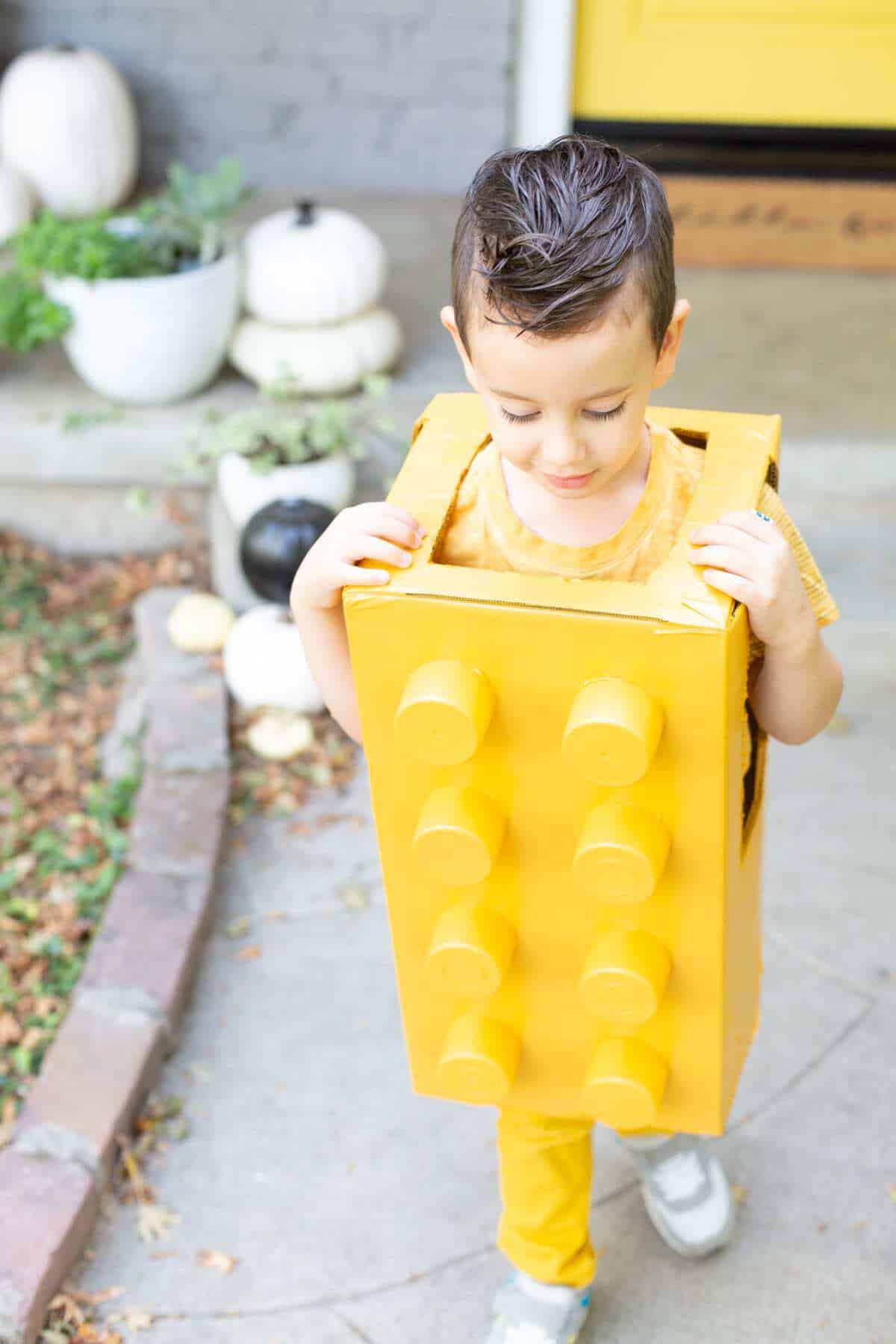 Here's a cute idea for the LEGO fan in your family. It'll take you just under an hour to transform an empty cardboard box into a LEGO brick costume!
Lego Brick Halloween Costume by Lovely Indeed
Jack-O-Lantern Costume DIY- Easy to Sew!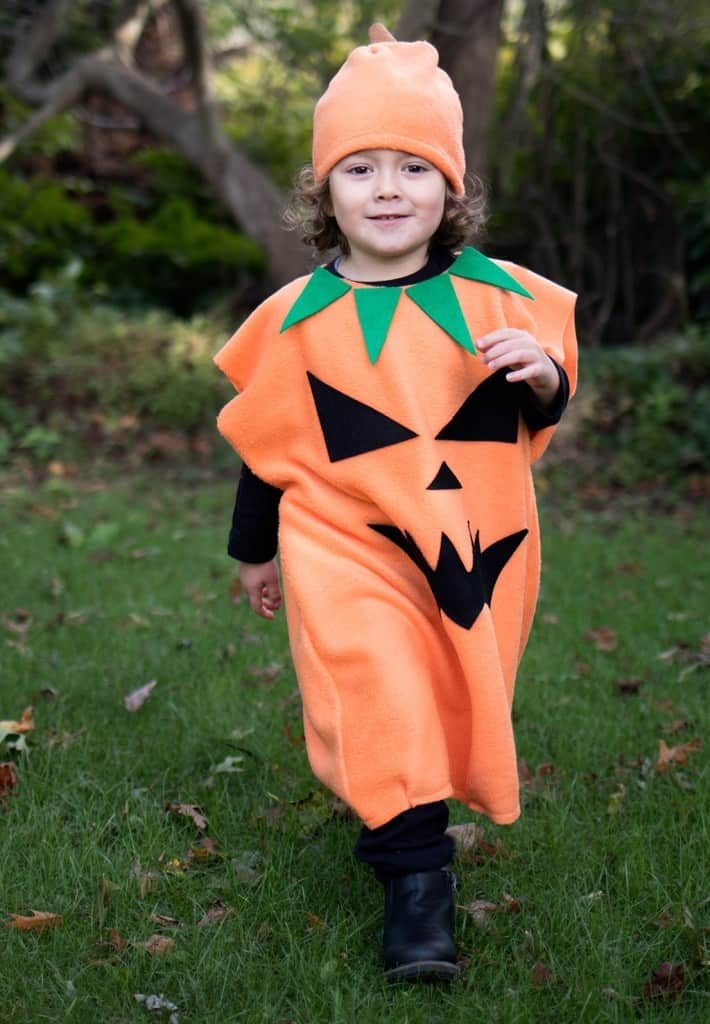 This Jack-oLantern costume is super cute and perfect for kids of all sizes, and better still it's no sew!
Jack-O-Lantern Costume DIY- Easy to Sew! by Gina Michele
How to make a No Sew Disney Vampirina Costume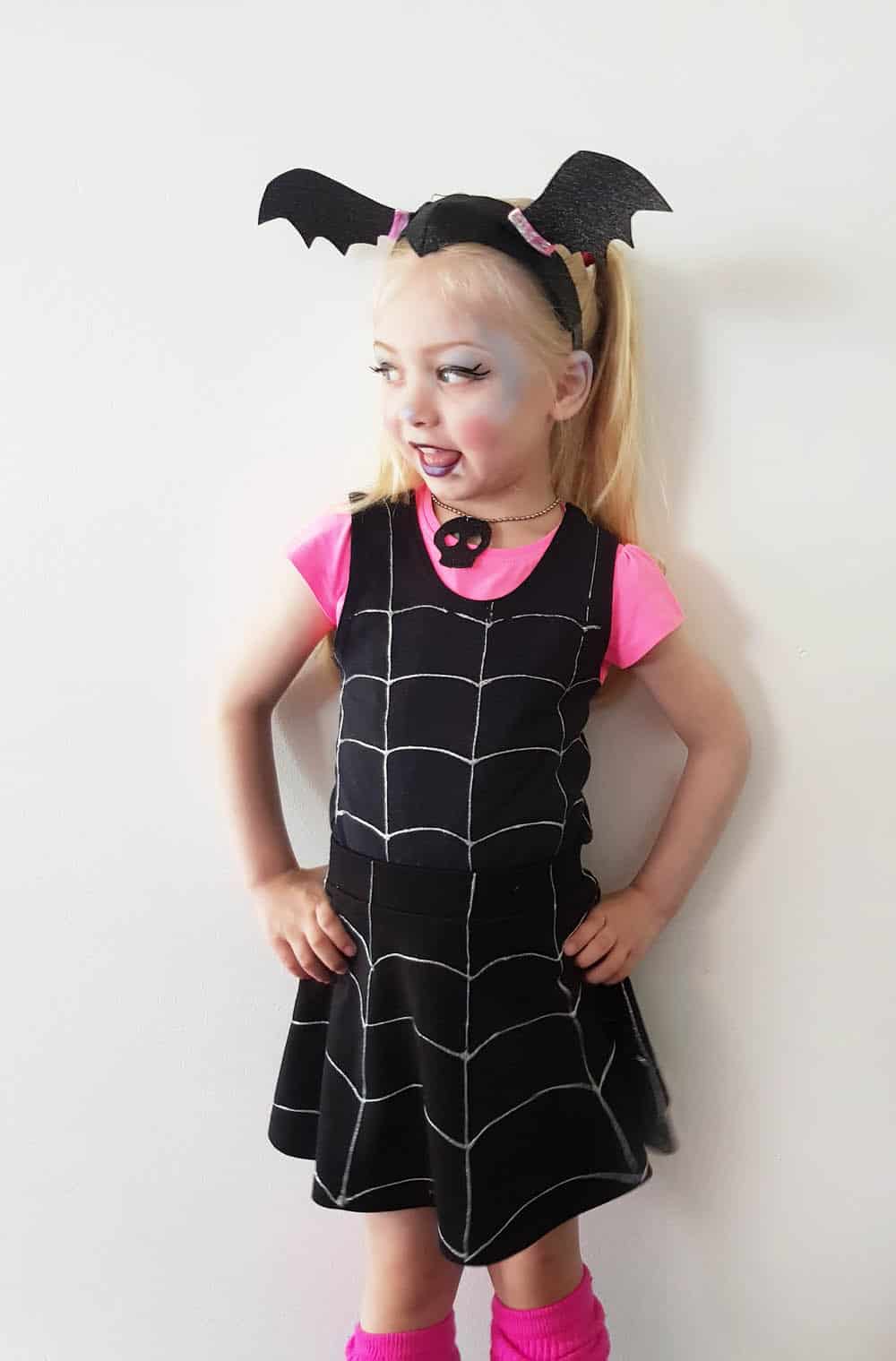 Speaking of no sew Halloween costumes, here's another one! If your little girl is a Vampirina fan she'll love dressing up in this outfit to go trick or treating this year!
How to make a No Sew Disney Vampirina Costume by Now that's Peachy
DIY Poppy and Branch Trolls Halloween Costumes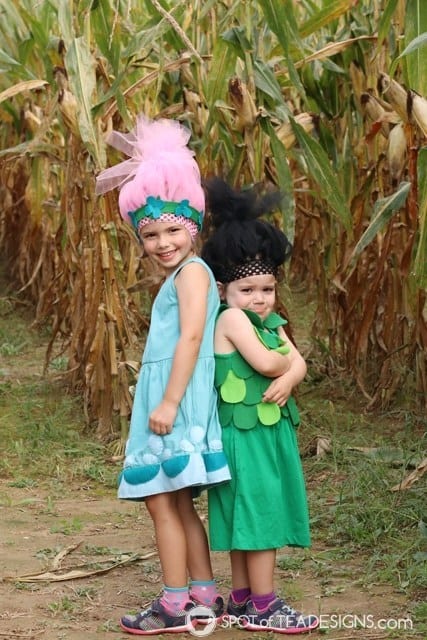 You're going to need to get a needle and thread out for this one, and these costumes will take a little bit more time and effort to put together. But if your girls love the Trolls they will love these Poppy and Branch costumes! The "wigs" are brilliant!
DIY Poppy and Branch Trolls Halloween Costumes by Spot of Tea Designs