DISCLOSURE: Some of the links below are affiliate links. This means that, at zero cost to you, I will earn an affiliate commission if you click through the link and finalize a purchase. All opinions are my own, and I only recommend products that will add value for my readers.
If you hate doing dishes you need to check out these DELICIOUS Paleo One Pot Meals. They're perfect for busy weeknights so add them to your meal plan.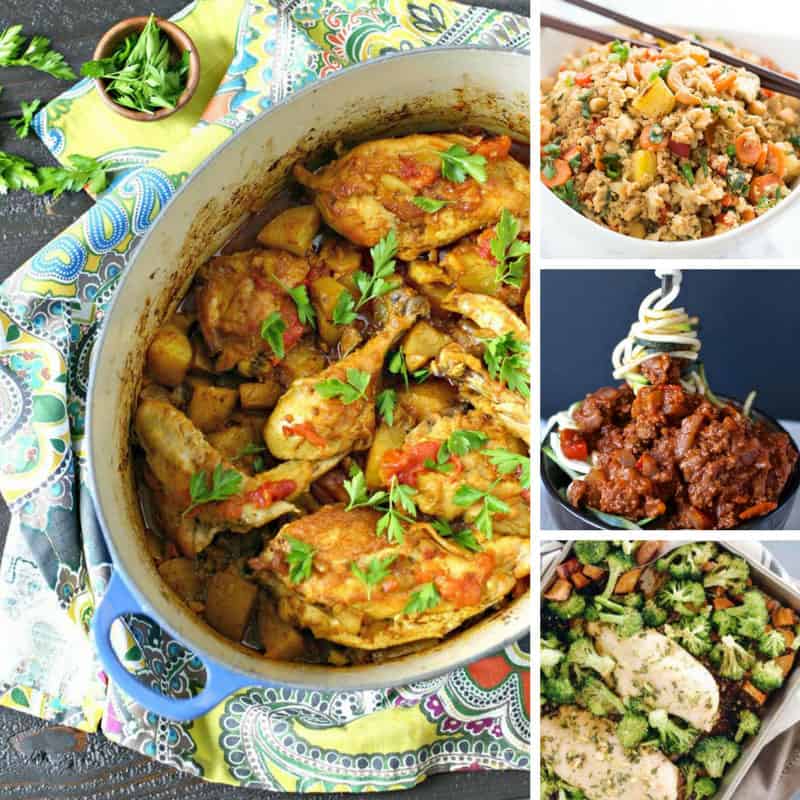 One Pot Paleo Meals Save on Time and Doing Dishes!

If you hate doing dishes as much as I do you're going to love today's collection of quick and easy Paleo on pot meals, because that's all you use. One pot. Brilliant right? Not only are they quick and easy to prepare but they taste delicious and you don't have a pile of dishes to contend with at the end!
I thought I'd mix things up a little today so as well as picking out some of the best One Pot Paleo dishes over on Pinterest I also scoured YouTube too and found some videos for you to drool over!
Don't forget to scroll all the way to the end so you don't miss any of the fabulous ideas, and be sure to pin your favourites as you go so you can find them again later!
Paleo Pizza Chicken

If the kids have been asking for pizza they're going to LOVE this recipe because it has all the taste of a pizza stuffed inside a chicken thigh! (via Jay's Baking Me Crazy)
Chicken Curry with Zucchini Noodles

As busy moms we're always looking for new ways to load the kids up with veggies right? Well here's another one pot recipe that will put your Spirilizer to good use! (via Savory Lotus)
Fabulous Spicy Thai (Spirilized) Noodles
Another great option to cook up for your family dinner are spicy Thai noodles, which is a popular Asian dish.
However, instead of regular noodles you are going to make noodles from zucchini, cucumber and carrots using a spirilizer. If you need an excuse to lure your kids into the kitchen then this is it, because spirilizing veggies into noodles is SUPER fun for kids!
You can then add ingredients like soy sauce, red pepper flakes, carrots, mushrooms, garlic, ginger, onions, and cilantro to the pan with those yummy noodles.
To make it even more spicy, add a little bit of sriracha as well. This can also be added after they are cooked to add a bit of spice and flavoring to the noodles.
Sloppy Joe's – Paleo & Whole30

If your hubby is struggling to get on board with your new Paleo diet just make him some of these Sloppy Joes. He'll be an instant convert! (via Jay's Baking Me Crazy)
Easy Weeknight Lemon Chicken Skillet

We're always on the look out for delicious chicken skillet recipes and this one is no exception! (via Primally Inspired)
Steak Fajita Lettuce Wraps
For this recipe, you actually want the flavoring from the steak on your veggies, so you can cook the meat from raw in the same pan.
Just don't forget that you need to switch the vegetable oil for coconut or olive oil.
Pan-fry your steak, preferably sliced into thin strips and seasoned to taste.
Once the steak is done keep it in the pan, but remove some of the grease.
Now add your fajita vegetables like peppers and onions and sautee them with the steak until tender.
Now you're ready to add some lettuce and pile everything into your fajita wraps!
Want more? There are loads more ideas that you are going to love in this
==>
Paleo friendly recipes
collection!
Rated Reads
Paleo Recipes
Paleo Cooking With Your Instant Pot
One-Pot Paleo: Simple to Make, Delicious to Eat and Gluten-free to Boot
One Pan Honey Garlic Chicken

We love this recipe because it's a great example of how to take something that you love that isn't actually Paleo, and edit it so that it fits your new way of life! (via Real Simple Good)
One Pot Skillet Pork Chops
Pork chops are a popular dinner option, but many people take multiple steps to make them because they often pan fry for a few minutes, then pop them in the oven.
You don't need to do this though because you can cook them fully in your cast iron skillet.
Add some olive oiil to the pan and season the pork chops with rosemary, garlic, lemon, sea salt, and pepper to taste. You can then fry on each side of a cast iron pan that has been heated beforehand.
Serve the pork chops with apples or your own homemade applesauce for a yummy family dinner.
Paleo Pineapple Fried Rice

"If you're craving Thai food but have no idea how to make it at home and be Paleo friendly then check out this recipe. Switch out the rice for grated cauliflower and you're good to go! (via Get Inspired Everyday!)
Wondering which is the best grater for cauliflower rice?
It's this one
!
One Pot Turmeric Chicken with Vegetables

"Turmeric has so many health benefits that you'll want to make sure you sneak it into the meal plan at every available opportunity. Which is why you need to add this one pot meal to your list! (via Everyday Maven)
Crispy Skin Chicken With Honey Garlic Sauce

If you've never yet been able to master crispy skinned chicken you need to go check out this recipe where the secret is finally revealed! And it's so easy too! (via Eat Drink Paleo)
Delicious Chicken Stir-Fry
Stir-fry is the perfect example of a one pot meal that can be made paleo friendly. You just need to make sure that your chicken is fully cooked before you add any other ingredients.
It's as simple as heating up the pan with coconut oil or olive oil (don't forget vegetable oil is not paleo friendly), then adding the chicken and veggies and cooking until the meat is thoroughly heated and the veggies are nice and tender.

Pin these ideas!
Hit the button to save these ideas for later.
Don't forget to
follow us on Pinterest
for more great stuff!
&
---