DISCLOSURE: Some of the links below are affiliate links. This means that, at zero cost to you, I will earn an affiliate commission if you click through the link and finalize a purchase. All opinions are my own, and I only recommend products that will add value for my readers.
Turn your home into a Halloween House for a fraction of the price of store bought decorations with these easy Halloween decorations for kids to make!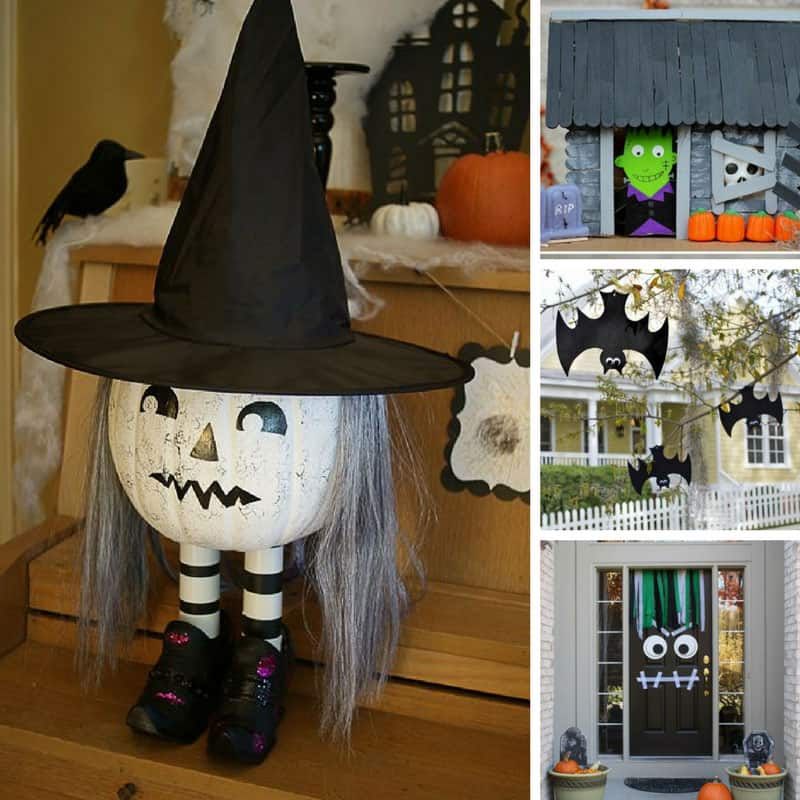 Homemade Halloween Decorations
Are your kids itching to decorate your home for Halloween? Some of the store bought decorations are so expensive I thought I'd roundup some of the best DIY decorations I could find and share them here with you.
I hope you and your kiddos have a blast with these super easy Halloween Decorations for kids to make, because we've got everything from Halloween door decor and trash bag spider's webs to popsicle stick haunted houses and even hanging bats!
As always be sure to scroll all the way to the end so you don't miss any of the great ideas. And don't forget to pin your favourites as you go!
Related Posts:
Halloween Door Decor

I've never thought of dressing up my door before but what a wonderful way to greet trick or treaters! (via Modern Day Moms)
Kid Friendly Lantern Craft

These lanterns are made from plastic cups and LED tea lights and would make a wonderful Halloween decoration all decked out as pumpkins. (via Growing Up Bilingual)
Trash Bag Spider Webs

These huge spider webs look so effective stretched across a window, and I can't believe they're made from trash bags! (via HGTV)
Book Page Pumpkins

I know some people don't like to cut up books, but if you can find one that's really past it's best (or even the telephone directory would work) then these pumpkins do look fabulous. (via Creations by Kara)
Pottery Barn Inspired Halloween Garland

Have you been tempted by the garlands in Pottery Barn this year? They're always gorgeous, but so expensive. Which is why I wanted to share this tutorial for you, so you can make your own version at home for a fraction of the price. (via Sweet Something Design)
Mummy Candy Cans

Oh these candy cans all dressed up as mummies are so adorable, they would look great on a Halloween party table, or just make some with the kids to store their candy stashes in. (via HGTV)
Halloween Mason Jars

If you have some spare mason jars this is the Halloween decoration craft for you. They look cute all lit up with their fairy lights. (via Plucky's Second Thought)
Spooky Bat Chandelier

Oh wow this is just the most amazing Halloween decoration idea I've found so far. It looks so effective and is really not that difficult to make either. (via A Diamond in the Stuff)
Pumpkins Carved with a Drill

Wow, it really is crazy how much difference it can make carving your pumpkin with a drill. These would look wonderful on your doorstep this Halloween. (via Crafty Nest)
Window Silhouettes

This Halloween decoration is so simple, but if you make one for every window on the front of your house it will look amazing! (via Shelterness)
Halloween Tea Towels

Don't forget about your kitchen this Halloween, these tea towels are so simple to make but you'll be using them for years to come. (via Home. Made. Interest.)
Halloween Wreath

If you've been tempted by store bought Halloween wreaths but put off by the price you will love this tutorial. (via Home. Made. Interest.)
Make a Pumpkin Witch

Oh she is so darn cute I think I might make one and leave it out on the porch all year round! (via Saved by Love Creations)
Pumpkin Decorations

I tried to make some cornstarch decorations last year and it didn't quite go to plan so I think I'll test out this recipe instead as these pumpkins look fabulous. They'd be perfect for a Halloween tree too! (via Our Little House in the Country)
Halloween Crafts for Kids – Flying Bats Silhouette Windows

Here's a wonderful Halloween decoration for the kids to make, they look so effective hung in the window. (via The Jenny Evolution)
Spooky Spider

How about a giant spooky spider to greet your trick or treaters? This one is made from a milk carton, some foam insulation (or pool noodles) and duct tape. (via Crafty Meggy)
DIY Tin Can Ghost Windsock

Totally in love with this ghost windsock! He just looks so spooky hanging in the tree! (via Chicken Scratch NY)
Easy Giant Pom Pom Spiders for Halloween

Now this is my kind of spider, because he's definitely more on the cute side than the spooky one! Perfect way to decorate a Halloween party for littles! (via Party Delights)
Popsicle Stick Haunted House

How fabulous is this little haunted house, complete with pumpkins and gravestones! It's time to stock up on craft sticks! (via Happily Ever After)
Upcycled Halloween Lanterns – 10 Minute Crafts

If you totally forgot that Halloween was on October 31 and you need a last minute decoration idea then check out these fabulous lanterns that you can make in less than 10 minutes! (via Le Coin de Mel)
Tin Can Luminaries

If you have some old coffee cans that you'd like to recycle try making these fabulous luminaries! (via Jolly Mom)
Halloween Kids' Craft: Hanging Foam Bats

Your trick or treaters will go batty when they see these little guys hanging from your tree! (via HGTV)
Fall Front Porch Tour

And I thought we'd finish up with a tour of a front porch, so you can see how to put all of your Halloween decorations together for best effect. (via My Own Home Blog)
Related Posts:
Pin these ideas!
Hit the button to save these ideas for later.
Don't forget to
follow us on Pinterest
for more great stuff!
&
---