If you are busy growing a bump you are going to love these pregnancy smoothies – liquid foods are so much easier to stomach when you feel queasy!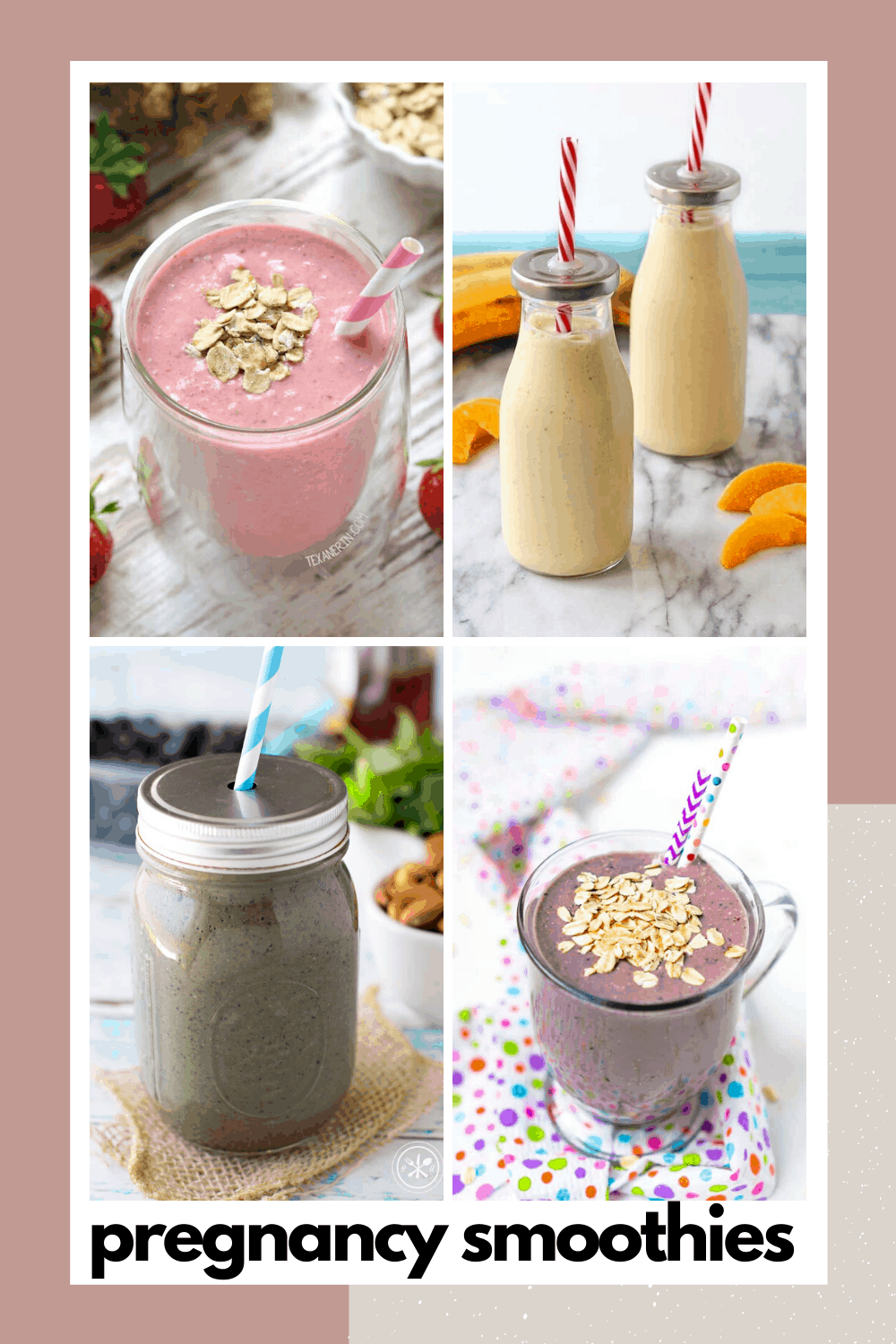 Easy Pregnancy Smoothie Recipes
Constant nausea and queasiness is one of the worst side effects of expecting a baby. But of course you still need to eat and liquid food is easier to stomach so today we're sharing a number of pregnancy smoothie recipes you can try.
The great thing about drinking smoothies during your pregnancy is that they are packed full of all kinds of vitamins, minerals and other important nutrients that help your baby's development.
You can also drink these smoothies while you are nursing, because it's important that you fill your body with vitamins and nutrients while you are breastfeeding.
Don't forget that these recipes have just been created by other moms to help them feel more refreshed during their pregnancy, if you feel unwell then you need to consult your doctor to get personalised support for you and your baby.
High Energy Pregnancy Smoothie
This smoothie is full of natural sugars and healthy fats from the fruit and avocado which could make you feel less tired.
The spinach adds iron, folate and vitamins, while protein comes in the form of Greek yogurt. You'll also get a fiber boost from the berries and apple. Orange juice helps the iron to be absorbed better.
As per USDA recommendations, it is important to avoid added sugars during pregnancy as much as possible, therefore don't use store-bought orange juice for this smoothie.
Extract your own from fresh oranges if you have a juicer or better yet, a blender-juicer combo.
It's very filling so you probably won't want to slurp it in one go!
Iron Rich Pregnancy Smoothie
Mama's Strawberry Margarita Smoothie
Healthy Pumpkin Spice Frappe Smoothie
Strawberry, Ginger and Banana Smoothie
Raspberry and Mango Pregnancy Smoothie
Mandarin Morning Smoothie
Strawberry Cherry Smoothie
The Ultimate Pregnancy Smoothie
Peach, Banana, Honey, and Cottage Cheese Smoothie
Pineapple Avocado Green Smoothie
Pregnancy Power Smoothie
Dairy-Free Banana Pudding Smoothie Bowl With Chia Seeds
Spinach and Berries Pregnancy Smoothie
Green Apple and Spinach Smoothie
Flaxseed Banana Smoothie
Pregnancy Superfood Smoothie
Blueberry Hemp Smoothie
Ultimate Superfood Pregnancy Smoothie
Cantaloupe Smoothies
Mango, Banana & Ginger Lassi
Chocolate Brownie Black Bean Smoothie
The Perfect Pregnancy Smoothie
Peanut Butter Banana Smoothie
Perfect Pregnancy Smoothie
Ginger Berry Smoothie