The Ikea Rast dresser is super cheap but a bit of a Plain Jane. That is until you make her over with one of these amazing Ikea Rast hack ideas!
This post may contain affiliate links, which means I may receive a commission if you click on a link and purchase something. As an Etsy and Zazzle Affiliate I earn commissions from qualifying purchases.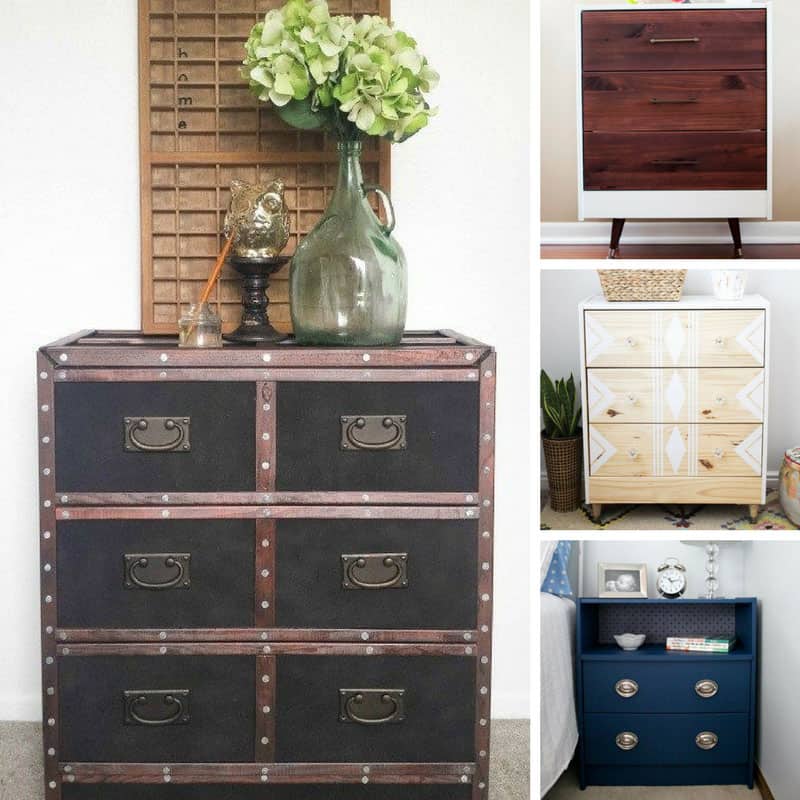 Ikea Rast Hack Ideas

To keep your home running smoothly you need as much storage as you can get, but it can be so expensive to buy stylish pieces. And that's why today we're sharing 41 mind boggling ways you can take the simple Ikea Rast dresser and hack it into something totally amazing!
I found everything from nightstands and media consoles to a vegetable storage cabinet and even a wardrobe!
As always be sure to scroll all the way to the end so you don't miss any of the inspiring hacks. And don't forget to save your favourites to Pinterest as you go!
Related Posts:
Make a media friendly nightstand
Turn it into a media console
Add some decals to make it look pretty in a nursery
Use a double Rast hack for hallway storage
Add some gorgeous handles and use it for nursery storage
Make it look like an apothecary cabinet
Grab your Mod Podge and decorate it with wrapping paper!
Turn it into a wardrobe… seriously!
Make stylish bedside tables for your guest room
Take two Rast dressers and make built in bookcases
Switch a drawer for a shelf for a functional nightstand
Switch a drawer for a shelf for useful hallway storage
Add some crystal draw pulls for a shabby chic look
Add a funky paint effect and wooden feet
Make it look like a stack of suitcases!
Give it a Mid Century Modern look your friends will drool over!
Turn it into a stylish piece for your hallway
Add hooks and castors and your Rast dresser becomes a rolling craft cart!
Turn it into a super stylish apothecary – total transformation!
Add some scarf storage the side
Add trim and some funky legs for a very modern look
Adapt it to suit your farmhouse style with some burlap and paint
Turn it into an industrial nightstand
Turn your Rast into a sewing station
Hack that Rast into a fabulous desk!
Turn your Rast dresser into a dog bed!
Stain it and add legs for a totally stylish look
Make it look like something you'd buy in Pottery Barn
Update it with a galvanised bucket look
Fake a nine-drawer look for a fabulous nightstand
Give it a Hollywood Regency makeover
Add some trim to turn it into a modern industrial nightstand
Paint it hot pink for a fabulous new look
Hack your Rast into a beverage station
Turn it into a vegetable storage chest for the kitchen
Give it a stylish two toned look
Turn it into something you'd buy in Anthropologie
Give it a rustic industrial makeover and use it as a nightstand
This double Rast hack looks fabulous as foot of the bed storage
Use fabric and moulding to update the look
Make it look like an old fashioned Brownie box camera!
Related Posts:
Pin these ideas!
Hit the button to save these ideas for later.
Don't forget to
follow us on Pinterest
for more great stuff!

&
---