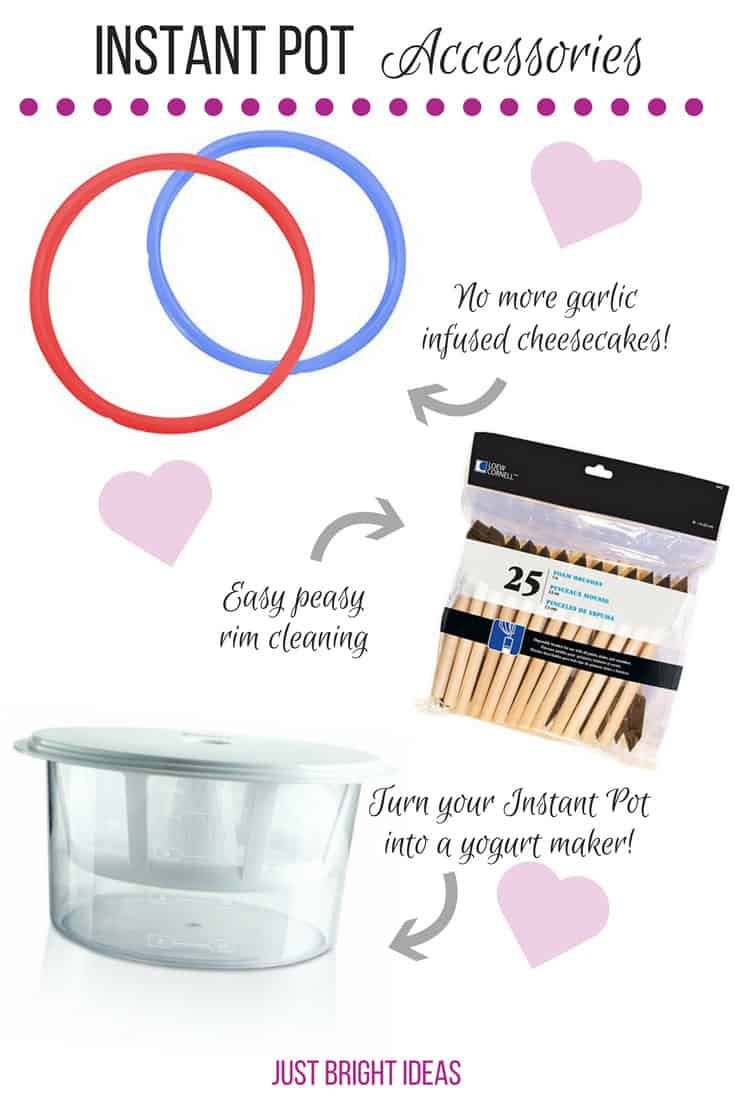 Pin these ideas! Hit the button to save these ideas for later. Don't forget to follow us on Pinterest for more great stuff!
This post may contain affiliate links, which means I may receive a commission if you click on a link and purchase something. As an Etsy and Zazzle Affiliate I earn commissions from qualifying purchases.
&
---
Your life was changed when you started using your Instant Pot right? We agree that it really is the BEST thing since sliced bread… but you can make it even BETTER! Yup – treat yourself to some of these Instant Pot accessories and your life will be changed all over again!
Must Have Instant Pot Accessories

Instant Pot Items You'll Use Regularly
There are so many BRILLIANT accessories you can buy for your Instant Pot but we want to start with the really practical items that you will use every time you use your pot.
The folks at Instant Pot recommend you change your silicone ring every 18-24 months but we think it's better to have a seal for savory cooking and one for sweet – otherwise you run the risk of your cheesecakes smelling like garlic! These rings are FABULOUS because you can see by colour which ring to use wth which foods!
Your Instant Pot gets pretty hot so you need something to protect your hands when you're removing the inner pot. Some people swear by those little silicone mitt things but I much prefer these heat resistant gloves.
Fishing out the inner pot is so much easier when you use a pair of tongs like this, just make sure you have some gloves on your other hand to take the weight and hold it steady.
If you love to use your Instant Pot as a Slow Cooker but hate that you can't see inside it's time to treat yourself to a glass lid! Works great in warming mode too.
If you want to use your Instant Pot to make a whole meal (including dessert) treat yourself to an extra inner pot (or two) because then you can remove the first dish and start cooking the second one straight away without worrying about washing up in between.
If you like to use your Instant Pot for marinades, or you just want to store leftovers in the fridge grab one of these silicone pot covers.
Cleaning around the rim of your Instant Pot can be really tricky – but here's a little hack to help you, use a small foam paintbrush like this. They're washable too!
&
Steam and Strain Your Veggies in Your Instant Pot
When it comes to Instant Pot Accessories the one item that seems to be in plentiful supply is a steamer. There were so many it was really tough to dig through them and find out which ones were actually worth buying!
The OXO Good Grips Stainless Steel Steamer is the most popular steamer accessory by far. It's so easy to use because the handle goes down in order for you to put the lid back on your pot, and then pops up with a simple press so you can lift the steamer back out.
The one thing the OXO pop up steamer can't handle is greens like Collards, Turnip or Kale so if you like to steam these veggies you need to add this mesh rim to your Instant Pot arsenal.
&
Make Delicious Yogurt in Your Instant Pot
You can use your Instant Pot to make some yummy yogurts which could save you a whole heap of money as it's cheaper than buying yogurt from the store. Here are the Instant Pot accessories you need to make the most of your new yogurt factory!
If you prefer Greek Yogurt and couldn't quite fathom how to make it in your Instant Pot this is the accessory you need. Just make sure you always hand wash it because the mesh will not like your dishwasher!
You can make yogurt in the inner pot, but if you prefer individual sized portions this will help you. It's also handy for sterilising baby bottles.
If you want individual pots but you don't like plastic then this set of of glass jars may be a better option for you. They do have plastic lids but they are BPA free.
If you're a Mason Jar fan then these 16oz jars fit inside your Instant Pot too. Perfect excuse to buy more right?
&
Instant Pot Cheesecake Pan
You do know you can make cheesecake in your Instant Pot right? All you need is one of these pans and you're good to go!
A firm favourite amongst Instant Pot fans for making the perfect cheesecake. You can even make a lasagna in it too!
&