These mermaid gardens are a whole new take on fairy gardens, and filled with mystical sea-based treasures. Make one for yourself or with your daughter!
This post may contain affiliate links, which means I may receive a commission if you click on a link and purchase something. As an Etsy and Zazzle Affiliate I earn commissions from qualifying purchases.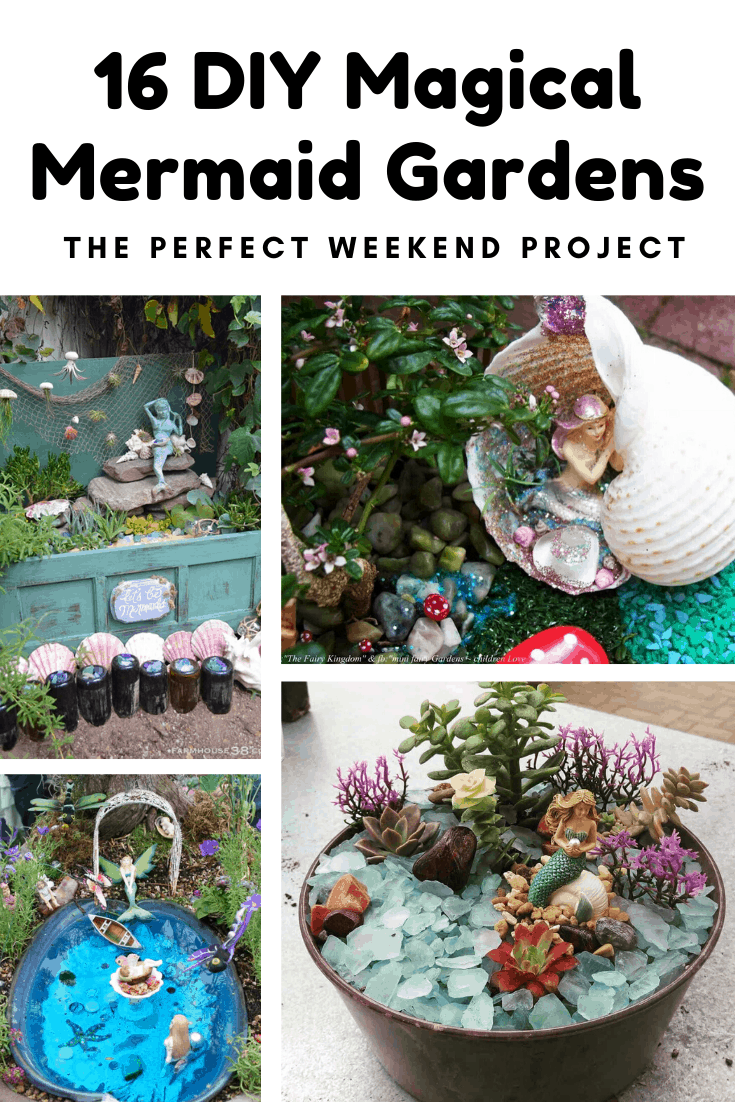 You know we go weak at the knees crazy about fairy gardens around here but if you prefer your fairytales to be ocean based you are going to LOVE these mystical mermaid gardens instead!
Did you know that building a fairy garden is actually a great STEM project? If you're a homeschooler and you want to know more check out this wonderful
fairy garden workshop
.
Mermaid Gardens
16. Broken Pot Mermaid Garden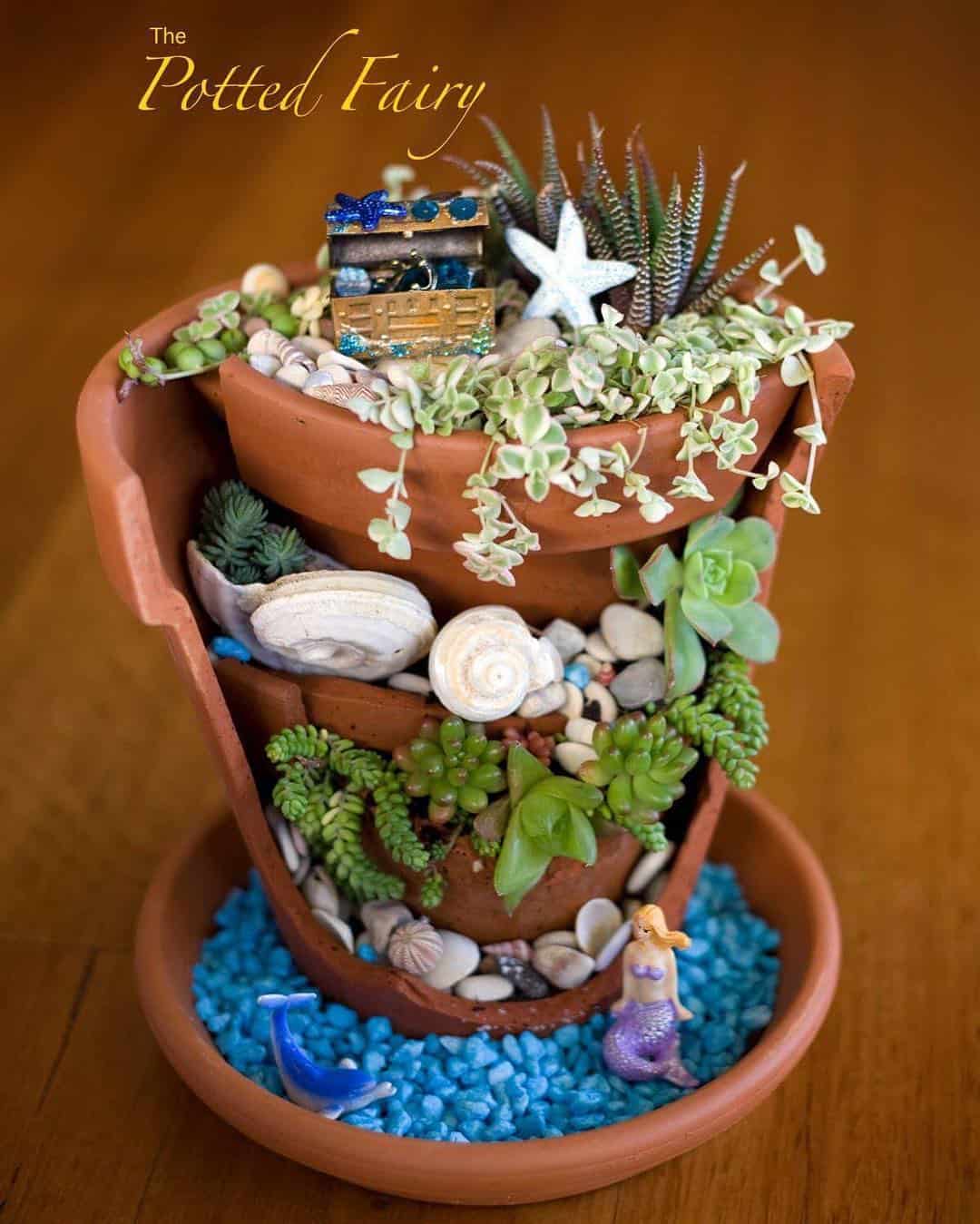 Found it here >> @the-potted-fairy
If you have a broken pot you've been meaning to throw away why not build a fairy garden inside it instead! Layer two more pots inside and fill with shells and succulents before adding your mermaid , her dolphin friend and the treasure chest she is protecting.
If you need a mermaid treasure chest you can get one here.
15. A Mermaid Party in a Planter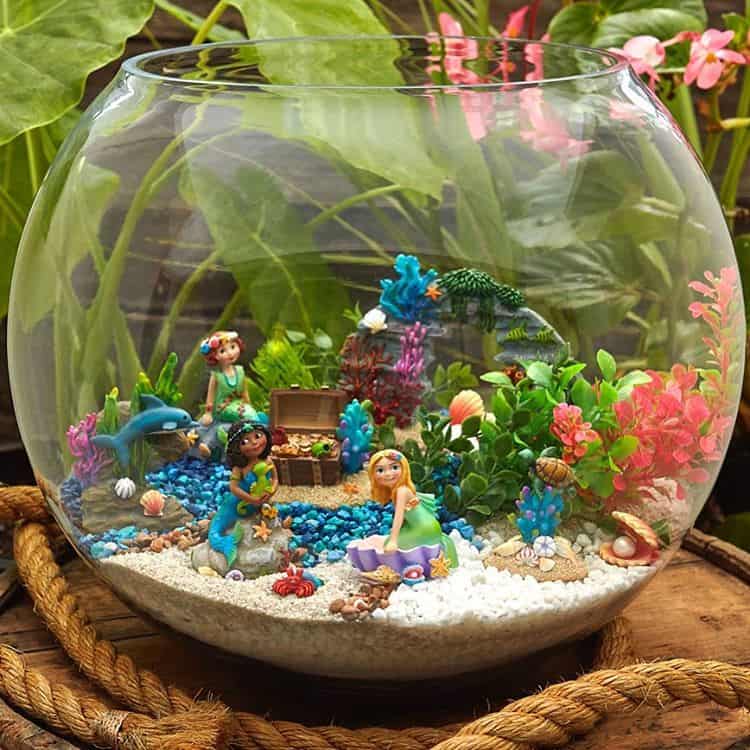 Found it here >> @maryengelbreit
This isn't so much a mermaid garden as a mermaid party! It's up to you whether you fill your planter with artificial plants or succulents, but be sure to fill it full of treasures and knick knacks for those mermaids to chat about!
You can easily get artificial aquarium plants here.
14. Sleeping Mermaid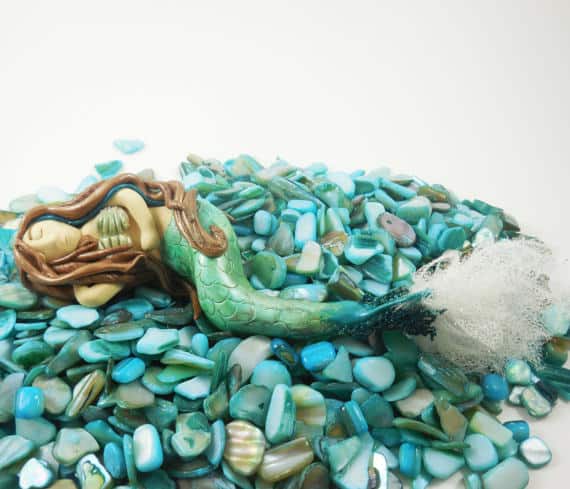 Found it here >> @TinkerTreasuresMinis
How beautiful is this sleeping mermaid with her shimmering tail? She'll be the perfect centrepiece for your mermaid garden.
13. Succulent Mermaid Terrarium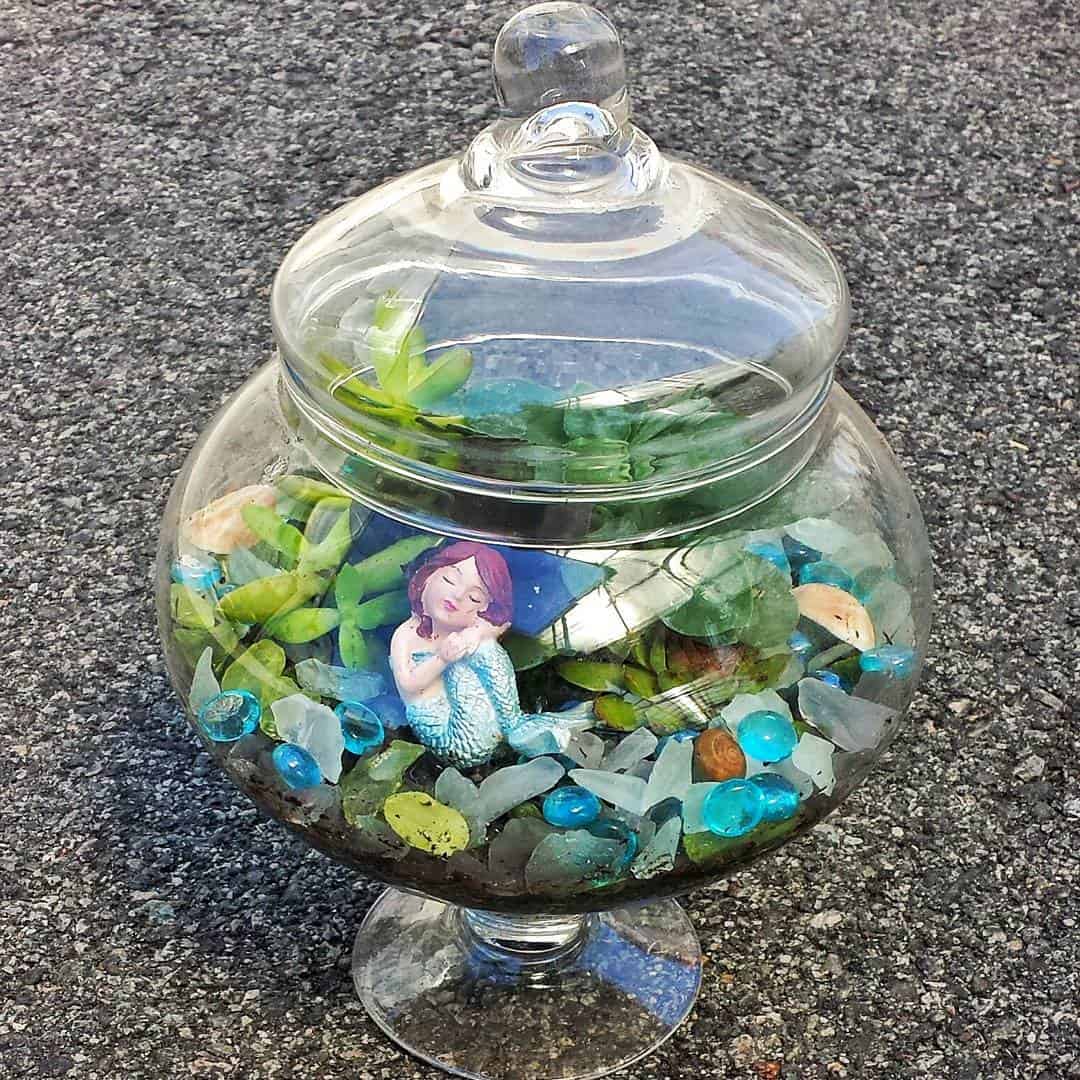 Found it here >> @pachira422
Take your terrarium an extra step by adding in a beautiful sleeping mermaid and some blue glass pebbles.
You can easily get blue glass pebbles here.
12. Terrarium DIY: How to Make a Miniature Garden
Found it here >> Grace Liebenow
If you're not sure how to actually put your mermaid garden together take a moment to watch this video.
11. Mermaid Beach Terrarium Kit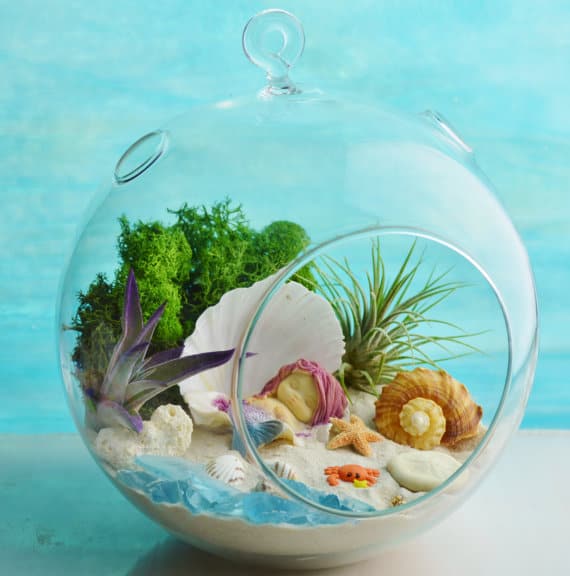 Found it here >> @BeachCottageBoutique
How adorable is this little mermaid curled up asleep by her clam shell. If you're looking for a gift for a little girl this is the perfect mermaid garden kit to choose.
10. Whimsical Mermaid Garden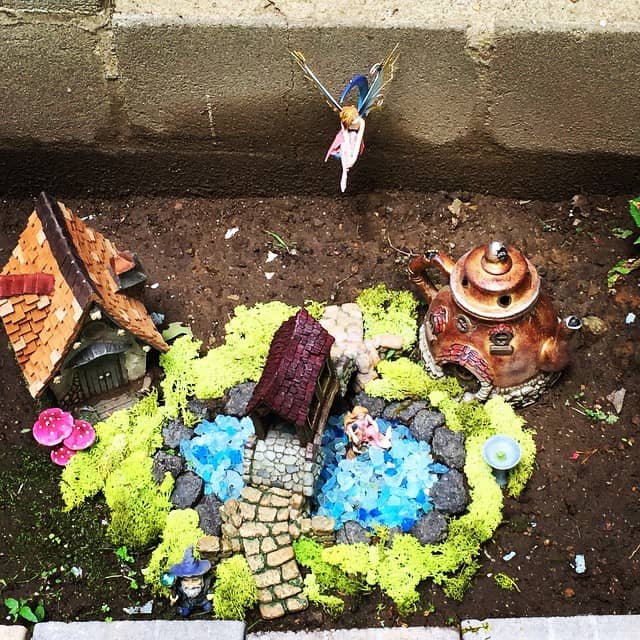 Found it here >> @jennallen138
You don't always need to contain your mermaid garden in a pot or a planter, why not create her ocean world right in your garden instead?
You can get a copper teapot house here.
9. Captured Mermaid in a Garden
Found it here >> Mel's Crazy Stuff
This mermaid garden idea is totally unique, what a fabulous idea to create a mermaid in a bottle instead!
8. Mermaid Bowl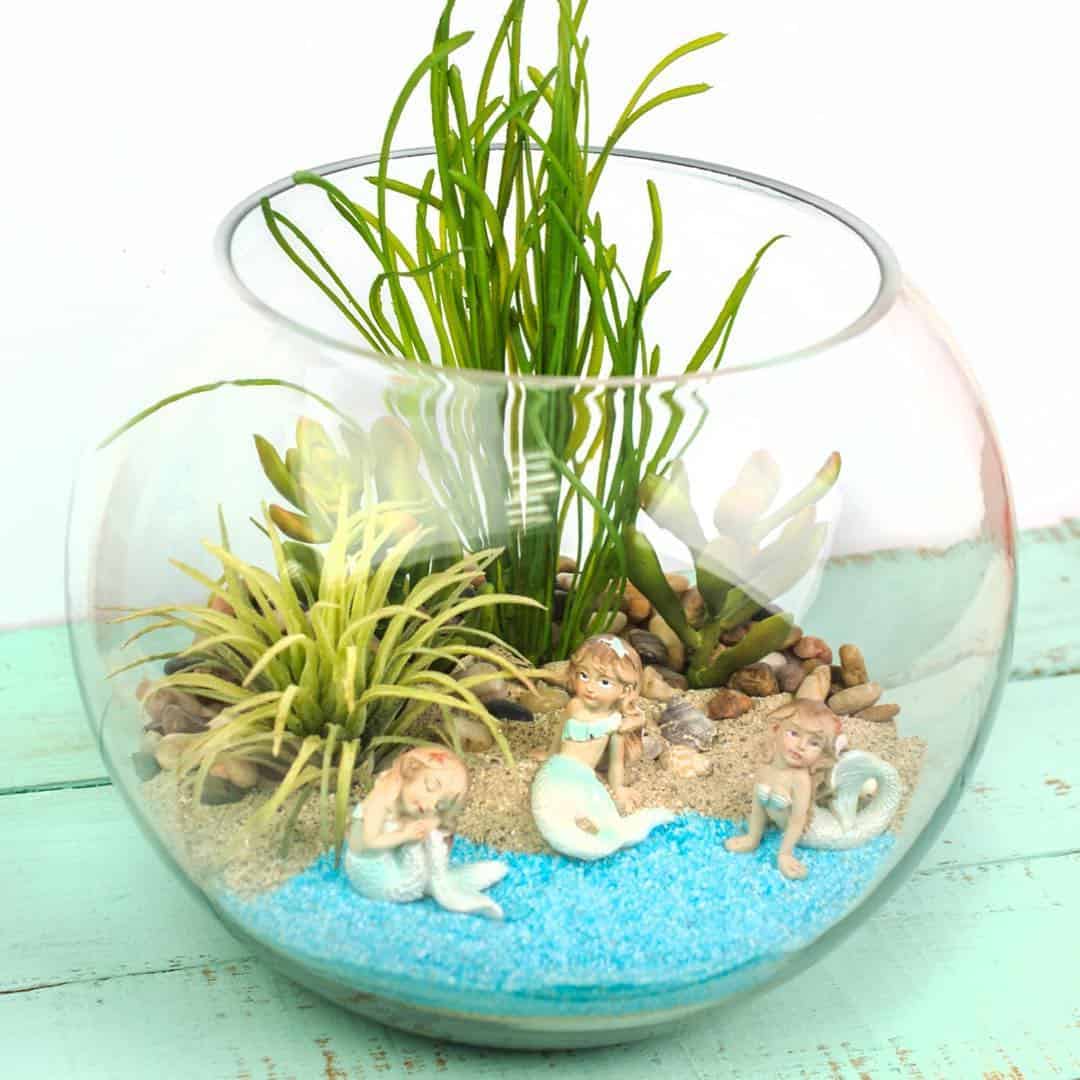 Found it here >> @beverlyfabrics
There's something quite magical about this mermaid bowl, it must be that sparkly blue sand!
You can get blue scenic sand here.
7. Mermaid Fairy Garden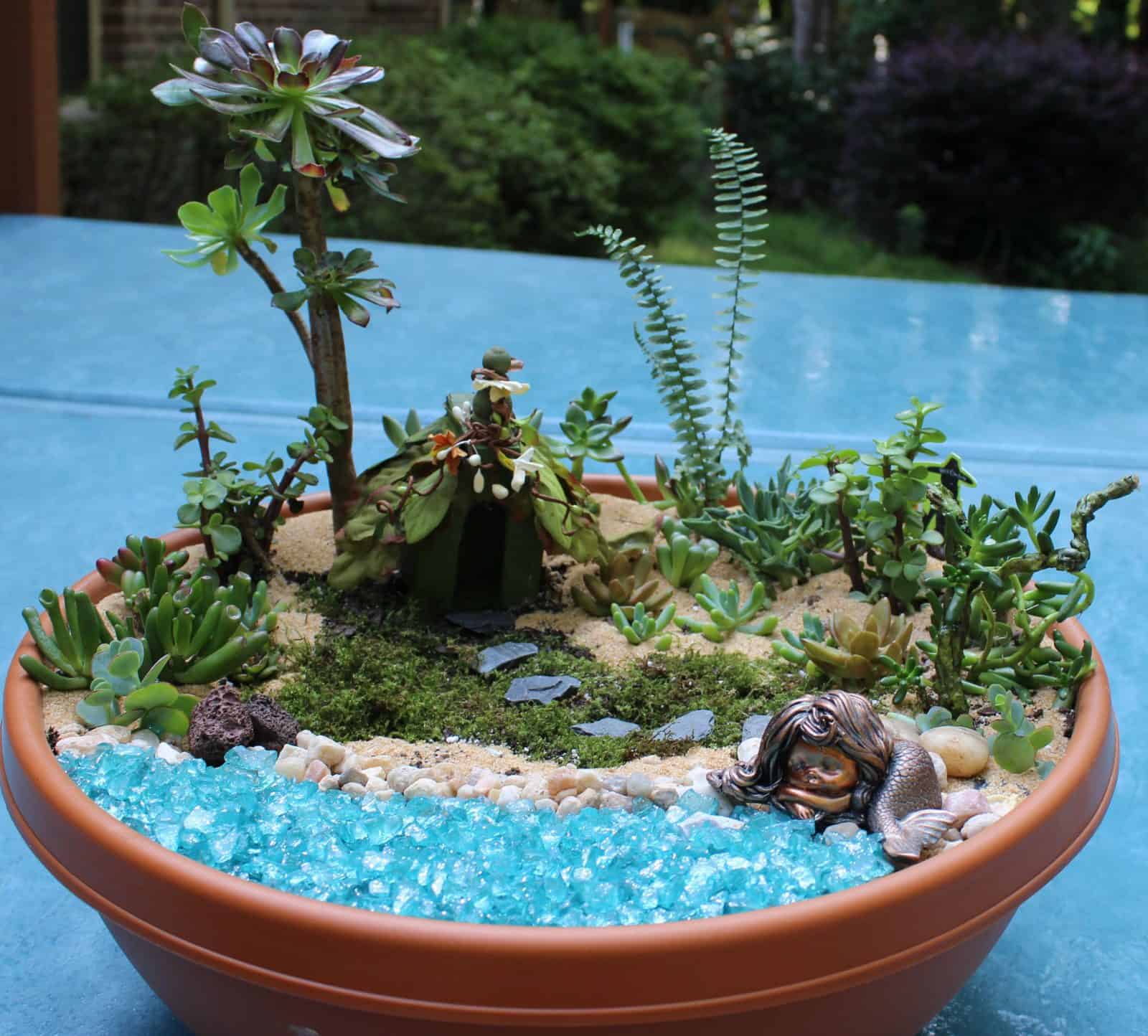 Found it here >> Marlia Lopez
This might just be the largest mermaid fairy garden in a container we found, which makes it great inspiration for a child's small world play.
6. Succulent Mermaid Garden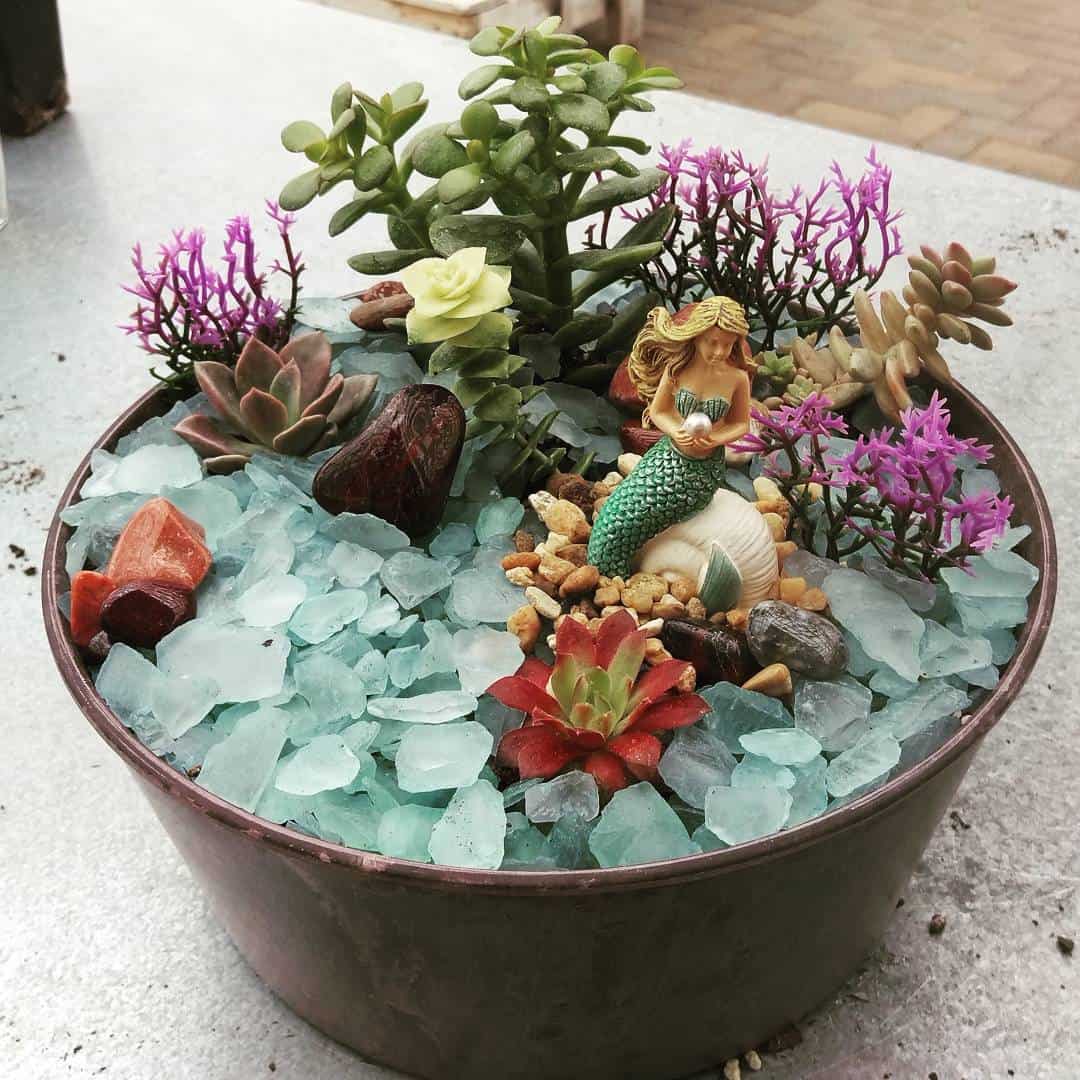 Found it here >> @greenwood_nurserymn
The turquoise sea glass really makes this mermaid garden, and we love the mix of succulents and artificial aquarium plants.
You can easily get glass cobbles here.
5. Mermaid Garden Chest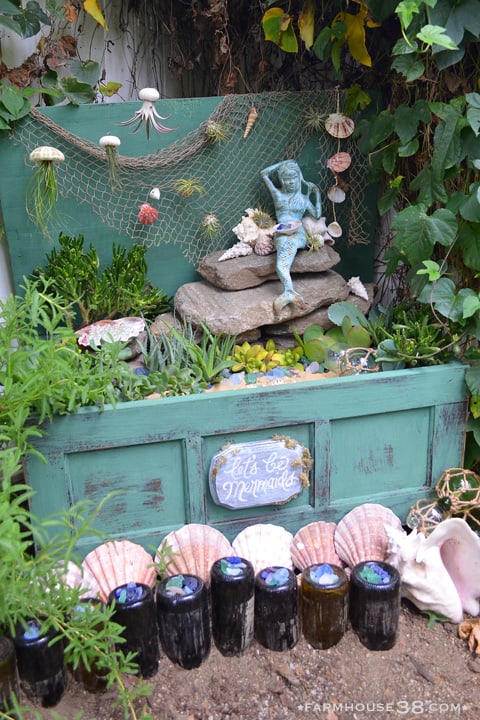 Found it here >> Farm and Foundry
Mermaid gardens don't have to be built in a plant pot or container, we love this one that is made from an old toy chest! Give it a distressed paint job and then fill with treasures for your mermaid to watch over. The old fishing net and shells really add to the mermaid magic!
4. Miniature Mermaid Container Garden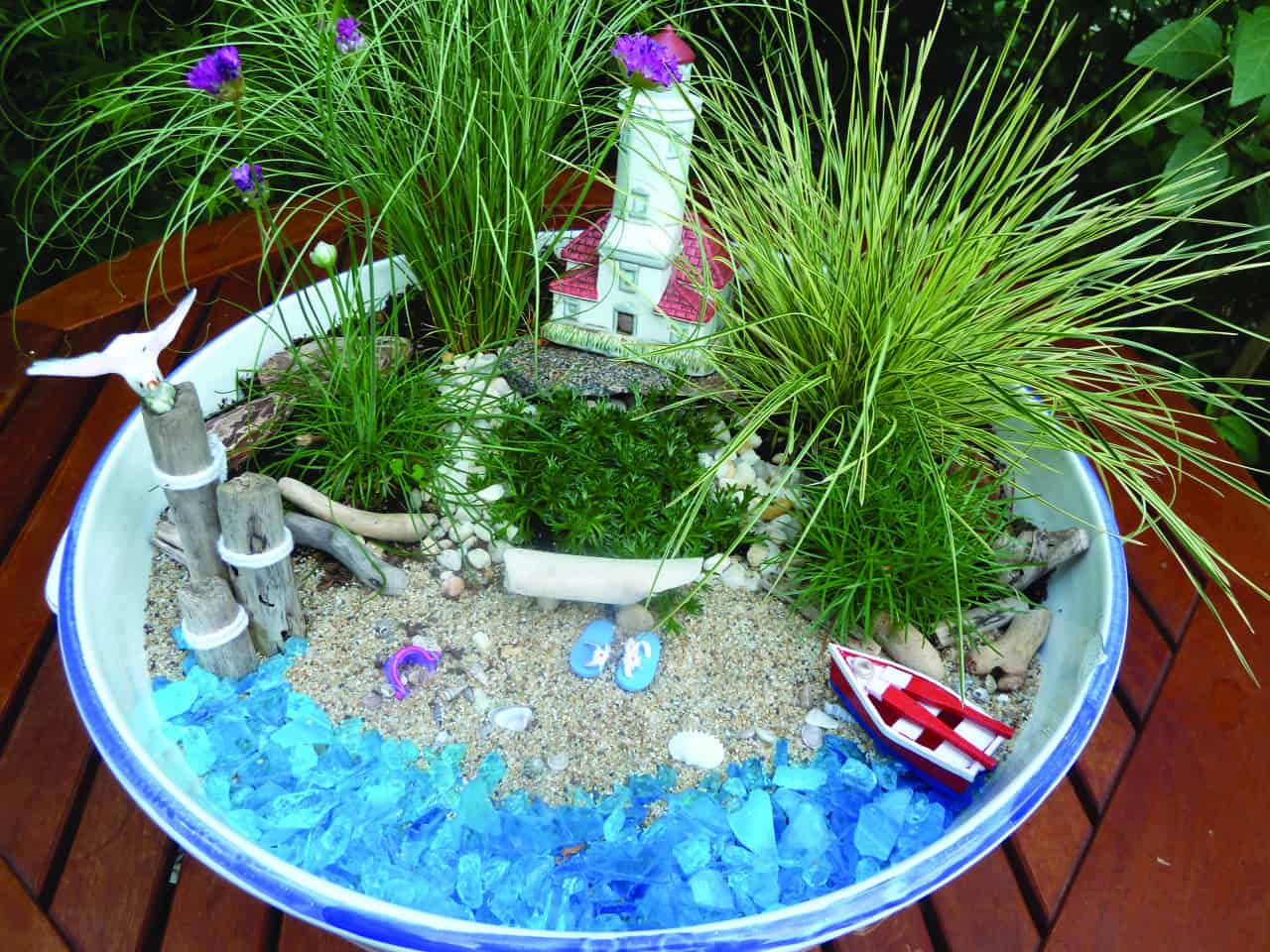 Found it here >> Robinwood Artisans
This is really an ocean themed container garden but its crying out for a mermaid to watch over those sailers!
Need miniature sea items for your garden? Get them here!
3. Mermaid in a Shell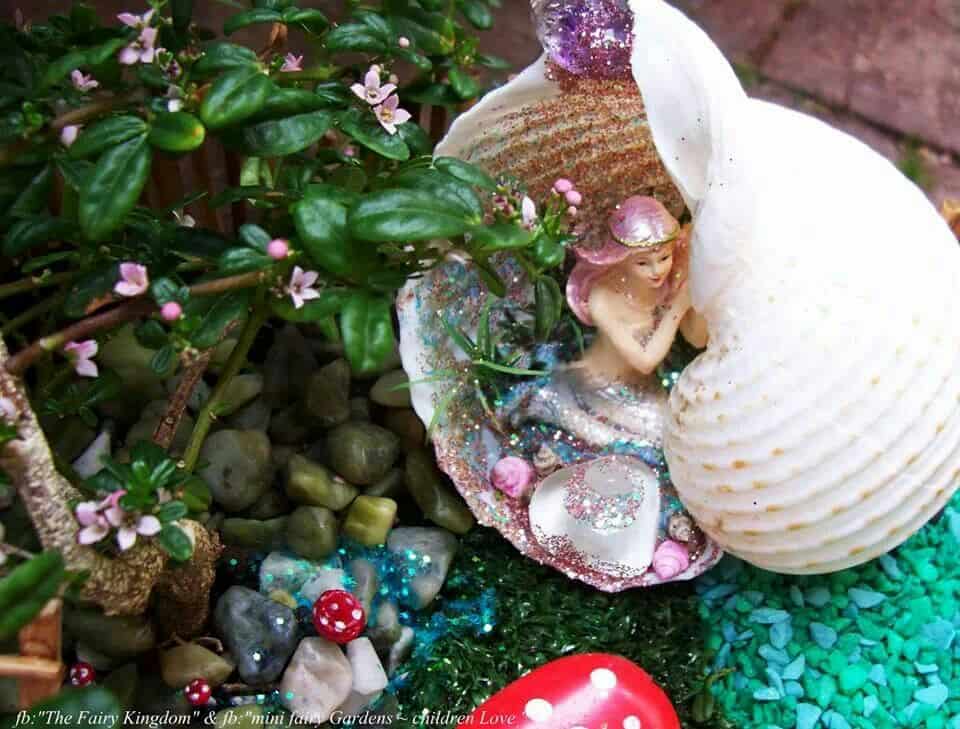 Found it here >> Donna Munday
Make sure you include somewhere in your sea fairy garden for your mermaid to curl up and take a nap. Like this over sized seashell.
2. Mermaid Water Fairy Garden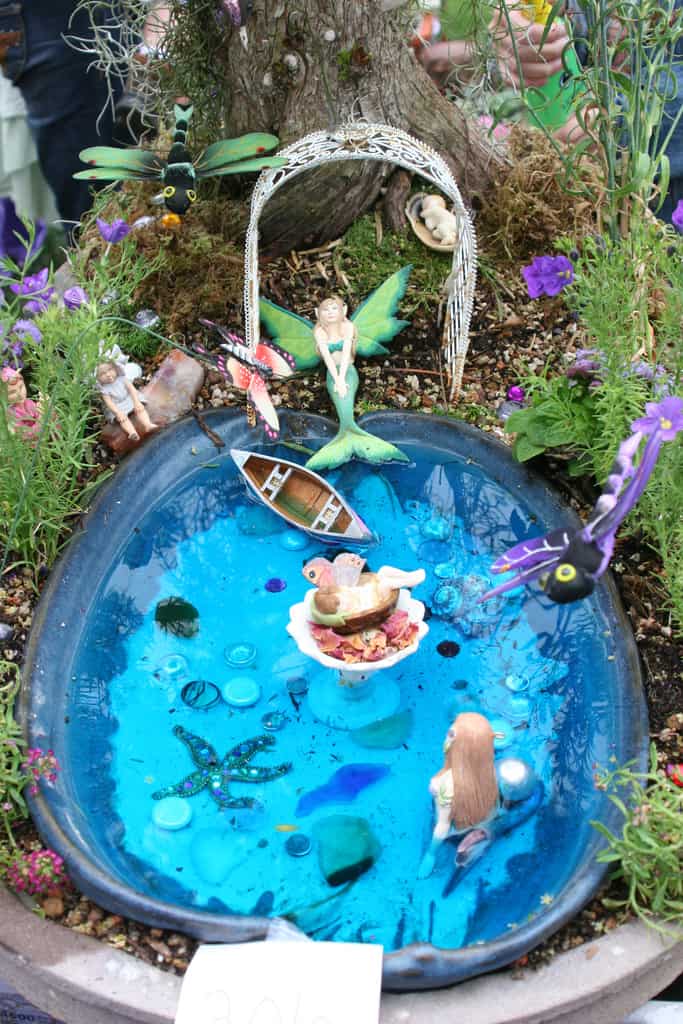 Found it here >> Anna Day
If you don't have little ones around and can safely have water in your mermaid garden then let this magical scene inspire you! We love the bejewelled starfish hiding at the bottom of the ocean.
If you need a miniature birdbath you can find a selection here.
1. Beach Themed Fairy Garden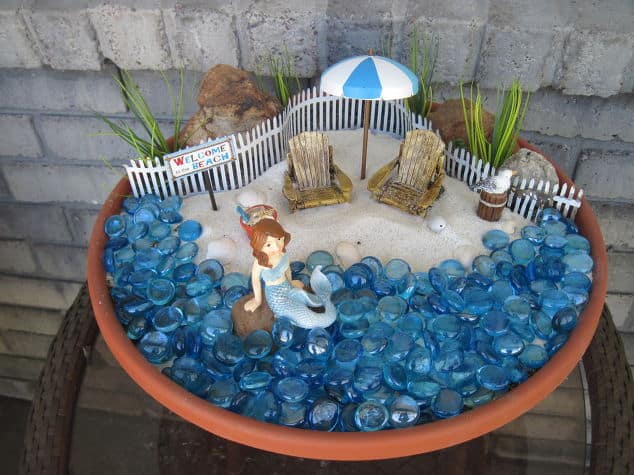 Found it here >> Hometalk
If you have a space on your front porch and you'd like to sit and daydream about the beach while you drink your morning coffee then this DIY project is the perfect one for you!
You can get a welcome to the beach sign here.