DISCLOSURE: Some of the links below are affiliate links. This means that, at zero cost to you, I will earn an affiliate commission if you click through the link and finalize a purchase. All opinions are my own, and I only recommend products that will add value for my readers.
These easy Halloween treats for kids are perfect for a party or just for a Halloween movie night with your family!
Easy Halloween Treats for Kids
Whether you're planning a Halloween party or you just want to make some spooky treats for your family to enjoy together you're in the right place. We've rounded up 25 easy Halloween Treats for kids to enjoy and there is a great mix of sweet and savory!
And the good news is that most of them just require you to assemble some store bought ingredients!
We've got everything from Halloween bark and candy corn cheesecake to ghostly cupcakes and even monster eye cupcakes!
Your trick or treaters are sure to love these Halloween treats, and they'd be fun to take to school too.
As always be sure to scroll all the way to the end so you don't miss any of the great ideas.
1. Halloween Bark – Fun Halloween Food

I've never made bark before but we'll be making some for Halloween, because this is such a great snack for the kiddos to make with you and they don't have to wait around for it to bake! (via Family Fresh Meals)
2. Candy Corn Cheesecake

This candy corn cheesecake looks amazing thanks to the three brightly colour rings. This won't last long at a party so you might need to make two! (via Wilton Cake Decorating)
3. Candy Corn Cupcakes

Oh my these candy corn cupcakes are so simple, but they still scream Halloween! (via The Cupcake Daily Blog)
4. Yummy Mummy Treats

Chocolate covered pretzel rods are always a tasty treat, and even better when you turn them into Halloween mummies! (via Crazy Little Projects)
5. Graveyard Pudding Cups

Here's another not so scary Halloween treat for fans of Ghost Peeps. (via Party Pinching)
6. Witches Broom Cupcakes

You can't have Halloween treats without witches and broomsticks and these cupcakes are adorable! (via Cookies and Cups)
7. Halloween Worms in Dirt Recipe Inspired by Frankenweenie

I think worms in dirt is the favourite snack of every child at some point so why not make some for Halloween? (via Formula Mom)
8. Spooky Spiderweb Sugar Cookies

Ooh sugar cookies are my favourite and these spooky spiderwebs will look perfect on the Halloween party table. Just need to stock up on plastic spiders! (via It's Always Autumn)
9. How to Make Caramel Apples

If you struggle to make caramel apples then you need to hop over and read this post, because it's a step by step to the perfect caramel apple! (via Your Home Based Mom)
10. Graveyard Pudding

This spooky graveyard pudding is so easy to make, and would look adorable served up in little mason jars. (via Vanessa Shaffer Designs)
11. Easy Pumpkin Pretzels

Here's another great Halloween treat that looks amazing but doesn't really require a lot of effort on your part. (via Butter with a Side of Bread)
12. Ghostly Cupcakes

These ghostly cupcakes will take a little effort to make them look as spooky as the ones in the picture, but so worth it! (via BHG)
13. Ghost Cookies

Wow I have never seen cookies like this, I love how the little ghost has 'escaped' from the spider web! The secret is to use a tulip shaped cookie cutter to make that cute ghost shape. (via Make Me Cake Me)
14. Easy Candy Corn Fudge

I never make fudge because I always think it's so tricky, but this candy corn fudge is just perfect for Halloween and it really does look easy to make! (via Six Sister's Stuff)
15. Ghost Peep Brownies

Halloween wouldn't be Halloween without Ghost Peeps right? And they look super yummy atop a chocolate brownie. (via Life of a Whisk)
16. Wicked Witch Witches

You'll need to click through and then scroll down the page to find the directions to these adorable wicked witch hats. (via Family Focus Blog)
17. Easy Monster Eye Cupcakes for Halloween

Here's another cupcake idea that the kids will love to decorate with monster eyes! (via Hoosier Homemade)
18. Halloween Marshmallow Pops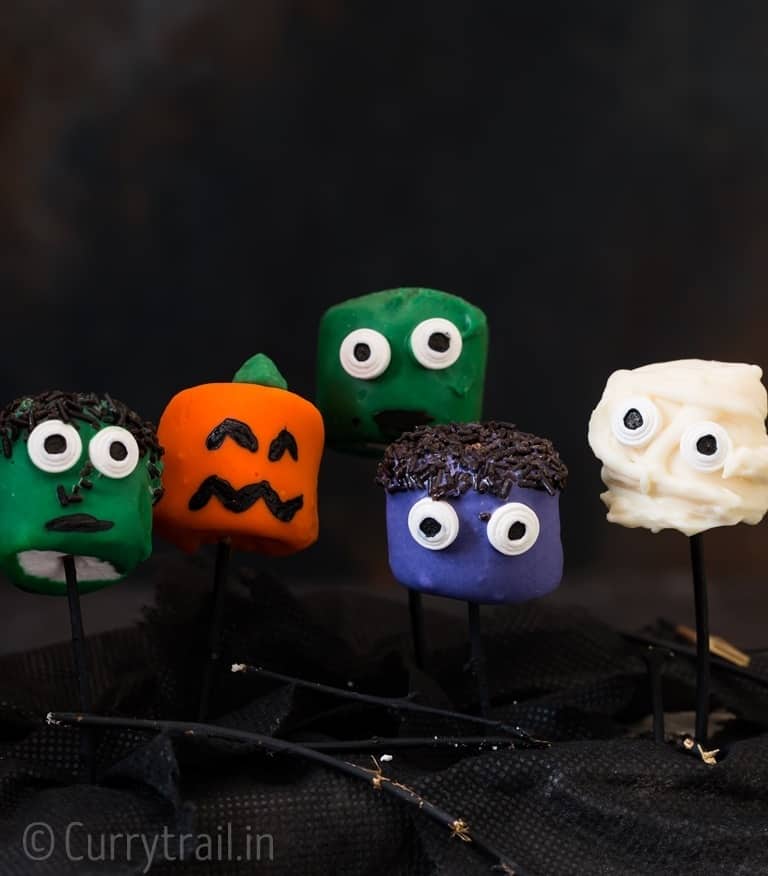 Oh my goodness! How sweet is this motley crew of Halloween ghosts and ghouls! Your kids will have so much fun helping to make them and they're the perfect treat for a party or to take for friends at school.
Halloween Marshmallow Pops by Curry Trail
19. Halloween Rice Krispie Pops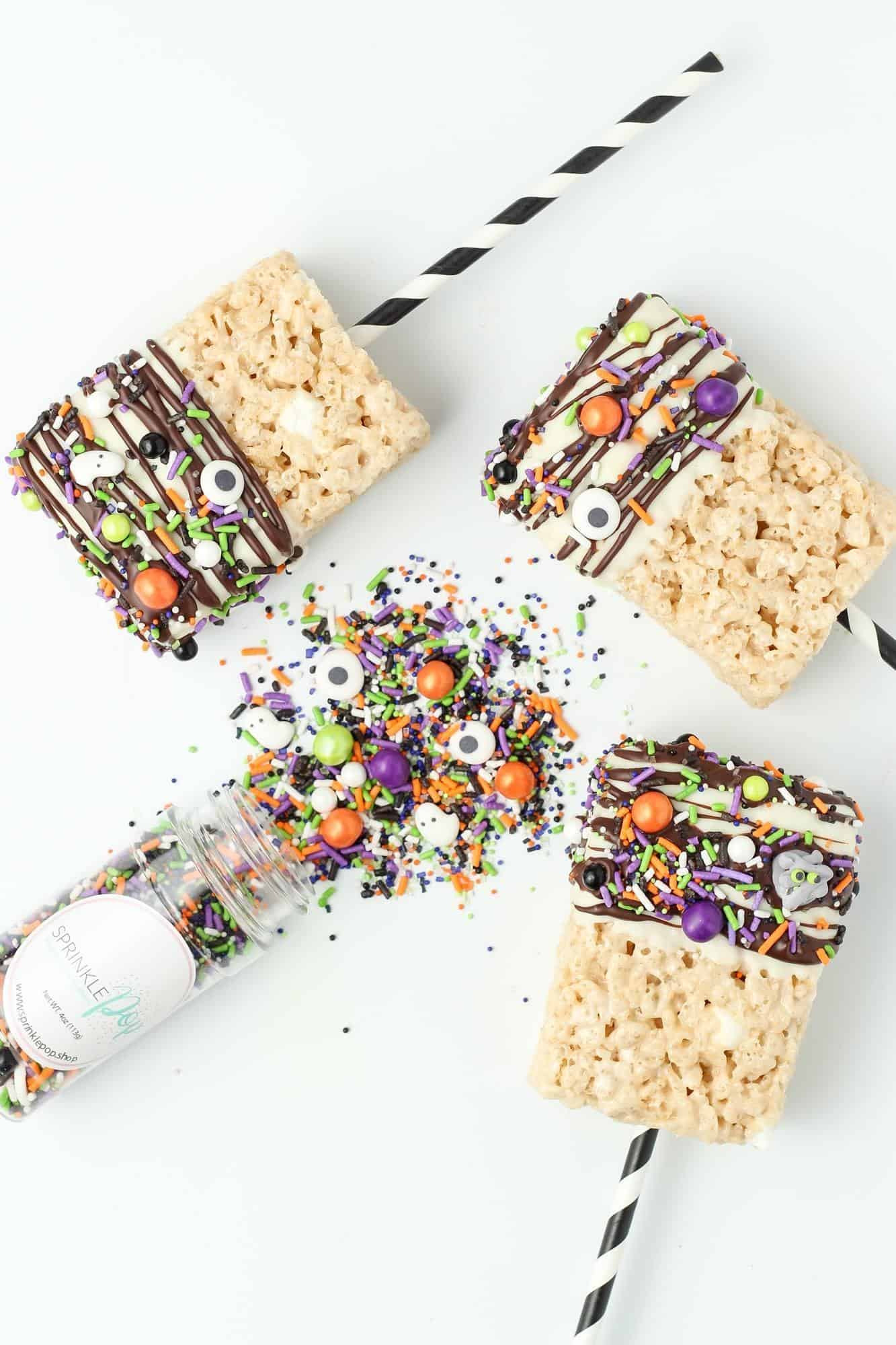 Here's another Halloween treat that is simple to make and the salted brown butter and dark chocolate combo makes them taste amazing! I love how the addition of the candy eyes makes them look like little rectangular monsters!
Halloween Rice Krispie Pops by The Saucy Fig
20. Dark Chocolate Pumpkin Coconut Butter Cups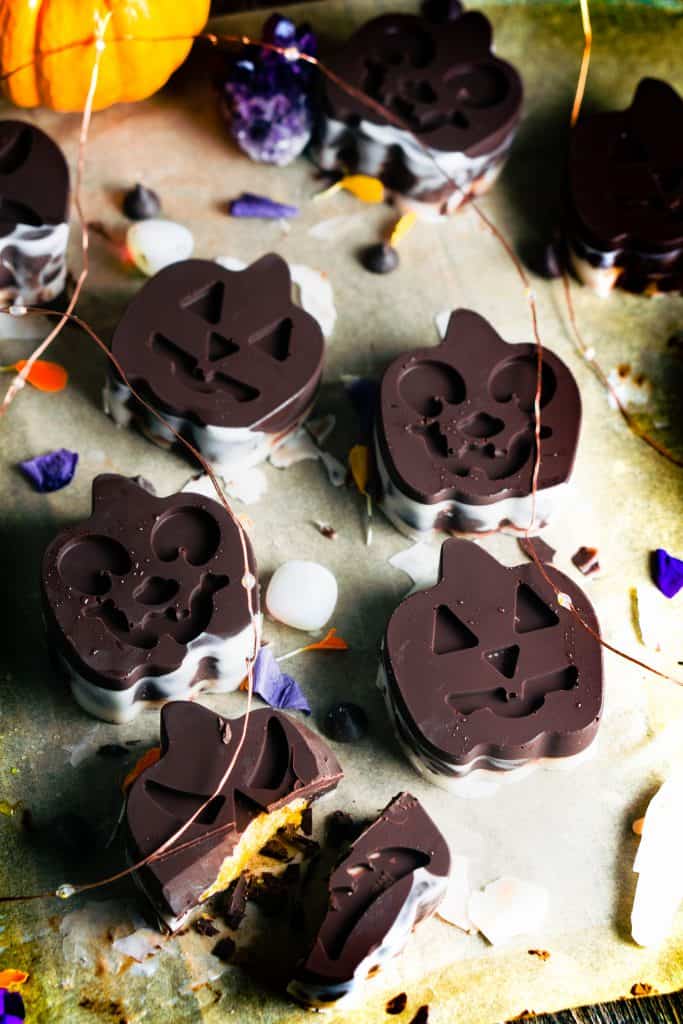 If you're looking for a vegan Halloween treat take a look at these fabulous little jack-o-lantern shaped chocolate coconut butter cups! Just look at all that ooey gooey yumminess in the middle. Oh and these are refined-sugar free too!
Dark Chocolate Pumpkin Coconut Butter Cups by My Tiny Laguna Kitchen
21. Spooky Black Bat Halloween Cookies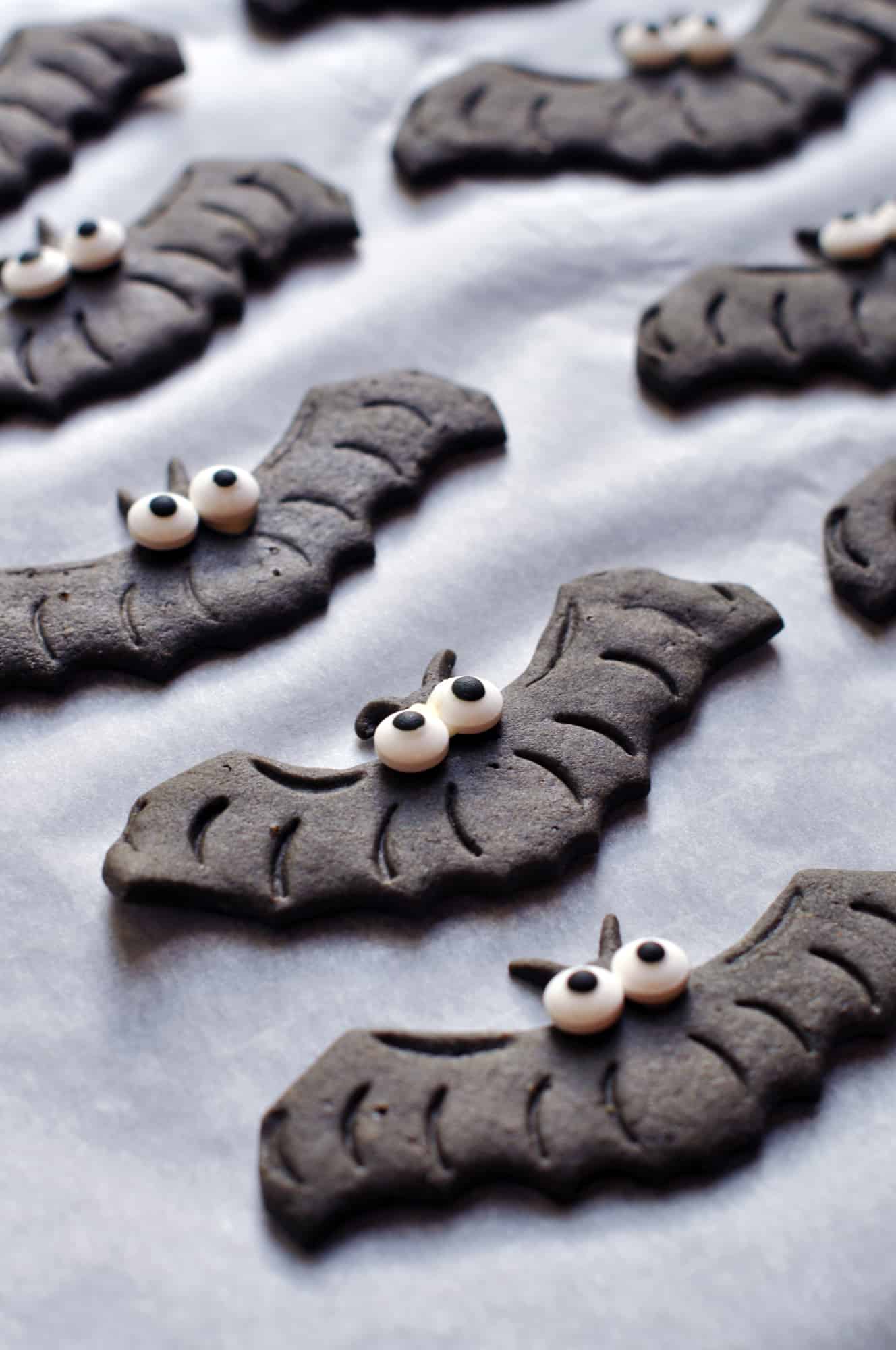 Oh boy, how spooky are these bat cookies! You'll need a special cutter to make them but they look so good I think it's worth it.
Spooky Black Bat Halloween Cookies by Histamine Friendly Kitchen
22. Halloween Oreo Balls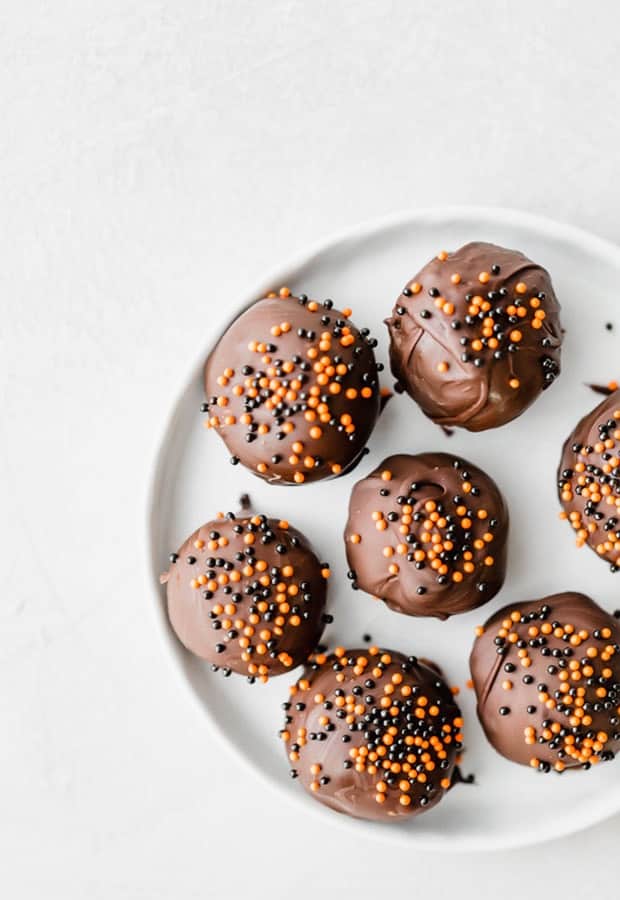 If you're looking for a last minute Halloween treat and all you have to hand are a packet of Oreos, a few ounces of cream cheese and some chocolate you are in luck, because you have just what it takes to make these yummy oreo truffle balls!
Halloween Oreo Balls by Salt and Baker
Easy Savory Halloween Treats for Kids
1. Halloween Mummy Hot Dogs

The kids will love these little mummy hot dogs, they are just so adorably spooky! (via Frugal Coupon Living)
2. Pumpkin Treats

Sometimes the best kind of recipe is the one where you don't actually need to make anything from scratch, you just take three store bought items, assemble them and pop them in the oven! (via Cupcake Diaries)
3. Graveyard Taco Dip

This taco dip looks so effective, I'm loving those little head stones! (via Chikabug)